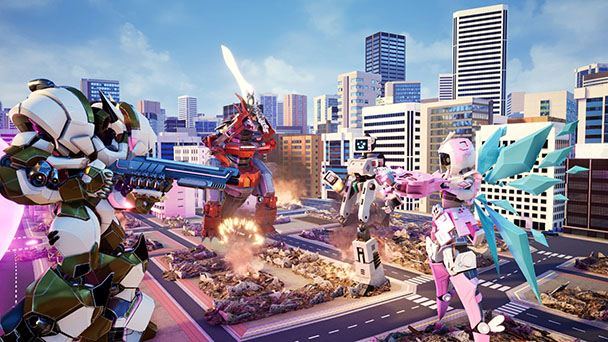 Override: Mech City Brawl demonstrates a multitude of adept design decisions, and just enough programming proficiency to pull it all off. Head into the game's tutorial and you'll discover a largely intuitive control scheme. While the game showcases a dozen different mechanized combatants, a basic moveset is shared by all. Play with a controller, and the bumpers and triggers activate your appendages. Pressing the left bumper punches with your left arm, while the right trigger initiates a kick with your right leg.
By holding one of these buttons down, things get interesting. You'll charge up your attack, potentially turning an ordinary leg strike into a lunge that can knock an opponent down. Agreeably, physical combat feels weighty, and the animations channel the physicality of tokusatsu. Wind up that punch and you can send a foe reeling backward, leveling parts of the environment in the process. Occasionally, you'll whiff on a blow that you should have probably landed. Or, end up in one of the borders of each arena, and the game's camera can go haywire. But fundamentally, fighting feels visceral, with opponents getting thrown around arenas inspirited by real-world cities.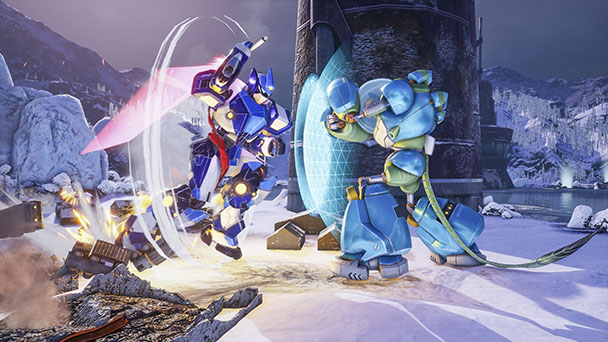 Distinctiveness stems from using the 'X' button as a modifier, which gives the option for four, unique attacks. Watchbot, the game's resident traditional mech fighter, is able to launch energy blasts from his arm cannons, spring into a high spinning kick, or even summon a kinetic flash that can briefly immobilize any adjacent fighters. Vintage, the resident oddball with a CRT monitor for a head, can summon a vicious running forearm smash, or create portals to warp around the battlefield. Gratifyingly, Override strikes a solid balance, with each fighter feeling distinct, yet maintaining a sense of balance across the roster. While faster combatants seem to have a slight benefit, with a bit of practice you can learn to nullify the advantage.
As with melee-based combat, a stick of the right stick permits players to lock onto the nearest enemy, which helps to land any kind of assault. Alternatively, players can pick up the weapons that spawn around the battle zone, with a press of the directional pad equipping one in either hand. In execution, these offensive tools to be a bit underpowered, with a slash from a seven-story tall scythe or a direct blast from a flamethrower not dealing as much damage as a solid kick to your opponent's midsection. The one outlier is the grenade launcher; if timed correctly the device can knock over enemies repeatedly. Clearly, the developers don't want players to be able to juggle foes, as fallen enemies are generally exempt from taking damage until they get back on their feet.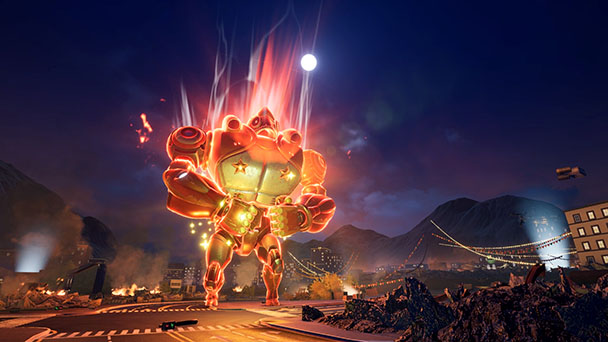 Generally, Override's competitive component is enjoyable if you can an opponent. If no local rival is available, you can attempt to find a contender through the game's matchmaking, opting for a ranked, 1v1, or four player brawl. However, at launch the title's community is rather small, resulting in more waiting than tangling with foes. On the upside, once you are able to locate a challenger, matches are mostly lag-free affairs. While Override's chances of showing up at a fighting game exposition like Evo are slim, the title's accessible interpretation of mechanized combat is enjoyable, at least in short bursts.
For those who prefer solitary play, Override's campaign tasks players with fighting stages filled with kaiju. The structure is solid with mission sending your selected mech across the globe, as character portraits offer light exposition. But the actual battles are a bit underwhelming, with missions habitually sending a succession of beasts after players. Instead of the usual back and forth momentum, often there's an emphasis on eliminating a string of opponents before a timer expires, which goads gamers into using the speediest move in the arsenal over and over again. Given how fighting games have shifted away from single-player modes, it's commendable that the developers incorporated a campaign into the game. But the component isn't robust enough to support a purchase of Override for those who are primarily seeking a single-player experience.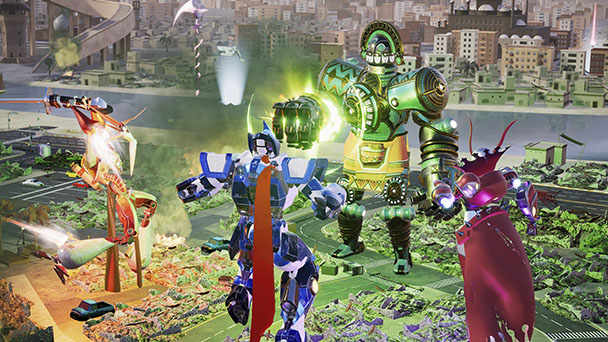 What does help the campaign, is the allotment of reward for winning every match. While some dividends are merely cosmetic, extending skins and accessories to customize your mech, others are more helpful. Players might earn mods, that do things like augment the power of your melee moves at the cost of increased heat generation. These can be slotted into your mechanized warrior, presumably influencing a slight change in strategy. You'll also gain research points that can be spent to upgrade your basic stats. When the sporadic mech-on-mech showdown appears, you'll undoubtedly desire the upper hand.
Those who grew up watching suitmation or the animated equivalent will undoubted become beguiled by Override: Mech City Brawl. As a succession of lackluster Godzilla games have demonstrated, adapting the tenets of tokusatsu into interactive form is tricky. While Override isn't perfect, it's a substantial step in the right direction and the best thing we've seen since 2003's War of the Monsters.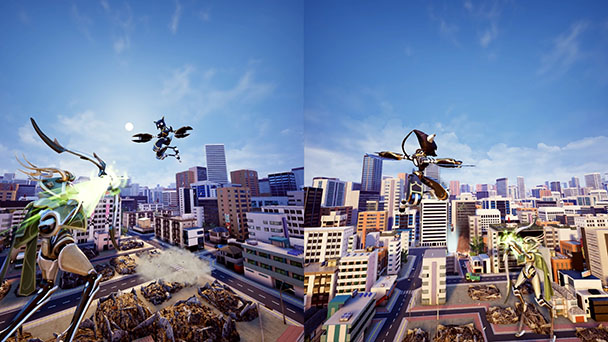 Override: Mech City Brawl was played on the PC with review code provided by the publisher. 
Review Overview
Summary : Override: Mech City Brawl offer an approachable, enjoyable faceoff between mechanized opponents. Geared toward competitive-minded players, the fundamentals are in place, now all the game needs in a bigger audience.