East Asia Meets East Coast
From Wu-Tang Clan's sampling of classic kung fu films to Samurai Champloo's incorporation of hip-hop beats, media intermittently delivers masterful cultural fusions. Although the recent Steam release of Orangeblood isn't as prodigious as these aforementioned works, a stimulating setting and an engaging battle system are certainly commendable. Solo developer Greyfax has some great ideas and demonstrates programming aptitude, but his storytelling seems poised to irk role-playing aficionados accustomed to more conventional expositional styles. Still, it's gratifying to witness kawaii girls and G-funk strains meld together.
A brief prologue reveals Orangeblood's approach, which is light on explanation but heavy on late '90s lingo. We first meet the game's half Japanese protagonist, Vanilla, locked up in an interrogation room, listening to her captor's conversations when a microphone is carelessly left on. While her detached attitude encapsulates 'C.R.E.A.M.', a deficiency of backstory means that players probably won't empathize with her situation. While she and three additional party members have different reasons for stopping the gang wars, character development mainly stems from the dissonance between potty mouths and anime-style portraits. Late game temperament shifts arrive unexpectedly, which can add to the bewilderment.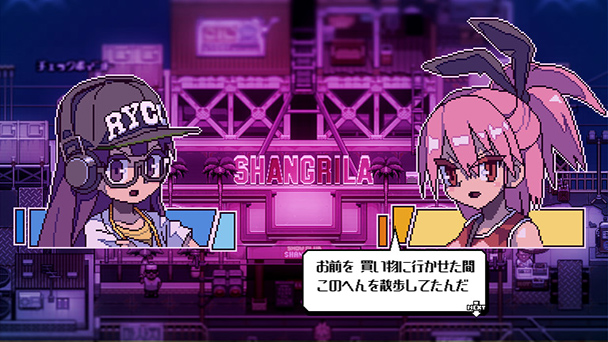 New Koza City
Truly, the real star of Orangeblood in the game's setting of New Koza set in an alternative 1990s. An artificial island build off the coast of Okinawa, it feels like cyberpunk version of Hong Kong's Kowloon Walled City. Rendered with an intricately detailed tile set, its exterior is debilitatingly dense labyrinth of tight stairwells and timeworn storefronts. But the beauty is found in New Koza's labyrinthine underbelly that holds mod lairs and seedy hangouts. It's simultaneously stirring and slightly repugnant, and so well-crafted you can imagine the radiance of neon and the smell of spilled bongwater.
Unfortunately, a few impediments mar Koza's vaporwave-hued rendering. The largest issue is the game's lack of native fullscreen option. While you can enlarge the output to fill most of the space of your monitor, you'll have to look at Windows bordering if you do. You'll probably want to turn off the game's Tilt Shift option as well. While it aims to mimic Octopath Traveler's depth of field effect, the blurring is a bit too heavy, obstructing your view. On the upside, there's a helpful mini-map that is a invaluable reference, showing where you've explored as well as highlighting key locations.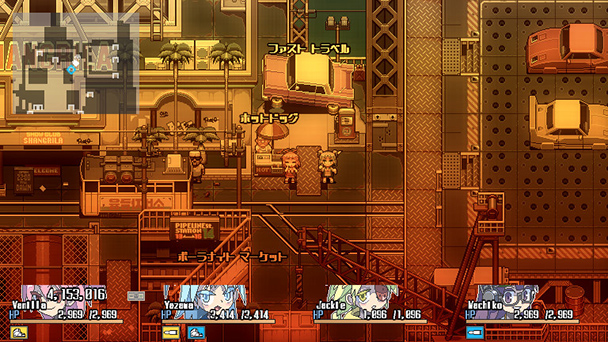 Another issue stems from the game's localization. When surveying the quality of your equipment, occasionally text spills out from the top window. On the upside, the game's soundtrack is definitely one of the game's highlights, with a soundtrack that's filled with lo-fi beat, record scratches, and an ample amount of homage to late 90s rap. Anyone familiar with the theremin-like squeal at the beginning of "Gin and Juice" should appreciate all of Orangeblood's musical references.
Turn-Based Gunning
When running errands through New Koza's depths, you'll encounter the occasional random encounter. Following role-playing tradition, you can get a jump with a well-timed button press that can stun foes. While grinding isn't necessary to advance and death will bring you back to a save or recent checkpoint, tackling roving trash mobs can be a hard habit to break, especially since battling is enjoyable.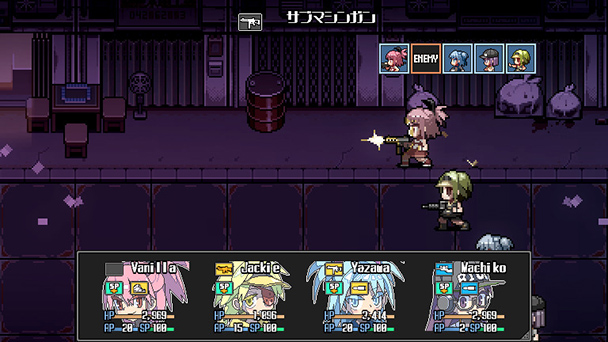 Expectedly, showdowns veer from fantasy customs, with the game's cast wielding firearms to put a stop to New Koza's turf wars. Pleasingly, guns feel distinctive, varying in burst size, critical type, or the number of enemies that can be simultaneously attacked. Although you never have to worry about completely draining your ammo supplies, you will periodically have to reload. Empty a magazine and you'll be quite susceptible, receiving an elevated amount of damage.
Beyond pelting opponents with projectiles, members can also employ special attacks. These vary by character, with Vanilla able to strike multiple times or Machiko's the party's resident DJ, able to switch beats on her boombox, bestowing positive effects for the team. Unfortunately, there's some imbalance to be found, with the latter able to heal parties with some high-spirited music. Since it deploys every turn, all too often it can remove challenge from encounters.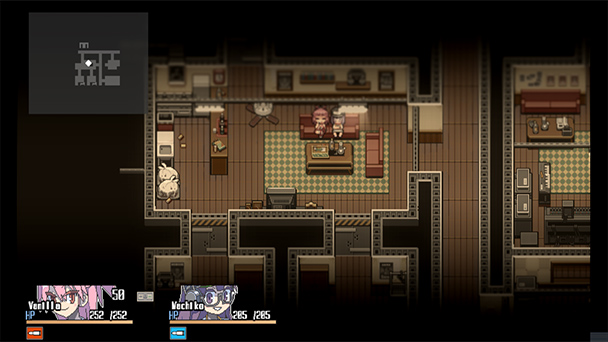 Conclusion
As an RPG, Orangeblood supplies an ample amount of imagination, and you're not likely to see a flying low rider in a game any time soon. But for every three novel ideas, there's at least one obstinate design decision. While that might be a respectable ration for role-playing fans seeking originality, those who favor playability might find their trek through New Koza to be a bit exasperating.
Orangeblood was played on PC with review code provided by the publisher. 
Orangeblood
Platform:
PC, Coming to PlayStation 4, Xbox One, and Switch in Q2, 2020

Developer:
Greyfax

Publisher:
Playism
Release date:
January 13th, 2020

Price: 
$19.99 via
Steam
Language(s):
Chinese, English, and Japanese text, No voice acting
Review Overview
Summary : Orangeblood is one of those all too rare RPG Maker efforts that show off the potential of the toolset. While it's not perfect and suffers from a storyline that can be hard to follow, it also oozes inspiration. Venture into New Koza cautiously.