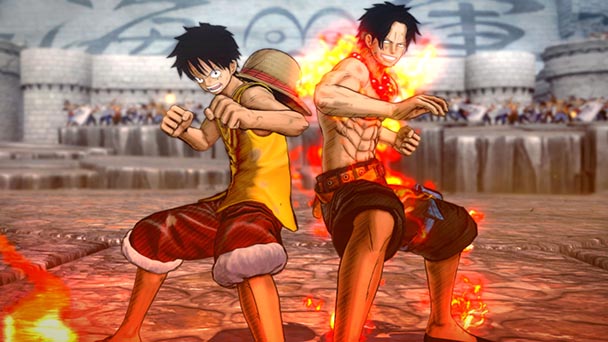 Interactive adaptations to other forms of media are rarely easy. But when your foundation stems from a mammoth amount of manga or over 700 episodes of anime, you're facing an extraordinary challenging endeavor. Such is the dilemma when Tokyo-based Spike-Chunsoft agreed to tackle Eiichiro Oda's copious and capricious tales of the Straw Hat Pirates.
Although it would have been thrilling to see Luffy's quest to become King of the Pirates play out in strategy-role playing fashion, with a Gun-Gun Pistol strike stretching across a gridded battlefield, the developer chose an interpretation that attempts to capture the chaotic pugnaciousness of the shōnen–driven source material. The result is frantic fighting game that's frequently fun, occasionally clumsy, and delightfully faithful to Luffy-lore.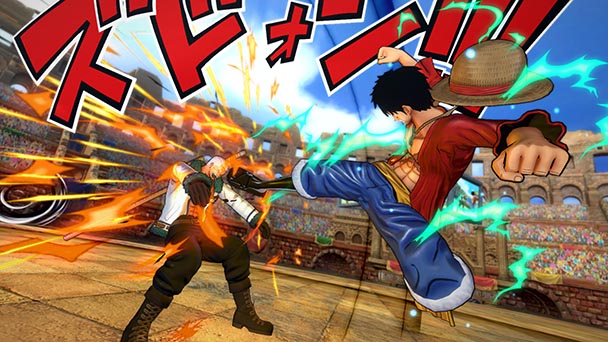 Jump into One Piece: Burning Blood's single-player campaign and you'll discover a Rashomon-like multi-perspective recreation of the Paramount War (aka the Marineford Arc), one of One Piece's most intense battles. With the former inmates of Impel Down united, the team descends on Marine headquarters with the hopes of rescuing Luffy's brother, Ace. Both the decision to focus on a relatively small part of One Piece lore and recreating the arc from the point-of-view of a quartet of protagonists proves beneficial. While Straw Hat stalwarts are poised to be pleased, the downside is that Burning Blood does little to summarize the previous 550 chapters/450 episodes, extending little incentive to newcomers.
Play offers a distinctive, over-the-shoulder view on the action. Although combatants are satisfyingly substantial and adhere to One Piece's embellished sense of scale, there's the occasional issue where a burly fighter can block the view of opponents. But given Burning Blood's button mashing-friendly fighting mechanics, the obstruction isn't too much of an impediment. For better or worse, fighting is rooted in a rock-scissors-paper system that allows for accessibility.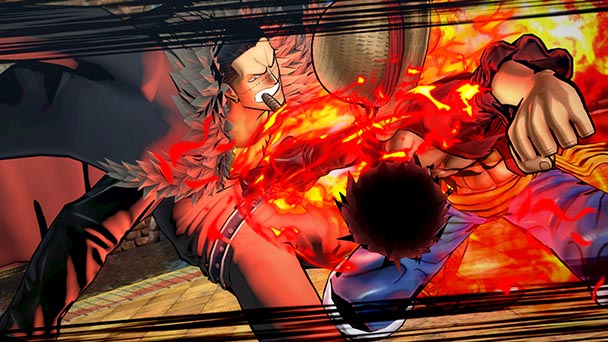 Beyond snappy normal attacks, there are slower guard breaking strikes, and blocks capable of shielding against those regular hits. Invest a little time in and you'll soon expand your repertoire, dishing out combos, tag moves known as Unity Assists, as well as Awakening devil fruit to augment their abilities. On defense, Logia abilities introduce an interesting system, offering elemental-based evasion. While one-on-one matches remain compelling, it's the three-on-three fights that really feel exhilarating, allowing players to utilize the screen-filling, indulging specials. In action, Burning Blood favors spectacle and style over sophistication, catering to enthusiasts of the anime rather than targeting the EVO crowd.
One of the main issues with fighting stems from the responsiveness of the controls. Given the game's extravagant combos, it's easy to get locked into an animation without benefit of a cancel. On defense, rivals tend to dish out a string of strikes, and getting your guard up between each attack can be problematic. Then, there are the balancing issues. Against AI opponents, fighting can shift from pushovers to punishing, with some adversaries having health bars that seem to resist reduction. Against online opponents, many of the same characters are used, signaling some inequity across the forty fighter roster.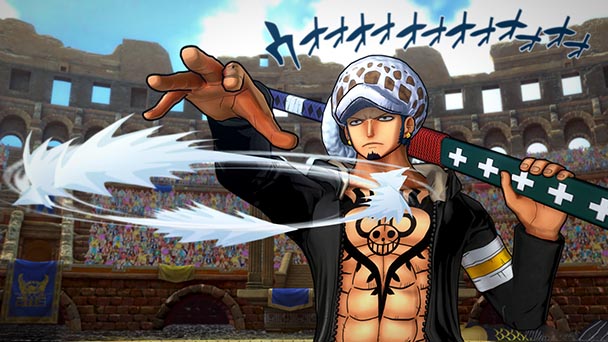 But get past the hindrance of squaring off against the same enemies in casual and ranked games, Pirate Flag Battle looks like it could keep players clashing online. Here, gamers join a faction and battle opponents to take control of spaces on a board taking on AI or online opponents to control territory. Sure, the issue of a lanky Brook taking on a diminutive Chopper remains, but here some of the wonkiness if offset by the determination to claim a region for your team.
Visually, Burning Blood is thoroughly exhilarating, delivering a 1080p, silky-smooth sixty frame-per-second delivery of Straw Hat goodness. Not only goes the title mimic the thick cell shading of the source material, but subtle cross-hatched shading makes the game look like a manga that's sprang to life. Coupled with the anime's bright palette and fantastically detailed character models and battlegrounds, the game is a visual pleaser, rivaling CyberConnect2 work on the Naruto Shippuden: Ultimate Ninja Storm series. Gratifyingly, the game utilizes the same voice actors as the anime, who deliver their usual high-spirited performances.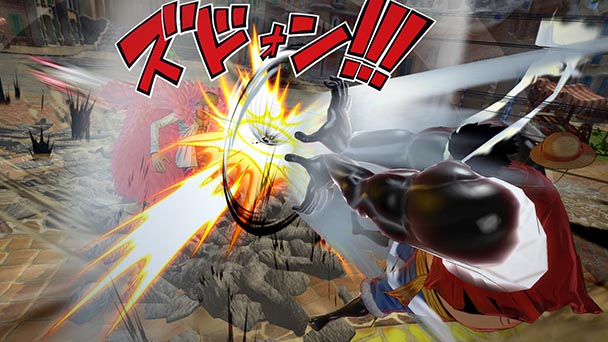 Beyond the aforementioned Paramount War campaign and online options, players can collect lucrative Wanted bounties. Although voyaging through the main plot with Luffy, Ace, Akainu and Whitebeard gradually unlocks additional fighters and support characters. For those not wishing to schlep through the storyline all four times, using collected belly to broaden your roster. Given, the presence of both pre- and post-timeskip characters, there's enough incentive to keep players fighting for a few weeks.
While fighting game fans unable to differentiate the Going Merry from the Thousand Sunny probably won't find enough polish in One Piece: Burning Blood fisticuffs to warrant a purchase, Luffy lovers will appreciate the effort. As an interpretation of the manga and anime, the game is commendable, offering a way to recreate the pugnacious pirate-driven raucousness of the source material. While Burning Blood is only an average fighter, the game's dedication to shoehorning in as many small details demonstrates developer's Spike-Chunsoft's awareness of their audience. Undoubtedly, their Kenbunshoku Haki abilities prove exceptional.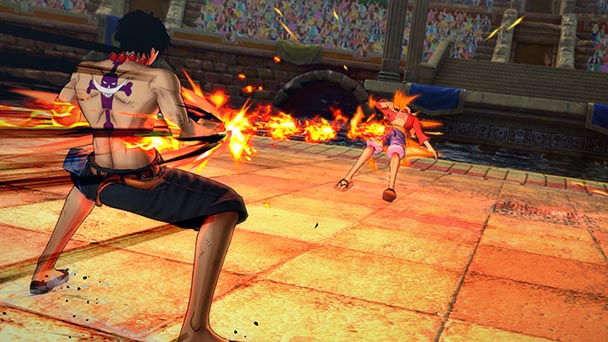 One Piece: Burning Blood was played on the PlayStation 4 with review code provided by the publisher.
One Piece: Burning Blood
Platform: PlayStation 4, Xbox One, PS Vita, and PC
Developer: Spike Chunsoft
Publisher: Bandai Namco
Release date: May 31st, 2016
Price: $59.99 on PS4, XBox One, $39.99 Vita
Languages: Japanese voice, English text
Review Overview
Summary : Hitboxes and sophistication be damned, One Piece: Burning Blood's massive roster and incorporation of small details is destined to delight fans of the manga and anime.