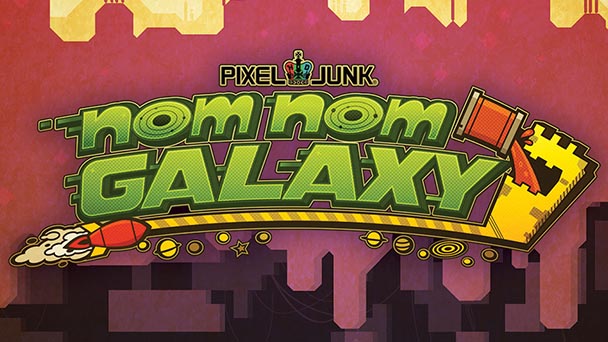 Soup might just be the one of the most synergistic foods around, with a final product that's typically greater than the sum of its individual parts. The culinary concoction is also an ideal point of reference for discussing Nom Nom Galaxy, the latest title from Kyoto-based Q-Games, the developer behind inspired efforts like PixelJunk Eden and PixelJunk Monsters. The game's premise tasks players with directing an interstellar soup empire, dominating the industry with both quality and quantity. Metaphorically, Nom Nom Galaxy has a lot of common with the scrumptious foodstuff, offering a Michelin Star-worthy fusion of several delectable gameplay mechanics.
Delving into the game's Corporate Conquest campaign sends your indomitable Astroworker careening toward the surface of a planet teeming with natural resources. After fetching you signature tool, a buzzsaw capable of cleaving through both flora and fauna, gamers will discover the basics of exploration. Here, using your handy circular saw allows you to acquire both soup ingredients as well as buried bits of blue Matter- the currency that's requiring for base construction. Excavation can have an adverse effect on topography, and with the limited jumping ability exhibited by the game's protagonist, navigation might start to become laborious. Luckily, a button press spends some of your Matter to build ladders, making traversal a bit quicker.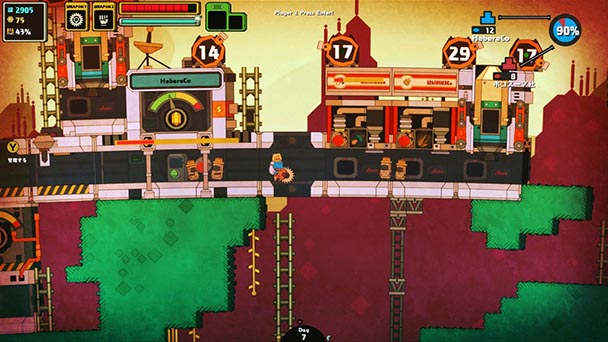 But plans for a potage-based supremacy will need much more than a smattering of simple climbing riggings. Soon, Nom Nom Galaxy will have you building offices with soup machines, factories, rockets that send your product to market- and an assortment of pieces which link production and shipping. Wisely, the developers only impart a modicum of essential information, allowing gamers to discover Nom Nom Galaxy's captivating nuances for themselves. Another pleasing touch is that the title combines competitive threats from competitors with warnings of imminent dangers, with your rival announcing he's launching a drone attack on your base.
Naturally, mistakes will be made, and that's part of the fun. On the game's second stage, I ignored my opponent's intimidation and remained fixated on production. His minions came, and began to ebb away at the health of every various base components, eventually triggering a collapse that crippled production. Another time, I didn't clear the take-off trajectory for one of my soup rockets. These and dozens of other oversights steadily impart important lessons, while offering comedic repercussions.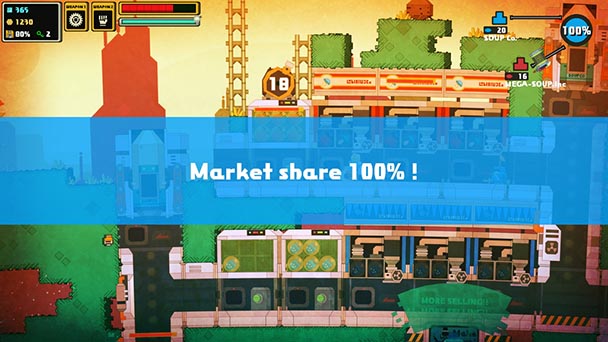 As gamers grasp the fundamentals of Nom Nom Galaxy, the game unlocks new components and offers scenarios that offer bits of variation. Although the goal is to create a fully-automated assembly line, there's always some a few small obstacles that prohibits achievement. Early on, you can purchase Charlie and Charles, two robots who help by shifting across a horizontal corridor, automatically inserting ingredients into machines or picking up soup cans and loading them into transport rockets. While their autonomy allows you to explore far-flung areas during each simulated day, they're not perfect and tend to work at a mid-speed shamble. Other, unlockable, tools will help with your entrepreneurial efforts- from conveyer belts that can move collected resources to struts which can reinforce structures, preventing a catastrophic collapse. Of course, these as well as a variety of offensive and defensive tools comes out of your budget, compelling players to make some prudent financial choices.
Throughout the campaign, there's a never-ending procession of decisions to be made, and Nom Nom Galaxy is at its best when it's pulling player in multiple directions at the same time. Although collection of some crops is easy, with gamers using the buzzsaw to reap grains, other space veggies aren't so easily acquired. Corn and tomato-like ingredients are often bi-pedal and belligerent, attacking the player on sight. As such, it's easy to get surrounded by a pack of pugnacious pumpkins, and neglect the obligatory duties of the day. As nearby resources becomes stripped clean and your competitors vie for market share, situations gradually grow more hectic. It's here that Galaxy's grip on players becomes especially apparent, as the game's five–minute workdays seem to race by in a fraction of the time. Quickly, you'll learn that your greatest rival isn't the other soup company, but indecision- a foe who can quickly enfeeble your empire.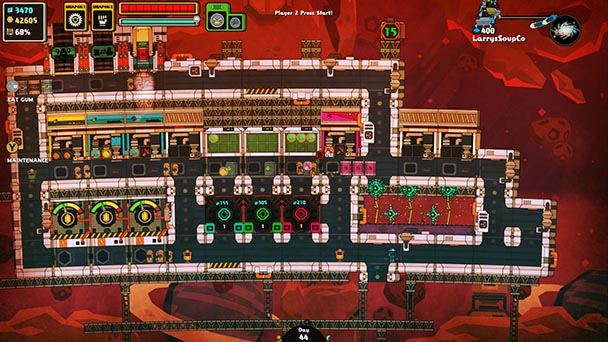 Luckily, the Astroworker doesn't have to work autonomously, with either a split-screen local partner, or up to three additional online companions to help out. To keep the four player game from being a pushover, Q-Games scales the action, doing thing like increasing the enemy/edible count. When adversity appears in a single player campaign, overcoming the threat feel fulfilling. But when you conquer cataclysm with a trio of other players, the sense of satisfaction increases ten-fold. Unfortunately, online lag remains an issue, and undermined a number of enthralling co-op sessions. Until the networking issues are ironed out, Nom Nom Galaxy's challenges permit players to enter in asynchronous competitions that are changed every few days. Currently, trials tasked gamers with eliminating  as many enemies at possible or racing toward a finish line, all in a pre-set time span.
Nom Nom Galaxy's only drawback is that the soup du jour don't change often enough. The game's decision to use pre-generated over procedurally-generated levels give Q-Games greater control over gameplay, as players face resource shortages and topographical troubles. But in execution, Corporate Conquest could use a bit more variety. As it stands, while players unlock new items and discover a copious number of soup recipes, stages can converge on tedium, as the core cycle of exploration, collection, building, manufacturing, and defense remains relatively static. Ideally, players would have been able to build sturdier defenses or even send drones to attack and cripple competitors. Don't get me wrong, it's an enjoyable game and well worth the modest asking price, but tedium will likely ensue before players reach end of their Corporate Conquest.
As with the majority of Q-Games' output, Nom Nom Galaxy's aesthetics are charming. Visually, the game avoids delivering rectilinear landscape, endowing each stage with a slight curvature. Elsewhere, characters are rendered in a broad geometric style that allows bit of whimsy to shine through, such as the way Charlie and Charles perpetually hold hands. Sonically, the chilled soundtrack offers a pleasing divergence from the game's hectic pace, offering a nice collection of groove-driven jams. One aural effect caught me completely off guard: you in-game phone emits the distinctive clamor that older mobiles would emit on nearby speakers.
Q-Games is a developer with an impressive, near-unblemished track record. Nom Nom Galaxy continues that trend by offering a creative, compelling amalgam of play mechanics that end up coagulating especially well. If the team could introduce a bit more variation and fix connectivity issues that blemish the online component, Nom Nom could move from a being a savory side dish to becoming the main entrée.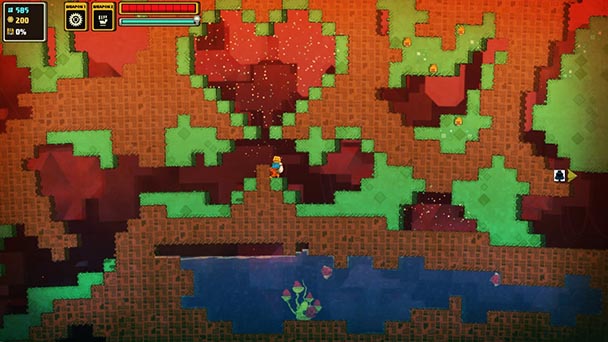 Nom Nom Galaxy was played on the PC with review code provided by the publisher.
Nom Nom Galaxy
Platform:
 PC, PlayStation 4
Developer:
 Q-Games, Double Eleven Limited
Publisher:
Q-Games
Release date:
 August 3rd, 2015
Price:
 $7.99 via
Steam
 until August 10th, priced $9.99. $9.99 via PSN
Review Overview
Summary : Nom Nom Galaxy's recipe for enjoyment mixed equal parts of exploration, resource gathering, combat, and management. Although the core gameplay is allowed to simmer too long in the main campaign, this dish certainly warrants a quick taste.