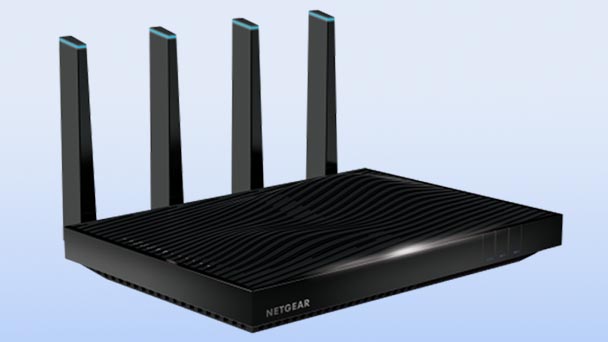 Owning a petrol-swilling V12 might serve as an ultimate ambition for auto enthusiasts.  And even if the sportscar isn't able to flaunt its absurd amount of horsepower on congested highways, there's an undeniable satisfaction in ownership. From the vehicle's raw capacity for speed to the sense of contentment cultivated by the bassy growl of a dozen cylinders all firing in perfect unison, gratification lurks in latent capability and expertly-tuned performance.
For those with an infatuation for cutting-edge technology, Netgear's Nighthawk X8 R8500 could be considered the Ferrari of wireless routers, capable of handling data transmission speeds that outstrip the ability of most contemporary desktops, laptops, and adaptors. Sure, you'll probably never push the peripheral to its limits, but that's exactly the point. For houses and small offices with a multitude of net-based devices, the X8 handles everyday traffic with pedantic precision, leaving plenty of capacity for technology advancement.
Hardware for this review was supplied by Netgear, in exchange for an honest, unfair evaluation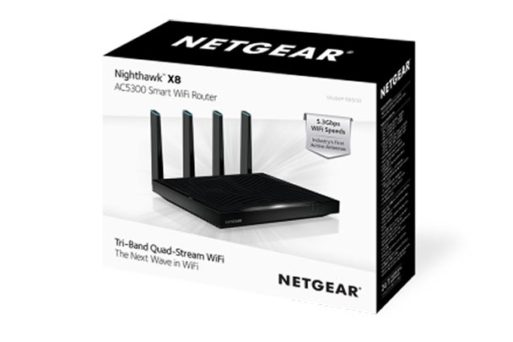 As with many of Netgear's other routers, set-up is mostly straightforward, save for a few small issues. Once the hulking X8 is excavated from its protective cardboard housing, owners will find little more than an Ethernet cable, AC adaptor, a quick start guide, as well as the router. While the minimum of components might indicate a straightforward, hook-up-and-go operation, there's at least one hurdle that needs to be overcome.
Once the X8 is connected to your modem, powered on, and a computer establishes a connection with one of its three WiFi bands, typically you'll be directed toward the Netgear Genie web interface to finalize set-up. Unfortunately, on our test systems, we weren't always automatically directed, prompting us to type in the router's address, http://www.routerlogin.net, in an open browser window. Alternatively, we could have used the X8's direct IP, 192.168.1.1. Either way, you'll need to complete the step, as you'll be unable to have an internet connection until at least a few settings are established.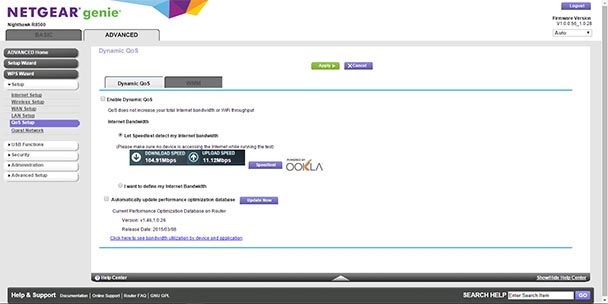 Pleasingly, the Netgear Genie advances two levels of control that correspond to a user's level of expertise. As its name implies, Basic allows you to control the fundamental functions, allowing owners to customize the name of their networks, change default passwords, and manage parental controls as well as guest accounts. Meanwhile, the Advanced tab grants access to elevated functionality, where you can change USB storage options, set us a wireless bridge, install firmware updates, as well as adjust LAN and WAN settings. Alternatively, you can download and use a Netgear Genie app to make adjustments from your PC, Mac, iOS, or Android devices.
But setting up five test networks produced a few niggling problems. In one situation, the PC Genie App couldn't find the X8, when it was clearly connected to the router's 2.4GHz band. In another instance, the Set-up wizard didn't detect a direct internet connection. The Nighthawk X8 defaults to two 5GHz bands to allocate traffic, but owners can opt to create a single band that intelligently directs data. Distressingly, if owners ever decide to go back to two bands, the web-based Genie app gives them both networks the same name- which is poised to cause confusion.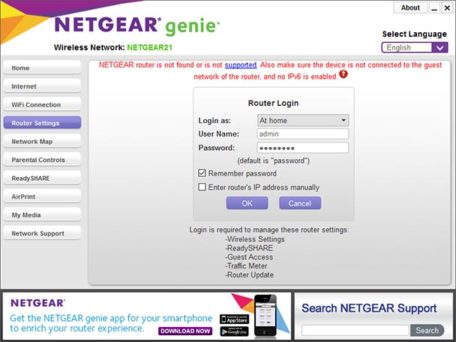 Largely, once you bypass any small set-up snags, the X8 works dutifully and without any further intervention. Although router hiccups and obligatory resets are common with economical devices, the latest iteration of the Nighthawk obediently worked behind the scenes, managing the data flow for two weeks without a single incident. During that duration we put the unit through a number of challenging trials, with the premium-priced peripheral thriving across each test.
As the world's first 5.3 Gbps-capable router, the X8 splits bandwidth across a trio of bands: the 2.4 GHz frequency offers speeds up to 1000 Mbps, while the two 5 Ghz bands accommodate up to 2166 Mbps apiece- offering a data pipeline large enough to accommodate the most net-centric households for years to come. To achieve this tremendous transmission speed the X8 employs multi-user multiple-input, multiple-output (MU-MIMO) technology, a protocol which allows routers to send and receive data from multiple Wi-Fi devices at the same time, instead of forcing each connected device to take turns communicating. While faster downloads, less interference, and reduced latency are the upsides, the downside is that your current devices aren't ready for multitasking. Even for the handful of gadgets that are able (like the Sony Xperia Z2), you'll have to wait for an update before you can take advantage of MU-MIMO.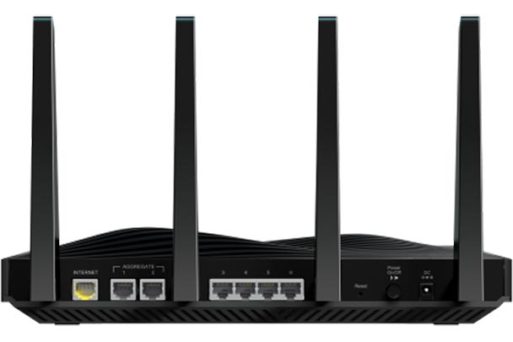 While the technology isn't expected to proliferate until sometime in 2017, MU-MIMO incorporation inside the X8 can help the ease network congestion in current contexts, allowing the router to achieve blazingly fast transmission speeds. Our trials confirmed these assertions, with the Nighthawk showing a diminutive edge on 2.4 GHz frequencies, while trumping the Linksys EA8500, D-Link AC3200 Ultra, and even our trusty performer the TP-LINK AC9 by five to fourteen Mbps in the 5 GHz band. However, if the majority of your devices are still utilizing the 802.11g standard, the purchase of the X8 is going to be complete overindulgence. In essence, it's analogous to buying a Maserati GranCabrio for a weekly milk run.
While both future-proofing and a speed increase several megabits per second might not be enough enticement to purchase the four hundred dollar peripheral, there are a few additional factors to consider. The Nighthawk's surname is based on its eight antennas, with the router having a quartet of internal transmitters and well as four prominent, (optionally) LED-illuminating 'active' antenna on the back of the peripheral. In theory, the foursome of spires moves amplification from the innards of a router- away from the radio interference that can resonate within a the plastic casing. Although a seemingly trivial modification, the augmentation demonstrated real-world effectiveness. Across a variety of five environments, the X8 consistently produced a stronger 5 GHz signal that its peers. When pitting against the TP-LINK AC9 at a distance of approximately 40 feet and through four solid walls, transition rates were noticeably faster. In another set-up, the X8 was able to broadcast to a detached garage more than 50 feet away, while the D-Link AC3200 Ultra had trouble transmitting across the span at a reliable rate. Again, across the 2.4 GHz spectrum, the advantageous was evident, with homogeneity across all hardware brands.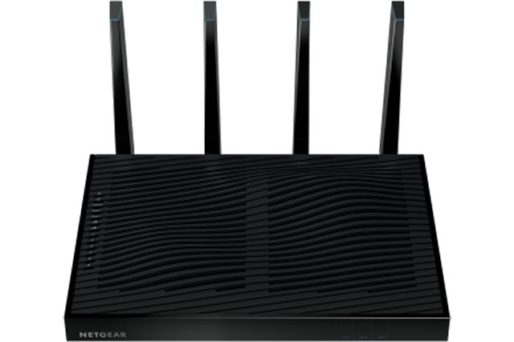 For owners of a Network Attached Storage (NAS) device, the integration of two gigabit network ports is a blessing. When linked with a NAS with a likewise number of LAN ports, a bit of effort can unlock port aggregation allowing your attached storage to receive and send data at astounding rates. Other storage and transmission prospects are available via the X8 twin USB 2.0 and 3.0 ports, which are conveniently situated under a small door on the side of the router, away from the clutter of Ethernet cables. Here, the only incontinence was the lack of Time Machine support for Mac users. Otherwise, hooking up a USB drive allowed the X8 to broadcast, interruption-free media streams.
It's here that we did our best to push the Nighthawk to its limits, ultimately walking away trounced by the capacities of the robust router. The best we could muster was seventeen simultaneous devices all drawing data from 300Mbps connection, far short of 32 active clients per band the unit is capable of serving. Concurrently downloading from Steam and the PlayStation Network, steaming YouTube videos, creating a backup on the NAS, as well as grabbing several multi-gigabyte files demonstrated the proficiency of the X8. Between the dynamic QoS system and the 1.4GHz dual core processor, bandwidth was expertly managed, divulging nary a hiccup in streaming playback.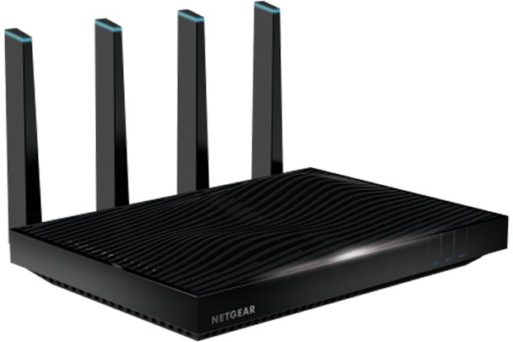 Largely, build quality for the X8 is praiseworthy. While the Nighthawk has a large footprint and might take up the better part of a table (although you can hand it on the wall) its size helps the unit dissipate heat. The only design flaw we could find was Netgear's decision to make the active antennas permanently attached to the router, when that use a coaxial coupling. As such, if you're thinking about transporting the Nighthawk, pack carefully, as the loss of aerial could cripple capability.
Although setting up the Nighthawk X8 revealed a few complications, post-installation performance was exemplary. The substantially-sized peripheral handled everything we could throw at with fastidious precision, refusing to falter under the type of stress-tests that stifle most home networks. Right now, the X8 is likely only a necessity if you have a port aggregation-capable NAS or need a router that's puts out a formidable signal. For others, it's about having the most powerful peripheral available and ensuring you can handle a household of heavy net-users both now and in the foreseeable future.
Tech Specs:
Product Number: R8500
WiFi Technology: 802.11ac
WiFi Performance: AC5300 (1000 + 2166 + 2166 Mbps)
WiFi Range: Very large homes
WiFi Band: Simultaneous Tri-Band WiFi – Tx/Rx 4×4 (2.4GHz) + 4×4 (5GHz) + 4×4 (5GHz)
Beamforming: Implicit & Explicit Beamforming for 2.4 & 5GHz bands
Number of Ethernet Ports: Seven (7) 10/100/1000 Mbps Gigabit Ethernet ports: 1 WAN & 6 LAN
Dual Gigabit Ethernet Port Aggregation
Number of USB Ports: Two (2) USB ports: 1 USB 3.0 & 1 USB 2.0 port
Processor: Dual core 1.4GHz processor
Memory: 128 MB Flash and 512 MB RAM
Dimensions: 12.44 x 10.39 x 2.40 in (316 x 264 x 61 mm)
Weight: 3.70 lb (1680 g)
Street Price: $354.00 at Amazon.com
Review Overview
Summary : Netgear's Nighthawk X8 R8500 is the most powerful home router on the market, and is capable of handing the net traffic in even the busiest home. But the unit's awesome abilities might be overkill for most consumers.