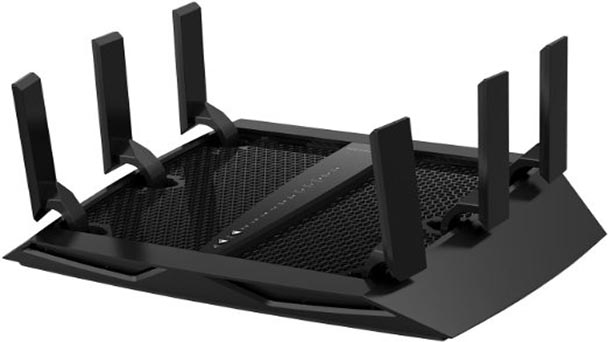 When we called the Nighthawk X8 "the Ferrari of routers", the statement wasn't just frivolous flattery. The comparison also meant most owners would never see the top speeds exhibited by the premium-priced device. Given the current speeds of residential internet service and the sluggish deployment of multi-user multiple-input, multiple-output (MU-MIMO) technology, the peripheral might have superfluous power for most households.
But for those seeking elevated transmission speeds and stretching signal strength while saving a bit of coin might want to take an extended look at Netgear's X6. Offering the same tri-band capacities of its superlative sibling as well as a (slightly slower) dual-core processor to manage net traffic, the Nighthawk X6 can be found for about a hundred dollars less. As such, the peripheral offers a compelling price-to-performance ratio while still offering enough future-proofing for most consumers.
Hardware was supplied by Netgear, in exchange for an honest, unfair evaluation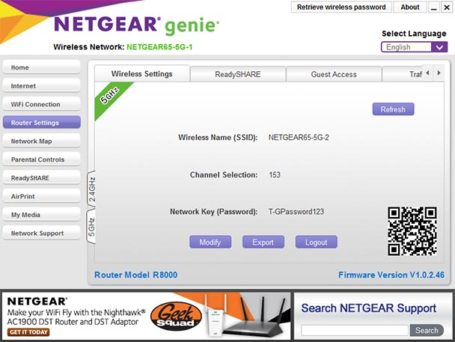 Typical for a Netgear product, set-up is a largely effortless process, thanks to foresight from the engineering team. Once users open the outer box and extract the R8000 from its protective molded pulp housing, they'll find the router, a breakaway AC adapter, an Ethernet cable and a twenty page quick start guide. With the device powered on and connected to a modem, all you'll have to is to connect the X6 using the network name and unique password created by Netgear. Fortunately, this information is attached on a breakaway label on the front as well as a permanent sticker on the underside of the router, largely eliminating any possibility of uncertainty.
Once connected to the X6's network, simply point a browser to http://www.routerlogin.net if you're not automatically forwarded. Here, you'll find the web-based Netgear Genie interface, permitting users to change network names, passwords, and adjust security options. On some of our tests setups, we had a bit of trouble connecting to the router login address, but running ipconfig from the cmd prompt revealed the default gateway, which could be used to summon the Genie.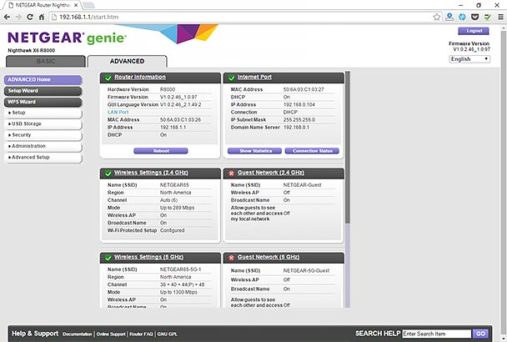 The first time you access the web-based interface, you'll be offered the latest firmware update as well as an optional download of the separate Genie and ReadySHARE Vault apps. Despite the presence of ads in the Genie, we found it to be functional. Not only did the app alert of high-bandwidth usage in the windows tray, but also could be used to quickly assess download speeds. On the downside, the program seemed to only work with a PC's default wireless adapter. Any USB dongles didn't show up under connection settings, forcing us to use Windows' default management options.
When the settings are finalized, the X6 carries on the Netgear tradition of offering median transmissions speeds in the 2.4GHz band, while delivering exemplary performance in the 5GHz span of the spectrum. Across a variety of four different setups that varied in range, number of physical obstructions, and broadband speed, the X6 showed no significant advantage over budget-priced competitors in the 802.11b arena. When pitted against the TP-LINK TL-WDR3500 or the D-Link DIR-813, two sub $50 routers, transmission speeds and ranges were disappointingly similar, making a purchase of the X6 unnecessary for homes where the 2.4GHz band still reigns.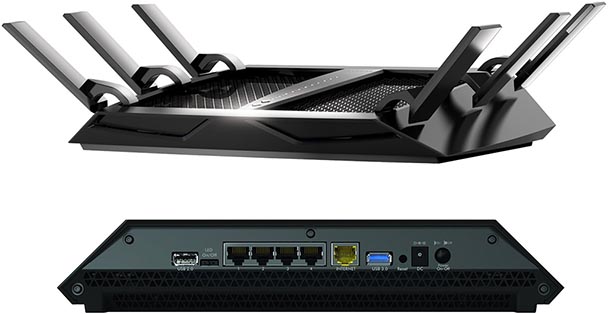 However, with a household filled with 802.11ac-capable devices, the R8000 proves it worth. Here, download and upload speeds equaled or trumped AC3200-rated rivals, outshining TP-LINK and Linksys' Tri-Band products by a several megabits per second. And even through the TP-LINK mimics the X6's distractive six antenna array, signal strength on the Nighthawk was stronger by a few percentage points, as the router demonstrated its ability to send signals through walls and physical impairments just a bit better.
Remarkably, each competitor has a similar design, extending a single 2.4GHz network as well as a duo of 5GHz bands, Dynamic QoS prioritization, and a 1GHz dual core processor to handle traffic. When trying to push each peripheral to its limits, all three routers were able to exhibit a stutter-free streaming of Mad Max: Fury Road as four tablets, a trio of PC, two phones, and a quartet of consoles were attempting to guzzle as much bandwidth as possible. With both a 200/20 and 300/30 Mbps connection, trying to create an instance of net traffic was difficult, even with QoS turned off. As such, any of these aforementioned routers would be a welcome addition to a tech-teeming abode. Given the comparable functionality of each device, shoppers might want to prioritize price over any diminutive difference in speed or signal output.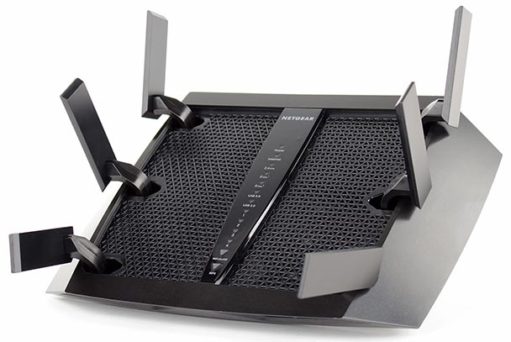 When it comes to build quality, the X6 is also in line with its competitors. While smaller than its substantial brethren, the X8, this Nighthawk still takes up a sizable amount of space. The upside of having a broad body and external power supply is that the X6 stays fairly cool while in use, eschewing the frying pan temperatures produced by some smaller routers. For transportability, the Nighthawk's permanently attached antennae fold down. While that's a contenting design decision, we'd would have preferred if the aerials were detachable. As it stands the extending the antennae can be a bit difficult and we worried about breaking one of these crucial components.
For those who'd rather have their Nighthawk operate in stealth mode, a switch on the back of the unit allows the top mounted lights to be turned off. Meanwhile two USB ports, a 2.0 and 3.0 input, allow the R8000 to utilize a networked printer and a thumb or hard drive for storage. Rounding out the back of the router is a WAN and a quartet of LAN gigabyte ports. On top of the unit is a button to enable WPS, allowing devices to be connecting without worry about passwords.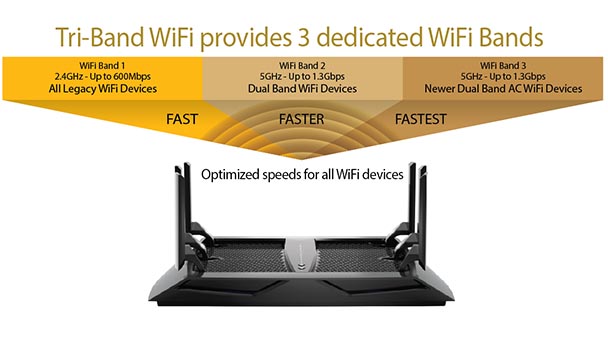 Naturally, the Nighthawk X6 isn't going to make your internet faster, only improve the efficiency of your existing home network. If you simultaneously use a number of 5GHz devices and your current router is struggling underneath the load then the R8000 is a reliable purchase- as long as it's not priced much higher that it's AC3200 rivals.
Tech-Specs:
WiFi Technology: 802.11ac Tri-Band Gigabit
WiFi Performance: AC3200 (600 + 1300 + 1300 Mbps)
WiFi Band: Simultaneous Tri-Band WiFi – Tx/Rx 3×3 (2.4GHz) + 3×3 (5GHz) + 3×3 (5GHz)
Number of Ethernet Ports: Five (5) 10/100/1000 (1 WAN and 4 LAN) Gigabit Ethernet ports
Number of USB Ports: Two (2) USB ports: 1 USB 3.0 & 1 USB 2.0 port
Processor: Dual-Core 1GHz with 3 offload processors
Memory: 128 MB Flash and 256 MB RAM
Additional features: VPN support, guest network access
Dimensions: 11.63 x 8.92 x 2.14 in (295.5 x 226.8 x 54.5 mm)
Weight: 2.43 lbs (1.1 kg)
Review Overview
Summary : If the Netgear's top of the line router is out of your budget, the Nighthawk X6 R8000 is a respectable alternative, offering capabilities within the scope of most home networks, at a lower price.