Few role-playing franchises are as plentiful as the Atelier series. Dating back to the 1997 release of Atelier Marie: The Alchemist of Salburg, the prolific property is comprised of eighteen successors, sixteen spin-offs, as well as a plethora of ports and remakes. With the release of Nelke & the Legendary Alchemists: Ateliers of the New World, developer Gust offers a well-deserved deviation from formula to offer a celebratory congregation of franchise characters. While it's simplified in many ways, the gratification rooted in development remains, making it an off-shoot likely to appeal to both newcomers and series stalwarts.
Unlike the budding alchemists that have led most entries, protagonist Nelke von Lestamm is an aristocrat with little talent for transforming a variety of basic ingredients into a beneficial item. Instead, she arrives in the village of Westwald with a savviness for urban development alongside her assistant Misty Ellude. While Ateliers of the New World dialog often centers on the friendly camaraderie between acquaintances, elucidation is often present in character models and animations. A glance at Nelke's confident saunter and the way Misty struggles her oversized luggage tells just as much as a stretch of exposition.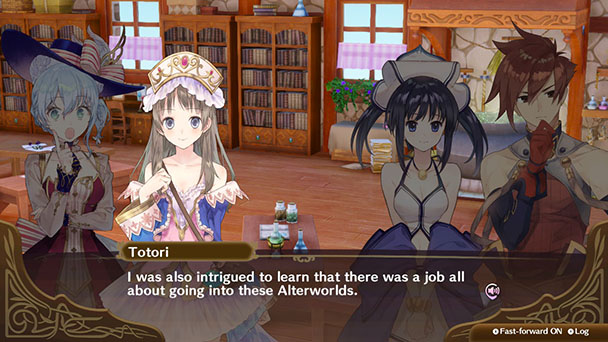 Leave Alchemy to Your Aides
The lead's lack of alchemical ability means she needs aid in the transformative arts. Luckily, Marie from franchise debut appears along with Elie, the lead from the sequel. But before the pair can help Westwald mature, they'll need an atelier to conduct their work. And that's where reoccurring character Hagel Boldness fits in. Building on his skills as a blacksmith, he's the village's resident carpenter and offers to assist in the construction of buildings, as long as he has the necessary supplies. Like many characters in the Atelier games, he's selfless and perpetually positive. As the title weaves in more returning personalities, there's a familiar sense of optimistic solidarity, with everyone contributing to the common good. While seeing characters from the console games interact is undoubtedly stirring, sometimes the dialog can be a bit too brief.
Nelke's city planning duties arrives in two phases. During Holidays, the administer can lead a party of up to five members to gather supplies or build friendships with Westwald's citizenry. The former forsakes the explorational pursuits of the property, opting for a linear trek through unlockable areas. The team can either walk or run, but only a gentler stride will permit parties member to randomly find items. No matter what speed you choose, there's the possibility of a random encounters with enemy squads.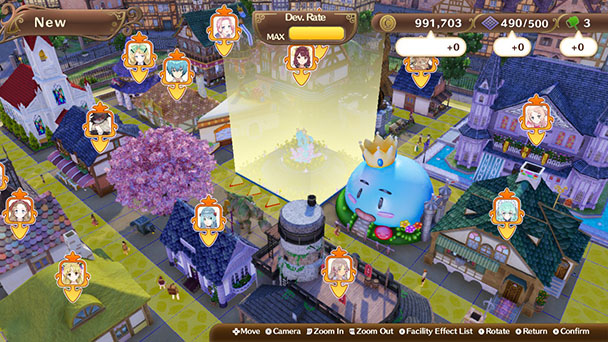 Regimented Recreational Time
During these short phases, forward momentum is halted, as allies and antagonists take turns dishing out melee strikes and specials attacks. With a Drive Bar constraining the use of specials, a Burst Meter offering a momentary stat boost, and the deployment of your alchemical creations, there's a bit of nuance when battling. But if you'd rather not micromanage each episode, you can always select an auto and semi-auto battling option, which helps to reduce tedium when you're grinding for a specific sundry.
Socialization also competes with your Holiday hours. Not only does this provide gratification through supportive, compassionate conversation but your bonds pave the way for urban progress. Beyond being offered lucrative side quests, boosting your relational level, you'll also periodically unlock new building plans. Naturally, there's always a multitude of duties competing for your decision, providing a sense of urgency to the game.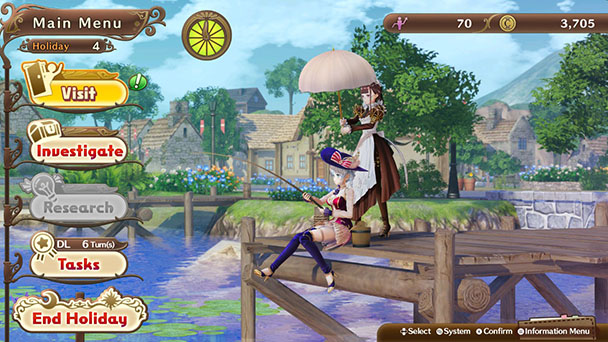 Nelke, the Workaholic
The working week brings a multitude of decisions as well. During this phase, you'll decide what buildings should be constructed, what kinds of material you want to grow, and what items you wish to alchemize. Like many city simulations, you'll be doing far more macro-level administrating than actually performing tasks. Fortunately, at the end of this phase you're offered a detailed breakdown, which graphs everything from population size to the amount of profit earned. Undoubtedly, you'll need this data. Your father is Westwald's acting ruler and will regularly assign tasks for you to complete. Failure to finish one of these commissions instantly ends the game, which feels a bit too punitive.
While the game's first few hours are hampered by a sequence of tutorials, Ateliers of the New World soon providers players with autonomy. Once you're passed the period, the game becomes much more enjoyable, as you're led into a gratifying gameplay loop. There's the occasional snag, with the game neglected to highlight issue that might hamper productivity. But largely, learning the details of urban development will cultivate enthusiasm, as you set out to chase your next goal.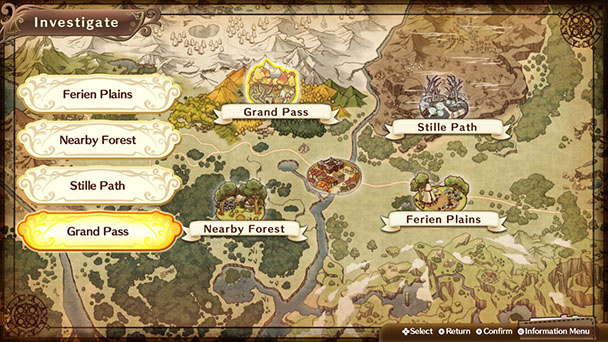 Materialized Beauty
Visually, Ateliers of the New World is in line with recent franchise entries. Character models flaunt a wealth of detail, with every shirt pleat and fancy bonnet conveying sophistication. The game's two-dimensional character portraits are just as expressive as ever, uniting the cast of over a hundred personalities together with visual splendor. This time out, the game forsakes an English dub. For those that played previous iterations in the Atelier franchise, hearing the assemblage of returning voice actors will undoubtedly be a delight.
Nelke & the Legendary Alchemists: Ateliers of the New World is a pampering piece of fan-service. Not by flaunting ample amount of flesh, but by uniting characters from twenty years of Atelier lore. These are women and men we've seen grow and self-actualize and when they come together in fleeting moments, the results are enchanting. To a lesser extent, the cycle of item gathering, building construction, and economic management are captivating as well, especially for those who are more enamored with the series characters than they are with the procedure.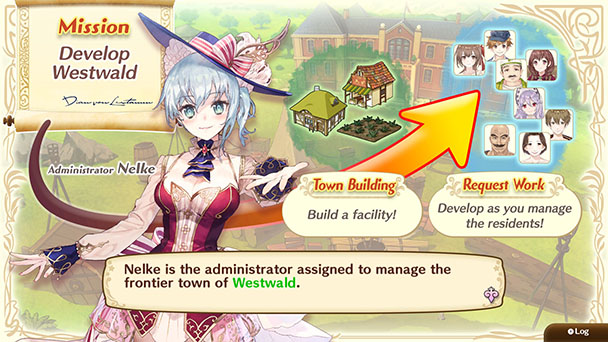 Nelke & the Legendary Alchemists: Ateliers of the New World
was played on PC with review code provided by the publisher. 
Review Overview
Summary : Nelke & the Legendary Alchemists: Ateliers of the New World is a pleasing break from series tradition. Shirking alchemy for city planning, Nelke gets by with a lot of help from her friends and Gust's attentive expertise.