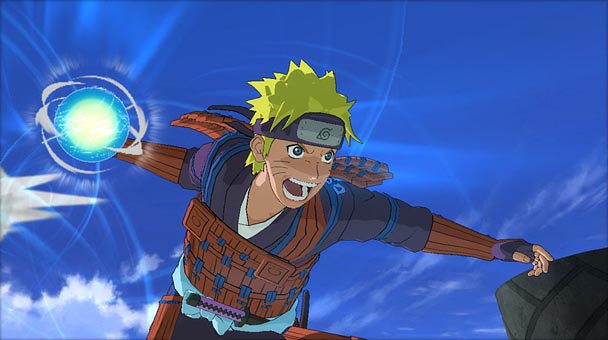 Not long ago, blind-buying a manga or anime-based game was a dicey proposition. Although sporadic standouts such as Ghost in the Shell: Stand Alone Complex and Astro Boy: Omega Factor resisted mediocrity, the majority of licensed titles proved to be substandard cash-ins. One of the principal developers who helped reverse this trend was Fukuoka-based CyberConnect2. By offering commendable interpretations of both the .hack// and Naruto: Ultimate Ninja franchises, the studio helped dispel some of the negativity associated with anime adaptions. Personally, 2009's Naruto Shippuden: Ultimate Ninja 4 proved to be a tipping point, with the game's quality helping to reinvigorate my appeal for the aspiring hokage.
In many ways, last March's release of release of Naruto Shippuden: Ultimate Ninja Storm 3 rekindled any waning interest for the Genin-level shinobi. By complementing the franchise's established mechanics with a substantial narrative that covered the Fourth Great Ninja War story arc, the game's intermingling of plot and play recalled the proficiency that developer CyberConnect2's demonstrated with Asura's Wrath.  The release of Naruto Shippuden: Ultimate Ninja Storm 3 Full Burst extends the game's capability further, offering reworking the cinematic engine, adding Sage Kibuto, a hundred challenge missions, compiling the original game's DLC costumes for the release, as well as making the game available to PC owners. That said, the title's protracted cut-scenes and simplistic fighting engine means that the redux still won't connect with players who are indifferent to Shippuden lore.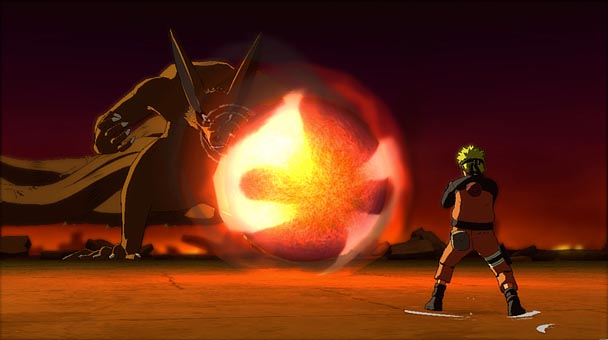 Although, the Ultimate Ninja Storm 3 made a prodigious first impression, Full Burst's adjustments push the prologue into an ocular nirvana. The title's core campaign, entitled Ultimate Adventure, opens as Hidden Leaf Village is under attack by the Nine-Tailed Fox. Restoring the invigorating boss battles which were absent from Ultimate Ninja Storm Generations, the clash flaunts the game's visual proficiency- as players leap across the village's rooftops, waiting for the ideal moment to launch as assault on the gargantuan foe. Foreshadowing the encounters which punctuate each of the game's ten core chapters, victory hinges on the successful completion of a series of quick-time events. With requests for button mashes and directional pad presses which correspond with the frantic on-screen action, Ultimate Ninja Storm 3's QTEs consistently evade monotony, conveying a struggle of epic proportions.
Full Burst tweaks Ultimate Ninja Storm 3's lightening, contrast, and texturing- resulting in the peerless interpretation of Masashi Kishimoto's beloved characters. Standing in sharp contrast to the faux-photorealistic Unreal Engine-powered aesthetic which has dominated the current hardware generation, the game's visuals are refreshingly vibrant and animate with steadfast fluidity.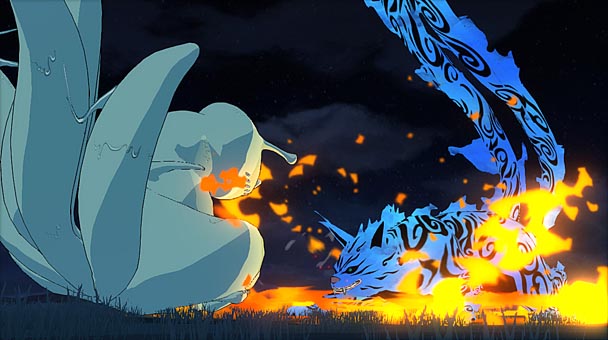 Not quite as successful are the game's clashes against rivals and familiar foes. While the rudiments of projectiles, jumps, block, and basic combos as well as the powered-up chakra assaults allow neophytes to quickly become ninjutsu masters, uniformity across each character's moveset means that fights lack finesse. Sure, Awakening mode (where combatants with a dwindling health gauge can gain additional strikes) as well as character-specific jutso assaults add a bit of variance.  Yet, the ease that these moves can be pulled off stifles the sense of satisfaction produced through the mastery of intricate systems.
While there is a certain homogeny to the game's roster of eighty-plus characters, the cast does provide plenty of visual distinction. As with previous installments, Full Burst allows players to square off again local or online opponents- in survival, versus, practice and tournament modes. A few pleasing additions ranging from ring-outs, random rule sets selected by a slot machine, to team-based battles distinguish this iteration's competitive pursuits. Pleasingly, online matches performed well, exhibiting only traces of lag as competitors launched simultaneous team attacks. The game's bundled costumes are bound to please fans, offering a swimsuit-clad Tsunade and kimono-wearing Sasuke- although secondary characters get nominal additions such as hats.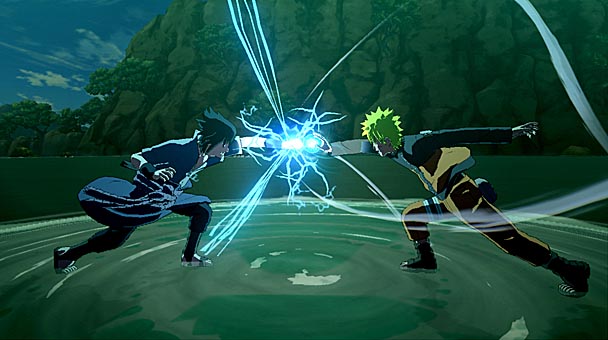 Less fruitful are Ultimate Ninja Storm 3's adventuring elements, which feel underdeveloped.  Between fights and conversational sequences, players are free to explore villages, which are all rendered from a fixed perspective, recalling the viewpoint from classic JRPGs. Woefully, the Kohana isn't exactly brimming with activity. Beyond NPCs with a line or two of incidental dialog, save points, shops, and a few concealed ryō, villages are peculiarly lifeless. Ideally, CyberConnect2 would have offered a menu system that would have eliminated the unfulfilling navigation and mid-city load times. The one redeeming moment of these sequences is when players are attacked by gangs of foes. Here, the game recalls Ultimate Ninja Impact's enjoyable skirmishes, as players use a reduced repertoire to devastate enemies. Regretfully, these sequences happen all too infrequently.
Where the series' has occasionally struggled to find a proper degree of difficulty, Ninja Storm 3 makes a few insightful decisions to make the title accessible to a wide swath of ability levels. At different points in the campaign, players may choose between Hero or Legend paths. These divergent routes not only offer alternative versions of key events, but also exhibit challenge levels identified with a star ranking. Choosing one or the other ultimate influences the tools players are given, allowing for slightly different play experience. Agreeably, gamers may jump back to an overarching timeline to see if they've missed any substance. Repeated failed attempts at subduing a foe are accompanied by an option to change the difficulty level, ensuring players don't become stuck on a specific enemy. For players who wish to conquer every last component of combat, Full Burst's hundred challenge missions offer a succession of test. Variations attempt to keep these undertakings lively, altering elements such as the amount of damage support characters incur and endowing enemies with poison attacks. Although the challenge missions could do more to distinguish themselves, the lure of unlockables will likely be a draw for completionists. For Shippuden stalwarts, the game's revised conclusion warrants an additional playthough, providing a much stronger sense of closure than the original coda.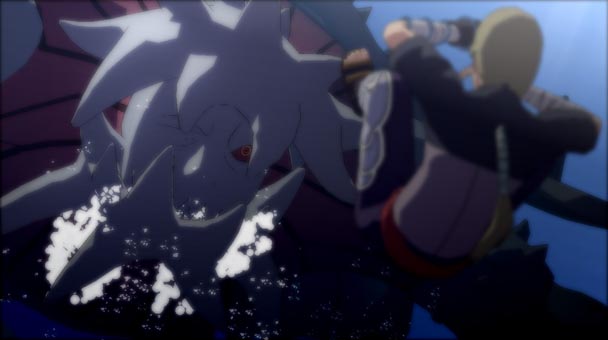 Aesthetically, Ultimate Ninja Storm 3 stands proudly at the apex of anime adaptations. With dual-language support players can hear the dialog delivered by the series Japanese or English voice actors. The one blemish is that the game's lip-synching becomes ruined when switching to English. Visually, the title unswervingly amazes, elevated by characters which replicate the detail and animation of the series. Naturally, Ultimate Jutsus are the game's high point, delivering cinematic clips which imitate the energy and vivacity of the source material. Even after numerous viewings, these stunning sequences remain eye-grabbing.
Naruto Shippuden: Ultimate Ninja Storm 3 Full Burst's fisticuffs may lack the subtlety of a dedicated fighter, that's unlikely to discourage supporters of the orange-clad shinobi. Upheld by a sizeable amount of story culled from Shippuden's current plotline as well as engrossing boss battles which echo the anime's pinnacles, the title demonstrates CyberConnect2's talent at capturing the essence of a licensed property. Full Burst's inclusion of additional content coupled with a reduced MSRP make a worthwhile addition for gamers that didn't already purchase Ultimate Ninja Storm 3. For fervent followers of the Hero of the Hidden Leaf, Full Burst's additions (sans the DLC costumes) can be procured for a reasonable ten dollar DLC purchase.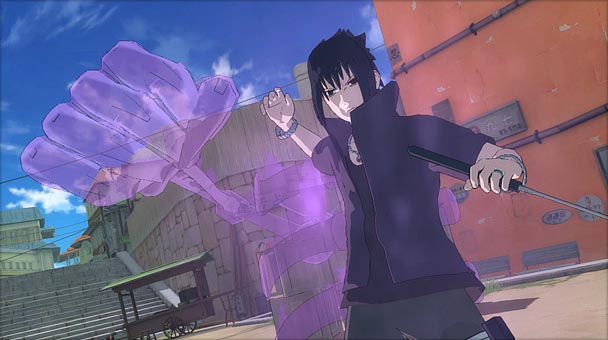 Naruto Shippuden Ultimate Ninja Storm 3 Full Burst was reviewed on the PlayStation 3 with review code provided by the publisher.
Review Overview
Summary : As an anime adaptation, Naruto Shippuden: Ultimate Ninja Storm 3 Full Burst ranks as one of the best, destined to please fans with engaging play, exquisite cinematics, and a cornucopia of content.