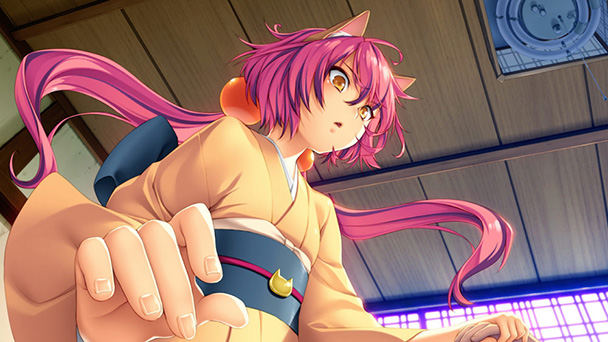 Like quite a few visual novels, Nanairo Reincarnation requires the suspension of disbelief.  Effectively, you become a Sherlock Holmes-type character, flanked by demonic girl-Watsons, when you're asked by the local police to assist when there's a rash of supernatural crimes. Had developer Silky's Plus Wasabi pushed you right into the investigative proceedings, Nanairo probably would have been a curious, but unremarkable effort. Instead, scenario writer Kazuki Fumi invests a healthy amount of time on world-building, articulating lore and traditions. In execution, it makes a world of difference.
Initially, Nanairo conveys the kind of rollicking slice-of-life tone that easy to become absorbed in. We first meet protagonist Kagami Makoto revisiting the estate of his late grandfather. Naturally, the return ushers in a wealth of memories, especially the group of lovely, kimono-clad servants. Here, Kobayashi Katsutoshi background art is a thing so beauty, expressing the serenity of rural elegance. There's an attention to detail that adds to the verisimilitude, with Makoto adding a hint of clutter as he moves in, selling the setting.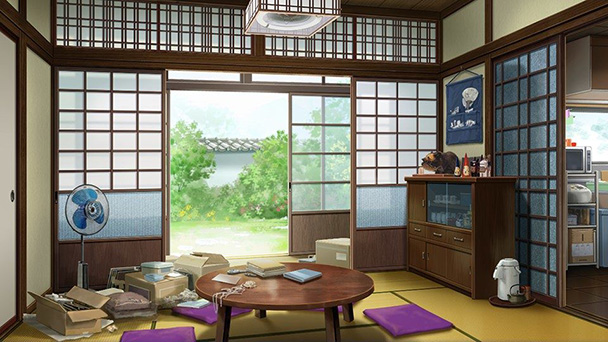 Zashiki-Warashi are Pranksters, But You Want Them Around
Soon he's reunited with Iyo, who conveys a child-like appearance and rambunctious nature. But oddly, she hasn't aged since Makoto last say her. Oddly, Makoto's mother doesn't acknowledge her. Shortly, it's revealed she's a zashiki-warashi, a spirit-like being who likes to pull harmless pranks but is also tied to the fortune of a family. She's soon joined by Kikyou, a lovely purple-haired demon who was one of the grandfather's personal assistance. Instead of accompanying her master to the afterlife, she insists on staying, implying there's unfinished work. Without spoiling anything, that means that Makoto and his entourage are required to lend their expertise to an escalating number of cases. Expectedly, this also involves dating sim elements, which can be augmented by a free 18+ patch from Denpasoft.
Much like Natsume's Book of Friends, the themes of restoration and duty run through Nanairo Reincarnation. There's something innately gratifying about bringing tranquility to the tormented. While the novel injects some grim material, it rarely lingers in the unpleasant for long, preferring the comforts of more upbeat emotions. There are portrayals of tragedy that are likely to produce tears but there are also moments of redemption and playfulness that help to provide balance.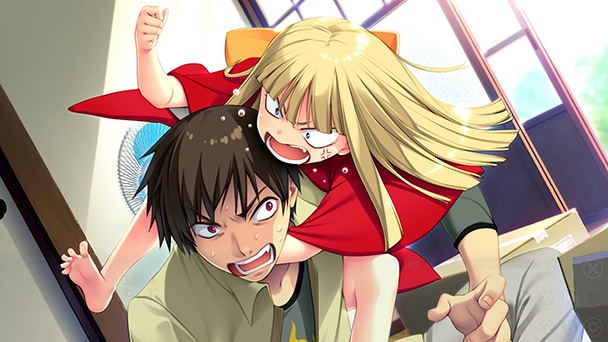 A Kindhearted Lead Who You'll Like, Tempers You'll Fear
Most satisfying is the gentle resistance toward traditional hierarchy. While Makoto's grandfather demonstrated compassion toward his servants, the grandson takes it a step further, eschewing many of the customary formalities. Unlike many visual novel protagonists, he's congenial without being overly cloying, allowing players to easily emphasize.
The game's harem of demon girls might be rooted in convention, but they are likely to cultivate compassion and perhaps a bit of amorousness from readers. From the reunited friend, the committed worker, and cheerful animal lover, the cast of humans and spirts are generally likeable. Sure, there's a loli-goth who's a probably a bit too needy, but she's capable of bringing out the protective side in some players. But by the time you settle down with any of game's four romanceables, it would be difficult not to feel some sentiment for each one.  The only downside is the amount of redundancy across the five routes. While you're able to skip text, readers might be craving a bit more divergence.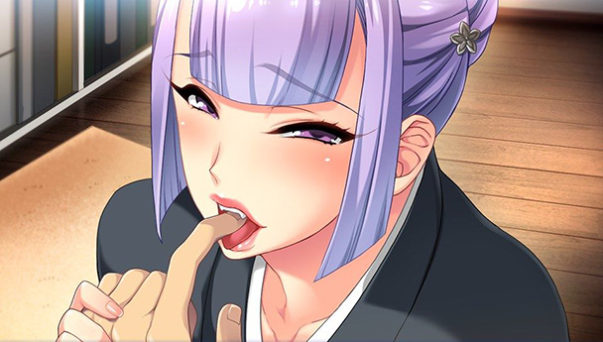 Croissant and Mirai's Aural Accompaniments
Some might find Nanairo Reincarnation's soundtrack a bit restrained. But I enjoyed the melodic compositions, which often provided an appropriate aural component to Makoto's inheritance and acceptance of duty. There will be disagreement about the game's trio of insert songs and pleasing OP and ED, which are all pleasing. Similarly, the game's voice acting is top-notch, with Mamiya Yuzu, Kawashima Rino, Misonoo Mei, and Akino Hana all delivering convincing performances. Hoshizaki Iria's interpretation of Makoto contributes immensely to his likability.
With a hundred save states and a log that permits you to re-read previously viewed dialog or speed through sections, Nanairo Reincarnation provides all of the essential accessibilities anyone needs. But one word of warning about performance: the novel wouldn't make it to the title screen on at least one laptop.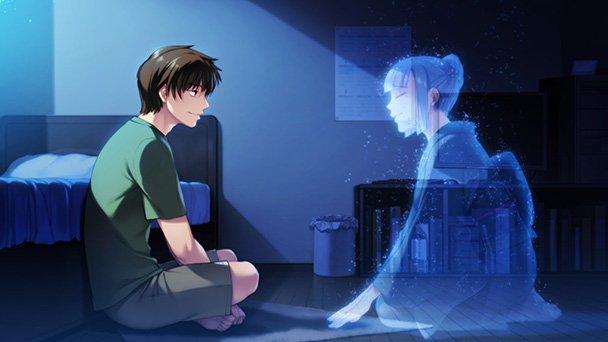 Nanairo Reincarnation was played on PC with review code provided by the publisher. 
Review Overview
Summary : Visual novel with dating elements frequently have exasperating protagonists. Nanairo Reincarnation challenges this inclination with a lead who's kind-hearted but still able to woo the humans and demon-girls. Watching him live up to the duties he's inherited provides continual enjoyment.