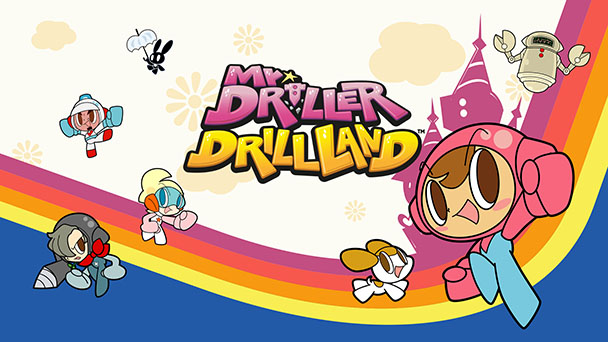 Mr. Driller DrillLand furnishes the 2002 Gamecube title with faultless high-definition makeover. It's arguably the energetic excavator's best outing, with a multitude of intriguing modes that ensure longevity.
Mr. Driller DrillLand
Platform:
Switch, PC
Developer:
INFINITY Co., Ltd.
Publisher:
BANDAI NAMCO Entertainment
Release date:
June 24th, 2020
Price:
$29.99 via digital download
Availability:
Nintendo eShop
,
Steam
Susumu Hori hasn't had the easiest life. The son of Dig Dug protagonist, Taizo Hori and Baraduke lead, Masuyo "Kissy" Tobi, he undoubtedly faced hardship when his parents divorced. Across a dozen different games in the Mr. Driller franchise, Susumu determinedly pierced downward into the earth, with soil persistently threatening to collapse around him. If there's anyone who deserves a day off at the local amusement park with friends, it's Susumu.
Luckily for players, the character's journey to DrillLand doesn't revolve around waiting in winding ride queues. Instead, DrillLand offers a satirical take on Disneyland, centering on five familiar attractions and a bonus that unmistakably alludes to the Main Street Electric Parade.  Each of these five modes offers a different kind of play style, adding variety to the basic drilling found in Yasuhito Nagaoka's original 1999 entry. Additionally, each has multiple difficulty levels, as well as traditional block patterns and ones for casual play, accommodating everyone from franchise veterans to curious newcomers.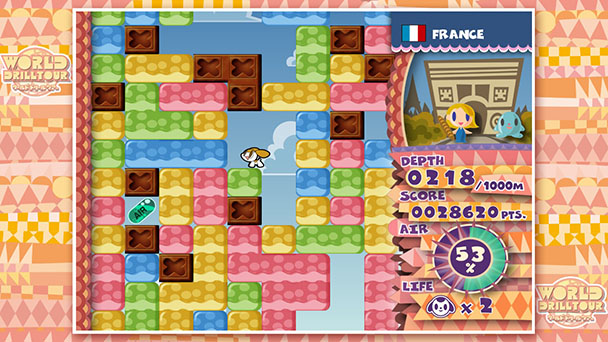 It's a DrillWorld After All
Undoubtedly, the Drill Land World Tour references "It's a Small World", incorporating an encouraging musical track sung by a chorus of children as well as a globe-hopping premise. As the most traditional of the game's modes, you're tasked with drilling down either 500, 1000, or 2000 meters. Additionally, score chasers can opt for an endless mode.
As an oxygen meter continually depletes, you'll bore downward. Drill into, say a blue block, and all adjacent blocks of the same color disappear, providing a scoring bonus based on the size of the cluster. But your mining isn't without consequence, and bunches of similarly hued blocks often fall, as long as the space below permits. Initially, these landslides might seem arbitrary, but over time, you'll be able to predict nearly every chain reaction. Drillers can also climb up the height of a single block, navigating to different positions on the playfield.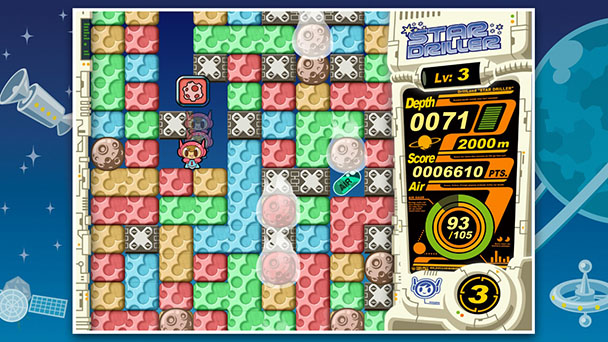 There are a few other elements to the basic formula. Brown blocks resist your drill bit, requiring several taps to pierce through as well as 20% of your oxygen supply. In this mode, you don't just have to drill with Susumu Hori. Character like love interest/rival Anna Hottenmaier (spelled Hottenmeyer previously) and Puchi the dog all add distinction, allowing for deviation through traits like faster drilling and the ability to jump up two squares.
Attractions Go Deeper
Each of DrillLand's other pursuits offers their own variation on this basic formula. Star Driller rifts on Space Mountain, offering its own retro-futuristic side menu, tiny moons that resist clearing, and most remarkably, boxes with a question mark on them. Crack these open and you'll unlock an item that will either help or hurt you, potentially replenishing your entire supply of oxygen or filling the screen with stubborn moons.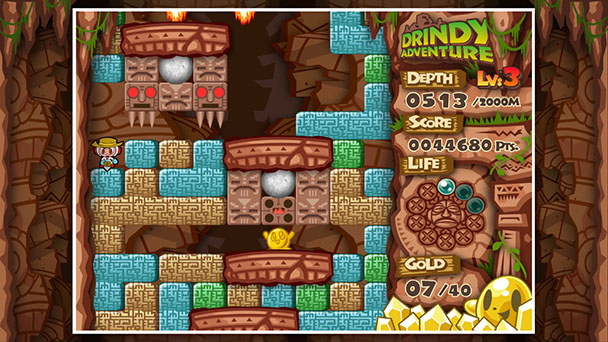 Drindy Adventure extends an Indiana Jones theme, sending a fedora-clad Taizo Hori on an archaeological expedition. The collection of gold statues is the goal here, but they're often near giant boulders that add peril to play. Once released, these stones roll left, right, and downward, crushing anything in its path, including Taizo, if you're not careful. Meanwhile, Horror Night House sends Susumu's gothic sibling into murky depths. Instead, of oxygen, you'll have a limited number of hit points that are gradually depleted when roving enemies touch you.
A Quarry of References
Fortuitously, this haunted pit permits players to turn the tables on enemies. Buried within the quarry are vials of holy water. Once one of these are gathered, you'll be able to inject into the nearby ground, stunning adversaries that can be drilled and turned into collectable gems. In execution, Horror Night House doesn't feel far removed from Bandai Namco's own Pac-Man, where vulnerability occasionally gives way to gratifying bouts of reprisal.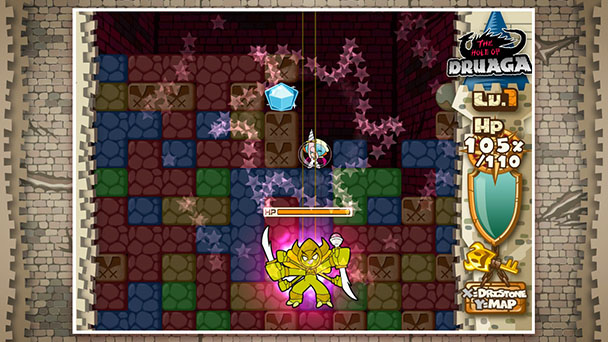 But that's not the only bit of self-referential humor. As the moniker implies, Hole of Druaga pays homage to the publisher's 1984 arcade cabinet, The Tower of Druaga. Here, Anna Hottenmaier stands in for the knight Gilgamesh in a mode that contributes from very light role-playing elements. Instead of a playfield that is a simple pit, Hole of Druaga has interconnected rooms, along with keys to collect and a boss to battle. Collectable items and subordinate monsters are added, and while the former makes navigation across the network of rooms possible, combat is exceedingly simplistic.
You Know the Drill
Opinions may vary, but none of the variations in DrillLand outshine the simplicity of the main game. Mr. Driller works best as a test of temptation. Sure, you can burrow you way downward, but resisting pervasive scoring opportunities can be difficult. Much like the escalating scoring system when eating ghosts in Pac-Man, each collected oxygen capsule growing in value, offering pushing you into peril. Other times, it's tough to avoid toppling a high-value group of same-colored blocks.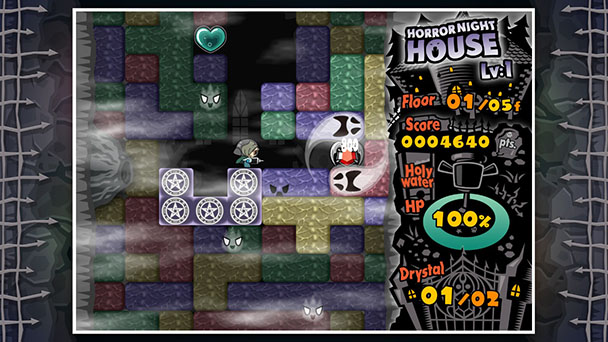 That's not to say, that modes like Drindy Adventure and Hole of Druaga aren't fun. But their digressions veer from the pleasing simplicity of Mr. Driller. You'll likely appreciate their presence in this package, but if you're a hardened Mr. Driller devotee like me, you might find yourself return to the Drill Land World Tour after giving each one some extended playtime. Even one of the game's cartoonish cinematics references the joys of "old fashioned drilling".
Conclusion
Round out the Disneyland reference is Drill Town, a place where you can spend 'bits' earned through play at a variety of stores. From virtual trading cards for each DrillLand character, perks that can used to adjust the difficulty of the game, and three-dimensional models, dividends are plentiful. Additionally, you can replay cutscenes, listen to game's exceptional soundtrack, and view a stamp card showing progress across the different modes. In all, there's a wealth of motivations often missing from contemporary titles.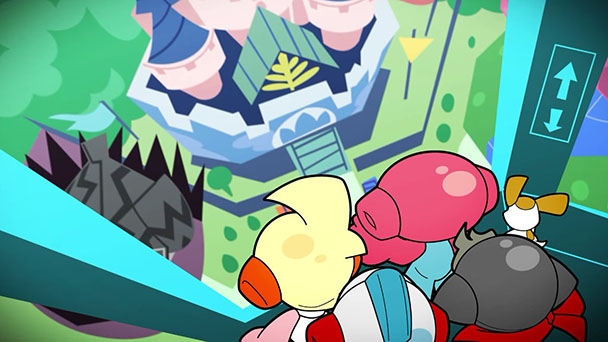 Hopefully, the PC iteration is patched to reflect controller buttons in all the menus. Otherwise, DrillLand's programming is proficient with blemish-free performance on both PC and Switch. Aesthetically, the only gripe is exceedingly minor. While most characters display an ample amount of animation frames, robot Horinger-Z erratic movement feel rather stiff. But that was the case for the original GameCube release as well.
High-Definition remasters are ubiquitous and occasionally superfluous. But Mr. Driller DrillLand feels essential, bringing over the franchise's best entries, which woefully, never arrived stateside. Whether you're a Mr. Driller diehard or a just a fan of action-puzzles games, you won't want to miss this enthralling excursion.
Mr. Driller DrillLand was played on PC and Switch 
A PC code was provided by the publisher for review 
Review Overview
Summary : Some game protagonists wear out their welcome with annual sequels. But the reappearance of Mr. Driller and his entourage feels fulfilling, potentially introducing Bandai Namco's team of tunnelers to a new generation.