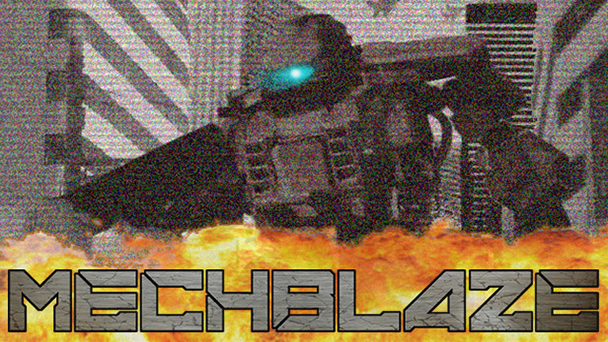 Doujin circle ASTROPORT delivers another gratifying run-and-gun with the PC release of MECHBLAZE. Sure, it's a bit iterative, building on their past successes. But it's hard to fault responsive controls, an inventory of weapons, and screens filled with explosions.
MECHBLAZE
Platform:
PC
Developer:
ASTRO PORT
Publisher:
Henteko Doujin
Release date:
November 6th, 2020
Price:
$9.99 via digital download, $7.99 launch price through 11/13
Availability:
Steam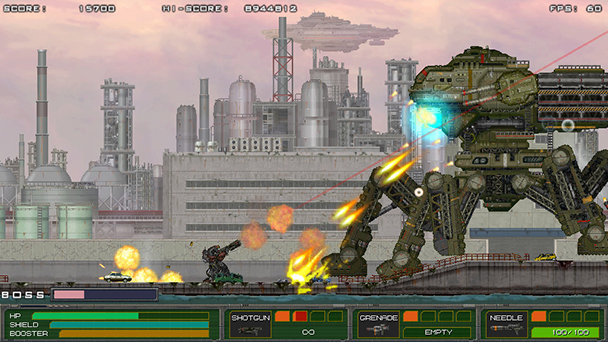 While many players are tempted by the new Xbox Series S/Xs and PlayStation 5s, I'm still in an exceedingly happy relationship with my PC. Part of the reason for this affinity is rooted in the availability of doujinshi. Created by amateur coders In Japan and habitually self-published, these games characteristically emerge on PC, evading the fussy curation methods of console manufacturers. Sure, they're sporadically ported to dedicated hardware, as evidenced by the appearance of GIGANTIC ARMY for the Switch. But they can be found in far greater numbers on Windows-based machines.
Like GIGANTIC ARMY, as well as STEEL STRIDER, the recent release of MECHBLAZE is yet another tribute to intense run-and-gun games like Contra and Metal Slug. Here, developer ASTRO PORT isn't trying to revolutionize their methods. The explosive, side-scrolling action has the same look and feel of their previous efforts. Distinction is found in a customizable loadout, modest upgrade system, and a point-of-view that's pulled back. Yes, your mecha and subordinate enemies appear smaller, making the screen-filling bosses seem exceedingly large.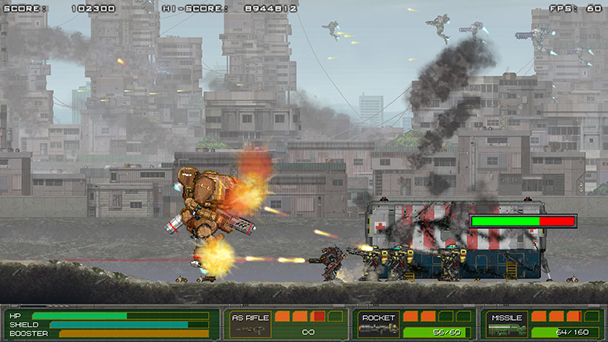 Laser Accurate Lethality
The game's six stage campaign begins with a range of five difficulty settings and a selection of main weapon, which has infinite ammo. Initially, you'll pick from a rapid-firing assault rifle or shotgun that emits a spread of short-ranged projectiles. Next, you'll choose a pair of special weapons from inventory of arms that include a rocket launcher, laser gun, and grenade launcher. Expectedly, these are far more powerful than your main gun. But weighty trigger fingers can burn through your ammo reserves quickly, as least until you pick up more bullets. Persevere and you'll unlock one additional main gun as well as a trio of new auxiliaries.
Power-ups scattered across each level will power up the weapon you currently have selected, permitting up to four levels of improvement. But intriguingly, incurring damage doesn't just deplete your health bar, but also ebbs away at the strength of your weapon. That's not the only design decision that makes the title feel like your controlling a mighty mecha. You'll be able to leap through the air and activate the jump-jets for a bit of hoovering. You can also dash, which makes a great defensive maneuver when bosses bombard you with mortars. Finally, there's a shield you can put up to block incoming attacks. This draws from a power gauge that's refilled at the end of the stage.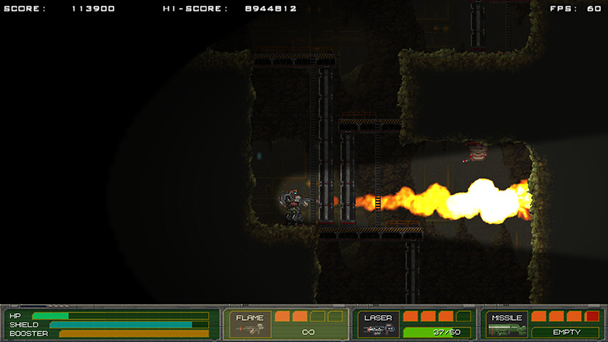 Responsive Controls
You mech, called a Vostok, which can use two control schemes. Both compel the use of a control pad. Type 1 uses the left thumbstick to simultaneously move and aim, while Type 2 borrows STEEL STRIDER's method, locking an angle when you hold down the firing button. Both project a red line that shows your aiming trajectory, making it easier to nail the angle needed to shoot the lofty cockpit of a mid-boss. While it might sound unwieldly in description, if you're even played any of the more difficult, but quite similar Assault Suit games, you'll be destroying many enemies before they have an opportunity to get off a single shot.
Variety is rooted in the multitude of mission types. Sometimes, you'll just need to survive. In other instances, you'll need to race toward and defend an ally vehicle that's under attack. Sure, there's a homogenous look and color scheme across ASTRO PORT's mech games. But it's obvious that the team doesn't want to tamper with success. While the grey and brown environments might not look appealing, their drabness lets you focus on the bright yellow and blue projectiles that occasionally fill the screen.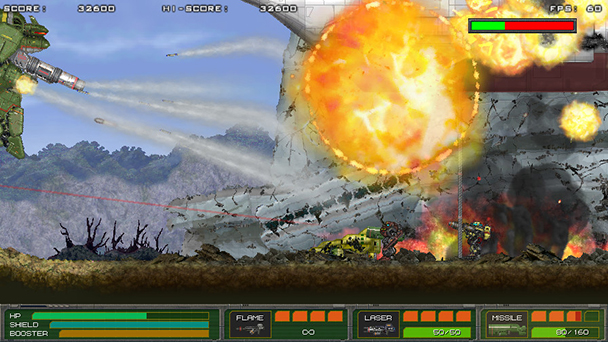 Conclusion
If there's a downside amidst all the destruction, it's MECHBLAZE's expository methods. Storytelling is handled with text on a green background with little visual flourish. Ideally, we'd receive orders from an animated character portrait and I'm sure most players would object to an attractive commanding officer. But since you can fast-forward through the text and jump back into the action, this transgression is rather minor.
Like Hollywood, the console industry continues to court high-priced blockbusters. But thanks to pint-size publishers like Henteko Doujin, Steam users are privy to the type of audacious efforts that were once confined to Comiket. MECHBLAZE might not give bleeding edge GPUs a strenuous workout. But that's ok- its time-tested action is more satisfying than a stack of humdrum Sackboy stages.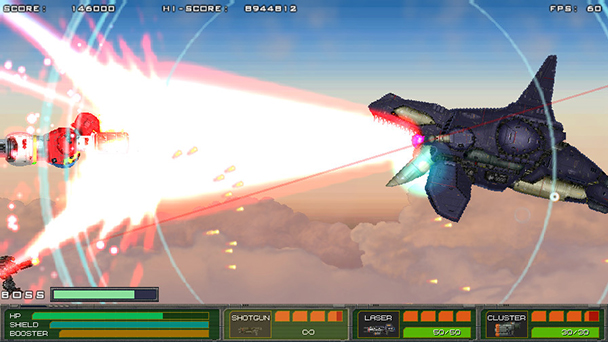 MECHBLAZE was played on PC with review code provided by the publisher. 
Review Overview
Summary : MECHBLAZE offers jump jets, a wealth of weapons, and screen-filling bosses all for an affordable price. Better yet, it runs on an Intel Pentium3 without a dedicated graphics card, so there's little reason to not appreciate its full-bore action.