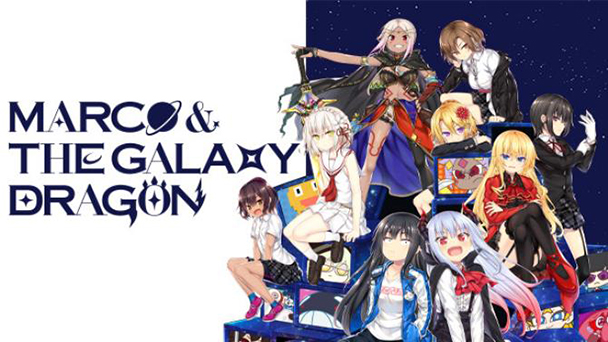 A Novel That Nearly Feels like an Anime
Tokyotoon's Marco & The Galaxy Dragon is poised to challenge your expectations of a visual novel. Habitually, the medium is economical, depicting its personalities and places with character portraits or CGs ('computer graphic', a remnant from the early novels). Top-tier novels typically offer as many as a hundred CGs, while modest doujin efforts might have a couple of dozen. Marco & The Galaxy Dragon boasts over a thousand of them.
As such, you're likely encounter a new image multiple times a minute, providing a sense of dynamism that complements the quirky plotline. Another boost in vitality comes from the novel's sporadic animated sequences. Not just fleeting snippets, Galaxy Dragon cinematics were bundled on their own Blu-ray in Japan, which explains how they can span for a minute or more. Yuushi Tanaka's Steven Universe-like aesthetic, with round faces and bowed limbs contrasts sharply with the more traditional manga stylings, but it's stirring to witness the cast walk, drive, and fly about. In execution, it's reminiscent of the chibi depictions in anime, where a change to a more passion mode is signaled with a shift to cartoonish-looking characters. Undoubtedly, Tokyotoon's multimedia approach to storytelling feels vitalizing and you'll likely wish other properties adopted a similar approach.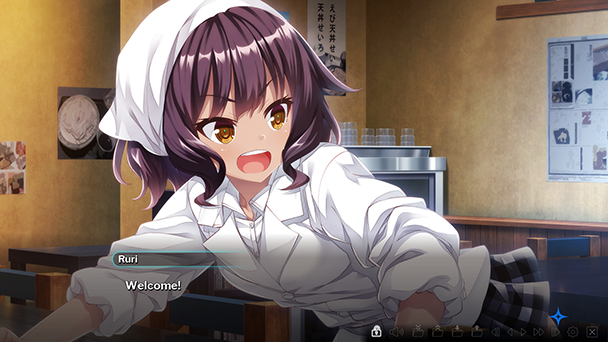 Send in the Clowns
A flashback depicts young Maruko as a wunderkind, captivating the audience during a piano recital. But the exuberance comes to a crash halt when the protagonist steps backstage to find her mother tied to a chair by two men in clown suits. But they're less interested in the parent than the six-year old prodigy and reveal an interest in kidnapping Marco.
But the remainder of Marco & The Galaxy Dragon usually adopts a lighter tone. Ten years on, we find the teenaged lead raiding tombs like Lara Croft or Indiana Jones. But instead of deftly evading traps or using smarts to rotate a statue that hold a prized Lizard Stone, Marco performs a series of eccentric dance moves. This kind of absurdist tone is what drives the six to eight hour non-branching plot along. Much of the enjoyment stems from not knowing where scenario writer Hato (Ano Ko wa Ore Kara Hanarenai, The Princess, the Stray Cat, and Matters of the Heart) will take us next.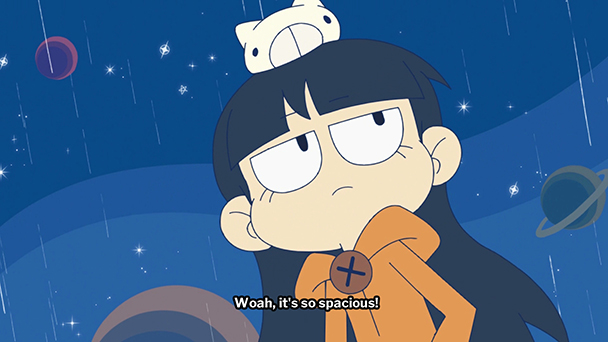 Wolves are Hungry, But Dragons are Ravenous
While the plot habitually provides hilarity and a few heartfelt moments, it's a persistent state of light-hearted uncertainty that drives the plot along. After unearthing a clue about her mother's whereabout, she travels to Earth, with Arco, the game's eponymous dragon who typically adopts the appearance of a young girl with horns. Elevated by a cast of characters that includes a villain fixated on destroying stars and a resolute survivor of one of those annihilations, expect a surrealistic take on the typical space opera. And most bizarrely, while the novel generally has a cheerful tone, there are sporadic instances of bloody, albeit comical violence.
While the succinct storyline is unquestionably entertaining, it favors comedy over the dramatic or tragic. As such, it doesn't have the enduring impact of more serious novels. Another blemish is found in the conclusion, which ties up the game's plot a bit too quickly. That said, TOKYOTOON's localization is skillful, without any of the grammatical lapses or bland adaptions that often plague novels.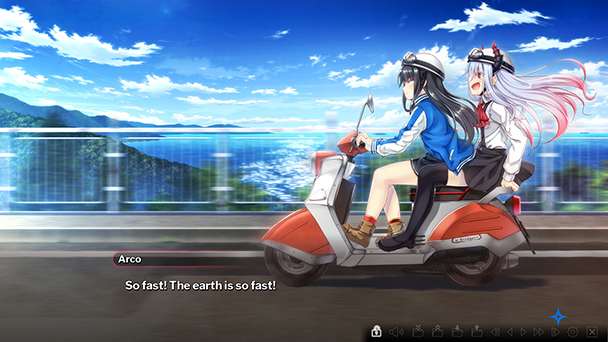 An Agreeable Interface
Likewise, Marco & The Galaxy Dragon boasts an adapt, uncomplicated interface. From save and loading that organizes progress into elective, quick, and auto-save options, the ability to automatically advance text, or review previous viewed conversations and animation, the novel offers every imaginable amenity associated with the medium, including text display in two languages. Pleasingly, it's also quite snappy, while the translucent on-screen icons looking particularly sleek.
Marco & The Galaxy Dragon succeeds by pushing the medium forward. Whereas most visual novels employ text as their dominant storytelling tool, Tokyotoon's title employs an abundance of images and quite a few full animated sequences. Sure, the madcap narrative is no slouch, but it's the method of the storytelling that makes Marco a mandatory experience.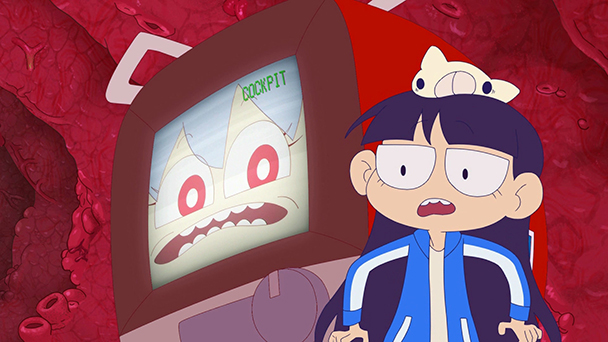 Marco & The Galaxy Dragon was played on the
PC with review code provided by the publisher. 
Marco & The Galaxy Dragon

Platform:
PC
Developer:
TOKYOTOON

Publisher:
HOBIBOX, ShiraVN
Release date:
February 28th, 2020

Price: 
$19.99 via
Steam,
currently on sale for $17.99
Review Overview
Summary : Those typically turned off by VNs are encouraged to give Marco & The Galaxy Dragon a try. An abundance of visual delights await across the rollicking adventure.