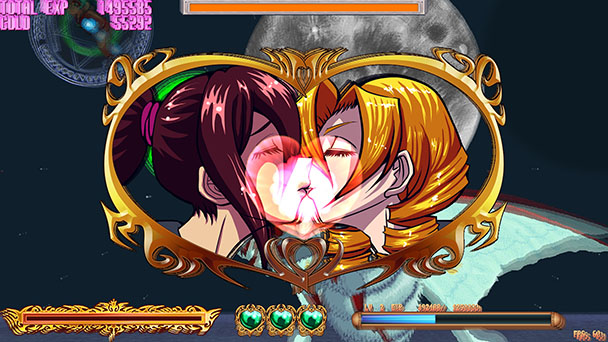 Any respectable shoot-'em-up has a gameplay element that endows the game with distinction. The recent Steam release of Maidens of a Hollow Dream/Kyomu no Otome, originally published at Comiket 88 in the Summer of 2015, has a pair of notable traits.
Most obvious is the incorporation of some spirited fan service. Maidens of a Hollow Dream centers on the exploits of Romi Shikisaki and Manamo Kuriyama, two students in a post-apocalyptic world where mankind has been obliterated, leaving a civilization full of women and giant, mutated creatures. What's left of the planet is under dispute by the Academy States- regions ruled by youthful maidens.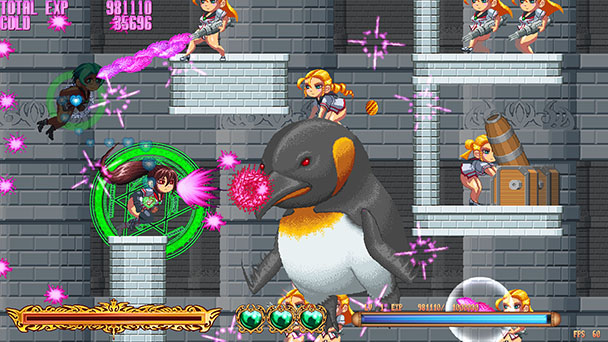 Parodying the rallying spirit of properties like Love Live!, Romi and Manamo's beloved manga club is threatened with closure, prompting the pair to spring into action in an effort to save the reading room. Success hinges upon the duo winning the Beautiful Warriors Contest, a competition whose winner is determined by the exhibition of supreme elegance and poise. And that's where maebari, the thinnest of loincloths come in. These exceedingly narrow garments are susceptible to wardrobe malfunction, prompting Romi and Manamo to confront a procession of bullet-projecting monstrosities while keeping their modesty intact.
Almost consistently, they do. Although activating a super weapon reveals just how thin the maebari is, making Maidens unsuitable for most work environments, even if no nudity is shown. And occasionally, triggering a move shows the pair kissing, the rare display of affection across a quartet of levels that are teeming with antagonism.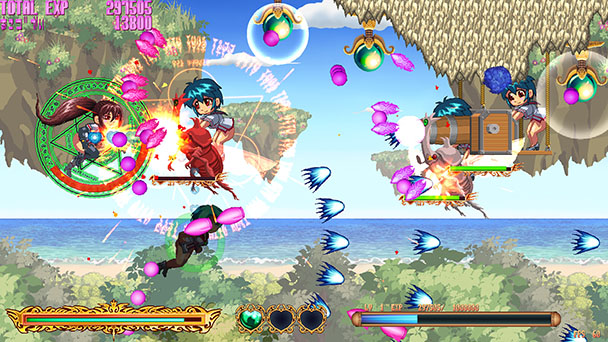 The game's other hook is a mechanic that keeps Romi and Manamo perpetually interlocked through the game's horizontally-scrolling stages. Using either the keyboard or a controller, you control one of the girls, while the other remains tethered- ready to be called upon with a press of the button. Both maidens can fire toward the different side of the screen, confronting an onslaught of enemies that emerge from the peripheries as well as mid- and stage bosses.
Surprisingly, the pair's powers are asymmetrical. Romi, with her fiery temper, summons a field of bright-red fire in front of her when the player taps the fire button. A hold intensifies the output, producing a powerful row of flames able to scorch most enemies into submission, while slowing the speed of the character, making projectile dodging a bit easier. Alternatively, Manamo issues a spread shot that's broad- but it's rather weak, slowly wearing down the life bar of foes.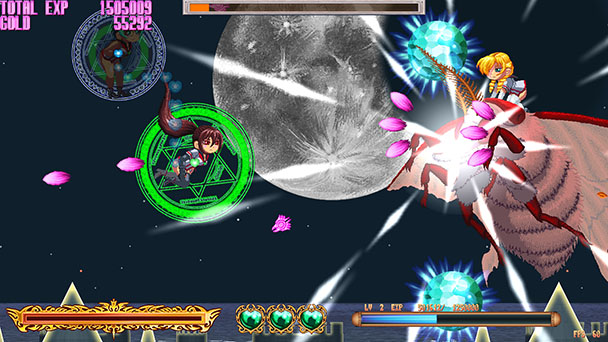 But the milder maiden specializes in magic, and as she attacks an enemy close-up, an Alchemy Aura appears around the foe. This loop has the ability to convert any enemy projectile into sparling trinkets. Collecting these is required to charge up your formidable 'friendship magic', which sends out a barrage of fire capable of eliminating a screenful of opponents or putting the hurt on a boss. Each character has her own heath ring, and since the depletion of energy for either girl ends the game, players are goaded into constantly switching between the two maidens.
But eluding a 'game over' isn't the only reason you'll seen to shift control between the girls. Periodically, parts of the environment will block forward progress, requiring you to get the dormant maiden on the other side of a column, before swapping control. Unfortunately, the maneuver can be awkward in execution, and as you're wrestling with the positioning of the girls, it's all too easy for the main maiden to get enclosed in a field of enemy shot. Given how Maidens of a Hollow Dream's other mechanics are meticulously designed, with a multitude of clever risk/reward dynamics and small details like foreshadowing of enemy fire, it's a little surprising. Later stages escalate the speed of scrolling, which can lead to a bit of frustration.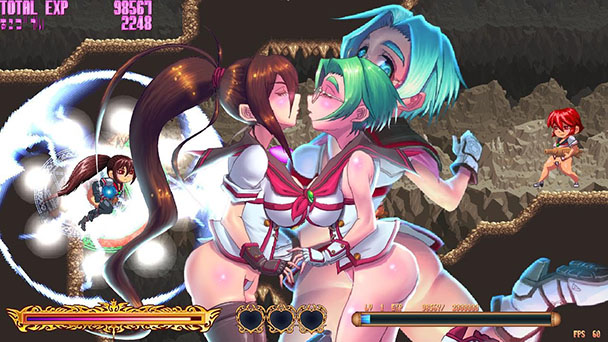 To help offset irritation, Maiden's main mode incorporates a light role-playing element, where any coin collected from defeated foes can be used to augment your abilities. Perks come into two forms. The first offers different types of ammunition for the girls, with option like penetrating or bounce shots. The second are different items that do thing like strengthen the fortitude of your characters or increase the power of your Friendship Magic. Expectedly, there's a downside of these assists, with scoring tempered when you use items. So, if you plan on earning a spot on the online leaderboard, you'll have to be very strategic about their use. For those who prefer a straightforward experience, the game's 'very hard' option abandons the use of any crutches.
Maidens of a Hollow Dream isn't flawless with at least one element poised to annoy players. But beyond this issue, it's exceedingly distinctive, with an asymmetric dual, character approach making the shooter feeling surprisingly fresh. If you're seeking an inventive STG or just can't resist a mix of danmaku with playful fan-service, these Maidens are bound to get your pulse racing.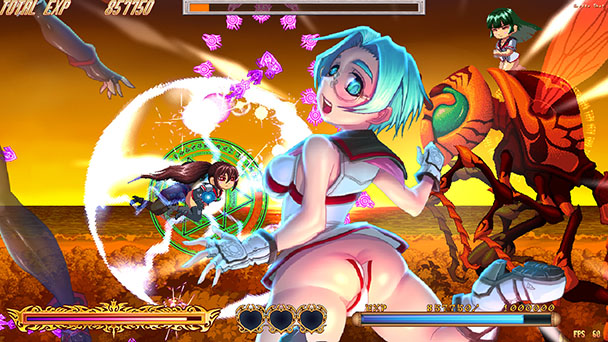 Maidens of a Hollow Dream was played on the PC with review code provided by the publisher. 
Maidens of a Hollow Dream
Platform:
PC

Developer:
Akiragoya

Publisher:
 Henteko Doujin

Release date:
March 30th, 2018

Price: 
$9.99 via
Steam
Interface languages:
English, Japanese, Chinese
Review Overview
Summary : With an assortment of intriguing rick-reward mechanics and a pair of pair of ladies who shirk skirts, there are number of reason to like Maidens of a Hollow Dream. Fortunately, there's more than just fan-service to get excited about.