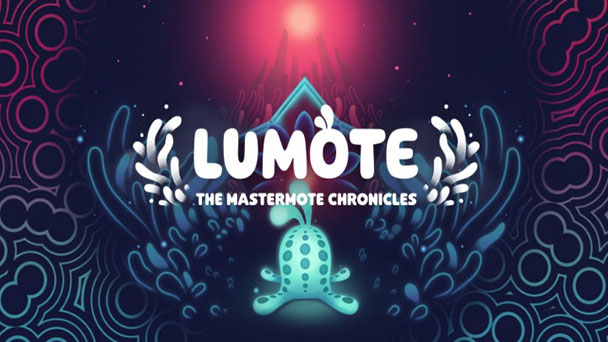 Looking for a relaxing platforming puzzler than you can tackle at your own pace? Lumote: The Mastermote Chronicles offers a relaxing and vibrant eight-hour retreat from the world.  But know that you won't find much variety on your digital vacation.
Lumote: The Mastermote Chronicles
Platform:
PC, also on PlayStation 4, Switch, Xbox One
Developer:
Luminawesome Games
Publisher:
Wired Productions
Release date:
April 21st, 2022
Price:
$19.99 via digital download
Availability:
Steam
and other digital marketplaces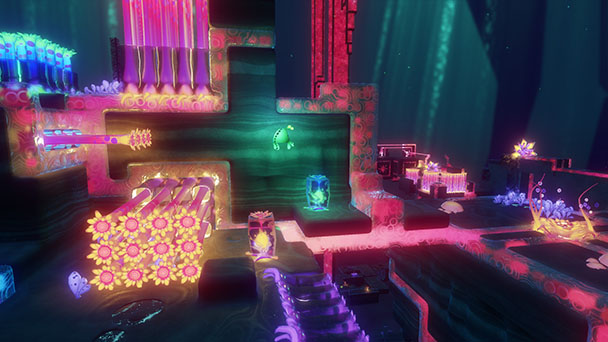 Appropriate for a game set in bioluminescent environments filled with anemone-like creatures, Lumote: The Mastermote Chronicles tosses you directly into the deep end. Plunge in the recent console and PC release and you'll find few of the typical video game trappings. Shunning customs like an introductory cutscene, dialog, or even other type of explanation of context, you're immediately given control of the main character.
With a pair of ever-oscillating antennae, Lumote resembles a bright green slug. But with four legs, he's definitely not your typical gastropod. He'll use that quartet of appendages to launch himself skyward with a nimble double-jump.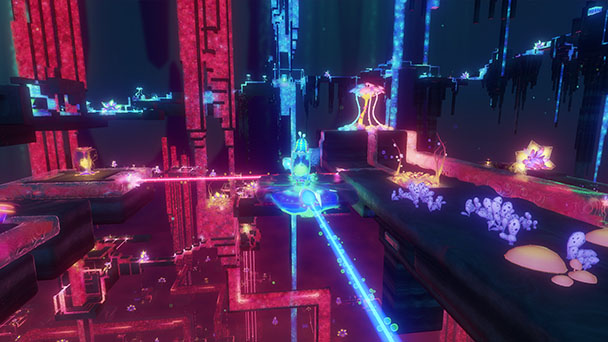 Mostly Relaxing Exploration
With only a handful of on-screen button prompts for instruction, developer Luminawesome Games' intent is clear. Instead of verbose explanations of abilities, they want players to experiment and learn as they go. As such, if you're a fan of puzzle-platformers that don't hold your hand, Lumote's approach will feel welcome. While pathways might keep you focused, you'll be obliged to use your brainpower to make forward progress.
You'll discover that jumping on and attaching yourself to direct objects will influence a multitude of environmental elements. Fasten yourself to a patch of elongated tentacles and they'll reach outward, propelling you to a previously inaccessible pathway. As Lumote walks through areas, the region gradually turns from blue to red. But sporadically, you'll need some assistance with changing the hue of a zone.
When help is needed, you can hop on and attach yourself to an object that looks like a pea inside of an ice cube. These creatures function as power cells. By positioning one on top of a flower, you'll activate different organisms, allowing you to proceed. Puzzles build on concepts, and you'll soon have to move two and three of creatures, making the game feel like a sokoban title. Periodically, you'll pass through large sea-blooms, which act as checkpoints if Lumote missteps off the platforms.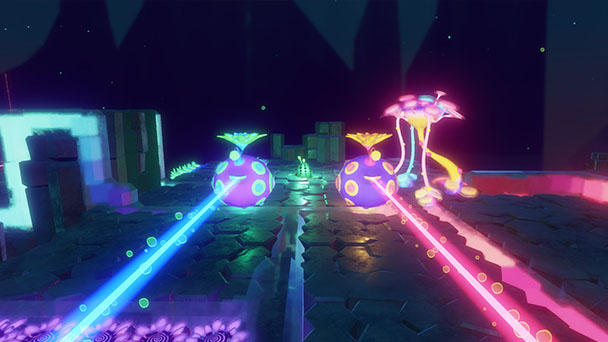 Mastermote Can be a Bit One Note
You'll uncover new nuances, of course, but revealing any additional ones might tarnish The Mastermote Chronicles' sense of discovery. But don't expect any drastic changes on your journey. Yes, the puzzles grow increasingly devious and there will probably be a point when you become stuck. Sadly, there's no hint system built into the game, so you'll have to consult a 'let's play' video or refresh the conundrum later with a fresh set of eyes.
But Lumote's biggest weakness is that the main mechanic and visuals don't alter all that much over the six act, fifty-stage journey. Yes, there are new kind of interactions and objects to interact with. And credit should be given to Luminawesome for keeping the conundrums interesting. Almost each new level builds upon your existing knowledge. But eventually, The Mastermote Chronicles succumbs to monotony. As such, the game is best enjoyed in short doses rather than playthrough on a single-sitting.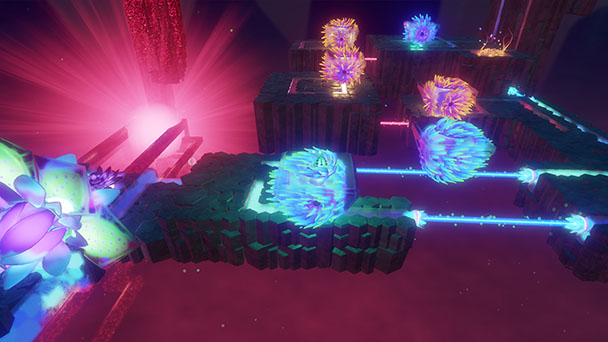 Conclusion
While there's a plethora of puzzles titles, few efforts are as laidback as Lumote: The Mastermote Chronicles. There's a strong chance that you'll encounter the sporadic roadblock, as you struggle to find a solution. But you're never rushed, making shorter play sessions the preferred way of enjoying the game. Luminawesome Games' approach to game design should be commended, even if they're implementation leaves you longing for more variety.
Review Overview
Summary : Although Lumote: The Mastermote Chronicles is both smart and attractive, you might that gameplay would evolve more across the eight-hour excursion.