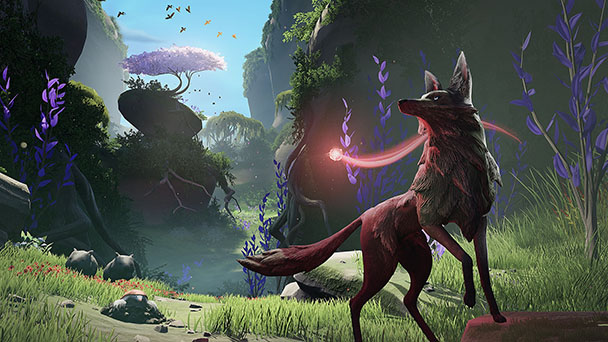 Whether it's the verdant jungles of Crysis, moss poking through the pebbled shores of Dear Ester's Hebridean islands, or the snow-shrouded pines in The Long Dark, games routinely provide fascinating recreations of flora. With the release of Lost Ember for the PlayStation 4 and PC, developer Mooneye Studio helps give fauna a moment to shine.
Sure, animals and autapomorphic characters are ubiquitous in gaming. But the pursuit of urgency rarely allows players to appreciate the exquisiteness of nature. Fortunately, Lost Ember does, permitting players to be a spirited goat scampering up a hill or an indomitable fish making its way upstream. But the game ambitions are greater than just rendering the graceful athleticism of animals. The game also serves as a not-so gentle reminder that we can learn from our four-legged and finned co-habitators.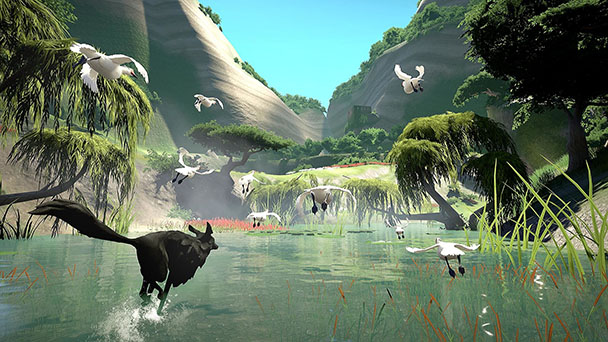 The game's mythos tells of a city of light, which serves as an afterlife enjoyed by the virtuous. But the less than righteous ones are denied admission, referred to as 'lost embers'. Instead of enjoying rapture they are reincarnated as animals, which happens to be your fate in the game. Seemingly, you were a bandit in your previous life, but the deeper mystery is where humanity has gone.
Apparently, the pathway to the city of light doesn't offer much signposting, as you encounter a bright pink sphere of light searching for the hereafter. Endowed with an English accent and a loquacious disposition, the ball of light serves as your chaperone across an earthly purgatory, voicing speculations about the ethereal figures that materialize and quickly fade from the environment. Although anyone familiar with Eastern belief systems will recognize Lost Ember's plot points long before they're articulated in game, there's still delight in the confirmation of your suspicions.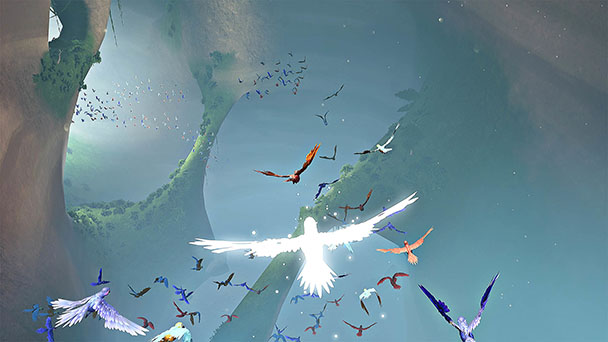 There's also enjoyment in how your expedition is depicted. Lost Ember could have shoehorned in box-pushing puzzles or trans-species combat. But each of those would have diluted the game's invigorating sense of discovery. Instead, you'll initially be placed in the body of a wolf. Here, you can lithely stride or sprite across grassy knolls or dusty footpaths. A button press emits a heart-warming howl, which can be used to communicate with your companion or as an exclamation after scaling a peak. Lost Ember confirms that more game could use a howl button.
But before long, you'll reach an impasse that can't be crossed in lupine form. Here you'll be able to switch bodies, jumping into a mole who can burrow into the ground, thereby flanking the gap. Later, you'll be given the opportunity to take to the skies as a duck or hummingbird or the rivers as a fish. Although Lost Ember's columns of crimson smoke provide waypoints for directions, you're encouraged to explore the Unreal Engine-rendered landscape through the scattering of collectables.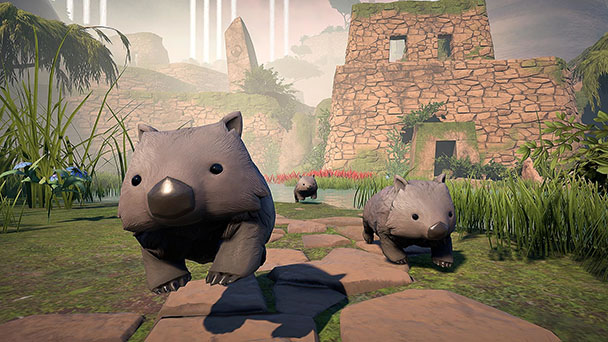 Pleasingly, progress feels organic. While Lost Ember occasionally goads you into switching forms, it's never the kind of head scratcher that might interrupt advancement. Kudos to the developer for putting into non-compulsory behaviors for the title's dozen or so animals. Tap the directional pad and you'll eat berries, roll around, or perform some other kind of animal-specific activity.
On land, mammals dash across the landscape convincingly and intuitively. But take to the skies with a duck or hummingbird and Ember doesn't demonstrate the sensation of flight as well as Ubisoft's Eagle Flight. Instead of being able to soar through the skies and skim the ground, you'll be wrestling with the controls to glide through the air. It's not a deal-breaker, but the input methods occasionally wear away at the game's sense of immersion as does the game's invisible walls. Another issue occurs when the next piece of landscape needs to be loaded in, momentarily pausing the action.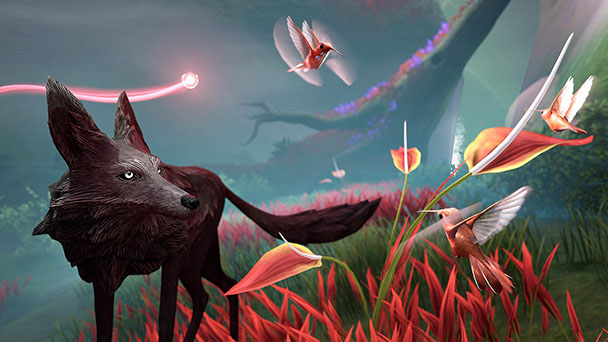 Seeking out each red plume contributes a morsel of exposition. Chances are you'll have appreciation and aversion to these cinematics. Yes, they move the plot-along, allowing Mooneye to impart some impart lessons. But soon, there cadence becomes a bit too predictable, with the narrator filling in key details, which spoils Ember's sense of self-discovery. All too often, I wanted to infer things on my own, instead of having my pink companion tell me.
While some might balk at the game's pacifistic approach, Lost Ember's five-hour trek is more along the lines of Thatgamecompany's Flow, Flower, or Journey. It won't appeal to everyone, but for the right audience, the articulation of the beauty of nature and the interconnectedness of all things will be more stimulating than a dozen generic shooters. If the concept of a howl button sounds intriguing, heed Lost Ember's call.
Lost Ember was played on PC with review code provided by the publisher. 
Review Overview
Summary : Call Lost Ember a walking, swimming, and soaring simulator if you must. But the game's a bit more than the average ambulatory adventure. Steeping into the bodies of the game's animals is stirring and only undermined by the game's foreseeable storyline.