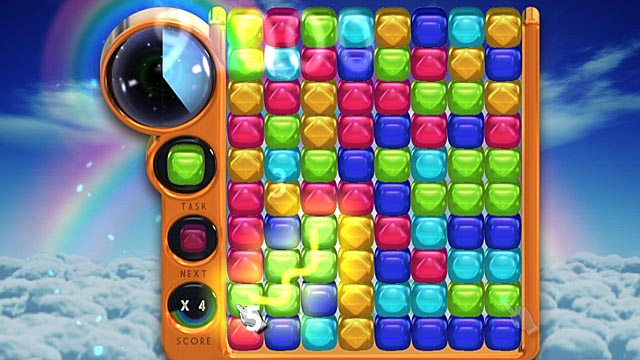 What is the concept? Ever since Bejeweled popularized the match-three puzzler in 2001, players have enduringly eliminated patterns of similar items from their screens. Wisely, Lucid abandons the genre's conventional control method, where players shift the places of two pieces.  Instead, groups of identically-colored blocks are removed when players draw a line through at a group of at least two identically-hued blocks. To prohibit the title from becoming too simplistic, the game has two additional regulations: drawn lines cannot double back on themselves and are required to touch every member of a specifically-colored cluster. As such, Lucid works on two levels- as players struggle to lasso complex shapes while simultaneous influencing the arrangement of the playfield.
To tempt players toward higher scores, a few possibilities for combos are integrated into Lucid. Gamers who purge squares which match the color of a 'task' block gradually fill an orb-shaped meter. Once the gauge reaches its limit, the game moves to the next level, giving participants a generous score bonus. Creating a chain with one of the pulsating Lucid blocks can also be used to bring in a fresh batch of squares- however it's employment can also kill the player's combo meter. As is the case with some puzzlers, Lucid's play mechanics are all easily soaked up- which is beneficial, as the game offers only the slightest of pop-up tutorials.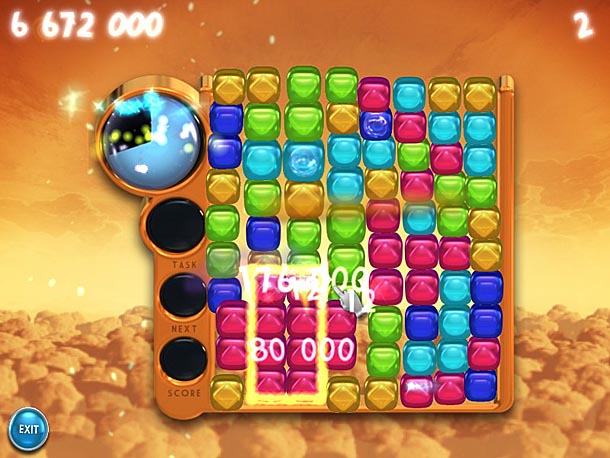 Would I enjoy the game? Players who prefer a protracted, laid-back, game which can easily fill half an hour should appreciate Lucid's tranquil vibe. Unlike some puzzlers that demand uninterrupted concentration from the player, the title's pace is ideally suited for multitasking.
What are the game's strengths? Remarkably, using a mouse to draw lines is consistently responsive, thanks to the game's almost imperceptible grid snapping. Even players who couldn't draw a level line should have no problem controlling Lucid. Spot a better move on the playfield? The game effortlessly allows gamers to retract a move by backtracking.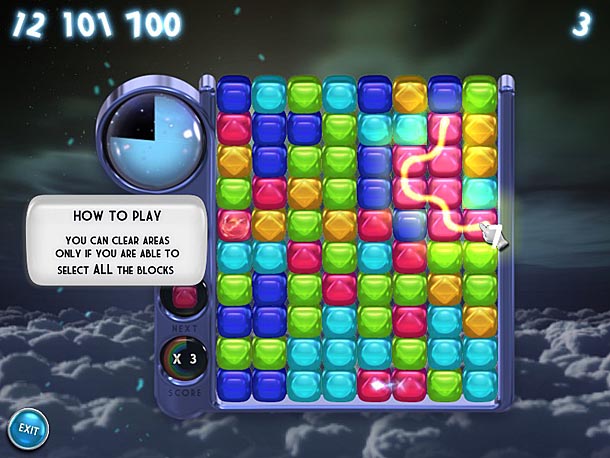 What could have been improved? Regretfully, Lucid's aesthetics borrow a bit too much from Bejeweled 2's calming new-age vibe. From the title's ethereal backdrops, futuristic interface, to a charmingly chilled-out ambient soundtrack, the game's vibe will be haunting familiar to PopCap fans. Much like Cradle of Rome's and Puzzle Quest: Challenge of the Warlords' contextualization of the match-three puzzler to historical and fantastical settings, Lucid would have benefited from a more distinctive backdrop.

Is it worth the money? Although Lucid would have benefitted from additional game modes, leaderboards, and a competitive element, the game's offset's the omissions with a $4.99 USD price. For casual players who aren't completed fatigued of the block-matching genre, Lucid lives up to its moniker by offering a reasonable, logical way to pass a few empty moments.