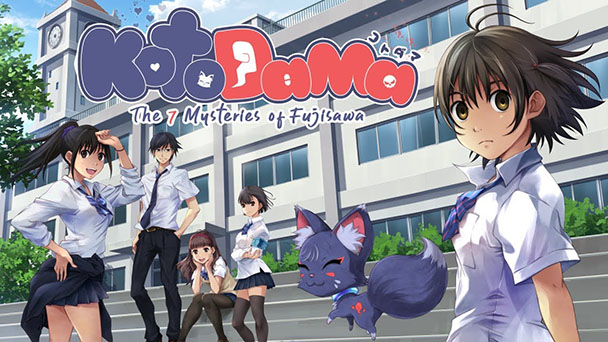 Inevitably, there will probably be a few prudish critics who will dismiss Kotodama: The 7 Mysteries of Fujisawa as little more than lecherous fan-service. Regularly, the game offers up a match-three puzzler where combos remove articles of clothing, played until the character is in their underwear. Given the recent suppression of sexuality in the industry, especially when characters are rendered in anime-like aesthetic, reductionism and ethnocentrism are becoming increasing prevalent.
Hopefully, you'll want more than just a prejudiced, knee-jerk reaction.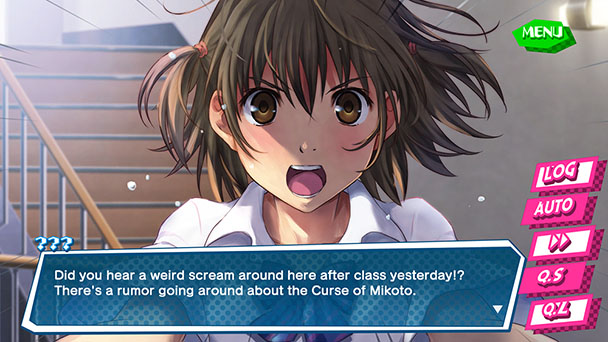 Delve into the PlayStation 4, Switch, and PC release and you'll discover an interesting situation. After selecting a name and gender for the game's unseen protagonist, you'll be given a walking tour of The Fujisawa Academy. Here, you'll discover a setting that's quite evocative and a cast who are deeper than first impressions suggest. Built on a substantial land space despite a smaller student body, there's a disconcerting aura created by the wide swathes of emptiness across the academy. This is confirmed quickly, when the protagonist becomes lost and later when a school tour stops at the Occult Research Club's office.
At a meeting there, you'll learn of the game's seven eponymous urban legends which range from a suicide by a girl who jumped from a school building, a volatile white wolf that's been spotted around campus, to why no one has seen the principal. Unsurprisingly, getting to the heart of these tales forms the bulk of Kotodama's visual novel-style exposition and puts you in contact with key characters. To a lesser extent, these are Fujisawa's ancillary mysteries, as students reveal their own provocative back stories.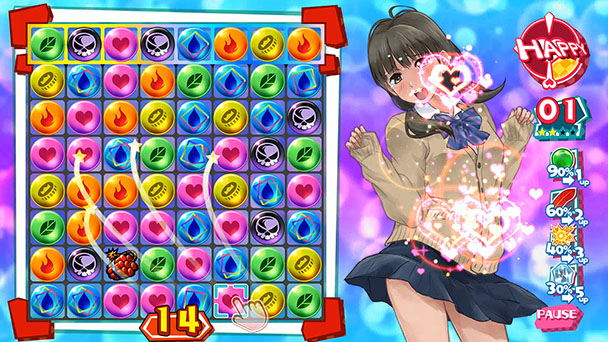 To get to the heart of these obscurities, you're accompanied by a demon fox who is invisible to others. Besides the sporadic quip to vary the tone of the game, the diminutive blue demon provides the power of Kotodama, permitting you to wring the truth out of people. This is where the game's match-three mechanics come into play. Here, the removal of clothes is a metaphor for how people might shed their protective traits. Exposure is initially uncomfortable, but eventually leads to a natural state, quite literally the stark truth.
Yes, it's ever so slightly suggestive as both female and male character squirm in ecstasy, faces aglow with passion. Eventually, you'll unlock different underwear for each character, but it's all relatively mild with nudity only suggested by a tight show of bare shoulders. Notably, Kotodama speaks on how the elements we reveal to others is often a protective façade, and why we often work so hard to maintain it. Just as appealing are the explanations given for the existence of urban legends and how they are perpetuated. Amusingly, Mysteries of Fujisawa incorporates social media into its plotline, with the Twitter-like use of Quacker common with the academy's students.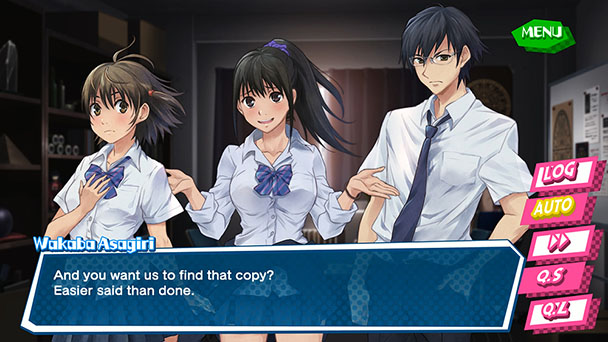 As intrigue grows around each mystery, you'll be prompted to use your powers, commencing a round of match-three puzzling. Notably, veers from the traditional orb-swapping play mechanics of most genre entries. Instead, you'll be removing a single icon, hoping that the falling sphere create horizontal and vertical groupings. Removing orbs raises the happiness level of your partner, shedding attire at regular stages. There's no time limit and Kotodama offers suggestions, but there are a few elements that can stymy progress.
You'll have a limited number of moves, but you can opt for different challenges that could potentially earn you a few more. Here, items that give more turns have a greater chance at failure, so you'll want to handle these opportunities strategically. Additionally, each type of icon has its own happiness rating, which is determined by uncovering keywords during the visual novel sequences.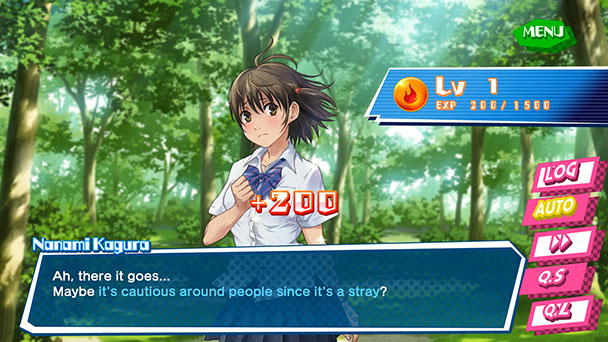 While 7 Mysteries of Fujisawa is no match for Phoenix Wright, the game does simulate the feeling of investigation. Not only will you select from multiple conversational responses, but you'll also choose to scrutinize different areas of the academy. The order of selection makes a difference here, and some characters will show up after multiple playthroughs, making keyword acquisition rather challenging. Earning the game's true ending might require a FAQ since Kotodama is a little to good at concealing some of it's secrets.
Save for this minor annoyance, Kotodama: The 7 Mysteries of Fujisawa is an enjoyable experience. Elevated by attractive characters and detailed backdrops and melodic soundtrack, it's thoroughly polished, save for a few odd sentences that seemingly didn't get localized. The game also strikes a careful balance between plot and puzzle, making for an easy recommendation for visual novel aficionados.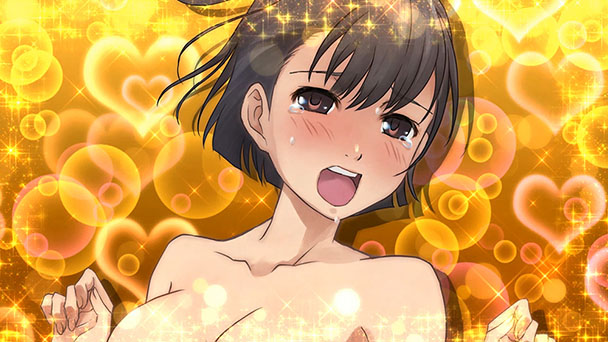 Kotodama: The 7 Mysteries of Fujisawa was played
on PC with review code provided by the publisher. 
Review Overview
Summary : Sure, there's a bit of fan-service, but Kotodama: The 7 Mysteries of Fujisawa doesn't rely on scantily clad characters for enjoyment. As odd as it seems, uncovering secrets was just as compelling as exposing skin.