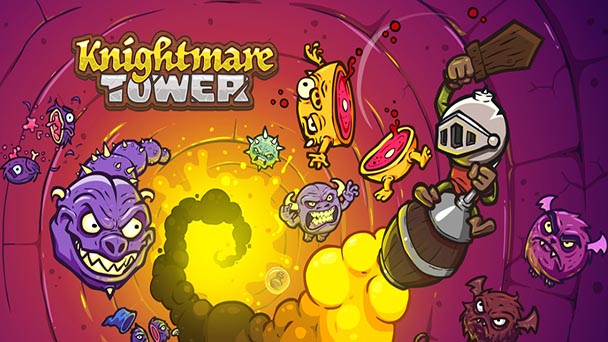 One of the most refreshing attributes most indie studios bring along to the industry is their capacity to understand fun. By that barometer, Montreal-based Juicy Beast delivers. This four man team are best known for games such as Burrito Bison and Burrito Bison Revenge, now they are finally invading Steam with their latest project, Knightmare Tower. Showcasing charming 2D artwork and intuitive mechanics which are ideal for the concept of casual gaming, most of their previous work can be found in browser gaming platforms such as Kongregate, Newsground and ArmorGames. Their success in the Flash-based realm is one of the main reasons why Juicy Beat was able to endure the oft-grueling process of Greenlight approval.
Building on a concept pioneered two years ago, the Steam iteration of Knightmare Tower provides both a campaign and survival mode. While the story mode is not that much different from the madness that survival provides, is does provide a bit of motivation, with the eponymous Knight summoned to rescue a total of 10 princesses, no questions asked. Although the core storyline doesn't really get developed, exposition can be found in the seventy quests, which must be completed before confronting the game's final boss. By that time, players will master the game's main mechanic, which tasks the Knight with slashing through a myriad of monsters as they fly up from a rocket.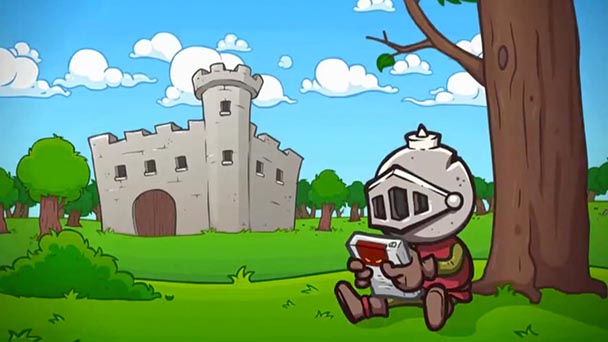 Special items are unlocked as you rescue princesses, and every section of the tower if filled with from a bestiary which contains over 50 different monsters. Naturally items are important for health, extended opportunities for new abilities.  But coins are what the game grind is really about- in order to improve your strength and speed you must eventually save up to upgrade your character.
While the premise may seem simple, a lack of mechanical depth is balanced by a cornucopia of content. Like every Juicy Beast game, a variety of physics-based dynamics are explored, as players rapidly ascend up a castle tower. Beyond moving along the horizontal axis, gamers can also trigger a quick downward slash, which both slashes through enemies beneath you and ricochets the Knight back upward. Skilled players can earn combo boosts through the careful cutting of foes, increasing the Knight's momentum even further. Eventually, gamers will have to break through floors in their efforts to rescue each princess.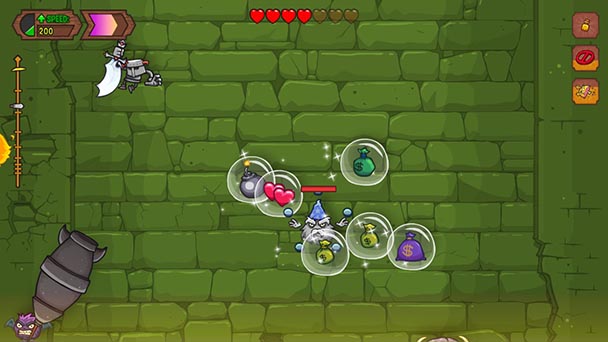 As the Knight ascends, the creatures keep becoming stronger and faster, obliging players to purchase upgrades if they want to persevere. Among the many choices, you can update your armor and your skills, from a stronger sword to better luck, even improving the payout per kill or purchasing potions to favor performance. These small and sometimes pricey item may help you move faster, obtain resilience, and even strike monsters more efficiently. Sadly, if you fail to dash on top of any of them, you may fall down and lose speed as you get placed back in the rocket with less acceleration. It is a battle of speed, opportunity, and avoiding an inevitable pool of lava that somehow floods the inside of the tower as you flight to the roof. In execution, Knightmare Tower can be quite unforgiving at times.
The game brings plenty of extra content compared to the original free version from 2012, not just visual improvement, but also improved animation and a complete engine overhaul, allowing through the transition to Unity. Beyond a 16:9 widescreen output, the UI has been entirely redesigned, and speed has been improved- which is perceptible with the game's new animation and graphical upgrades. There is also a big surprise in the steam version for all of those that may be familiar with their games; clearly I won't spoil it, but I must say I was pleasantly surprised as I have followed their work since 2011.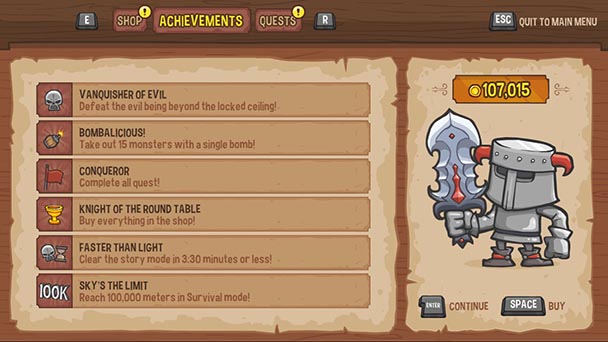 Migrating to Unity has made the game available for OUYA and iOS, both released last year. The team is also hoping to bring Knightmare Tower to PS4 and PS Vita as well. The game provides about five to six hours to explore most of the content, full control support on Steam, Steam achievements as well as in-game achievements. For the WASD crowd like me, it plays entirely on keyboard with no mouse support at the moment.
Juicy Beast Studio may be a small team, but they are big in talent. Building on their enjoyable Burrito Bison titles, they continue to provide casual, fun filled with an ample supply of charm and visual funkiness. Even if you can play some of it for free online, they are a studio worth supporting – Knightmare Tower is only $3.99 on Steam, but if you hurry up you may make it to the Steam Summer Sale and get it for $3.59.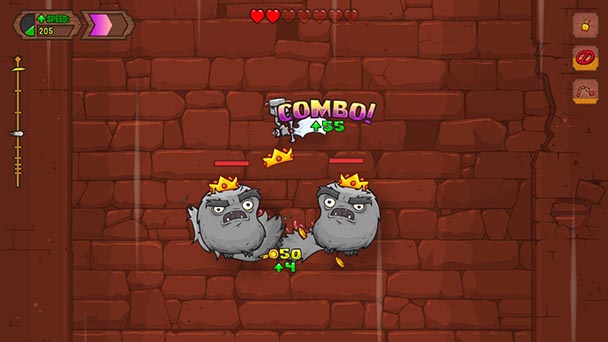 Knightmare Tower was review on the the PC with review code provided by the publisher.
Knightmare Tower


Platform:
 PC
Developer:
 Juicy Beast
Publisher:
 Juicy Beast
Release date:
 June 16th, 2014
Price at release:
 $3.99 via Steam, Discounted price of $3.59 until June 30th
Language(s):
 English, French, Italian, German, Portuguese and Spanish
Review Overview
Summary : Juicy Beast Studio has made a name for themselves with Burrito Bison and Burrito Bison Revenge, now with Knightmare Tower they bring their brand of casual crazy fun to Steam. A thrilling and delightful action-based adventure that you shouldn't miss.