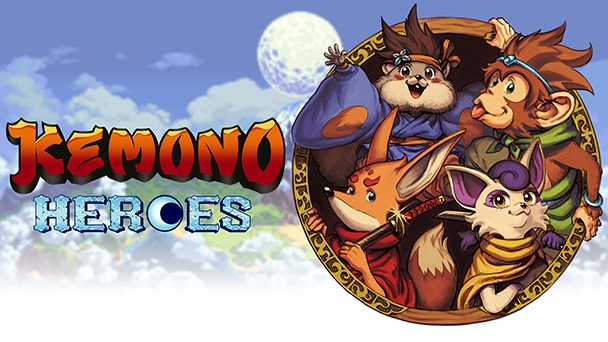 With an intriguing mix of sixteen-bit style and the inclusion of Japanese folklore, Kemono Heroes is a distinctive and appealing action-platformer that can support one to four players. 
Kemono Heroes
Platform:
Switch
Developer:
Mad Gear Games
Publisher:
NIS America
Release date:
February 27th, 2020
Price:
$14.99, via digital download, via
Nintendo eShop
Recently, NIS America acted rather uncharacteristically. Known for localizing Japanese role-playing games and employing half-year long campaigns to market them, the publisher announced that Kemono Heroes, a platformer from Spain-based Mad Gear Games was available for immediate download. Although that aberrant behaviors might seem like a cause for concern, it signifies a coup for the company scouts. Not since the publisher's prodigious anime line-up (Anohana: The Flower We Saw That Day, Love Live!, and Toradora! to name a few) has NISA scored a third-party property this illustrious.
That's not to say that Kemono Heroes is the interactive equivalent of bunny drop or Cardcaptor Sakura. Crafted by a diminutively-sized, independent development team, the title a few noticeable blemishes. But if you're able to overlook those diminutive oversights, Kemono's mixture of Japanese folklore, along with a multitude of mechanics popularized during the eight- and sixteen-bit eras, makes it a spirited success.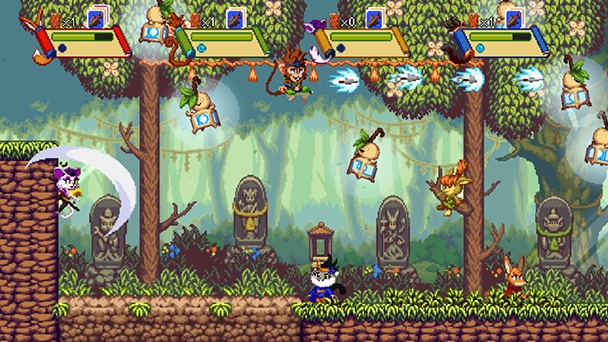 A Memorable Collection of Tails
Playing individually or with up to three additional local companions, you'll guide one of four archetypical characters. Each has a distinctive ability, from Fudemaru, a fox who can transform into enemies, Hanako, a flying squirrel who can glide after jumping, Miyuki, the wall-climbing cat, or Yu a monkey that can clamber from ropes. Collectively, each anthropomorphic team member also has a varied arsenal of abilities, able to double-jump, and use both melee as well as projectile attacks. Another variance is found int heir main weapon, which produce different shapes and styles of weapon trails.
Early on, each of the ninja protagonists earns a grappling hook. Reminiscent of 1987's Bionic Commando, the device allows you to reach out and propel yourself up to platforms. And while it's not the most lethal of tools, with a few strikes it can easily take out an overhead enemy. Later, you'll get additional implements, like bombs that destroy rocky partitions or a chargeable attack for your main weapon.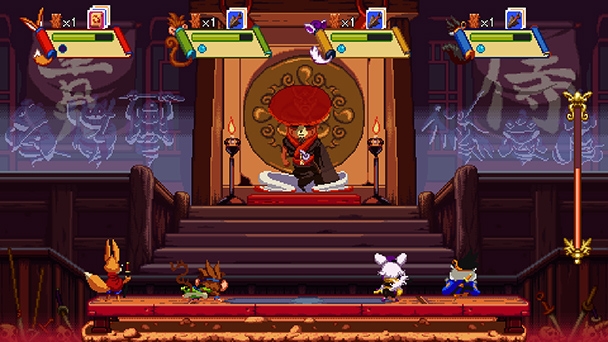 Reasonably Priced Power-ups?
At the end of levels, you can also augment your character at a store with one of the funkiest songs in contemporary platforming history. Besides improving your melee, projectile, and special weapons, you can extend or refill your health gauge or even purchase an additional life. Games are often prohibitively frugal, making players grind for basic goods. But Kemono Heroes offers refreshingly economical in-gaming pricing. Often, you'll collect enough koban to purchase several perks before advancing to the next stage.
Certainly, you'll need every advantage you can amass when playing on Kemono Heroes highest difficultly level; both the Easy and Normal setting are accurate descriptors. Although the game attempt to scale the challenge level when cooperative partners are players, the balance is a bit off. Bosses that were relatively easy to take down individually grew exponentially challenging with each local partner.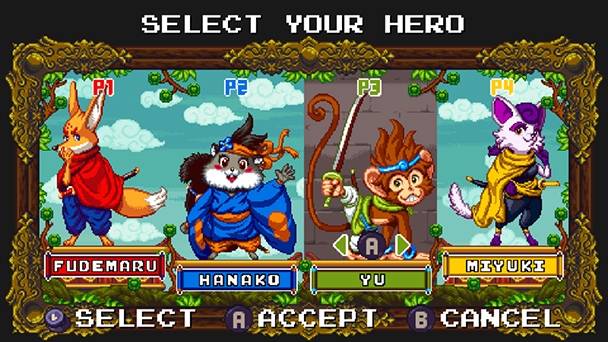 Engaging Level Albeit with Respawning Enemies
Like any respectably two-dimensional platformer, Kemono Heroes periodically fills with the screen with sprites. Early on you'll encounter sentient swellings of orange-like monsters, that grow is real time. Slash near the bottom, and you'll denotate a chain reaction of blast that rain down giant coins. Rarely does the accumulation of virtual wealth feel so satisfying. But the game's fixation with on-screen chaos means that enemies perpetually respawn on stages instead of being in fixed positions. As such, you'll be encouraged to make your way through each level as quickly as possible. Here, dawdling leads to death. Sporadically, headway can feel like a war of attribution, so it's a good thing that Heroes supplements it's horizontally scrolling stages with vertical ones and even shoot 'em up like levels.
Here's where the game's faults appear. The scrolling stages only move in one direction, so its aggravating when you accidently push a health-replenishing onigiri or bento offscreen. When playing with others, everyone has to carefully work together to ensure no one is left behind. Sporadically, it's hard to see the flooring for the vertical levels, making it all too easy to accidently take damage. As the game's shooter stages could benefit from a lock-on button to ensure you are firing in the desired direction.  Another small issue is the game's reluctance to explain things. Mad Gear favors experience over tutorials, but the choice might not align with every player's preferences.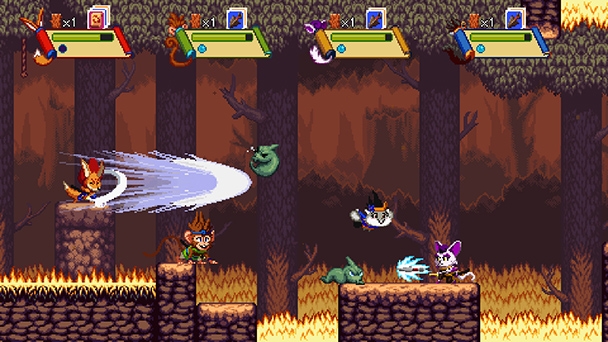 Kemono=Beast, and Shouldn't be Confused with Kimono
Helping to compensate for any imperfections, is a triumphing aesthetic delivery. The title's enemies are drawn from century's of rich folklore, so expect well-known yokai like kasa-obake and even delightfully cute interpretations of Fujin the Wind God and Raijin the Lightning God. Pleasingly, the game's creatures and setting are exhaustively researched, ensuring Kemono Heroes doesn't skate by on tacky exoticism. What really sells the context is the game's soundtrack, which resists the temptation of pulsating tracks for tranquil melodies that are more in line with the naturalistic settings.
Elevated by agreeable action and stunning sprite-work, Kemono Heroes deserves the attention of platforming fans. While the game might not offer the kind of tightly controlled and thoroughly polished play of first-party platformers, it's a commendable effort for emerging team. If you're able to overlook the game's minor faults, you'll discover an action-platformer that's attractive, accessible, and even slightly addictive.
Kemono Heroes was played on Switch with review code provided by the publisher. 
Review Overview
Summary : If you're the type of player who's easily seduced by a screenful of sprites, give Kemono Heroes a try. The title accommodates from one to four players for some satisfying slashing, shooting, and jumping.