History Class on Mild Hallucinogens
Chances are, you might have heard of Sir Walter Raleigh's attempts to colonize America. After getting caught secretly marrying one of Queen Elizabeth's ladies-in-waiting, Raleigh hoped to make amends with the monarch. But these efforts fell apart when a one-year resupply run turned into three, leading to the mysterious disappearance (likely starvation) of a settlement on Roanoke Island.
In the recent release of Jamestown+ for the Switch, developer Final Form Games imagines Raleigh atoning by heading to Mars and protecting the British outpost against attacks from the Spanish Empire and belligerent Martians. What following is a madcap amalgamation of historical figures like John Smith and Virginia Dare with bosses right out of a nineties-era NeoGeo game. Seeing tiny, musket-wielding armies fight while skies are crowded with zigzagging aircraft makes for a curious context, and one that Final Form routinely exploits to the fullest.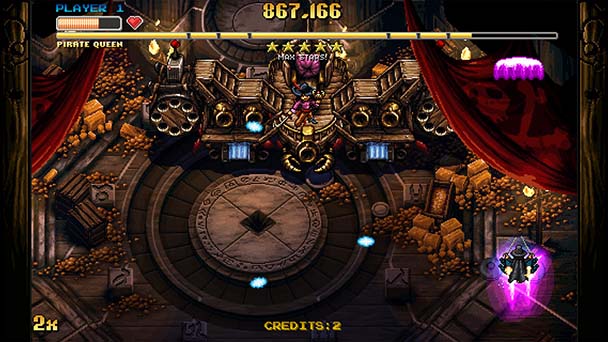 An Armada that Armed to the Teeth
Gradually, you'll use currency gained by tackling the vertically-scrolling stages to increase the size of your fleet. Shirking a traditional power-up system, all of Jamestown's fighters adhere to a three-button system for their offensive output. Beyond a standard rapid-fire gun that differs for each craft, you'll also have access to a powerful alt-weapon. Each of these are remarkable distinctive, requiring players to realize their idiosyncratic abilities and usage. While some like a penetrating laser feel familiar, other weapons like a cannon that can be locked in any direction or an orb that bowls over subordinate enemies will reward players who study their nuances.
Fill up a meter by collecting gold pieces from defeated enemies and you're able to trigger Vaunt Mode. Do this, and for a few seconds, you'll receive shielding to protect you from incoming projectiles. But just as importantly, Vaunting increases the power of your guns and surges your scoring rate. What makes Jamestown so gratifying is that you can often keep Vaunt Mode rolling by continuing to defeat adversaries and collecting their currency. Like any respectable STG, this pushes you into precarious, projectile-filled areas, ratcheting up the level of tension. Alternatively, you can hit the Vaunt button again, which ends the mode but grants a brief shielding.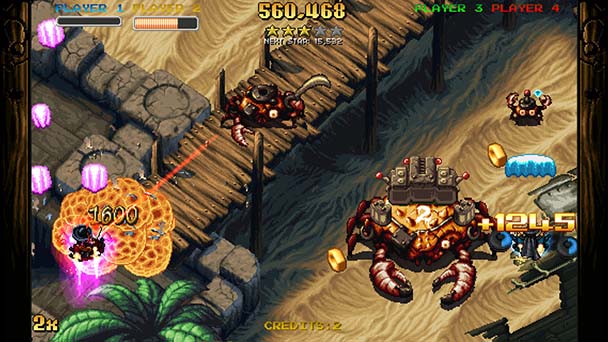 Know Your Enemies
Across the game's collection of seven stages, you'll find the typical variety of foes. But wisely, Jamestown makes a few departures from tradition. Often, taking down the largest on-screen foe is a time-honored tactic, since they're likely to put out the most firepower. But here, you'll need to prioritize prudently. Some small enemies burst open, discharging bullets in a multitude of directions, while slow-moving saucers will pursue you around the screen with dogged perseverance. As such, you'll likely have to adjust your offensive approach. Like superior shmups, Jamestown fills the screen with variety. Across multiple playthroughs you'll gradually acquire new strategies, learning the best methods for defensive positioning and attack behaviors.
Interestingly, upping the game's difficulty setting doesn't just increase the resilience of your opponents. Instead attack pattern shift, forcing you to tweak your approaches. And you'll definitely want to confront higher challenge levels, since Jamestown locks away some of its elements until you've mastered some tough encounters. While seven stages and eight ships might not seem like a wealth of content, the lure of unlockables can motivate you into learning the game's minutia.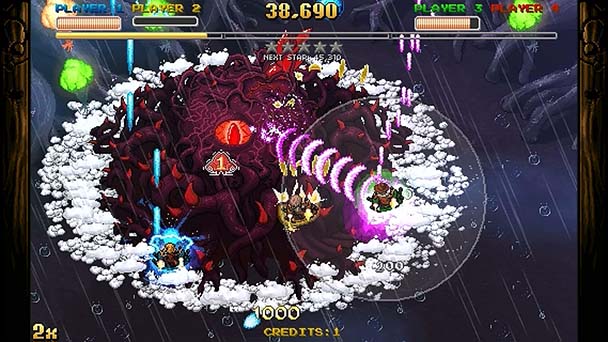 Early 19th Century by Way of Late 20th Century
Pleasingly, Jamestown's aesthetic choices are as adept as its mechanical ones. Visually, the game's fidelity recalls shooters on the NeoGeo, Saturn, and Dreamcast, with sprites and environments that divulge a bit of pixelization.  Even when the action reaches a pinnacle of intensity, with Switch shows no sign of struggle, both in docked and handheld mode. Bullet coloring, something quite a few shooters don't get right, is effective here, with the pink and indigo bullets contrasting against the earthy tones of enemies and environments. Meanwhile, Francisco Cerda's revised soundtrack has the upsurges and quiet moments fitting of a Hollywood soundtrack. Here, it adds a touch of grandeur to the shooting.
While shooters sporadically allow the assistance of a second player, Jamestown takes it further, permitting up to a quartet of combatants take on foes. Naturally, the game scales up its level of adversity. But with a bit of cooperation, the game divulges new facets, with players able to shield their allies.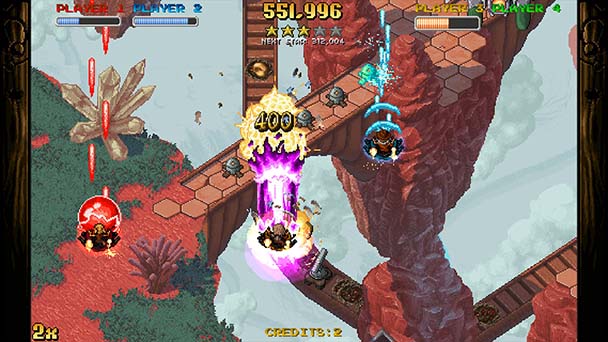 Conclusion
With an amusing alternative version of events, Jamestown's take on history is dubious. But players can count on the game to deliver plenty of rousing action. Recalling the look, feel, and polish of yesteryear's better efforts, the title makes a great addition to any shooting enthusiast's library.
Jamestown+ was played on Switch with review code provided by the publisher. 
Review Overview
Summary : Make some room Mars Matrix, there's another vertically-scrolling success that's set on the red planet. If you appreciate late-nineties era shooters, consider an extended stay with Jamestown+.