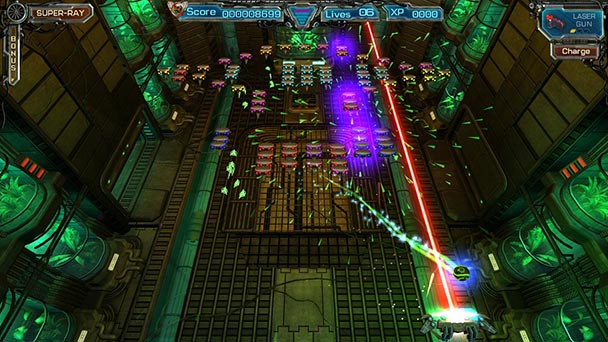 There was a time when titles similar to Breakout and Arkanoid were some of the most popular Arcade experiences. These featured a deceptively simple formula which belies a much deeper gameplay strategy. Players have to destroy a set of bricks by use of a ball and paddle, easy right?
Games like Super Breakout and Arkanoid must have thought so, as these became famous for their devious level design and power ups. While these games enjoyed a healthy dose of success in the 70s and 80s, subsequent incarnations and formula updates were not as commercially well received.
This is what Ionball 2: Ionstorm hopes to change, and while it may not be the entry that will get everyone interested in some good ol' fashioned Breakout entertainment, it does re-acquaint gamers with a genre that has seen better days.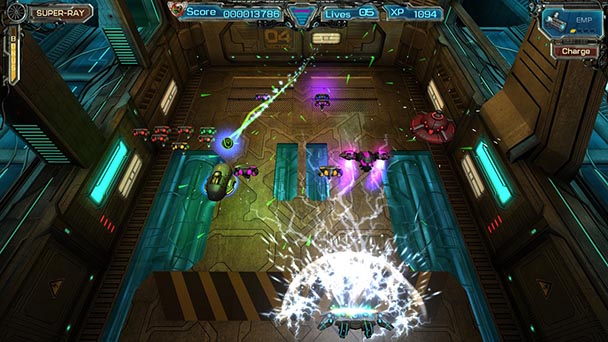 Ionball's premise is only briefly glanced at; you are a drone that upon reaching a space station discovers it has been taken over by other rogue systems which must now be cleansed (read: destroyed by a neon light-ball). While the setup is nothing new for the genre, in fact, Arkanoid had a similar plot. I find the very concept so off the wall that I can't help but giggle like a schoolgirl.
Oddly enough, the ship and environmental designs employs a gritty, realistic art style. I felt this choice clashed with the overall premise, especially when it came to the levels themselves which were often dreary and lifeless. Though perhaps it was meant to be facetious and I simply didn't get the joke.
Luckily, enemies are much more interesting to look at. Not only are they arranged in unique and visually appealing ways, but when hit, leave a bright colorful explosion with a soft particle effect trail. I can't help but feel that if the environments featured some of these graphical touches and if the existing ones were cranked up to eleven we'd be treated to a visual splendor worthy of Pac-man CE DX +. The music and sound effects generally coalesce well with Ionball's theme, complementing all the neon colored explosions with memorable, hard hitting dubstep and the occasional generic rock song.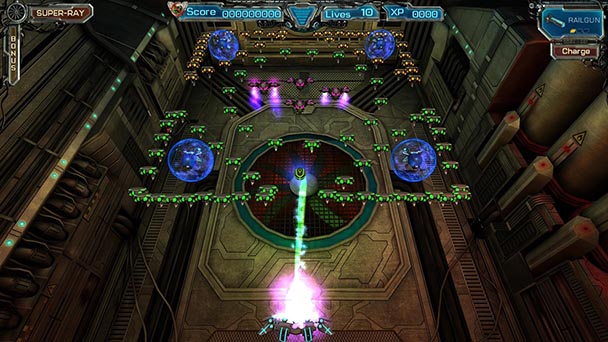 Each level feels meticulously designed, as enemy placement is set in a way that could be exploited if players are skilled enough. This doesn't mean the game is easy though, quite the contrary. Players will face a wide variety of foes, from single-hit, stationary robots to mobile hit-resisting opponents, some of which can even shoot back at you. Defeating them can be an exercise in timing and precision, thankfully, the paddle also comes equipped with a 'super-ray', an offensive move which charges automatically and targets a bot at random, destroying it. Every tenth level features a boss fight. These hulking, aggressive behemoths are a sight to behold as their attacks will easily overwhelm players who do not plan their movements ahead of time.
At the end of each level you can visit a shop and purchase paddle upgrades by spending experience points. These improvements come in two varieties, active perks provide you with powerful weapons that quickly disintegrate if a life is lost. Passive upgrades improve the length of the paddle or the ball's power. Experience points are earned by defeating enemies and catching orbs as they drop from them. At first glance this act may seem trivial but in reality it forces players to juggle between the ball and the possibility of acquiring some much needed upgrades.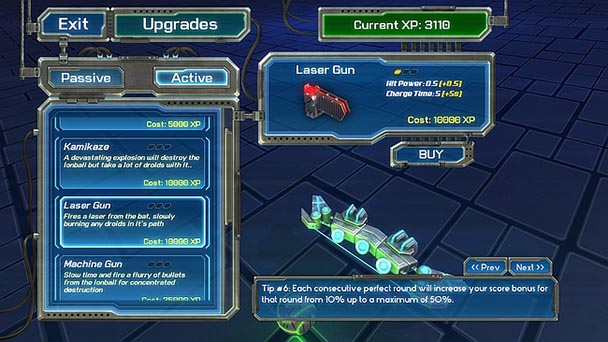 I was surprised to discover a complete lack of multiplayer options, especially when considering Ionball 2's arcade roots. The game would have benefited from a co-op mode in which two players fight for the same ball or even a competitive mode in which players must clear each screen before the other.
Ionball 2 attempts to spice-up the classic breakout formula by increasing the game's speed and cranking up enemy patterns and aggressiveness up to eleven. Experienced players will likely enjoy the increased challenge but will find themselves missing Arkanoid's simplistic charm. Newcomers on the other hand may struggle at first, but stick with it long enough and you just may fall in love with a genre you never knew existed.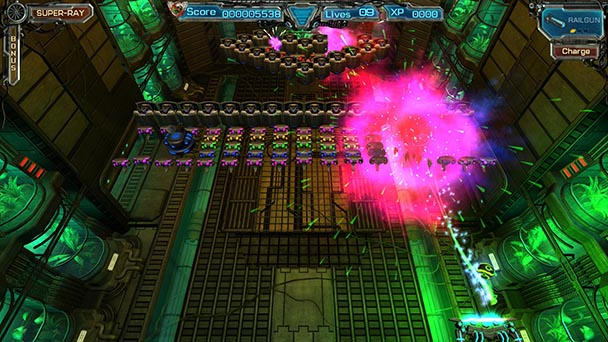 Ionball 2: Ionstorm was played on the PC with review code provided by the publisher.
Ionball 2: Ionstorm Review
Platform:
 PC
Developer:
Ironsun Studios
Publisher:
 KISS Ltd.
Release date:
 June 6th, 2014
Price at release:
 $6.99 via Steam
Language(s):
 English
Review Overview
Summary : An over-the-top modernization on the classic breakout formula that sacrifices the simple charm of its predecessor for flashy visuals and fast, frantic gameplay, power ups and enemies. Purists may scoff at the visual changes, but the pure block-breaking bliss is still ever-present.