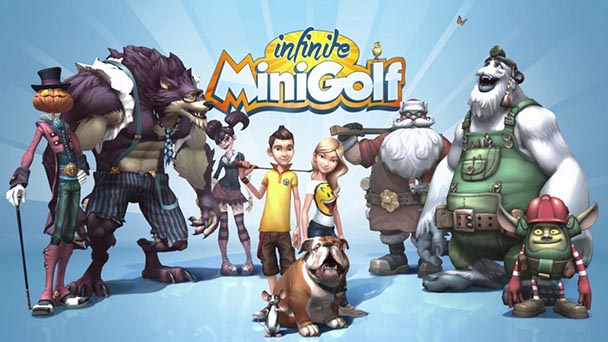 Although Zen Studios is best known for their prolific output of pinball tables, the Budapest-based developers are known to take an occasional hiatus from the orb-focused efforts. Veteran gamers might remember 2010's Planet Minigolf, where Zen offered a light-hearted interpretation of an already easy-going recreation. With the release of Infinite Minigolf, the studio revisits the fanciful title, extending a quartet of putting milieus as well as a robust coarse creation suite. While the title has a few rough edges, it still manages to make it under par, especially when the title's affordable $14.99 USD price tag is factored in.
After downloading the 1.1 GB game, players are ushered to Minigolf's main menu, where they'll meet their putting persona- a character who resembles one of the forgotten Xbox 360 avatars. Should you not want to play as a generic male with a Jimmy Neutron haircut, the title gives you flexibility to change gender or ethnicity. Initially, there's not too much freedom, with different hair styles, eye colors, and outfits available for purchase with in-game currency. Pleasingly, it's reasonably priced as well, so you don't have to grind all day to acquire that stylish fade haircut.
You can also earn a decent amount of customization cards playing in tournaments across Infinite Minigolf's three environments, which include a child's playroom, a spooky haunted house, and Santa's village. Here, you'll be playing across a quartet of contests in each context, experiencing an array of over-the-top features that wouldn't be possible in real life. From giant putting lanes crafted from corrugated cardboard and duct tape, gravestone-styled loops, and a yeti who seizes the ball and re-putts in a different direction, there are features on almost every hole. Unfortunately, the game's preview feature is a bit limited, so knowing the layout of each hole is advantageous.
But that's not to say that the game's courses are overly challenging. Obtaining holes-in-one and albatrosses is common place, and with the help of power-ups that give you manual control or magnetically attract the ball, the occasional 'out of bounds' in your foremost worry. Potentially, the biggest hurdle facing players is Infinite Minigolf's control scheme, which uses the Switch's right analog stick to control the power of your shot. While performing the 'pulling back and releasing motion' on the Pro Controller feel natural, the JoyCons have considerably less travel. And unlike most golf games, there's no meter to gauge the distance of your shot, so the sporadic slipup is bound to happen. Another departure from most mini-putt titles is that success is determined by scoring rather than just a low score. As such, you'll want to aim for the point bonus items that dot each hole, in addition to making it to the cup in as few strokes as possible.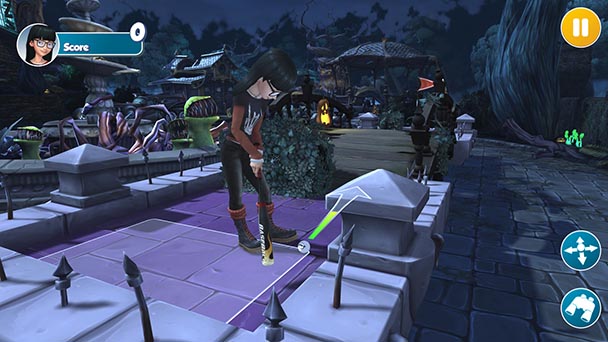 The game earned its Infinite moniker via the hole creation suite, which allowing budding designers to create and share their own handiworks. While the toolset is powerful, able to craft the same imaginative holes that are found in the tournaments, there a significant learning curve before you can become the putt-putt's own Pete Dye. While the creation component uses intuitive icons, there are a lot of variables that can be applied to the plethora of pieces, especially when elevations or features are added to a hole. To make matters worse, there's no tutorial, obliging gamers to dig in and experiment. Before submitting your hole to the Minigolf collective, you must play through to ensure it can be completed. That said, there's still the rare instance of an unbeatable hole. Even one of Zen's own efforts stymied me, as a ball got caught perpetually rolling between a hill and fan, forcing a tournament quit. Another issue for a portable device is the inability to save your favorite custom-made holes. Although Infinite Minigolf touts both online and local multiplayer, I wasn't able to test the former feature out, as repeated attempts at matchmaking found no willing participants. However, the later provided an engaging competition, as we both took the occasional risk in an effort to outscore each other. Agreeably, you can play with separate controllers or play the old-fashioned way, passing the Switch back-and-forth.
Minigolf's visuals are agreeable whether you play on television of touchscreen. Both output methods feature a rock-solid framerate and attractively detailed characters and backdrops. The only downside is the game's limited number of animation. After witnessing your player execute the same victory pose and seeing the Yeti toe-touch the ball a couple dozen times, you'll probably wish Zen opted for a bit more variety. The game's employs muted music for each environment, allowing sound effects to form the aural focus.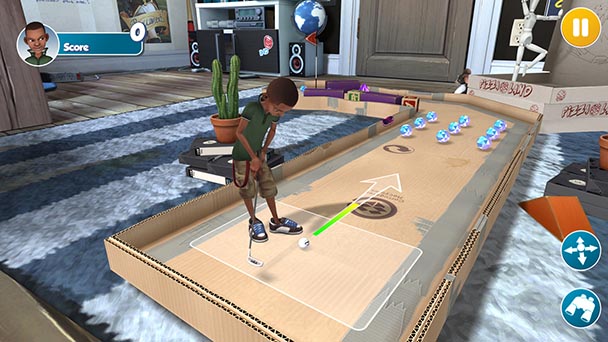 Between Neo Turf Masters, the upcoming Golf Story, and Infinite Minigolf, the Switch is quickly becoming a playground for nine-iron whimsy. Largely, Minigolf is a welcome addition to the hybrid's library, offering a breezy way to nail some birdies. While the core gameplay might not be robust enough to hold your attention for a protracted period, those with a passion for hole creation will undoubtedly enjoy the title's capabilities, once they get a grasp on the process.
Infinite Minigolf was played on the Nintendo Switch
with review code provided by the publisher. 
Infinite Minigolf


Platform:
Nintendo
Switch
,
also on PS4, Xbox One, and PC

Developer:
Zen Studios

Publisher:
 Zen Studios

Release date:
July 25th, 2017 

Price: 
$14.99 all platforms, available via digital download
Review Overview
Summary : Infinite Minigolf is lighthearted fun enriched by the addition of a hole construction suite and the ability to download the works of others. If Zen could allow players to save the designs of others for offline play, the game might be eagle. As it stands, it's a solid birdie.