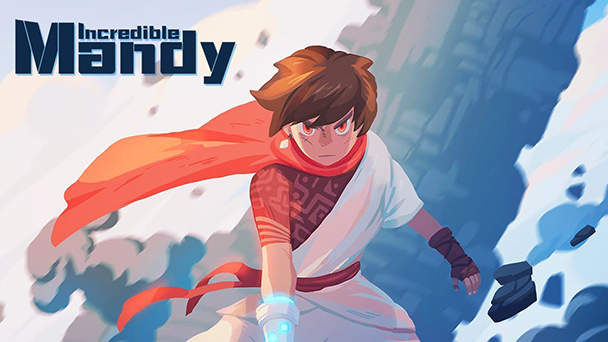 Putting the word "Incredible" in the title of your game kindles lofty expectations. With the release of Incredible Mandy for the Nintendo Switch, Tianjin-based Dotoyou Games almost makes good on that pledge, at least during moments. With a deliberately sparse narrative, dream-like environments complemented by serene piano-driven melodies, Mandy signals a journey through someone's psyche, rather than traversal through any kind of realistic, physical space. It's an approach that been done before, but rarely with the same degree of beauty exhibited here.
Animated sequences and in-chapter cutscenes impart just enough information to pique interests. But when curiosity gets the best of you, collectable memories offer tidbits of additional exposition. Beating bosses or scouring recesses in the game's ethereal environmental provides these, which hazily communicate a separation between two close siblings. Games habitually divulge every detail of a plotline or offer longwinded conversations. Here, there's a gratifying sparseness to the proceedings, that feels downright poetic. Eventually, elucidation occurs, as fragments fit together to form a near-tragedy. When these strands unite, Incredible Mandy is at its best.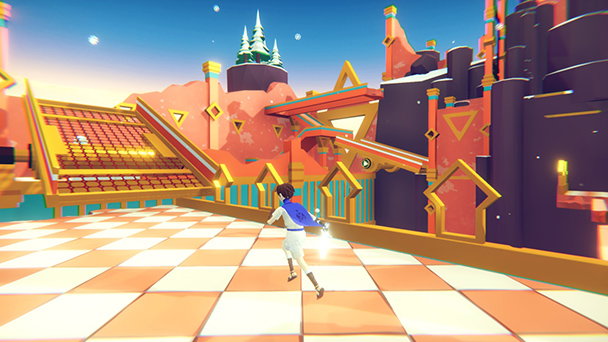 That said, other elements of the game are best described as credible. The game's first level instructions the rudiments of control, with players able to walk, crawl, run, jump and interact with elements. In keeping with the dream-like motif, the protagonist moves rather slowly. At first, it's a bit off-putting, but give it a few minutes and you'll find that Incredible Mandy is routinely responsive. Save for the occasional death by falling off the side of floating platforms, navigation is functional, if a bit uninspired. Too often, the game's ladder climbing and leaping across floating platforms will have you thinking of other games that offering similar kind of traversal.
But thankfully, Incredible Mandy's focus in on puzzles, with numerous gates that halt forward progress until a riddle has been solved. Solutions are rooted in the protagonist's arsenal, with light swords and arrows use to trigger switches, doors, and other devices. You'll also derive assistance from a hulking robot. But don't expect anything like a sentient companion. The robot is little more than another instrument in your toolbox, able to operative equipment that will do things like move platforms around.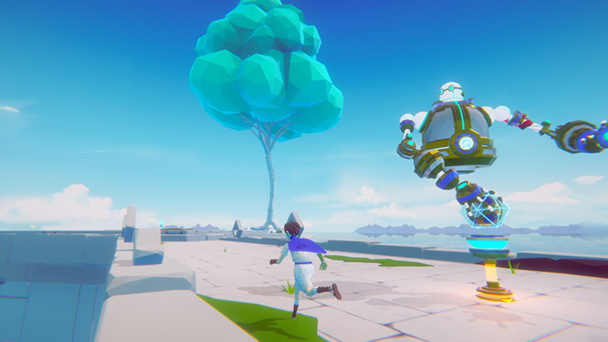 Early on, Incredible Mandy will prompt you to create networks of light swords, each connected to another with a thin beam. You do this to open doors with two switches that need to be triggered simultaneously, generated by a charged sword slash. Letting loose with an elevated attack makes each light sword explode, and if others are nearby, you'll witness a chain reaction.
Interestingly, your arrows get less use, which is a quizzical design decision, since your projectiles are dispensed with more accuracy than your sword hacks. Both blade and bow are restricted by an energy meter called a butterfly spring than instantly refills your energy meter when you walk up to it. Although it's rare, Incredible Mandy occasionally locks you in areas where it's impossible to recharge your energy, forcing players to pause, quit, and restart the level. But there's a bigger issue that plagues many puzzlers. Get stuck and Mandy typically won't offer any kind of hints, forcing you off the Switch in search of a FAQ.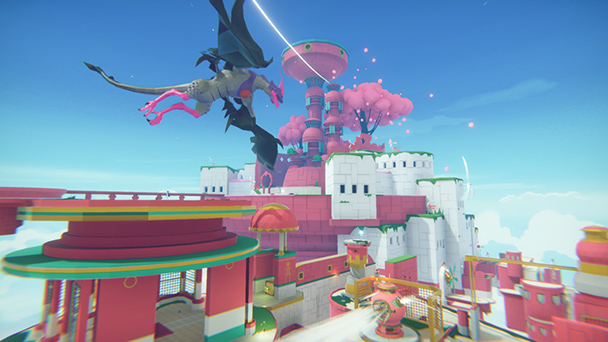 Another curious design decision is the scarcity of combat. Sure, there's the periodic boss battles that will have you figuring out how to enfeeble them, so a few sword strikes will put them down. Occasionally, subordinate enemies confront players, but fighting isn't the game's forte. All too often, you'll hack away without any kind of tactic, which feels rather empty. Later, Mandy eschews straightforward combat by make you use abilities, environmental elements, or stealth to bypass them. On the upside, the title isn't punitive with the protagonist able to handle a beating from foes.
Visually, Mandy is successful at hitting a thirty rate-per-second framerate, despite deep draw distances, and some intricate geometry. Certainly, the protracted speed of the protagonist helps, as well as the sense of seclusion in the game's milieu, ensuring that immersion isn't broken by any graphical hiccups. Sonically, the title's soundtrack seems inspired by Ryuichi Sakamoto, more minimal works, which is probably one of the best inspirations around.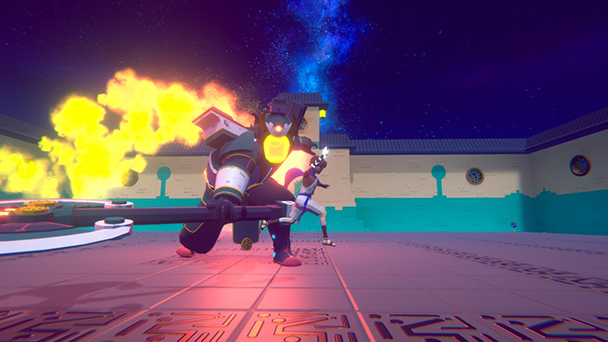 While Incredible Mandy might not completely live up to the adjective in the title, it certainly has a few remarkable elements. Some will enjoy the game's taciturn approach to storytelling, while others will appreciate the game's otherworldly vibes. Just make sure you recognize the game's linear approach to puzzling and its unsophisticated combat, as these are less than credulously middling.
Incredible Mandy was played on Switch
with review code provided by the publisher. 
Review Overview
Summary : Fans of games like RiME, will find things to like about Incredible Mandy. From creatively designed puzzles to stunning visual style and a plotline that plumbs vulnerability, the eight-hour game will make a welcome addition to the library of any cerebrally-minded Switch owner.