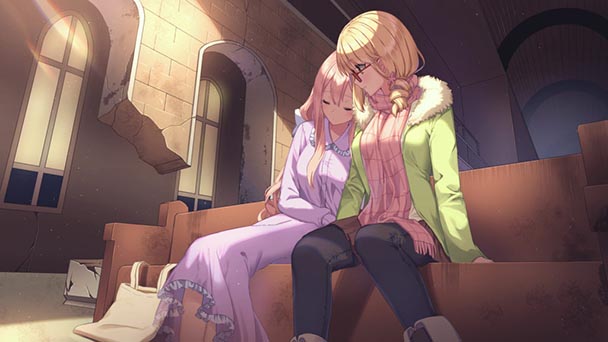 Yuri is a broad term that's used to describe media which depicts attraction between women. While it's often associated with representations of explicitness, it also describes works where there's an implicit or even a platonic relationship. In the West, that's particularly prevalent, with the term conjuring up images of hentai or at the very least, an allusion to the distinctly sexual. Yet, that represents only a fraction of the genre's potential.
Heart of the Woods, the inaugural visual novel from Studio Élan, just might challenge your perceptions of what yuri is. Sure, there are erotic moments, especially if you download the free patch for the Steam version of the game (the Denpasoft iteration includes the two scenes). But depictions of sexuality play a restrained role in the novel's representation of relationships. Instead, Woods' potency is found in its poetic voice, an absorbing quartet of characters, and artwork that skillfully echoes the tenderness of the novel's relationships.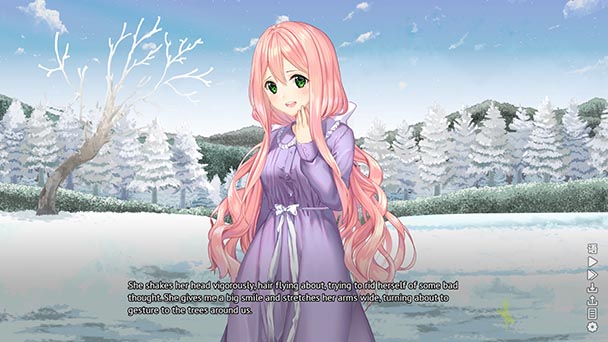 Although Heart of the Woods conveys a fairy tale-esque vibe, the plot has a thoroughly modern setting. Tara Bryck is a vlogger whose channel aims to investigate the supernatural, while Maddie Raines mostly labors behind the scenes. But between the lack of any actual otherworld experiences and the drudgery of managerial duties, Madison is quietly contemplating quitting. But before finalizing her decision, she agrees to join Tara on an expedition to a mysterious German village. Guided by an unconventional young woman named Morgan Fischer, the trio enter Eysenfeld, unaware of how the trip might impact their rapport and potentially, their lives.
What follows is a gradual build-up of tension through the first few chapters of the novel. While other novels might have dragged on, Woods invests time it's endowing characters with depth, relationships with tension, and imparting some absorbing lore. Narratively, the novel employs some noteworthy techniques. Description is unusually attentive, detailing many of the minutia unseen in the accompanying illustrations.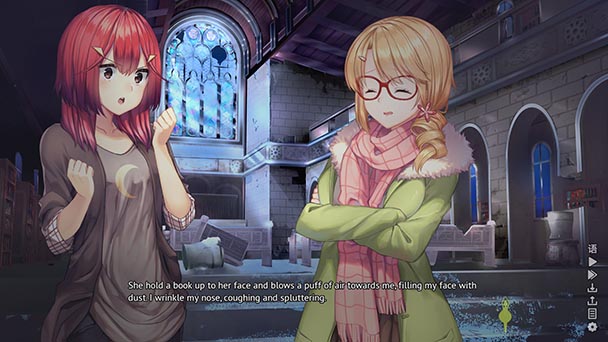 Routinely, visual novels center on evident physical action rather than the intricate workings inside a character's mind. But the decision to shift point-of-view means that readers are privy to each major characters' standpoint and even points of contention between the women. As such, there's an intimacy to the proceedings, build from being inside each character's headspace. What's more, one character expressed a powerful experience about here past. Lesser writers would have turned the delicate moment into a dramatic revelation. But here, Josh Kaplan and Rachel Gruber create a quiet moment of tenderness that conveys a sense of authenticity.
Initinally, Tara's tirelessly comedic attitude seems like a way to keep the interaction lively. However, over time you may reconsider the assessment, interpreting the behavior with as a personality trait, a tool to defuse tension, or just as a coping mechanism. That's hardly the only time you'll reassess members of the game's cast. When Wood's fourth main character is introduced, her limited communicative capacity might seem gimmicky. Yet, there's a strong possibility that she'll emerge as one of your favorite characters.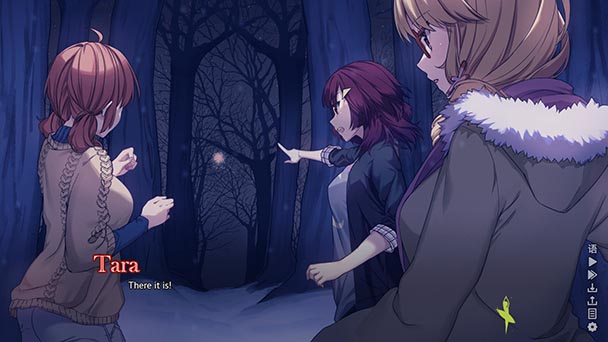 Heart of the Woods is also proficient at establishing its settings. An opening dialog between Maddie and Tara takes place on a night train, and there's enough attention to environmental detail that it's easy to image the feel of well-worn seat fabric and the gentle sting of a cheek pressed against the frosty window. Often, visual novels employ meticulously drawn character portraits over processed backdrops. But with Woods, the smoothness of the novel's character art follows the felty aesthetic of Grant Ferrell and Hui's detailed locales. Rosuuri's designs for Tara, Maddie, Morgan, and Abigail are undoubtedly one of the visual novel's most magnificent virtues. Each is thoroughly exquisite, brought to life with emotive facial expressions and poses. Further success is found in the soundtrack, which does a stunning job at underscoring the sentiment of pivotal scenes.
With branching points in Wood's plotline will influence whether you see either of the two 'bad' endings or the single 'good' one. Readers who prefer foreshadowing might be disappointed here, since the direction of each arc isn't evident when presented with a choice. But given the ability to save at any time and fast-forward through previous patches dialog, revisiting the forks isn't too burdensome.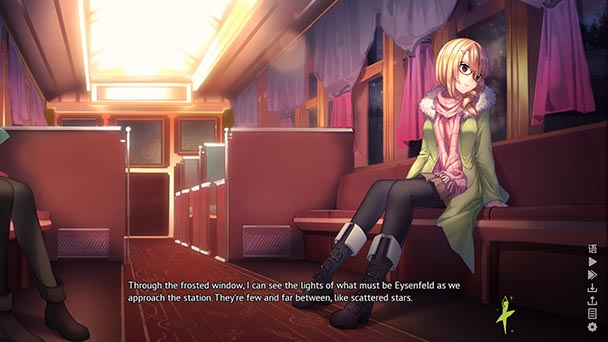 Notable visual novels breathe life in fictional characters, making it seem like existed long before the start of the storyline. Thoroughly, that's the case with Heart of the Woods, which cultivates a cast that's easy to develop an emotional attachment with. If you think yuri titles are predominantly fixated on physical attraction, Studio Élan will show you there's a lot of territory awaiting exploration.
Heart of the Woods was played on PC with review code provided by the publisher. 
Review Overview
Summary : Heart of the Woods is a magnificent inroad into the yuri genre. Just know you might not find another work as insightful or thoughtful anytime soon.