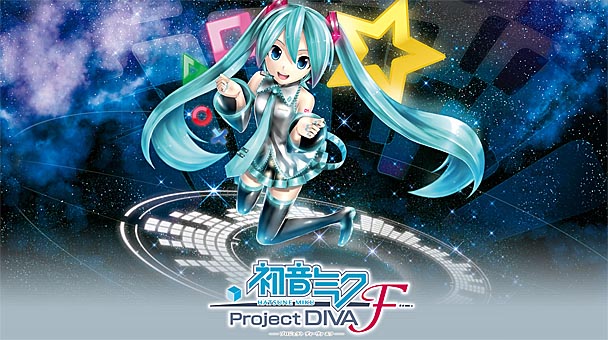 Attendees who explored the alcoves of Sony's 2012 E3 booth might have spotted an unforeseen title: Hatsune Miku -Project DIVA- f for the PS Vita. When asked about the game's presence on the show floor, Sony reps seemed bemused, and suggested seeking out SEGA's public relations team. A visit to Sonic's handlers uncovered little additional information, other than the nebulous remark that the publisher was "evaluating reactions to the game, and might make a future announcement". After months without any official mention of Miku, I concluded that SEGA visions for vocaloid localization fell through, and sought solace by importing the inaugural entry in the series, 2009's Hatsune Miku: Project DIVA for the PSP.
Mercifully, months of mastering the metrical timing of "The World is Mine" and "White Dove" paid off, as SEGA recently announced they were bringing the PlayStation 3 version of Hatsune Miku Project DIVA F stateside. Released in both boxed retail and digital download, the title builds on the engaging rhythmic mechanics and ancillary activities established in the original PSP title. Save for a rudimentary (and understandable, given vocaloids' niche following outside of Japan) localization, the game is sure to heat the hearts and callus the fingers of Miku-holics. Those without an understanding of Japanese culture will probably wonder how this teal-haired temptress has secured such a rabid following.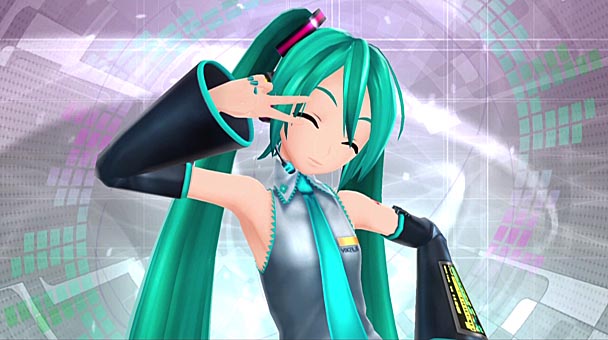 Who is Hatsune Miku? In 2007, Crypton Future Media created a musical software package which allowed artists to compose vocal melodies build from the sound samples. Sensing that an identity could help market a voice bank, Crypton called upon manga artist Kei Garō to design a suitable persona. Instead of giving the creation a full-fledged backstory, Kei kept details intentionally sparse, only specifying Miku's look, age, height, weight, and outfits. It was up to the public to flesh out the vocaloid- and they did in droves, transforming Miku from a musician's tool to a crowdsourced diva, capable of drawing sell-out crowds. While a PS3 game might seem like a crowning achievement for the virtual star, in Japan, Miku is the reigning star of endorsements, featured in ads for Domino's Pizza, Yamaha, Google, Toyota, as well as Japanese transit systems and racing teams. If you're wondering where her name come from, "Hatsu" and "ne" combine to mean 'first sound' while "Miku" translates to 'future'.
Deftly, Project DIVA F isn't shy about its intentions to deliver a delightful dose of fan service. The title's tutorial explains the fundamental while Hachune Miku keeps time to "Ievan Polkka" by using a leek like a conductor's baton. In execution, the game doesn't veer far from rhythm games like Gitaroo Man or Elite Beat Agents, tasking players with tapping corresponding keys as icons cascade across the screen. Unlike most music titles, Project DIVA F shirks a static note highway, favoring symbols which flow from all sides of the screen, each following a hypnotic, serpentine path.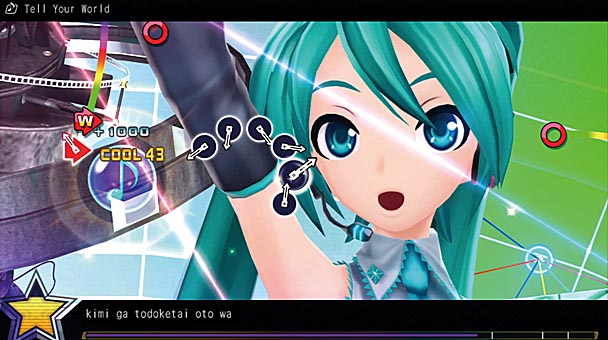 Beyond the basic notes, Project DIVA F mixes things up with a few other variants. Sustains require players to hold a button down, while highlighted notes expect players to simultaneously press a button and a corresponding key on the DualShock's direction pad.  One element bound to be contentious is the inclusion of star icons, which oblige a rapid of the flick of either analog stick, as the shapes pour in. While the technique attempt to mimic the touchscreen swipes of the PS Vita version, the process feels limp with the PS3 controller and is undermined by reduced timing assessment. During each of the game's 38 songs, a period referred to as Chance Time occurs, with a star gauge filing with each precisely timed button press. If gamers are able to top off the meter, they have access to a bonus event- typically a brief reprise proposing the opportunity for a higher score.
As with most rhythm-based games, there is the sporadic disconnect between a song's cadence and the stream of notes. Typically, this can happen during Miku's slower tunes or when playing at the lowest level of four difficulty settings. That said, there are a number of signifiers which can help players master a sense of meter. Clock hands foreshadow the time of each note, which pop-up appraisals divulge accuracy. Gamers can also master the tempo of section by looking at the distance between on-screen note groups. For those with plasma, LCD, or LED televisions, the game also allows adjustments to compensate for any input lag.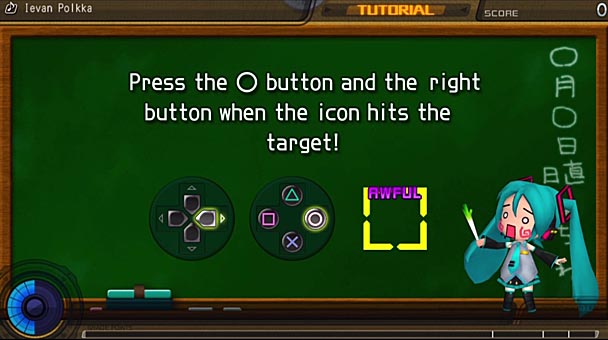 Players feverishly tapping their way through "World's End Umbrella" or "Cat Food" will likely be too engrossed to notice Project DIVA F's well-rendered character models or dynamic camera work- yet onlookers will certainly appreciate the game's aesthetics. Regretfully, spectators who aren't familiar with Japanese won't gain any insight into Miku (and fellow vocaloids Kagamine Rin, Kagamine Len, Megurine Luka, Kaito and Meiko's) lyrics, which are only exhibited in romaji. Although it's commendable that SEGA would take a risk in bringing Hatsune Miku stateside, a perfunctory translation of menu items and song titles might be prove to be a bit counterproductive.
Beyond the core music-based gameplay, Project DIVA F offers a number of additional diversions. Edit Mode allows budding directors to use either the game's collection of track or import their own MP3s to create their own music videos. With intricate control over everything from camera placement, character movement, environment and even lip movement, this component echoes the complexity of a full-fledges video editing suite. Although editing can be quite complex, the upside is that players can produce amazingly elaborate video which that can share online (although understandably, the distribution of MP3 files is barred). A photo mode allows players to import pictures which they can pose with a customizable Miku model.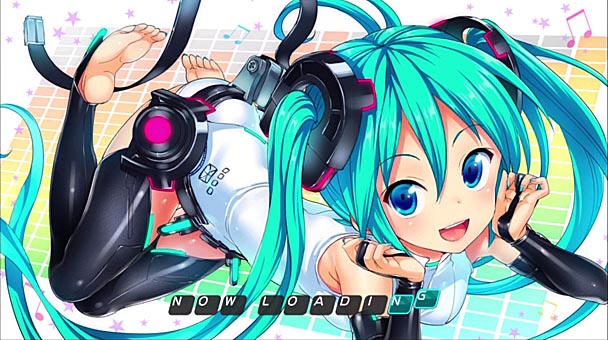 Another time sink is Miku's Room where gamers can use currency earned in the game to purchase modules (costumes), environments, and gifts for their characters. Although interactions are limited to Tamagotchi-esque levels, the mode can provide enticement for hardcore Hatsune Miku fans. On the downside, navigation through the Project Diva's ancillary components is interrupted by a steady stream of loading screens. However, it's hard to get too irked at these hiatuses when each one is adorned with gorgeous Miku art.
While Hatsune Miku Project DIVA F fifty dollar price point might initially seem exuberant, the game is a jam-packed package that has the potential to keep aficionados busy for weeks. Beyond the core rhythm games, the video editing, customization, and collection components are poised to please Miku's most discriminating fanbase. With any luck, the teenaged diva's first stateside offering will demonstrates demand for future installments, or at least the PS Vita version that SEGA once teased.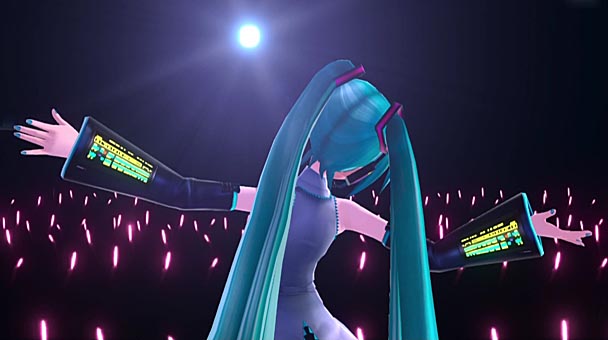 Hatsune Miku: Project DIVA F was reviewed on the PlayStation 3 with review code provided by the publisher.
Review Overview
Summary : Although SEGA of America's localization leaves a bit to be desired, Hatsune Miku's effervescent, infectious charm shines through every pixel of Hatsune Miku Project DIVA F.