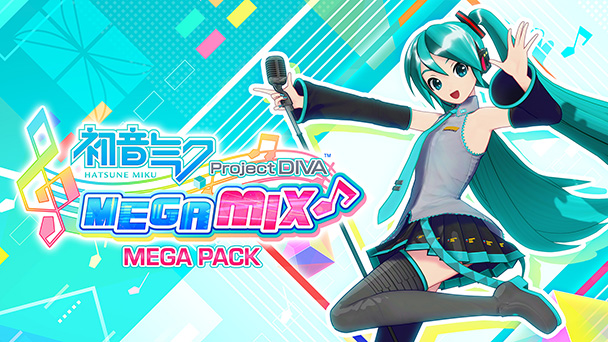 Everyone's favorite vocaloid makes a smashing debut on Switch. Although the addition of motion control doesn't quite feel essential. Miku maniacs should adore the pursuit of unlocking over 300 costumes and outfit her in a custom t-shirt.
Hatsune Miku: Project DIVA Mega Mix
Platform:
Switch
Developer:
SEGA AM2
Publisher:
SEGA
Release date:
May 14th, 2020
Price:
$39.39 via digital download
Availability:
Nintendo
eShop
Chances are, if you possess even the slightest interest in popular culture, you've heard of Hatsune Miku. Created thirteen years ago by Crypton Future Media as a singing synthesizer, Miku isn't your average virtual instrument. Crypton endowed their software with an anthropomorphized appearance, making the teal-colored twin-tailed temptress an indelible icon. With a global concert tour, a string of commercials, and a plethora of tie-in products, Miku just might be one of the most successful singers on the planet.
But her success can't just be attributed to Crypton. Miku's songs, costumes, chorography, and music videos are crafted by a range of producers- everyone from weekend hobbyists to seasoned professionals with years of experience. Much of Hatsune Miku's prolific body of work and subsequent rise to fame is the result of contributions from a legion of fans. That makes her quite distinct from most corporate mascots with a carefully controlled image. But it also means her versatility requires a backstory and personality that is strategically ambiguous.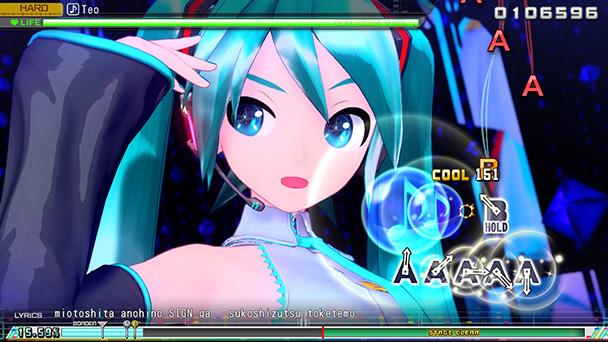 I'll Miku-Miku You♪ (For Reals)
Venture into Hatsune Miku: Project DIVA Mega Mix, the vocaloid's Switch debut and you'll find small facets of her personality depicted in in the game's collection of music videos. The infectiously upbeat "Freely Tomorrow" exhibits Miku as the consummate crowd-pleaser, whipping a packed concert hall into a glow-stick shaking frenzy. On the surface "Sakura no Ame" seems like a buoyant graduation song, but there's also an undercurrent of melancholy for the parting of devoted friends. Fellow vocaloids Kaito, Meiko, Len, Luka, and Rin get their own moments in the spotlight across the game's extensive 101-track setlist. They deliver sizzling solo numbers and duets, but unlike real stars, never attempt to steal the spotlight from Miku.
Play remains rooted in the mechanics of Hatsune Miku: Project Diva Arcade Future Tone, a family of Japanese arcade cabinets that have been collecting 100-yen coins across the last seven years. While the time-tested mechanics return in Arcade Mode, Project DIVA Mega Mix also extends the ability to use motion controls in Mix Mode. After detaching the Joy-Cons you'll hold the controllers upright, tilting them to align a sliding bar with falling notes. You're also tasked with tapping the ZL and ZR triggers when two shapes overlap, in time with a song beat. Although Switch Lite owners will be missing out on this input method, Arcade Mode more closely matches the spirit of the original coin-op game.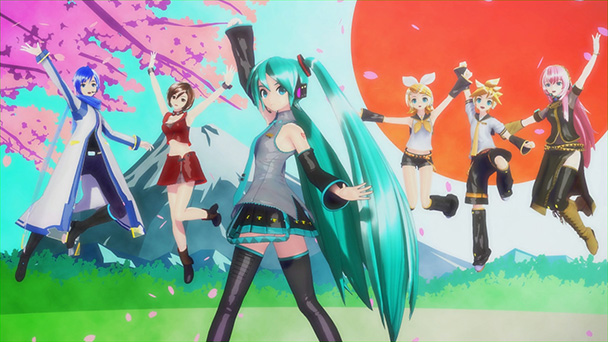 2D Dream Fever
Here, performances aren't radically divergent from Miku's previous console games, with the game's icons streaming from all sides of the screen. For those who have traveled down the long, sometimes tedious treks of Rock Band and Guitar Hero's note highways, the mechanic is commendable, keeping eyes busy as the scan the entire playfield. But a backdrop that displays a motion-captured, multi-camera performance can make concentrating on the icons a bit challenging at first. But give it time, and you'll learn to focus on the action rather than the allure of the backdrop. Similarly, double and triple notes might trip you up at first, until you find the right tempo to tap these out. Pleasingly, Mega Mix can be played by the hearing impaired, with spinning dials to help you nail every note, and clear visual indicators for holds and slides.
Those who are rhythmically gifted with certainly appreciate the ability to be able to jump right into the hard difficulty level (however, Extreme and the Extra Extreme are locked), without having to prove themselves by inching their way through the lower tiers. For players who struggle with rhythm games, Mega Mix is an ideal starting point. The bulk of the song list (83 songs) is available on Easy Mode and if you don't want to worry about bombing a performance, 'no fail' mode is always an option.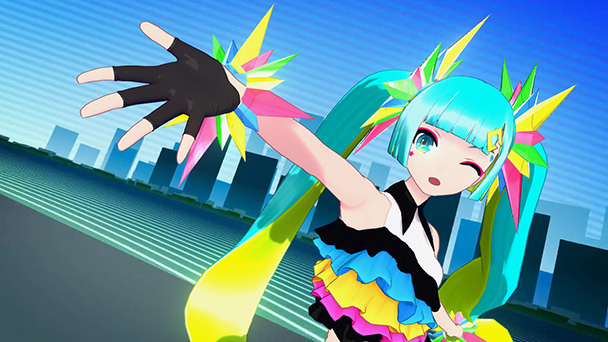 Who is Hatsune Miku?
In 2007, Crypton Future Media created a musical software package which allowed artists to compose vocal melodies build from the sound samples. Sensing that an identity could help market a voice bank, Crypton called upon manga artist Kei Garō to design a suitable persona. Instead of giving the creation a full-fledged backstory, Kei kept details intentionally sparse, only specifying Miku's look, age, height, weight, and outfits. It was up to the public to flesh out the vocaloid- and they did in droves, transforming Miku from a musician's tool to a crowdsourced diva, capable of drawing sell-out crowds. While a Switch game might seem like a crowning achievement for the virtual star, in Japan, Miku is the reigning star of endorsements, featured in ads for Domino's Pizza, Yamaha, Google, Toyota, as well as Japanese transit systems and racing teams. If you're wondering where her name come from, "Hatsu" and "ne" combine to mean 'first sound' while "Miku" translates to 'future'.
The Intense Voice of Hatsune Miku
Worries that access to a complete inventory of music could stifle any sense of incentive are largely unfounded. Given Mega Mix's massive setlist and plethora of unlockable costumes, the game's autonomous arrangement provides a healthy amount of motivation. Each successful performance pays out virtual currency that can be used to purchase modules (costumes), accessories, and hairstyles. Sure, some might dismiss this as cosmetic fluff. But outfitting Miku and friends in loligoth garb, yukata, swimsuits and outfits popularized by figurines and game franchises can be quite a lure. The integration of a custom t-shirt suite, along with touchscreen input catapults Mega Mix to the next level. Although it lacks integrated text, who wouldn't want Miku plugging their website?
As an arcade port, a number of console supplementals aren't here, meaning those who enjoyed toying with the Tamagotchi-like DIVA Room and the editing suite that allowed you to stage your own performance are absent. While some will miss those diversions, this release feels more cohesive, with components like creating custom playlists and an intelligent interface that let's you quickly play your favorite tracks or even just watch the music videos. The game's sub-$40 pricing is offset by a six DLC song packages that each contain six additional songs. While they're $7 apiece, you can buy the entire package for $30, which doesn't seem too expensive.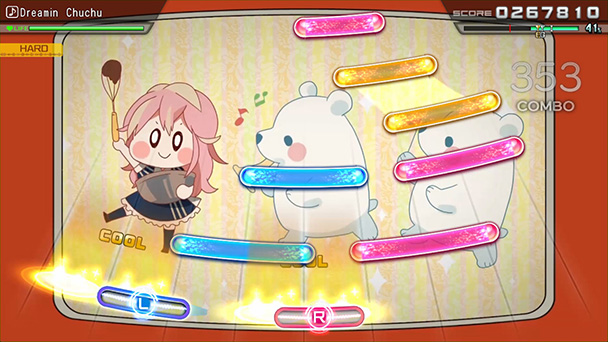 Tell Your World
Pleasingly, Mega Mix flaunts a new engine that permits Miku and friends to shake and groove in sumptuous fluid glory. The main game's 13.9GB footprint divulges that a wealth of assets and textures are driving the game, all with a fidelity that rivals the arcade games. In docked mode, the 1080p fidelity truly shines, showcasing the additional work that went into the character models, locales, and consistently first-rate choreography. Expectedly, the hair physics sport the kind of buoyancy typically reserved for shampoo commercials.
For the devoted fan, Hatsune Miku: Project DIVA Mega Mix is a requisite experience, offering a cornucopia of song, dance, and costume. If there was any doubt of Miku maintaining her popularity over a protracted period, Mega Mix put those suspicions to rest, bundling some of the idols best crowd-sourced work into a delightfully infectious rhythm game.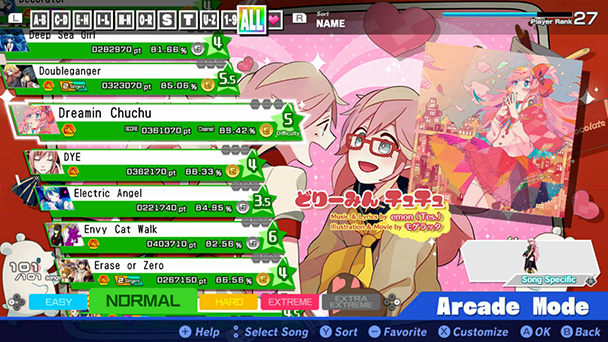 Hatsune Miku: Project DIVA Mega Mix was played on
Switch with review code provided by the publisher. 
Review Overview
Summary : For about the same price as a concert ticket, Hatsune Miku: Project DIVA Mega Mix assembles a massive collection of content that's destined to delight any vocaloid aficionado.