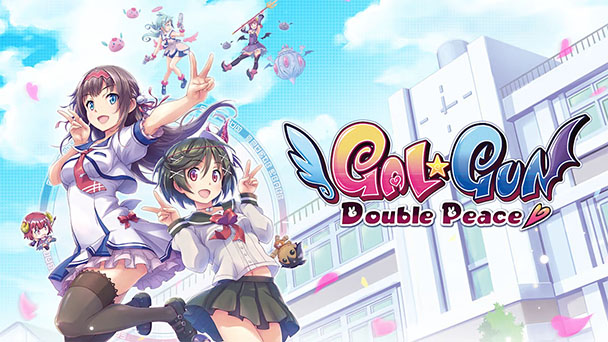 Gun*Gal: Double Peace is a decent on-rails shooter elevated by a whole lot of playful sexiness. If you're morally offended by cartoonish representations of underwear, You might want to bail out now. 
Gun*Gal Double Peace


Platform:
Switch, previously on PC, PS4, and PS Vita

Developer:
Inti Creates, Inc. 

Publisher:
 PQube Limited

Release date:
March 17th, 2022

Price: 
$39.99 via Nintendo
eShop
, currently on sale for $35.99
Although games often flirt with wish fulfillment, few games devote their entire premise around pure fantasy. But the Switch release of Gun*Gal: Double Peace is hardly an ordinary game, with a premise that's preposterously comical and unabashedly pervy. This is an on-rails shooter where you use a pheromone gun to pacify love-obsessed schoolgirls into fits of orgasmic appeasement. If that weren't indulgent enough, your scope is capable of zooming in and turning the outer layers of clothes translucent- allowing for a quick glimpse at the wide selection of panties and bras. And let's not forget Doki-Doki mode which when activated temporarily pauses the onslaught of gals, providing a moment to focus on a single character. Here, you can choose different angles to poke and prod the girls, goading them into a heightened level of blush-faced ecstasy.
Double Peace is a game you play for the sheer absurdity. Although plot and play are certainly serviceable, neither is truly compelling enough to stand on its own. An opening cinematic alludes to the events to the original, Japan-only Gun*Gal, where an angel's errant bow sent an arrow into the unsuspecting Tenzou, turning the mild-mannered protagonist into an irresistible target of female attraction for a single day. Now, Tenzou's adventure has become legend, with a number of male students excitedly claiming they've seen the fabled arrow shooter.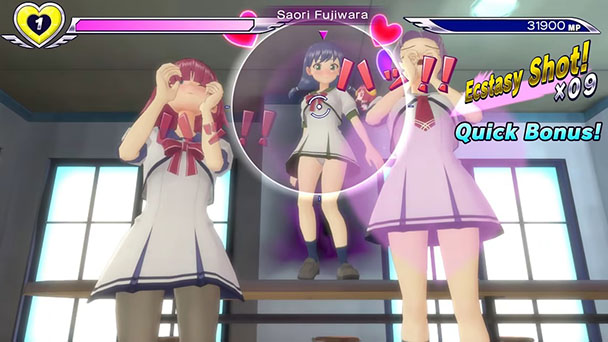 Unsurprisingly, history nearly replicates itself when Angel and Demon converge on second-year student Houdai Kudoki. Ekoro, representing the heavenly faction, powers up her pistol, before taking aim at the unsuspecting pupil, firing an overpowered burst that inflicts almost every female at the school with the pestilence of uncontrolled affection. While this might seem like a dream to most, the downside is that all of Houdai's prospects for love are now condensed into a day. If he doesn't find his soulmate, he'll be forced to spend his life alone, doubtlessly reflecting on this fateful day.
Early on, Gun*Gun telegraphs a few contenders for affection. Shinobu and Maya serve as the requisite standoffish tsundere and shy dandere, respectively- each seemingly resistant to the Cupid Curse through their training as demon hunters. You can pursue either or both- and if the sisters aren't your thing, then the dangerously cute angel and demon girls might just be to your liking. Progress is made through visual-novel like branching conversational decisions, which compensate for a lack of plausibility with sheer hilarity stemming from some impish interjections.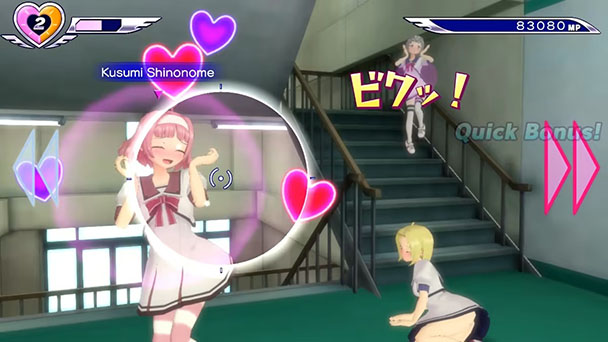 But the bulk of each three-hour playthrough will be spent shoeing away those enamored gals who charge at Houdai like ravenous zombies. Stages use the third iteration of the Unreal engine to depict picturesque Japanese cityscapes, while player can use a stick or mouse to aim the on-screen cursor that represents Houdai gaze. In execution, it plays a bit like The House of the Dead series, as players face an armada of amorous antagonists who gradually make their way toward the player. But unlike SEGA's undead shooter, the girls' weak spots aren't telegraphed. Players have to move the cursor over their lithe bodies to identify what areas to aim at, before fixating eyes on the erogenous zones.
When the numbers get overwhelming, a button press initiates the aforementioned Doki-Doki mode, named after the Japanese, onomatopoeic phrase for a heartbeat. While it's certainly undiluted fan-service, it also useful for those enjoying the game's Score Attack mode, since the resulting explosion of ecstasy whips any adjacent antagonists in a frenzy. Like many other elements of Gun*Gal, it's a two-pronged stimulus, with both a visual and point-boosting pay-off.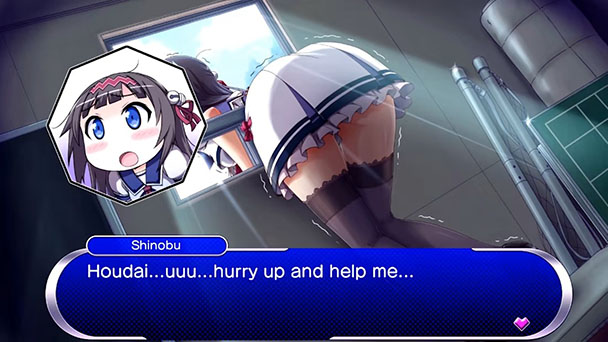 Largely, these incentives are what drives the game- if you were to take out the puckishness and replace the schoolgirls with say, aliens, the game probably wouldn't be worth a second glance. This is fan-service in its purest form, so if you don't get a laugh from the occasional lass sporting shimapan, this might not be the game for you. But for those who do appreciate a little bit of lasciviousness, know that the Switch version is effectively the same basic build as the original Japanese game, without any needless meddling. Previously sold though micro-transactions (with "Pheromone Z" a comically overpriced supplement that makes clothes translucent), players can expect all of the previous content bundled into a single package. The "Angel's Cutting Board" and "Devil's Meat Buns" adjust the girl's cup sizes accordingly, which is a lot more amusing when its not sold on the side.
Another upside to the Switch version is the quality of the port; Gun*Gal is quite the performer. Eyeing ladies on a handheld screen doesn't come with too many sacrifices, with the anime-like visuals and subtle filtering making for a attractive experience. While the framerate operates at thirty frames-per-second, it's solid offering sharp improvement over the PS Vita version.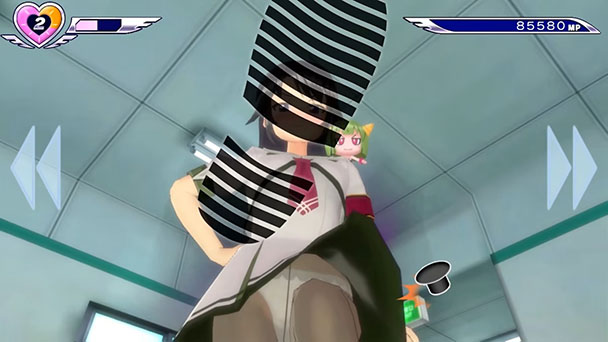 Considering the wave of puritanism that plagues the industry, it's gratifying to see puckish tiles like Gun*Gal Double Peace. While the title main appeal is the amorous visuals and screwball storyline, sending the girls into fits of ecstasy in enduringly comical. While the feeling of doki doki might linger when your finger hoovers over the purchase button, likely it will be replaced with waku waku as your journey through the title's whimsical blend of storytelling and shooting.
Gun*Gal Double Peace was played on Switch with review code provided by the publisher.
Review Overview
Summary : As implausible as those old Axe Body Spray commercials where women hunt down a fragranced fellow, Gun*Gal: Double Peace is pure, feverish fantasy. While it's serviceable as an on-rails shooter, you'd be hard-pressed to find an action game that's so comically indulgent. Go ahead and pull the trigger on this one.