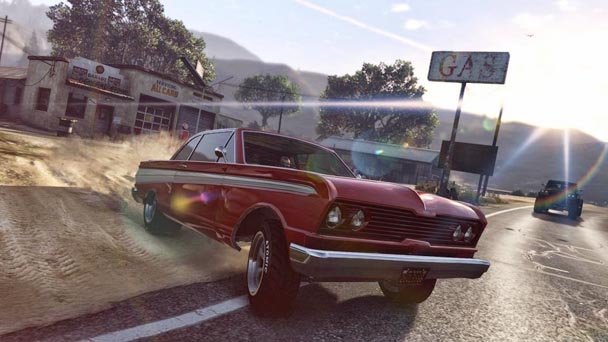 Years from now, when pundits are discussing the consummate titles which defined the seventh generation of console gaming, Grand Theft Auto V will undoubtedly rank at the top of the list. Narratively, the game conspicuously outstripped its peers, utilizing a trio of protagonists for both a succession of wonderfully intense heist sequences as well as open-world capers. Intriguingly, each character also served as a device to articulate a distinctive component of the franchise's ongoing legacy.
As the streetwise gangbanger with his eyes on socio-economic escalation, Franklin Clinton is the most likable lead. With a dogged determination and a trajectory that's rooted in the redemptive, he's also a throwback to San Andreas' Carl "CJ" Johnson, serving as an unambiguous reference to GTA heritage. Less amiable is the unrelentingly rash Trevor Philips, whose mental instability and dysfunction is played for both pathos and laughs. He's representative of how players often approach Grand Theft Auto, as he's a persistent force of wonton destruction.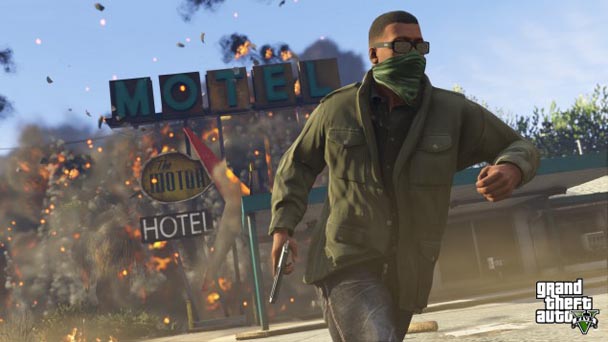 Encumbered with a mid-life, suburban malaise, Michael De Santa links the two characters, as a former criminal confidante of Phillips and a mentor for Clinton. With a family life which serves as satirical fodder, Michael is the lead that's most susceptible by complacency. It's a situation that pundits likened to developer Rockstar's pre-GTA V position amidst an upsurge of urban sandbox games. Unsurprisingly, both the character and the ensuing game exhibited both the talent and technical skills to succeed.
A significant portion of Grand Theft Auto V's enjoyment stemmed from the interplay between each character, as the rag-tag trio of characters attempted to quell their differences and work as a team. Following Rockstar tradition, each protagonist's personality revealed the type of craftsmanship that's typical of a Hollywood production, flaunting a measured and compelling arc as the storyline advanced toward culmination.  While the game's characters are all inherently flawed, it would be almost impossible to not be fascinated by each one of them.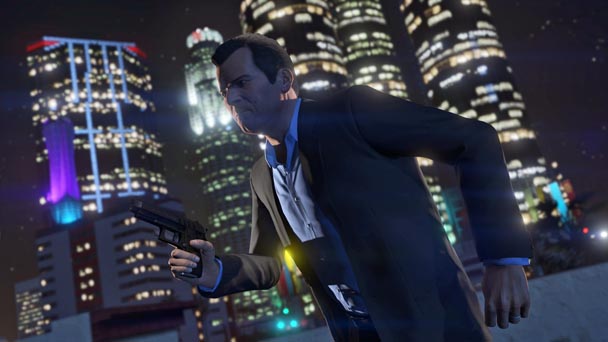 Mirroring the title's adept storytelling, GTA V also established a new technical standard for the console generation. Driving or walking through the sprawling simulacrum of Los Angeles, dubbed Los Santos, revealed a physical space that truly felt alive. Shirking the scripted routines of most sandbox titles, citizens and lead characters would go about their daily duties, sporadically reacting to random events, helping to establish the credibility of the city. Pleasingly, the level of detail transcended artificial intelligence routines, offering a dizzying amount of vehicles, weapons, clothing, locations, and musical tracks.
With the release of Grand Theft Auto V for the PlayStation 4 and Xbox One, Rockstar has raised the benchmark even further, delivering the uncommon remake that's definitely worth the double dip. Although the collective additions to the game might seem somewhat insubstantial at first glance- in execution each has been judiciously embedded as to not break the game's astute sense of balance.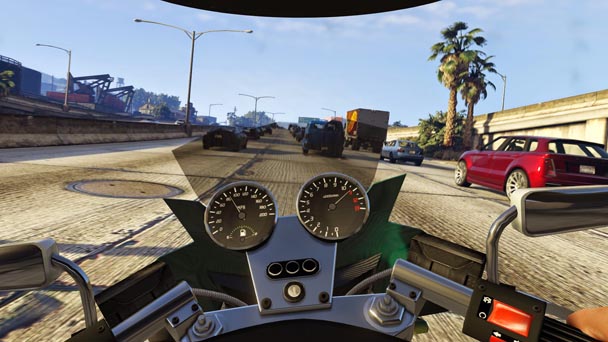 Undoubtedly, the most conspicuous addition is the inclusion of an optional first-person standpoint. For many franchises, adding additional camera perspectives can be a mixed bag, as mechanics are tuned for a particular point of view. Adeptly, GTA V unobtrusively adjusts all these elements, enhancing auto-aim, tweaking the title's collision detection, and adding a myriad of animations for activities like reloading weapons, getting tossed out of cars, and even drinking a beverage. Although traditionalists might favor the classic over-the-shoulder perspective, the new POV works surprisingly well, and more importantly comes with the ability to tweak elements to your liking. Even better, players can opt when to use the first-person viewpoint, switching standpoints during shooting or driving sequences.
Elsewhere, murder mystery clues are peppered across the landscape, tasking Michael with gathering these details. In implementation, the fragments represent little more than just another collectable, but at least the payoff is handsome with the game extending two film noir visual filters. Just as interesting as these dividends are the new vehicles, with the Dodo and Kraken giving gamers the tools to explore the expansive skies and oceans. Beyond a new melee weapon which can cleave away at enemies, GTA V's other major addition to its arsenal is the rail gun, bring a bit of cutting edge military-tech into the hands of players.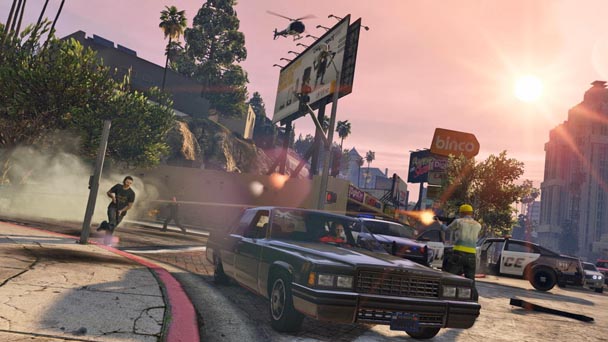 Navigating through urban Los Santos and its pastoral peripheries reveals a myriad a minute changes, as if Rockstar scrutinized the expansive landmass, adding elements to make the territory feel alive.  From the increase of pedestrian and vehicular traffic which helps the city seem more like its source material to new varieties of wildlife that dot around the outskirts are poised to grab the attention of returning players. Moving to a first-person perspective inside a vehicle demonstrates the developers' attention to detail, with elements like speedometers and functioning stereo displays. Although GTA V's framerate still shows the occasional stumble when navigating through dense areas at high rates of speeds, the game's draw distance is visibly augmented, allowing for complete enjoyment of Los Santos' picturesque vistas.
Sonically, Grand Theft Auto V offers a similar increase in content. Building upon the already robust assemblage of musical tracks and talk radio, this edition provides 162 new songs and well as newly recorded chatter courtesy of returning DJs. Gratifyingly, there's little filler on the set lists, with each of the seventeen stations broadcasting a wonderfully diverse set of melodies. Danny McBride's role as animal husbandry expert, Duane Earl has received a through expansion, with in-game broadcasts of Beyond Insemination offering wonderfully irreverent conversations.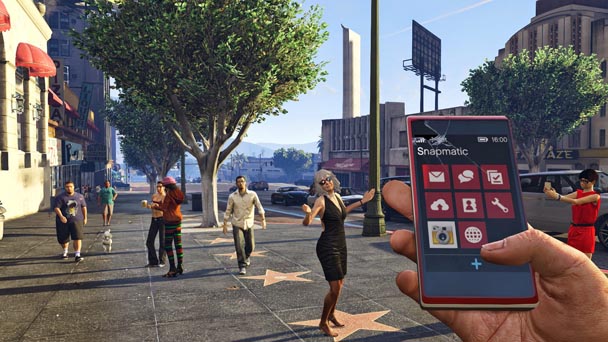 When GTA V first shipped, its online component wasn't ready. While this might have been an unforgivable transgression for most titles, the single-player campaign was robust enough to absolve Rockstar. For the next-generation iteration, the developers have GTA Online up and running at launch, with all the content that has graced the Xbox 360/PlayStation 3 versions. Favoring more free-form recreation rather that rigid rule sets, the mode largely maintains the autonomy of the main game, which giving players the ability to engage with up to twenty-nine other participants. For gamers looking to upgrade to this version, the game offers the ability to import their characters. The sole downside is the reoccurrence of protracted loading times, which can sap a bit of vitality in the long haul.
For PlayStation 4 owners, GTA V's pilgrimage to next-gen arrives with a few curious controller additions. The top light of the DualShock 4 changes color as players shift between protagonists, and flashes red and blue when being chased by the police. Phone conversations and communication through law enforcement channels are send through the controller's speaker, adding a realistic tinny aesthetic. While none of these trimmings are essential, they do demonstrate Rockstar's commitment to delivering a consummate port.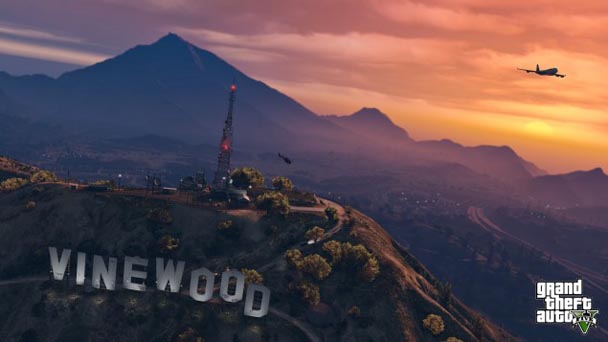 Even for players who sank weeks into the original release of the game, the next-generation version of Grand Theft Auto V offers a multitude of minute reasons to upgrade. Beyond the obvious increase in visual fidelity, Los Santos feels fuller, with even rural areas buzzing with the activity of new animals. For those who somehow missed the release of the title, GTA V comes with an unreserved recommendation. It's doubtful that the medium will experience another game-world as rich, detailed, or enjoyable until Rockstar give us a follow-up.
Grand Theft Auto V was played on the PlayStation 4 with review code provided by the publisher.
Grand Theft Auto V
Platform: PlayStation 4, Xbox One
Developer: Rockstar North
Publisher: Rockstar Games
Release date: November 18th, 2014
Price: $59.99
ESRB: Mature


Grand Theft Auto V (PlayStation 4/Xbox One) review
Review Overview
Gameplay - 95%
Story - 95%
Aestethics - 90%
Content - 100%
Accessibility - 90%
94
94%
Excellent
Summary : One of the best games of the last generation has now become one of the requisite experiences for PlayStation 4 and Xbox One owners. As such, Grand Theft Auto V's progeny retains its reign on consoles. Where's just waiting to see what the PC version can produce.

User Rating:

4.62 ( 8 votes)