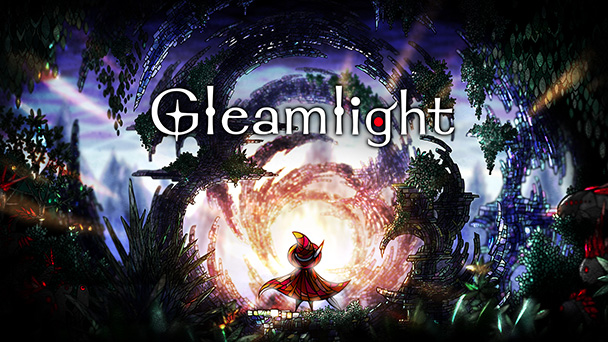 Gleamlight's world of glass is particularly prickly one.  The game's scant, ambiguous storytelling won't make an impact. With inelegant collision detection and a vampiric health system, combat won't win your over either. 
Gleamlight
Platform:
Switch, also on PlayStation 4, Xbox One, and PC
Developer:
DICO
Publisher:
D3Publisher
Release date:
August 20th, 2020
Price:
$19.99 via digital download
Availability:
eShop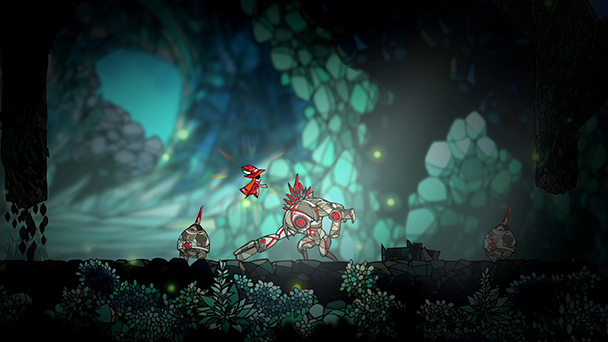 Pity the poor developer bringing out a game against a field of capable competitors. Given the abundance of adept metroidvanias on Switch, that's exactly the unfortunate stance faced by the recent release of Gleamlight. From Hollow Knight, Dead Cells, Bloodstained: Ritual Of The Night, Shovel Knight, Timespinner to Owlboy, there are multitude of prodigious action-exploration titles. While each one of the aforementioned games shares key attributes, they also provide individuality through shrewd design decisions.
Shibuya-based DICO (Developers for International Communication) previously assisted Koji Igarashi with the development of Bloodstained, so they're no strangers to the genre. But the Switch release (it's also available for PlayStation 4, Xbox One, and PC) of Gleamlight shows little mastery of metroidvania fundamentals. Worse yet, it attempts at distinction often undermine its execution. It's a title that will persistently make you wonder just how and why the game made it to market.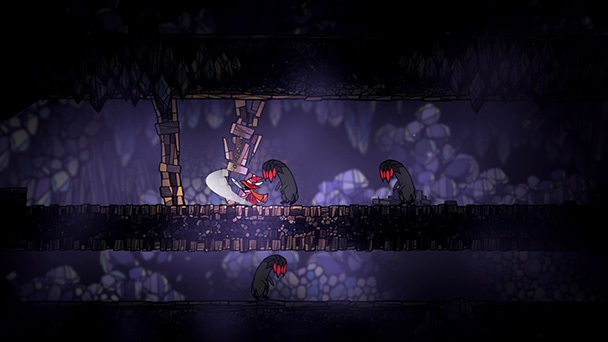 The Glass is Half Empty
Gleamlight's aspiration for minimalism certainly can't be faulted. A multitude of games offer overly complicated narratives, confusing input schemes, while parading user interfaces that seize a sizable amount of the screen. But DICO pushes the title into austerity. As such, there's little plot to connect with as you're thrown into things with little context. Hundreds of enchanting retro titles prove you don't need much of a storyline. But here, you'll be craving for a morsel of motivation.
Situated in a world comprised of stain glass, you'll have to settle for an indistinct concept where light and darkness continue their oppositional struggle. Asking players to interpret an abstract premise could be absorbing if handled with care. But that doesn't seem to be the case here.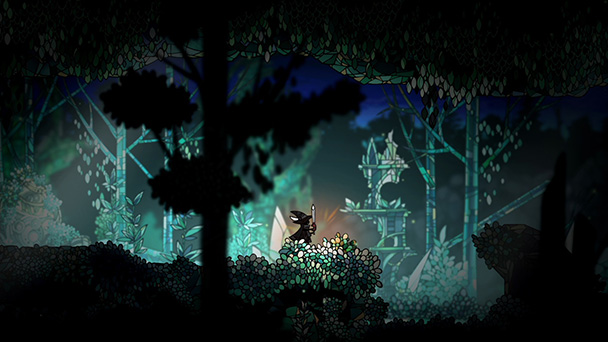 Instead, Gleamlight's unspoken story feels like a proof of concept, still waiting for writers to tie together the game's sword-wielding protagonist, eccentric enemies, bosses, and strained glass motif. Throughout the game's journeys, I was waiting for a reveal to provide insights in Gleamlight's world, but disappointingly, fragments arrived only after patience was well-worn. While some of those narrative strange converge, don't expect anything that resembles a standard plot.
Fading Out
Perhaps if Gleamlight's play was engaging the deficiency of storyline would be forgivable. But here too, the title falters. Initially, a sword and a capacity for leaping are your only abilities for cleaving through the game's rambling trek. But collision detection is a habitual problem. Vaulting over spiked hazards all too often causes damage to the player, as their little platforming precision. To make matters worse, you'll often be asked to take leaps of faith into darkened depths just beyond the boundaries of the screen. All too often, you'll encounter an injuring environmental object or lingering enemy.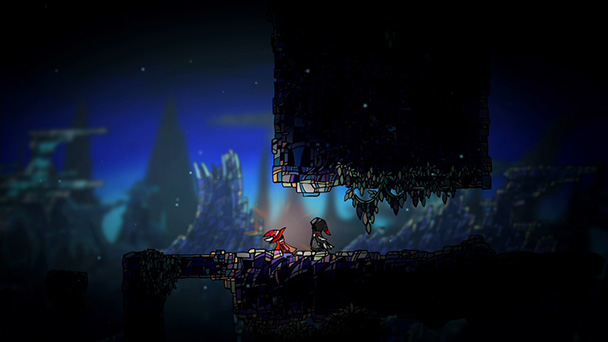 Adversaries bring their own set of issues to play. In keeping with custom, they'll linger in place, primed to attack when you draw near. But jumping and flying enemies often get stuck on parts of the playfield, sullying the sense of immersion. With combat, Gleamlight aims for distinction but comes up short. Instead of a dedicated health meter, the protagonist fades in color with each hit and reclaims luminance when foes are eliminated. This model also applies to adversaries. However, in execution, you'll probably find yourself slashing at bosses wildly, attempting to deplete their heath faster than they take steal yours. It's an injurious design decision that often reduces combat into a mindless button masher.
Swinging Swords in Glass Caverns
Eventually, you'll earn the requisite upgrades like a double jump. But these uncritically follow convention rather than attempt to provide an experience that feels novel. Navigation should cultivate a sense of wonder. But Gleamlight's level design channels the drabness of procedurally generation. There's scant surprise or spectacle as your make your way through the game's landscapes.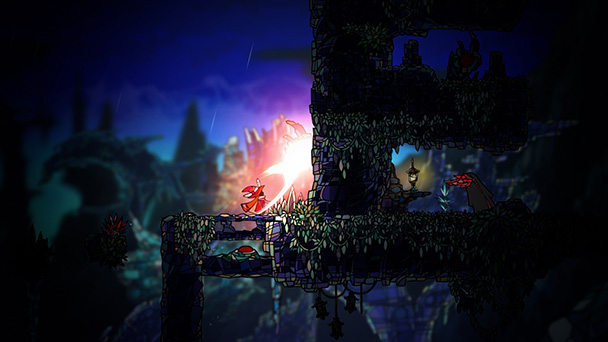 Once you do make your way through the game's linear trek, you'll be asked to backtrack, which seems more punitive than congratulatory. But stick with it, and Gleamlight offers up more, with hidden areas, new bosses, and even endings that finally provide a bit of exposition. But these rewards arrive unannounced and only after some rather exhausting play.
Conclusion
In the end, Gleamlight delivers muted satisfaction but only after quite a bit of effort from players. Worse, there's almost no signaling of new game+ rewards to be found, meaning this enjoyment might be missed by the game's owners. With plenty of exemplary action-exploration titles on Switch, Gleamlight should only be viewed by those with a fanatical fascination to the genre.
Gleamlight was played on Switch with
review code provided by the publisher. 
Review Overview
Summary : The inclusion of seemingly innovative decisions work against the title. A concealed user interface, skeletal storyline, and post-completion rewards only work if the core game is enjoyable. Like broken glass scattered across the bike line, Gleamlight is best avoided.