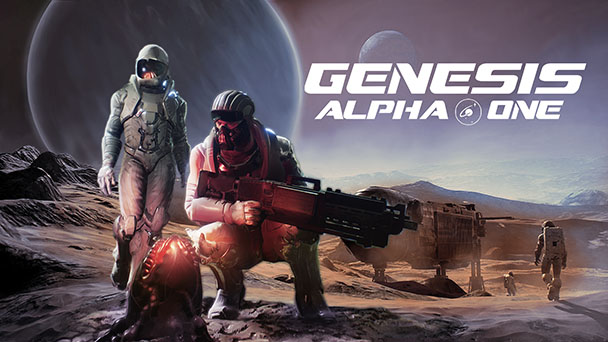 Countless science fiction films and novels have made one message exceedingly clear- space colonization is a precarious endeavor. Consistently, every imaginable force of nature opposes the heroes' ambitions, with achievement only occurring after harrowing sacrifice, unrelenting hardship, and a healthy application of ingenuity. It's a thesis that the recent PlayStation 4, Xbox One, and PC release of Genesis Alpha One reiterates, paying homage to a multitude of different works.
Articulated via a jumble of genres and a yearning to discuss larger social issues, the title has more ambition than a half-dozen of its contemporary peers. The result is an experience that can be a bit messy and sporadically frustrating. But it's also curiously compelling. Those who appreciate overcoming seemingly impossible odds should appreciate Alpha One's randomized journeys into the cosmos.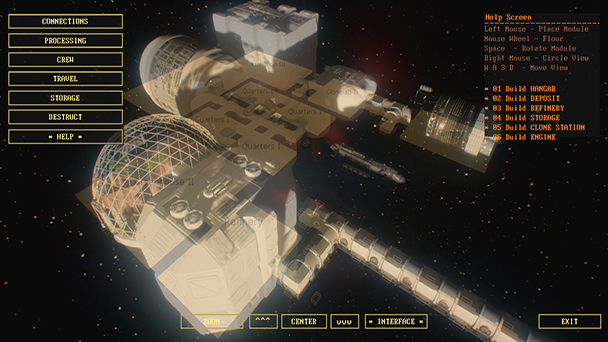 A Multitude of Cinematic Inspirations
Genesis Alpha One has so many interlocking components, that a tutorial was an absolute necessity. Here, you'll find interactive lessons that impart the fundamentals, but triumph will most likely come through trial and error. That's a good thing, because much of the fun stems from the surprises to come, which probably shouldn't be that startling if you have a passing familiarity with late twentieth-century sci-fi. Yes, I'm being strategically ambiguous here. But know, for instance, that there are a multitude of beings that will try to takeover your starship. Some recall the animalistic savagery of Ridley Scott's Alien, while others embody the callous, corporate greed of James Cameron's sequel.
But before even getting to that stage, you'll be tasked with building your colonial space vessel. Essentially, this component feels like a city builder, where you'll resources to attach a multitude of modules. Like any urban planner, there are requirements, and you'll need things like a greenhouse to grow plants that make things breathable, tractor beams that grab resources, as well as a harvester shuttle that permits you to drop down on planets and secure other ground-based materials.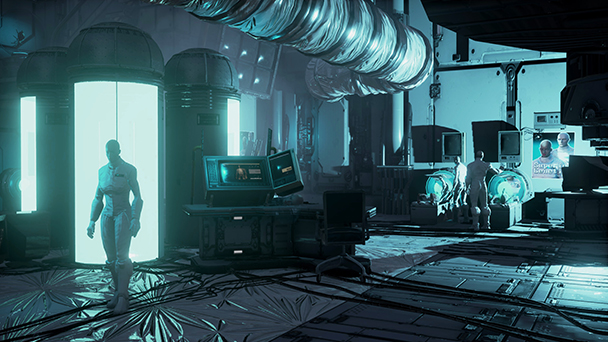 Yet, where most city builders typically keep the camera on a god-like perspective, you'll often be roaming the halls and chambers of your sprawling space station. Undoubtedly, you'll learn the virtue of foresight. Create an architectural tangle and you'll be bouncing from one side of the ship to the other and across multiple floors, making your duties feel like an all-day shopping marathon at a gargantuan shopping mall.
C'est la vie, Many Me
Like the shopping center depicted in George Romero's Day of the Dead, your ship can be abuzz with activity, yet still feel rather lonely. That because all other beings are usually utilitarian robots or bald-headed humanoids right out of George Lucas' THX-1138. Remarkably, Genesis Alpha One's directive to discover an inhabitable planet is conducted by a single person. You'll make clones of yourself to assist with different duties around the ship. Should you perish, you'll shift control to one of your replicas. But if you ever run out of back-ups, your undertaking automatically fails. Beyond lacking autonomy, clones occasionally forget their assignment, which can be pressing when other problems emerge.
Developer Radiation Blue keeps you from ever ascending into the comforts of upper management. While you can take clones on ground-based missions, they won't safeguard you as well as a sentry gun. You can opt out of missions, letting them work autonomously on resource collection. But all too often, they'll return with a few nasty surprises which can wreak havoc when it returns. Even worse, one of the stragglers will burrow into the bowels of your ship. After stealthily propagating, you'll occasionally be overtaken by creatures hell-bent on your demise. One of the lessons taught across multiple playthroughs is to never grow too comfortable. In a setting where everything is hostile, it's all too easy to overlook that one seemingly insignificant element end up wiping out your clone-crew.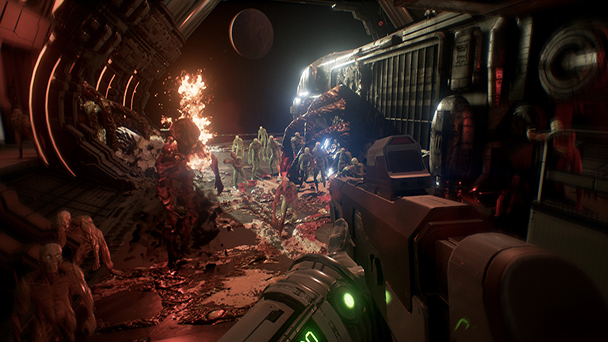 Topside Tasks
Taking the Harvester down to a ground reveals the type of immediate intensity that most games demonstrate. You'll be confined to medium-sized area that often filled with a multitude of vegetation. While mining materials from rock formations, your proximity sensor will often emit a series of quickening clicks to indicate the presence of encroaching enemies. Unlike some games where diplomacy is an option, with Alpha One every creature wants you dead.
You can defend yourself with two weapons and picking up the remains of exterminated aliens permit you to add their DNA to your clone gene pool. In the rare departure from sci-fi meta-narrative, this isn't as foolish as it might seem. Instead, you'll create new close with new abilities, a few weaknesses, and you'll have to modify things in the greenhouse to cater to their respiratory system.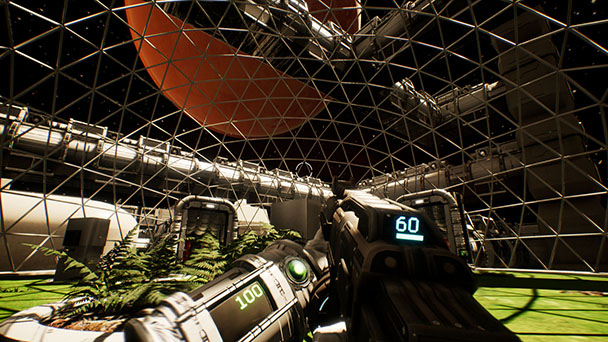 Deliberately Retro
On the planets surface, there's a disconcertingly hue in the atmosphere that seems to signal a sense of danger. Smartly, that's not the game's only interesting visual choice. Your ship's interiors convey 70's retro-futurism without resorting to simulated film grain. Airlocks have a plastic-like sheen, while terminals give off the familiar clack of old keyboards. Navigation across space sectors evokes the navigational interfaces of Star Raiders and the 70s Star Trek title, while fonts are decidedly 8-bit. Smartly, the pixelated aesthetic isn't universal. Ship environments, weapons, and aliens all convey contemporary sensibilities.
Genesis Alpha One's opening cinematic uses elements of actual film footage and drawings to covey its impetus. But during the game, there's little expositional exploration of context. With contentious corporate factions, ships filled with taciturn, pale-faced clones, the developers seem itching to imbed subtext. But they struggle for any substantial storytelling against all the resource-management juggling. As such, a playthrough of Alpha One is certainly engaging, but poised to leave you asking a lot of questions that will go unanswered.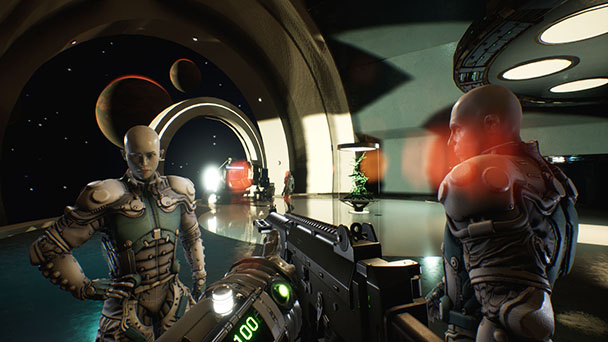 The Thrill of Uncertainty and the Specter of Familiarity
At its best, Genesis Alpha One emulates the sense of insecurity that often permeates the best science fiction. The game's lesson imparts the essentials, but the enjoyment is throwing yourself into the game's complex interlocking systems. Here, the thrill of uncertainty and the tension of the unexpected are powerful. Mastering these elements will eventually lead to a successful playthrough, but once you've grasped the game's complex systems, the title gradually loses its grip. Still, getting to that successful five to seven-hour run will take more than a few failed, and undeniably fun attempts.
Genesis Alpha One was played on PlayStation 4 and PC
PS4 review code was provided by the publisher
Review Overview
Summary : If you're into senselessly ambitious titles that mix genres and create a strong tense of tension, enlist after doing superficial research.