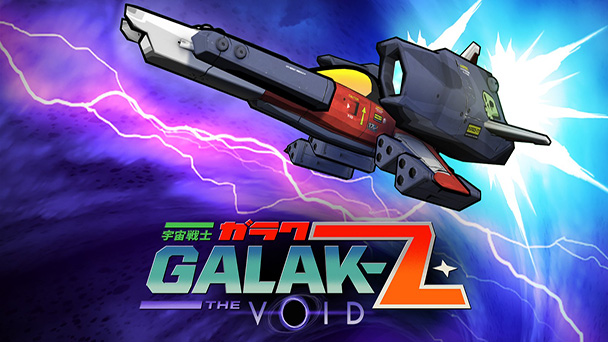 Sometimes, a single smart design decision can catapult a game to success. With the release of Galak-Z: The Void: Deluxe Edition onto the Nintendo Switch, developer 17-Bit makes several shrewd choices, resulting in an experience that is poised to delight fans of intense action games.
The first decision was to move the venerable rogue-like formula into space. After years of skulking dungeons, searching for loot, and swinging away at creatures, Galak-Z feels invigoratingly fresh. Here, you'll dash across wide-open intergalactic environments, the serenity of space flight sporadically interrupted by a visual indicator revealing a nearby hostile.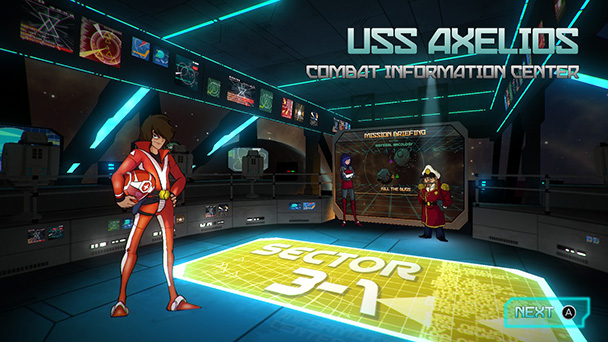 Encounters are neither turn based nor do they rely on twin-stick shooter mechanics. Recalling the zero-G physics popularized by Asteroids, you can rotate your ship in place, while applying a bit of thrust propels you in a direction. But here, you're given a much more responsive vessel, with a button assigned to reverse-thrusting slowing you down before you drift into danger. A quick tap of both triggers will stop you in place, which in extremely useful when hiding behind an object as you plan your attack or watch foes skirmish with one another.
At the start of the game your loadout consists of blasters and lock-on missiles. But gradually, you'll locate blueprints, which enhance the performance of your weapon systems. When confronting enemies, there are a multitude of solutions in your arsenal. You can opt to boost out of the way, juke to evade enemy fire, or even turn into a mech. While the latter forgoes your missiles, you are able to hook-shot debris at foes which can inflict sizeable amounts of damage.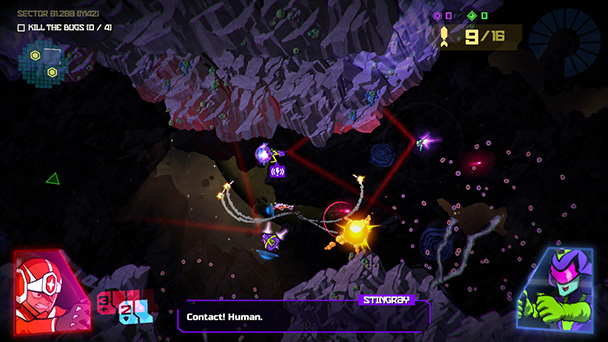 Gratifyingly, battles are often frantic affairs. If you're not using your thrusters or blasters, its possible to sneak or even bypass foes, which is consistently thrilling. The trick is to stay out of their sensors and not emit noise with your thrusters or blaster. It's also possible to use environmental objects again adversaries. Occasionally, you'll come across an organism that sends rebounding projectiles when shot. Wait until a cluster of foes is in a narrow passage with one of these, and you'll easily wipe out a cluster of opponents.
Although Galak-Z: The Void could have delivered a preplanned campaign, 17-Bit's incorporation of rogue-like elements escalates the tension. Play in the game's original default mode, and you'll have to clear five mission without catastrophe to get to the next checkpoint. As such, a successful game forces players to learn how to confront adversaries, use the randomly generated environment, and determine when to scour each zone for powerups. Suitably difficult, you can also elect for Arcade Mode which checkpoints after each mission. While you'll be able to see everything Galak-Z has to offer you'll sacrifice the intensity of a fifth stage mission where a single errant decision can undo a half-hour worth of progress.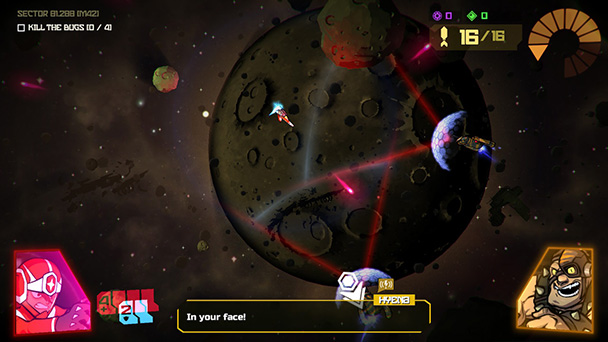 Another strong attribute is the game's homage to last millennium anime. With an artist style clearly inspired by Macross, Galak-Z delights with sly nods to VHS-era visual impairments, retro-futuristic fonts, and characters that embody the plucky spirit that was ubiquitous in pre-Neon Genesis Evangelion animation. Sure, the story of a youthful pilot seizing a prototype starship and eliminating hundreds of assortments enemies might seem trite, but when it's bookended with a multitude of allusions, it will delight those who understand the references.
On the Switch, the game runs smoothly, save for some slight framerate drops when the action heats up. While confiscating the fluidity of control at the worth possible time is never welcome, its rarely creates an impairment leading to a game over. With regenerating shields incurring loss before your ship is damaged, if you play cautiously, this shouldn't be an issue. Other than this minor blemish, Galak-Z's journey to the Switch is spotless.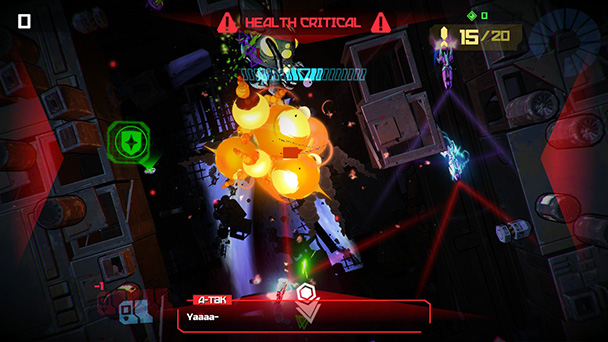 Heading into a crowd of enemies with a sputtering ship and s shortage of missiles is a wonderfully intense moment and one that occurs in Galak-Z: The Void: Deluxe Edition with regular frequency. But with an ample toolset capable of confronting or even circumventing foes, this scenario is consistently stimulating, making Galak-Z a journey worth seeking out.
Galak-Z: The Void: Deluxe Edition was played on Switch
with review code provided by the publisher. 
Review Overview
Summary : Sure, rogue-like are pervasive but Galak-Z: The Void: Deluxe Edition adds enough clever design decisions to invigorate the formula.