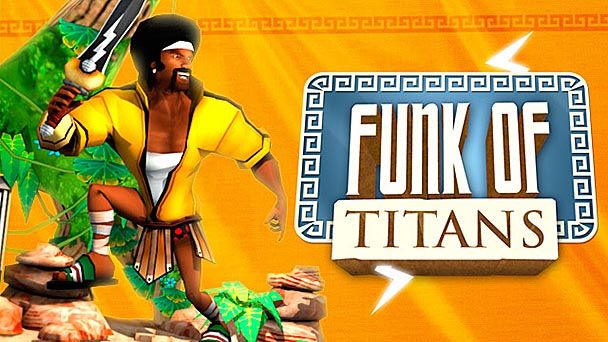 In recent years, endless runners gained a recent surge in popularity largely stemming from the rise in mobile games. Though the genre can be traced as far back as classics like Moon Patrol, it's fair to say these new entries grew a life of their own. Ironically, Funk of Titans began as an Xbox One exclusive in lieu of its smartphone and tablet brethren, likely lured by the Redmond giant's efforts to attract smaller developers. Regardless of its origins, the game handles similarly to mobile releases shirking any control scheme one would derive from a controller.
Most endless runners tend to feature procedurally generated levels, Funk of Titans however foregoes this route in favor of traditional level design. This ensures players must rely not just on both quick reflexes and stage memorization to successfully complete a journey. As is expected with such titles, gamers are given limited control over the main character; this time in the form of a two button setting in which Perseus, the lesser known son of Zeus, may either jump or swing his sword.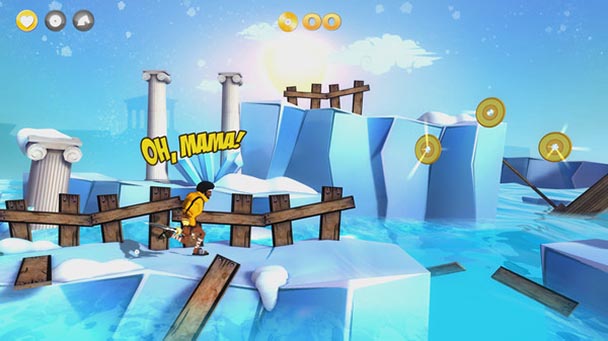 Funk of Titans features an interesting twist on the ancient Greco-Roman theme, in which Gods, Titans and monsters all have music style associated to them. So while our demigod's feats represent a stereotypical 1970s funk, foes represent the abhorrent evils of Pop, Rap and Rock. This tone is unabashedly silly though seemingly drawing a few influences from Disney's 1998 Hercules movie. Sadly, all plot elements are told through text cutscenes, the lack of proper dance-offs or lyrical story segments are without a doubt a missed opportunity.
The path to a titan is fraught with danger and hidden paths. Players are simply asked to reach the end of a level, but doing so requires Perseus to jump onto platforms, avoid pitfalls and traps and defeat enemies either through his sword or landing on them in the same vein as Nintendo's plumber. Stages will occasionally split into different paths, some of which can change your running direction, these often provide the best means of acquiring coins and bonus-level tokens which adorn every map. Perceus can only receive damage up to times, the first of which causes him to (literally) lose his shirt; seeing a Greek God running in his shorts while being chased by bloodthirsty soldiers is an interesting sight to behold.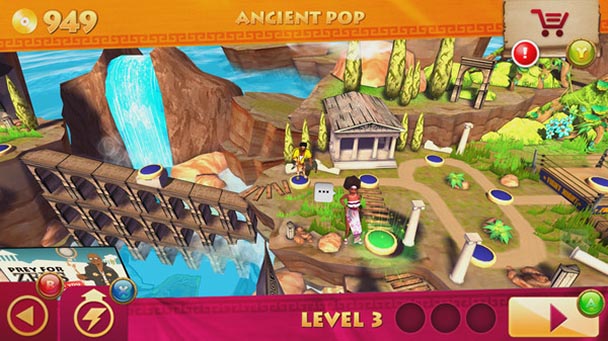 Upon reaching the end of a stage, our hero is gauged based on coins and tokens collected as well as damaged received. Monetary gains can then be used to purchase weapon upgrades which can open secret passages for observant demi-deities. Upon clearing a path to a Titan the showdown commences in the form of a quicktime dance-off event. Sadly, this is yet another missed opportunity, what could have been a Parappa the Rapper or Space Channel 5 rhythmic mini-game is reduced to an overly simplified version. Players only have to press the right button inputs as they appear while our characters dance to generic funk, pop and rock songs. There is no energy put into these boss battles and they are far too easy for their own good.
Funk of Titans provides an enjoyable romp and is one of the better entries within its genre. Its greatest fault lies not with its design, but rather the fact it's essentially a mobile title running on a platform with vastly different views on gaming. Should it ever be ported to mobile platforms it will likely shine among similar entries. Currently however, it's like trying to fit a well-polished square peg into a round hole.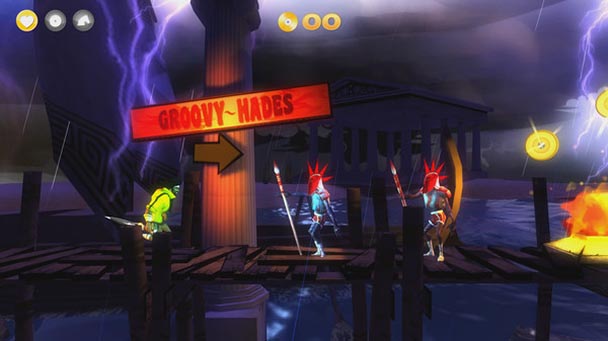 Funk of Titans was played on the PC with review code provided by the publisher.
Funk of Titans
Platform:
 PC,
previously on Xbox One
Developer:
 A Crowd of Monsters
Publisher:
Merge Games
Release date:
 July 24th, 2015
Price:
 $6.99 via
Steam
Review Overview
Summary : Funk of Titans is an enjoyable experience, however, it's focus on mobile game design will prove an odd fit for most PC gamers.