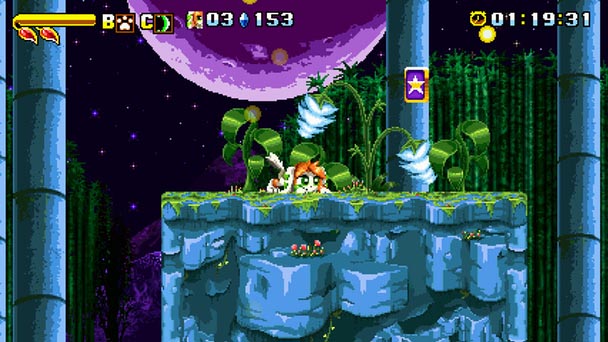 There's a very good reason why the Genesis/Mega Drive is so revered by retro gamers: the console played host to several prodigious programing teams. From Sonic Team's eponymous series, as well as their work on Ristar, to Treasure's string of stirring hits- Gunstar Heroes, Dynamite Headdy, Alien Soldier and Light Crusader, players saw a succession of truly superlative titles.
And while the following generation's shift to polygon-pushing hardware produced a number of memorable games, few of these would match the charm and effervescent vitality demonstrated by SEGA's sixteen-bit output. In retrospect, the publisher spent the succeeding decades trying to duplicate its Sonic-era glory, an endeavor as awkward as a middle-aged man trying to rekindle his high-school swagger.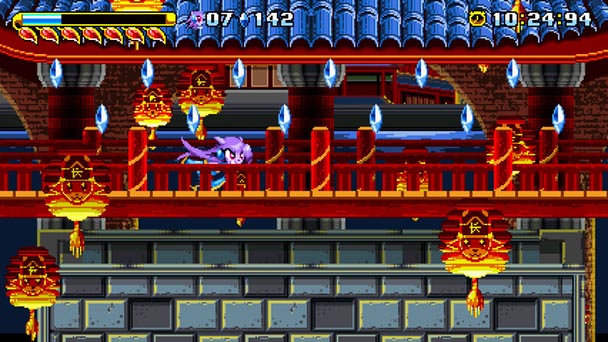 Pleasingly, the recent Steam release of Freedom Planet strikes a virtuous balance. Recreating the vibrant hues and  parallax-scrolling backdrops of a late 90's action-platformer, the title adds a dose  of combat-driven physicality to ensure that it doesn't feel like a toothless copycat. Where corporate groupthink might be blamed for decisions like focus-group fashioned sidekicks or episodic delivery methods, indie studio GalaxyTrail has deftly stripped away the feature-bloat excess, delivering an experience which feels like finding the unbeknownst warhead that could have conceivably tipped the balance in the fifth-generation console war.
Like it's source material, Freedom Planet's charm emanates from it's anthropomorphic cast of characters. Although the game complements its text-driven dialog with serviceable voice-overs, it's hardly needed. Personality is better articulated through the game's adorable sprite animations, where characters go bug-eyed when pushed into strenuous situations or perform a jubilant handstand after conquering one the game's protracted stages. For those that appreciate a bit of narrative-based impetus, Freedom's Planet's Adventure Mode indulges, issues bits of exposition much like Sonic Adventure. For those with concern for a rag-tag team of affable animals and the chase after an energy-producing Kingdom Stone, there's Classic Mode (if they don't feel like skipping cutscenes)  which forgoes the plot for a non-stop thrill ride of platforming mixed with pugnaciousness.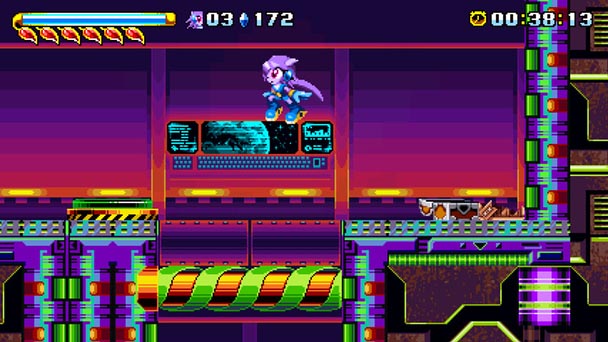 While games of yore typically had uncomplicated move sets and printed instruction booklets, Freedom Planet has neither, leaving it to players to master the navigational methods of each of the three playable characters. At the start of the game, players have a choice between the lavender-complected water-dragon Sash Lilac and her impetuous feline friend, Carol Tea.  Although Sash is the obvious star of the game, her Sparkster-esque ability to rocket around levels has the tendency to push her into peril. Beyond turning into a lethal cyclone, Sash can also use her locks as a weapon, whipping foes into submission. She's certainly a powerful force, but most players would be better off starting with Carol.
With the ability to scamper up vertical walls and rapidly unleash her claws at enemies, the jade-colored kitty also offers a good balance of navigational finesse and offensive might. The game gets even more mirthful once Carol finds a gas can for her motorcycle, where she effortlessly rides up walls with losing an iota of momentum. Once players pass two stages with either protagonist, they also unlock the ability to play as Milla Basset who offers the ability to glide through the air, as toss objects at enemies, endowing her with a long-ranged attack.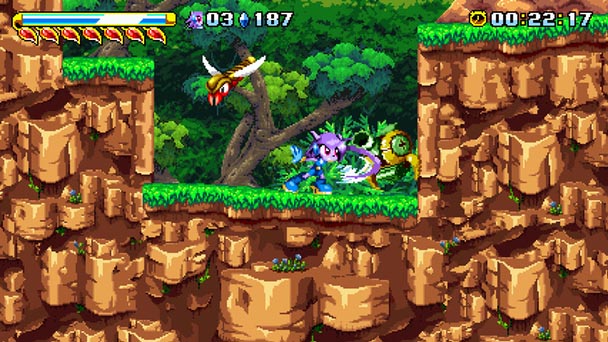 But as Sonic 3 and his escapade with Knuckles taught us, level design can be a tricky endeavor for characters with divergent ability sets. For the most part, Freedom Planet nails the rudiments of stage creation, offering sprawling levels which typically take at least a quarter-hour to traverse. Despite their size and verticality, each environment subtly pushes players in the right direction, offering enough scenic diversity and directional signs to assist gamers. That said, there are sections of each stage which seem designed for a specific heroine, which can break the momentum of the game. Nicely, Freedom Planet does offer up a few character-specific amenities, doing things like altering boss battles to ensure everyone has an equal chance.
Unfortunately, that chance can be mercilessly slim. While stage navigation offers only a modest level of challenge with plenty of opportunities for each girl to pick up more life petals, and a collision model that's exceedingly liberal, adversity escalates for the final confrontation. Here it's not common for bosses to quickly decimate the player's health bar, making these events ripe for repetition. Advantageously, these showdowns are visual spectacles, with enormous, fluidity-animated bosses habitually composed of dozens of smaller sprites, Treasure-style.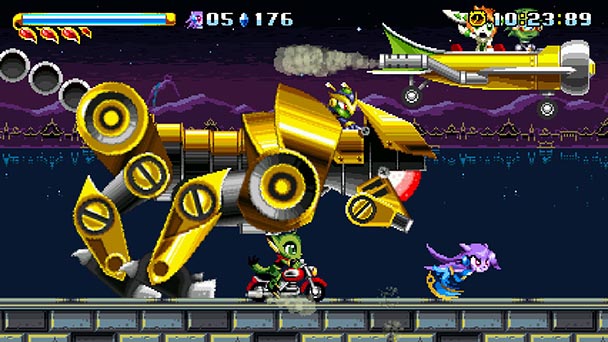 Small elements like plot holes, handling on ladders, and the occasional glitch happen, but are infrequent and diminutive enough to nearly overlook. Certainly, Freedom Planet's top-notch soundtrack,with its perpetually optimistic melodies and searing guitar wails will also help you forgive any gameplay transgressions- some of these compositions are masterful. Credit should also be given to GalaxyTrail for rewarding purchasers with additional content (purportedly showing another side of the Kingdom Stone conflict), instead of taking the tired nickel-and-dime approach.
With a voiced storyline, engaging mechanics and a trio of characters who all play quite differently, Freedom Planet feels like a lost classic from the SEGA CD era.  While publishers like SEGA, Konami and Capcom have transitioned into big-budget, polygonal games, GalaxyTrail reminds us that the simple, attractive 2D platformer can easily run circles around uninspired fare like Aliens: Colonial Marines, NeverDead, and Dark Void.
Freedom Planet was played on the PC with review code provided by the publisher
Freedom Planet
Platform:
 PC
Developer:
GalaxyTrail
Publisher:
 GalaxyTrail
Release date:
 July 21st, 2014
Price:
 $14.99 via Steam
Language(s):
 English text and voiceover
Review Overview
Summary : Freedom Planet is well-written love letter to the sixteen-bit era, reminding players of the power of the action-platformer. Expect to be serenaded by the splendid soundtrack.