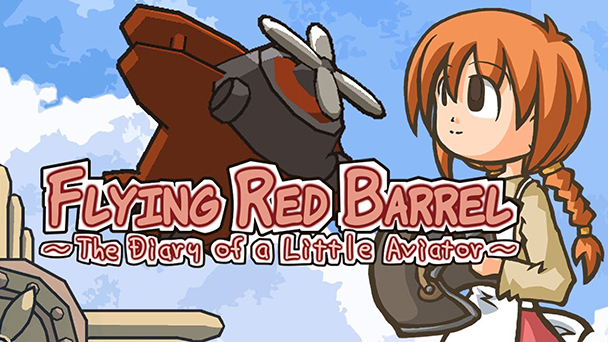 Doujin developer Orange_Juice's fluffy little shooter makes its way to Steam, offering five protracted stages of projectile dodging, MiniCoin-collecting fun.
Flying Red Barrel ~The Diary of a Little Aviator~ 
Platform:
PC
Developer:
Orange_Juice
Publisher:
Fruitbat Factory
Release date:
June 19th, 2020
Price:
$TBA via digital download
Availability:
Steam
Like a plate of drunken noodles that conceal lip-numbing spiciness, the cute 'em up is a delightful deception. The sub-genre's moniker emerged as a deviation of the shoot 'em up. Titles like TwinBee (1985), Parodius: The Octopus Saves the Earth (1988), and Cotton (1991) shifted the shooter from drab outer space areas to adorable, vibrant-colored environments, where both the player ships and enemies were irresistibly kawaii. But the winsome appearance often cloaked a consummate challenge as foes darted around wildly, filling the screen with deadly projectiles.
Tackle any of the three difficulties in Flying Red Barrel ~The Diary of a Little Aviator~ and things seem initially whimsical. You'll pilot a rotund little red biplane across vertically scrolling environments with targets that include a flock of innocuous seagulls and other corpulent aircraft. But soon enough, the skies become filled with bullets released by wrathful aircraft, especially on the intermediate and advanced settings.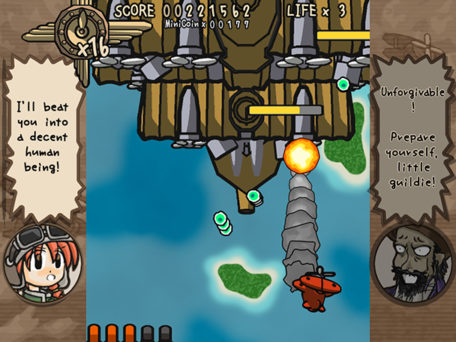 Use Rapid-fire Prudently
Although Flying Red Barrel five stages don't demonstrate too much enemy diversity, you will face off against mid- and end bosses, as well as multitudes of subordinates. Shirking any traditional power-up system, your main offensive ability are twin machine guns. Rapid-fire occurs automatically while holding down an action button. But remarkably, the game gives you several reasons to not rely on the ability.
Your stout plane doesn't move very quickly when firing, which is useful when making micro-adjustment to weave through clusters of projectiles. But occasionally, you might perceive an incoming gap in projectiles on the other side of the screen. Laying off the fire button boosts your movement speed, allowing you to soar to safety.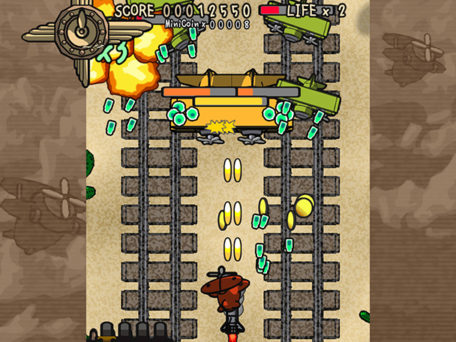 Defeated enemies drop bundles of MiniCoins, which are spread out, making collection cumbersome. Stop firing and you'll activate your ship's magnetism, pulling in nearby monies. Beside contributing to your score, these coins also refill your rocket gauge. Like bombs in most shmups, these are the mightiest armaments in your arsenal. While there's a slight delay when launching one, they'll travel up-screen demolishing small foes and putting the hurt on elevated enemies.
Finding That Secret Boss
What distinguishes Little Aviator from its contemporaries are the methods used to propel players toward different outcomes. Taking down enemies quickly can earn players a healthy scoring bonus, but it's also one of the influences that determines which of the eighteen endings they'll see. Despite the intense amount of bullet-dodging, the game has a surprising amount of dialog, articulated through character portraits on the far borders of the screen. Like many STG storylines, it's noncompulsory, and you can ignore it if you wish to focus on the action. But for those who appreciate a bit of personality, the whimsical banter has appeal, as a faction known as The Guild tried to rid the skies of air-pirates and other cloud borne bandits.
If the game sounds familiar, that's because it's been around for over a decade. Originally released during Comiket 73 in December 2007, it made its stateside debut two years later thanks to Rockin' Android. However, this is the first time the game has been released on Steam. To commemorate the publishing, the game's artwork has been remastered to 1280×960. Considering the title's hand-drawn look, the upscaling makes the cell-shading edges look a bit nicer but it's a rather nominal improvement. The other perk is those in possession of the Steam version will receive a character unlock if they also own 100% Orange Juice, the developer's board-game-esque title.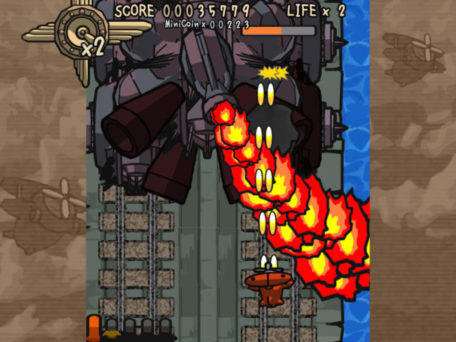 Conclusion
Rounding out the supplements are the ability to save and review replays. Unfortunately, there are off-line, so you won't be able to bask in the bullet-dodging runs of STG virtuosos. The game's lack of online functionality also damped the presence of leaderboards. It would have been fun to see how I fare against others. But there's at least one benefit unaffected by the game's off-line policy. Head into Settings, and you can illuminate your craft's hitbox, which can help newcomers get their bearings.
Like most doujin STGs, there's a plucky spirit that runs through Flying Red Barrel ~The Diary of a Little Aviator~. The indefatigable spirit of the protagonist isn't far removed from the determination of the developers, which is demonstrated through almost every moment of Flying Red Barrel. Sure, the game's visuals might not tax processors. But the title will put your projectile evading skills to the test in a commendable way.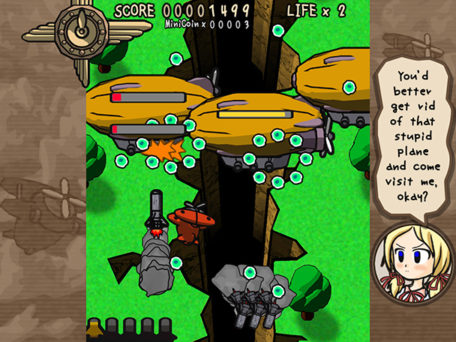 Flying Red Barrel ~The Diary of a Little Aviator~ was
played on PC with review code provided by the publisher
Review Overview
Summary : If you're like me, your Steam library is teeming with shooters. But if you appreciate the combination of cute visuals and consummate challenges, there's room for one more, right?