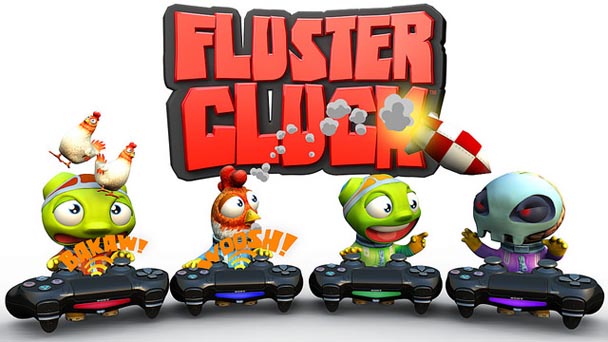 What is the concept? Before online matches became the traditional method of conducting multiplayer competitions, franchises like Bomberman, NBA Jam, and Super Smash Bros. and Power Stone permitted a roomful of players to host heated rivalries. And while modern 'net-facilitated chatter might have its charms, trash talk is no match for the type of spirited camaraderie that erupts when a group of real-life acquaintances squares off in the same physical space. Undoubtedly, the emergence of local-only titles like Sports Friends, Towerfall Ascension, and Nidhogg demonstrates that indie developers are hoping to reinvigorate the sense of sociability which accompanied these classic titles. Although the recent release of Fluster Cluck for the PlayStation 4 aspires for the same goal, the game's repetitive, unpolished, and tedious mechanics means that groups are more likely to experience frustration rather that moment of congenial recreation.
Like many couch-based competitions, Fluster Cluck's concept is remarkably simple. Each of the game's four participants guides a flying saucer around each playfield, using a tractor beam to chaperone creatures like cows, camels, zombies, and even downed enemies toward a chikkinizer which converts any dropped organisms into poultry. Like any respectable space craft, your ship is capable of more than just transport duties, with laser cannons able to inhibit the actions of your opponents. In execution, gamers can go about their transmogrifying tasks in either a Career mode that caters to one to four players, or a Battle option which allows participants to either team up or remove the requirement for farming fowl, shifting the focus to UFO fights.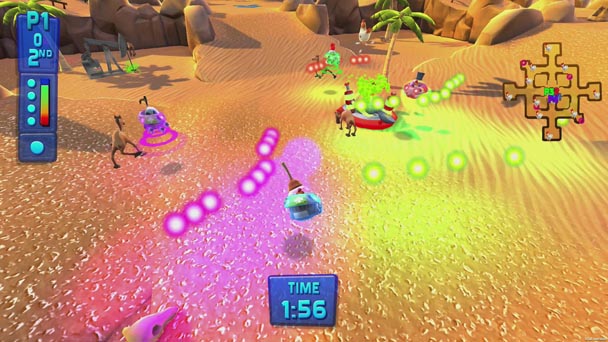 What are the game's strengths? While players start off with a basic gun, soon they'll earn a host of unlockable weapons, bringing devices such as turrets, missiles, shields, and decoys in the game's arsenal. Additionally, experience earned in any of Fluster Cluck's game mode also rewards players with perks like new ships, pilots, and customization options- lending a morsel of variety to the otherwise pedestrian battles. While some items are little more than cosmetic, other objects increase the speed of your craft or augment the capacity of your cannon.
Fluster Cluck's other merit is the scoring modifier, which goad gamers toward certain type of strategies. Linger around the chikkinizer too long and players will subject to a camping fine, which reduces the point value of every acquired piece of poultry. Likewise, gamers that down at least three consecutive foes are able to earn a kill steak bonus, which increase the value of every drop-off. Regrettably, players will probably have to learn about these variables on their own. Between the lack of a dedicated tutorial and a clear indicator amidst the game's chaotic clashes, modifiers may go unnoticed by Cluck's combatants.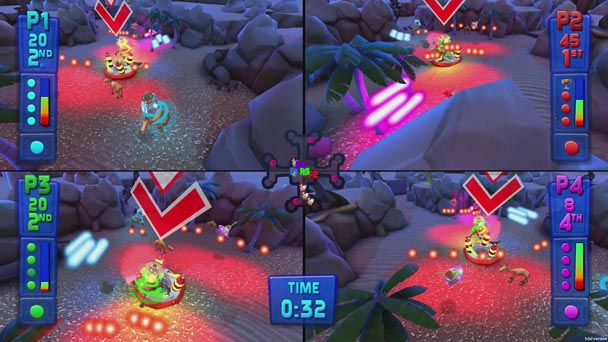 What are the game's weaknesses? Once players commence Fluster Cluck's campaign, they'll likely be disoriented amidst the on-screen action. The title's grassy, mountain, and desert milieus don't offer much distinction, with each battlefield covered with nondescript ramps and slopes. Unfortunately, firing your cannon across different elevations proves to be a crapshoot, with shots harmlessly hitting the ground instead of connecting with an opponent. Woefully, this problem is exasperated by a game camera that's positioned to close to your craft, hiding any trailing foe. Developer LOOT Entertainment was obviously aware on the problem- venture into the game's menu and you'll find an option to automatically fire at antagonists on your aft. But selecting this aid weakens a part of Fluster Cluck's already minimal mechanics.
Despite the game's efforts to introduce incentives and an assortment stages, rounds of Fluster Cluck quickly meld together, leading to tedium well before the inaugural hour has passed. While players can opt for either an offensive and defense approach, in execution, each game feels woefully similar, with none of the erratic "did you see that moments?" which energize most multiplayer games. What's more the title's single-player game isn't fun, with overly-aggressive AI bots showing superhuman precision.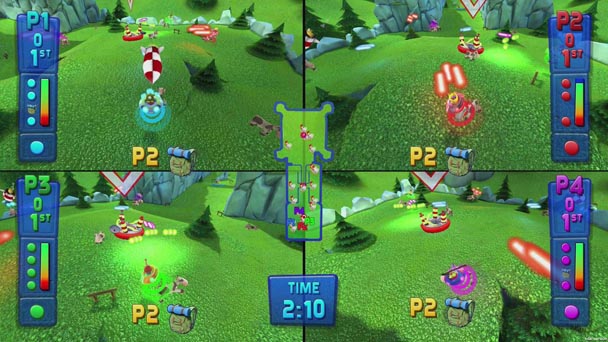 Beyond the game's high-resolution output, Fluster Cluck does little to flaunt the PS4's capabilities. Environments are visually underwhelming, resembling the brightly colored, minimally-textured landscapes of Super Money Ball. Moreover, the game's physics modeling is especially underwhelming, with saucers articulating little sense of mass and habitually rebounding off opponents like a pinball colliding with a bumper. Socially, the game's soundtracks is just as bland as its graphics, offering several forgettable melodies which failed to match the cadence of the game's action.
Is the game worth my money? Even at Fluster Cluck's discounted price for PS+ subscribers, the game is exceedingly hard to recommend. In essence, the title feels like a fleshed out version of one of Mario Party's mini-game rather than a fully-realized downloadable title. Players are counseled to avoid getting Flustered, and spending their cash on an actual bucket of chicken. Most likely, the sense of satiation will outlast anything Cluck can cook up.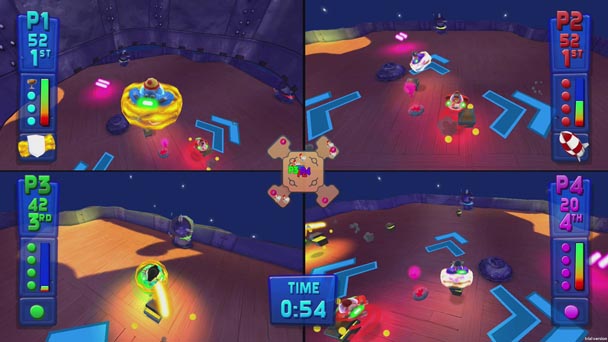 Fluster Cluck was played on the PlayStation 4 with review code provided by the publisher.
Fluster Cluck
Platform: PlayStation 4
Developer: LOOT Entertainment
Publisher: LOOT Entertainment
Release date: October 21st, 2014
Price: $14.99, $8.99 PS+


Fluster Cluck review
Review Overview
Gameplay - 40%
Controls - 35%
Aesthetics - 50%
Content - 30%
Accessibility - 35%
38
38%
Below Average
Summary : While Fluster Cluck's ambitions of bringing back local multiplayer are finger-licking good, its execution is woefully half-baked.

User Rating:

1.99 ( 6 votes)