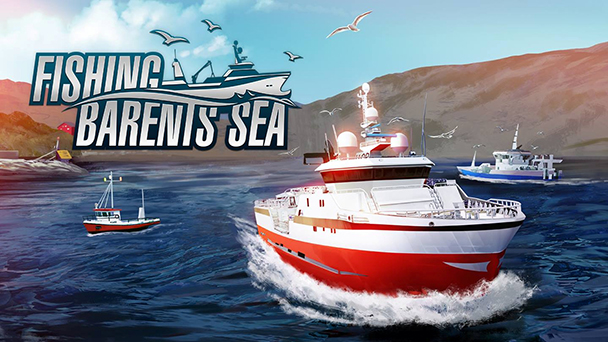 Time to Go Commercial
From Fishing Derby for the Atari 2600, SEGA Bass Fishing for the Dreamcast, to Natsume's Reel Fishing franchise, gaming has a bounty of sport fishing simulations. But here's the thing: they all become monotonous worryingly fast. Sure, it's fun learning how to reel them it, as you master the keeping the line tension taut without snapping it. But before long, variation is restrained to new venues, rods, baits, and bobbers.
Norway-based Misc Games' Fishing: Barents Sea changes things up by putting you in charge of a commercial fishing operation. You'll still gather your haul by pulling your line out of the water. But with Barents Sea, you'll be using longlines with hundreds of hooks, snagging dozens of fish at a time without the traditional match between human and animal. Realistically, that's not the only method as your disposal, and you'll travel to different parts of the arctic ocean to use nets, crab pots, and even go trawling. Yes, this is more of a tycoon game, placing players in a managerial role.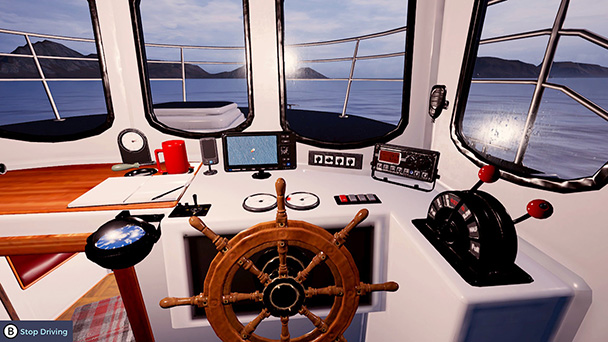 Getting Your Sea Legs
As with most sims, there's a bit of learning to be done before you're let loose. After selecting a name and gender for your characters, the game offers an interactive tutorial. Here, you'll acquire a corroded wooden rig handed down by your grandfather. You'll switch to a first-person perspective when on deck, with equipment like the captain's chair illumining to indicate that you can interact with it. Steering the craft is straightforward, with throttle control mapped to the Switch's left Joy-Con.
After positioning your boat for your first haul, Barents Sea offers a timing based mini-game, where precision brings in bigger, more sought-after species of fish. Gutting your fish extended another succinct challenge that tasks you with moving a knife over dotted lines. Unfortunately, the Switch's small nubs aren't good at simulating steady motions and slight angles, making the undertaking a bit awkward. Although you don't have to gut the fish, the process means you'll earn a higher price when selling them.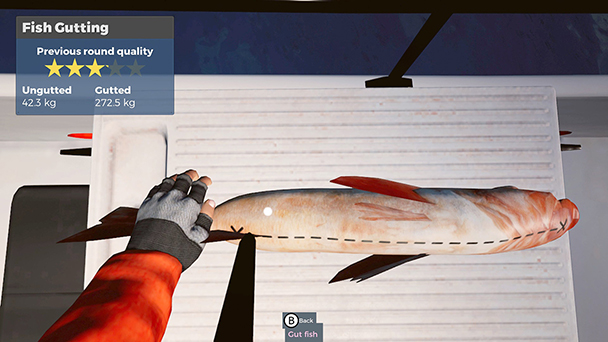 Additionally, you'll learn how to use some one of the game's most useful tools. After laying down waypoints for your rig, you can fast travel back to port where you'll be able to sell your haul. Setting your own longlines is one of the game's concluding lesson, involving traveling to a distant waypoint, placing the line, and waiting for the fish to take the bait. Realistically, this takes a few hours, and you'll learn to lay down multiple lines in accordance with heatmaps, traveling between these areas for retrieval, while occasionally stopping for more bait and fuel.
Building the Empire
Your inherited rig won't suit you for long. Once your hauls grow in size, the craft slows drastically. At this point, you're probably put in enough navigational time to earn a certification and saved enough Krona to purchase something with a bit more capacity and power, allowing you to travel to new areas.  Likewise, you'll outgrow what a single fisherman can accomplish and you'll get to hire hands, who are hired at the game's ports. They'll assist with duties like cooking, hauling, gutting, setting nets, and repair. Although crew take a percentage of profits and you'll have to worry about their stamina levels, they can help to maximize efficiency.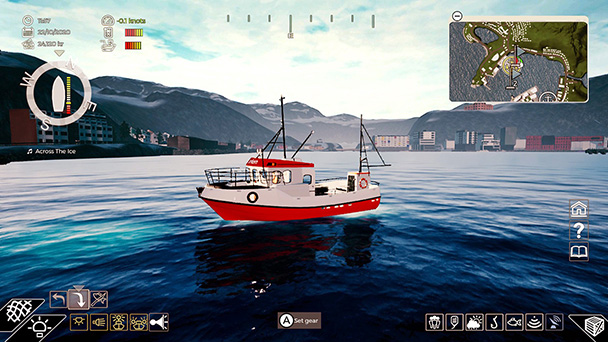 Barents Sea's simulation won't just have you transporting king crab to ports with high demand for the item. You'll also be able to tackle side-quests like taking a group of tourists on a whale-watching adventure. But one thing that's missing from the game is adversity. Without the option for competition, Fishing: Barents Sea feels like a marginally incomplete simulation. Sure, many might enjoy a game where profits are earned with enough haste to eliminate the need for interest-bearing loans. But I approach a sim hoping to appreciate the exertion found in the actual trade. Barents Sea makes commercial fishing seem like a relaxed, threat-free vocation.
Unreal Visuals? Not Exactly
Powered by the Unreal Engine, the game is a noble performer on Switch, adeptly scaling the visuals of the PC iteration onto portable hardware. You'll notice some occasionally graphical glitches, but they're largely confined to transitional elements. Models very in details, while fish are realistically rendered, cruiseliners look a bit low poly (and leave no wake), while environments can be drab. The game's soundtrack offers humorously named tracks like "Cold November" that add a dose of electronica to the proceedings. But to enjoy them you'll have to turn down the sound effect and ambient sounds in the game's menus.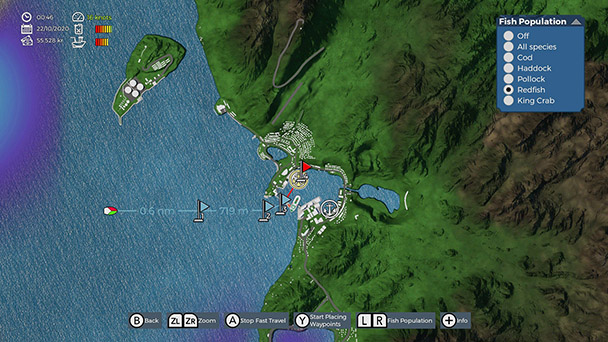 Ports a mouse-and-keyboard games game to the Switch frequently results in an uncooperative control scheme. While Barents Sea's use of nearly button on the Switch as well as an on-screen interface will take some time to master, it's laid out logically making you feel comfortable after a few hours of experience. Gradually, the game goads you into using all of its tools, and the first time you run out of fuel in the middle of the Barents, you'll appreciate the ability for an emergency call for a tow. Even if it's going to cost you quite a few krona.
Conclusion
Niche simulations like Fishing: Barents Sea can make for problematic experiences, as smaller development team struggling to covey the scope and complexity of real-life practices. Save for the game's lack of competition, this is a rather surprising offering, as it's both accessible and engaging. There's an understated enjoyment when reviewing your logbook, seeing a record of your work, complete with actual dates and any accomplishments. While Barents Sea might be too tranquil, the title extends gratifying sense of progression in its proficient recitation of commercial fishing.
Fishing: Barents Sea Complete Edition was played
on Switch with review code provided by the publisher. 
Fishing: Barents Sea Complete Edition
Platform:
Switch, also on PC, PlayStation 4, and Xbox One

Developer:
Misc Games

Publisher:
Astragon

Release date:
December 10th, 2019

Price: 
$29.99 via
Nintendo eShop
Review Overview
Summary : Sure, you might have never dreaming of operating a commercial fishing boat. But Fishing: Barents Sea does a surprisingly good job at making the job enjoyable by eliminating the long hours and much of the adversity.