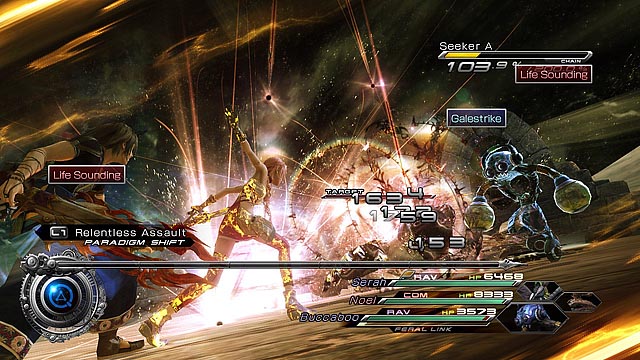 For fans of interactive adventures, the concept is ubiquitous: a stalwart band of protagonists unites to save the world from an imminent extinction. Beyond serving as Final Fantasy XIII-2's broad impetus, this familiar fable also serves as the game's meta-narrative. Following critics' conjecture of the demise of the JRPG, and the wave of condemnations leveled at XIII's largely linear trek, many will be carefully scrutinizing Square-Enix and tri-Ace's collaboration as a harbinger of the genre's healthiness. Yet, with an extensive catalog of player concessions, Final Fantasy XIII-2 is strong enough to temporary safeguard the resiliency of the world's most popular role-playing franchise. Fortunately, the title achieves more than just state of the industry commentary; its thirty-five hour expedition will delight role-playing enthusiasts of all experience levels.
Set three years after the events of its predecessor, XIII-2 begins as returning resolute heroine Lightning functioning as a sentry at a shrine to the goddess, Etro. Her safeguarding abilities are soon tested by Caius, who summons a band of beasts, damaging sections of Valhalla in the process. As the adversaries clash, support comes in the form of an enigmatic time traveller named Noel Kreiss- who plummets into the battle from the sky above. Instead of asking for direct assistance in the confrontation, Lightning tasks Kreiss to help find her sister, Serah. While XIII-2 maintains the franchise's nebulous banter and oft-baffling motivations (compounded here by discussions of the 'space-time continuum' and time traveling paradoxes), the title does break a few tenets.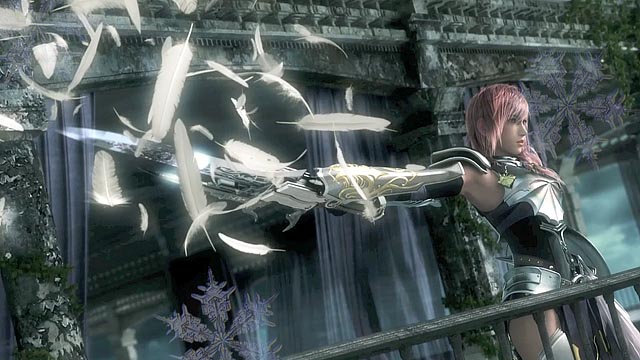 Forsaking the traditional well-populated adventuring party, XIII-2 focuses on the duo of Noel and Sereh along with the tag-along domesticated monster. Reducing the quantity of playable characters was an inspired choice, allowing the title to concentrate on each hero's motivation and cultivate a satisfying relationship between the two leads. This rapport is further advanced by the game's Live Trigger system, which provides branching dialog options at key intersections. Although these conversational choices don't radically affect the trajectory of the game, they help to break up the monotony of pre-canned discourse.
Time travel in gaming can often be contentious mechanic; for every Chrono Trigger or Radiant Historia there's a half-dozen games which use the concept as a crutch to offset tedium. By permitting players to leap back and forth through the title's timeline, not only does XIII-2 sidestep the claustrophobic confinements of its predecessor, but the game uses this device to add poignancy to the plotline. Witnessing courage ushered into regions where hopelessness persisted or prohibiting the growth of a previously insurmountable evil is a story stratagem ripe with wonder. Luckily, XIII-2 rarely misses an opportunity to deliver a sense of earnest fulfillment. Choice is also furthered by the game's maps, which give players access to nooks concealing treasures, shop keeps, chocobo racing, gambling, and numerous side missions. Completionists will appreciate the feedback with exhibits the explored percentage of every location and that the completion of the game doesn't terminate the questing.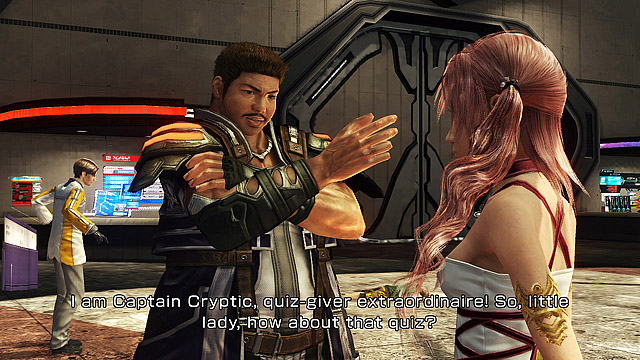 Even XIII's staunchest critics would have to admit that the game's battle system was proficient at conveying conflict- with the sequel several shrewd changes have been made. Amassing monsters seizes much of the allure which has driven the Pokémon franchise to unremitting success. Here, the collection is augmented by the enticement of gathering materials, modifying, and strengthening your beastly battalion. Combat has been thoughtfully quickened; paradigm shift are no longer accompanied by a protracted animation sequence while enemies no longer exhibit the extended telegraphing before unleashing a devastating attack, keeping players on their toes. Occasionally, fights are punctuated by the sporadic QTE, intended to keep the player engaged. With shrewder AI combat on the default setting isn't as difficult as XIII's skirmishes, saving for a leap in difficulty during the game's final dungeon.
Visually, Final Fantasy XIII-2's pixel-perfect cinematics dazzle with implausible perfection, flaunting every blemish-free pore and strand of perpetually breeze-swept hair. Once the game switches to its in-game engine, disappoint is inevitable. Like most franchise entries, framerate flutters emerge as the game's summons growing increasingly preposterous. Although a bit of asset recycling was expected, the title keeps things fresh with elemental effects. Sonically, the game's musical palette is refreshingly diverse, offering everything from subdued orchestral washes to energizing battle hymns. The soundtrack's only stumbling point occurs when the game tries to articulate dread through awkward synth/metal fusions.  The title's English-only voice-over is competent when the main heroes converse, but lesser NPC's occasional reveal amateurishness.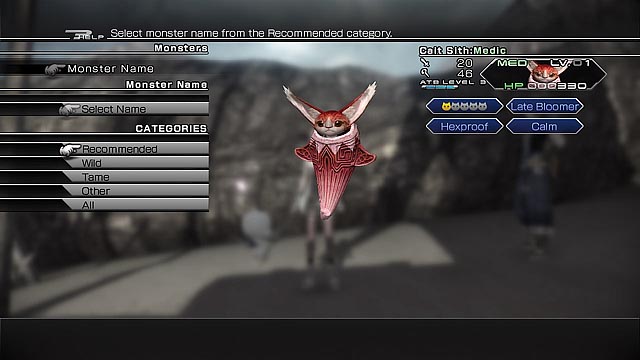 Despite all these enhancements, XIII-2 isn't without a handful of unmistakable shortcomings. Gamers expecting a rationalization of the game's time travel device will be disappointed to know that no narrative support is provided. Even more discouraging in the game's finale- most plot strands don't offer a sense of closure, rendering the game as little more than a set-up for an obligatory sequel. At least it's an enjoyable journey while it lasts.
While fixing many of XIII's well-publicized flaws, Final Fantasy XIII-2 inevitably spawns a few new faults. Mercifully, none of these missteps prohibit the title from being a consistently enjoyable title throughout its thirty-five hour core playtime nor its additional twenty hours of supplemental side quests. As one of the highest profile JRPGs, XIII-2 demonstrations that the genre still retains relevance, and more importantly- that a developer who genuinely heeds criticism shall persevere through this often turbulent era.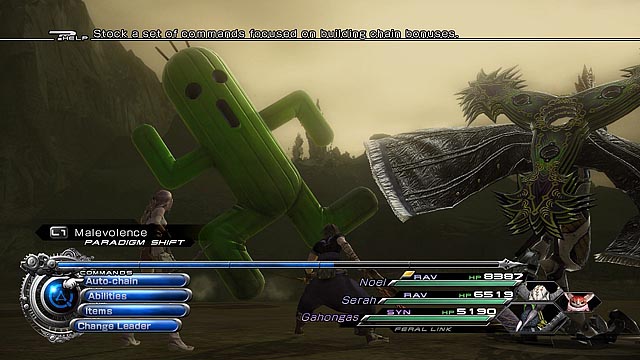 A copy of Final Fantasy XIII-2 for the PS3 was provided by the publisher for review.