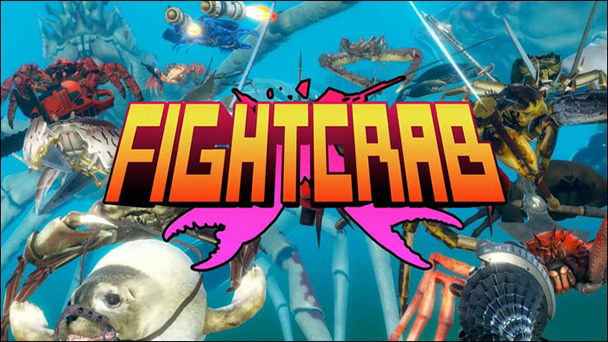 Fight Crab arms your favorite seafood with gun, knives, and even shuriken. Expectedly, these crustaceans don't fight with gladiatorial finesse, with matches becoming madcap, button-mashing affairs poised to produce laughter.
Fight Crab
Platform:
PC, coming to Switch
Developer:
Calappa Games
Publisher:
PLAYISM
Release date:
July 29th, 2020
Price:
$19.99 via digital download
Availability:
Steam
Fighting games weren't always built around sophisticated systems. Before modern players were urged to recognize recovery frames, hitstuns, and pull off quarter-circle-forwards instinctively, fighters were audacious and often, captivatingly unrefined. But they were also habitually entertaining, especially with a group of friends who were bound to the same clunky control scheme that you were.
If you have played offbeat titles like Weapon Lord, Cyberbots: Fullmetal Madness, or even Kensetsu Juuki Kenka Batoru: Buchigire Kongou!! then you've experienced titles that have either partially or completely abandoned the tenets of the fighting game genre. The latter was one of Artdink's non-traditional efforts that pitted bulldozers against excavators. Sure, it was shoddily-programmed and uncompassionate to newcomers, but the concept of two hulking construction vehicles engaged in warfare needs to be experienced at least once in every gamer's life.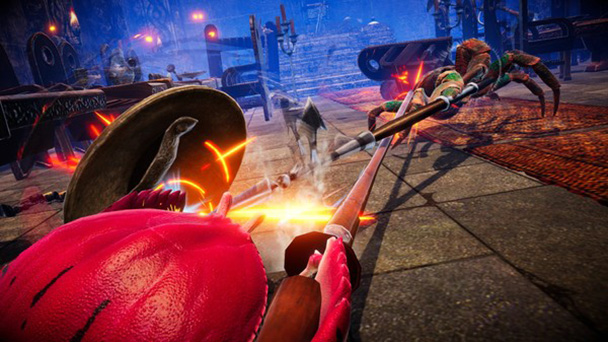 Feeling the Pinch
Similarly, Fight Crab might prove irresistible for players who relish offbeat fighters. As the moniker infers, the title pits crabs against each other, each vying to flip their opponent on their back. Occasionally, they are armed with guns, roaring jet engines, palm trees, and about forty other weapons. Although there's a multitude of different crabs, you'll also fight lobsters as well. But most remarkable, is you'll never quite know what's next. Across each round, the game changes scope. While in one stage, you're battling for supremacy on a supermarket counter. In the next, you're the size of a kaiju, instigating enough collateral damage to make King Ghidorah jealous. Fight Crab may snub precision and tradition, but it's got an oceanful of novelty.
Before heading into the main campaign, you'll be directed by a tutorial that imparts the essentials. As a crab, you can strike at opponents with your front two legs or use your pinchers to literally put the squeeze on pincers. Initially, lashing out, squeezing, and blocking seems like one of those drunken physics games like Octodad or Totally Reliable Delivery Service as you flail your arms around. Motion is largely automated, with a press of the directional pad, making you crabwalk like a mechanized tank. Some input methods, like mapping a special attack to the controller's back button or requiring players to push in an analog stick to rotate the camera almost feels like developer Calappa Games is trolling you.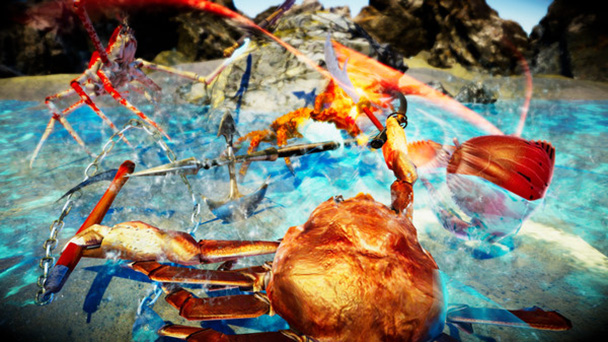 Buttering up Your Opponents
With practice, you'll be able to defeat opponents who once humiliated you. But you'll likely never feel like a champion crab. All too often, matches, especially online ones, devolve into button-mashing spectacles. At best, Fight Crab taught me to read and respond to the on-screen chaos, but I never felt like a seasoned (pun intended) pro. For some, that's going to be a kiss of death for the title, who'll assume the title is just an eccentric curio. But those who appreciate the kind of oddball games that are a wellspring of imagination will undoubtedly look past the lack of precision. When's the last time a game let your light saber-carrying crustacean taking on a mob of Vespa-riding crabs?
Players in the latter camp, are poised to take delight in some of the game's design decisions. Instead of the depletion of a health bar automatically determining a victor, Fight Crab adopts a Super Smash Bros.-type percentage. When damage percentage escalate, so do tensions, adding additional intensity to frenzied fights. Then there are the moments of unexpected hilarity. After valiantly losing to a pair of nunchuck-armed crabs, the game asked if I wanted to call in air support. Unable to refuse the offer, a bomber dropped ordnance on my opponents. Fight Crab is filled with capricious moments like this, which helps counterbalance any frustrations you might encounter.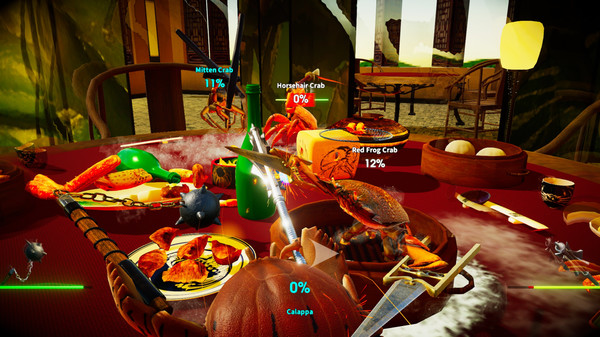 Conclusion
Fight Crab offers captivatingly dissonant aesthetics. Crustacean modeling is better that you might expect, with the game's combatants and weaponry converging on photorealism. A multitude of visual effects amplify the intensity of matches, with grabs providing electrical effects and special bombs filling the screen with color. But occasionally, environmental objects bounce in place instead of traveling when they are bumped by a fighter. Menus harness the garishness of the Dreamcast era, with brightly hued text filling the screen at times. Sonically, the game's opening J-rock number is a winner, with DEKU's lyrics lamenting on the taste of crab meat. The only things that's missing is some product placement from Kani Doraku.
It's obvious, but I'll state it anyway: don't pick up Fight Crab expecting a polished fighting experience. Instead set your expectations for deluge of unconventionality. Like the early days of fighters, the title emphasizes action and absurdity, instead of trying to mimic the nuances of real-life fisticuffs.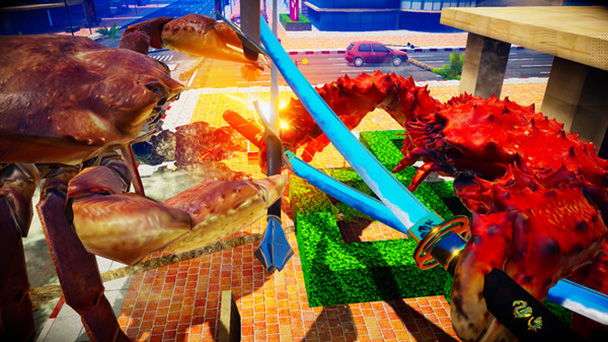 Fight Crab was played on the PC with review code provided by the publisher. 
Review Overview
Summary : Fight Crab was like my last trip to the seafood buffet, where an overabundance of shell was battered open. Much like that kind of outing, the title is memorable but not without a tinge of regret.