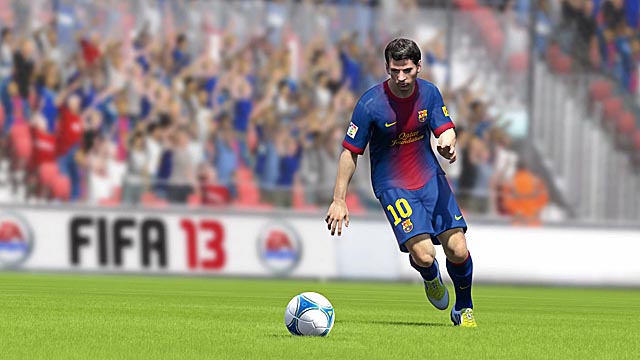 Perfection is a funny thing. For a sports franchise, flawlessness is a fool's errand. While each annual iteration attempts to mend the blemishes of its predecessor, new features often usher in a collection of unforeseen faults. Given that any new elements are assessed by tens of testers before becoming securitized by a plethora of annual purchasers, deficiencies become an inevitability. Ironically, imperfection is also one of the best elements of FIFA Soccer 13; it's just one invigorating inclusion which helps push this year's title into the pantheon of prodigious footie sims.
Typically, predictability is the scourge of any sports game. Whether it's the discovery of a weakness in goaltender AI, or through pre-canned tackling animations that lead to the same outcome, certainty leads to tedium.  Cleverly, FIFA 13's First Touch Control is much more than a mere marketing addition, incorporating a pleasing dose of organic variability into the passing game. Most soccer titles exhibit an unmistakable sense of magnetism, allowing athletes to effortlessly take control of slipshod transfers. This season, FIFA calculates elements such as defensive pressure, player position and ability, as well as ball trajectory, speed, and spin, making mid and long passes delightfully tense. Not only does First Touch closely simulate the challenge of a skillful trap, but it also opens up the possibility for changes in possession, increasing the fervency of every match. The sole drawback is that crosses- a habitually thorny scoring prospect in past years, become even more demanding with FIFA 13.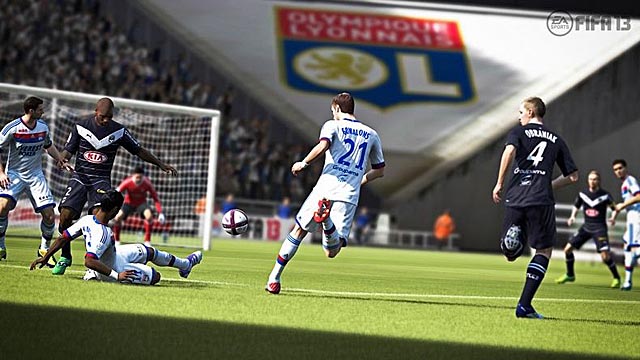 Last season's inclusion of the Player Impact Engine brought flexibility to physical play, although sporadic contact would result in a pile of errantly tripped up teammates or a muddle of impossibly contorted bodies outside the goalmouth. This year, the component still articulates the physicality of the sport with the title now having a better read on who is dominating each collision, closely examining the strength and agility of each athlete. Pleasingly, defenders display a bit more aptitude on the pitch, jostling opponents about to trap the ball and generally displaying a bit more mutability.
On offense, attackers display an augmented sense of intelligence and aggression, locating holes, striving to stay onside, and signaling enthusiastically for the pass. Gone is the need to issue to micro-manage your teammates through directional pad commands; now your squad reacts perceptively to the defense, mirroring the tactics of an actual match. Although AI improvement seems like a relatively trivial change, the improvement exponentially raises FIFA's fun factor. It's undeniably gratifying to play with teammates who want to win as much as you do.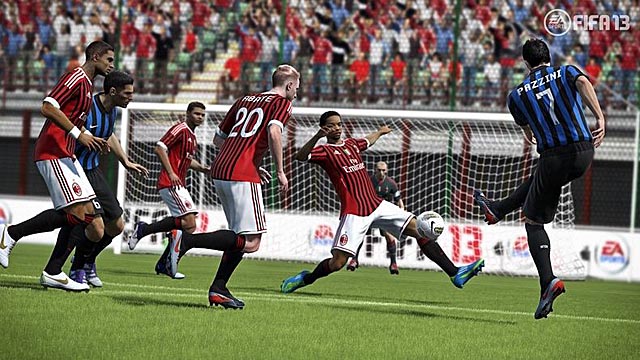 Echoing one of FIFA Street's mechanics, this year's iteration allows ball handlers to move and face in separate directions thanks to Complete Dribbling. Pressing both triggers still squares off against a defender, but FIFA 13 increases the fluidity of darts and dodges, endowing virtual strikers with the skills of professional athletes as they streak past befuddled opponents. Agreeably, Complete Dribbling won't instantly turn any neophyte player into Pele; there's a substantial learning curve waiting to be mastered before gamers are able to shake off multiple opponents.
The title's recurrent time (and money) sink, FIFA Ultimate Team returns, challenging participants to build a superlative squad from a pool of over 8,000 players. Beyond receiving a spiffy visual overhaul, the mode is now based around seasons, adding a sense of urgency to the proceedings. Regretfully, data hacking with previous FIFA iterations means that a persistent online connect in required. Even a temporary hiccup from either Xbox Live or EA servers can throw players out an event as innocuous as a single player tournament.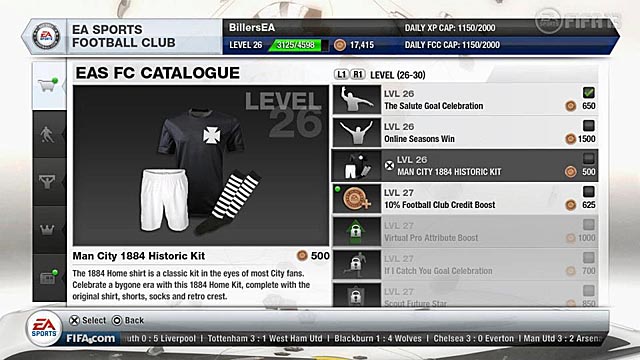 Meanwhile, a handful of alterations have been made to the game's Career and Be a Pro modes. Now, players can manage international teams, which convey the added anxiety of play at the uppermost echelon of competition. As an athlete, the dream of representing your country exists as a long-term goal, complementing club play. Off-pitch intrigue plays a bigger role now, with events such as press conferences and mid-season manager terminations testing a player's spirit.
Aesthetically, FIFA Soccer 13 is the spotless star of the EA Sports line, flaunting a seamlessly fluid game, broadcast-quality delivery, and stylish replays. Two additional stadiums extend this year's selection of sports venues, offering recreations of Tottenham Hotspur's White Hart Lane and Saudi Arabia's King Fahd International Stadium. While each of the game's 69 arenas are immanently rendered, purists will likely want to see an increase in authentic locales, such as the addition of MLS's selection of pitches or FC Barcelona's famed Camp Nou. Martin Tyler and Alan Smith's auditory contribution has been some of the finest work in the sports genre, so it's little surprise that the duo's commentary is accurate, lively, and engaging. With FIFA 13's incorporation of Match Day- a mode which follows the statistical streaks of teams and players, players can even expect frequent additions to the play-by-play and color commentary, further extending the variety.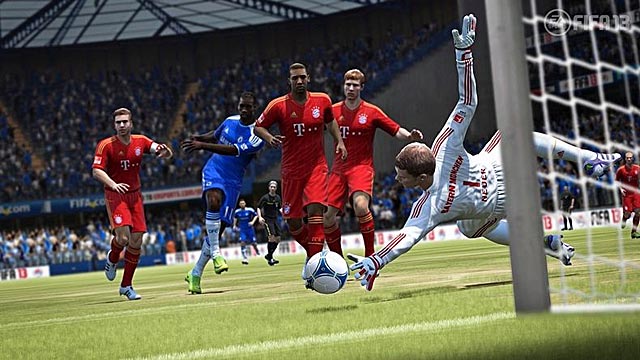 Although filled with the requisite inventory of improvements, annual updates to sports games often deliver additions stymied by the unforeseen bug. Save for the Ultimate Team mode's need for an incessant internet connection, FIFA Soccer 13 is the rare game which provides ample polish to the game's returning as well as new features. Elevated by a substantial inventory of engaging play modes and options, this year's FIFA is a must for any footie fan.