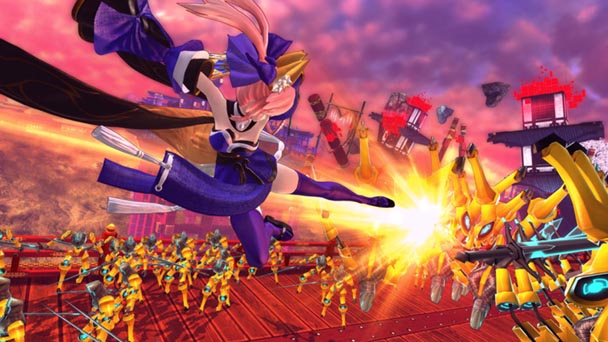 For years, musou games were mocked by critics and consumers alike. Both groups viewed franchises like Dynasty Warriors and Samurai Warriors as repetitive, tedious treks, where players button-mashed their way to victory. At certainly at one time, that complaint had merit, at least until the franchises starting creating encyclopedic adaptations of historical unification, teeming with playable characters, stratums of strategy, and play mechanics that required more than just mastery of light and heavy attacks. Given the template developer Omega Force crafted, gamers started seeing a slew of deviations, with the design being applied to anime licenses like Mobile Suit Gundam, Fist of the North Star, Bleach, and even One Piece.
And now, Type-Moon's swelling mythos has earned the musuo treatment. With the release of Fate/EXTELLA: The Umbral Star for the PlayStation 4 and PS Vita, the 2004 eroge has spurred an intense action game that puts the franchise's racy roots to rest. Sure, there's a bit of subdued fan-service to be found, but like more recent adaptions of the Fate universe, thrives on the raw potential of its original premise.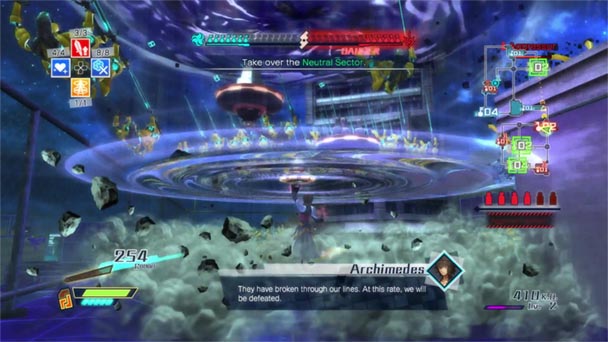 Fate's collective plotline centers around events called Holy Grail Wars, where combatants employ magic in a lethal struggle for a wish-granting relic. As expected for a property that has spurred anime, drama CDs, games, manga, as well as light and visual novels, Kinoko Nas's narrative is a complex tapestry of different contexts, characters, and a myriad of minutiae, although unified by several persistent elements. Foremost among those is the incorporation of servants- historical heroes bound to a master.
With Umbral Star, the Holy Grail War have seemingly ended, thus providing a sense of much-needed peace. But when servants start showing up in the game's digital world, it's apparent that something is amiss. Like previous Fate properties, much of the enjoyment stems from the cast, where real-world personalities are remixed into a roster of servants. Beyond series darling Saber, who gender-swaps into the spirit of tyrannical Roman emperor Nero, players can expect to take control of historical and mythical figures like Lü Bu, Medusa, Gilgamesh, and Jeanne d'Arc.
PlayStation 4 and PS Vita Comparison
On Sony's home system,
Fate/EXTELLA: The Umbral Star
delivers a rocksteady sixty frame-per-second output, which is a feat, considering the hundreds of on-screen enemies and fighting effects. While a bit of camera tweaking is required around the boundaries of each battlefield, fights in the interior are able to flaunt the game's reasonably detailed and dazzling-looking backdrops. Too bad there's not more of them.
On the PS Vita, the framerate might be halved, but the action remains fluid with no visible drops. Here, enemy counts are significantly lowered, as there there's really no way any current portable system could replicate the polygon counts shown on console. Since adversity is mostly rooted in Aggressors and bosses, the game's difficulty is largely equal, making the Vita version a very proficient port.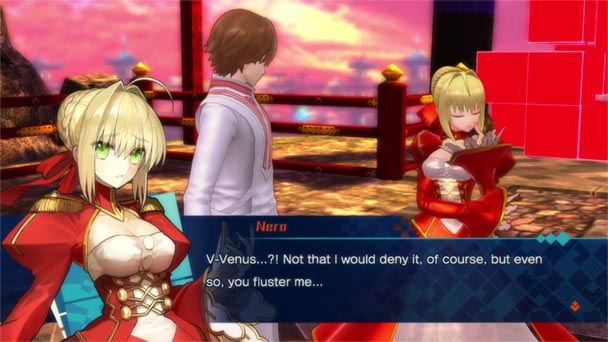 Beyond the appeal generated from the obvious philosophical and ethical differences, much of the fun stems from Umbral Star's wild interpretations, with noted serial killer Elizabeth Báthory reimagined as a half-dragon J-pop idol. What's most interesting is that her personality isn't just an arbitrary collection of eccentric elements. The real Báthory had a coat-of-arms encircled by a scaled, serpent-tongued reptile. While newcomers might be put off by the density of the game's dialog and plotline and bypass the visual novel like dialog, they be making a grievous mistake.
Delve into the lore and you'll discover a meticulous amount of thought, a consummate localization, and enough intrigue to satiate your mind when you're not playing the game. For those who have even a passing familiarity with the Fate universe, the set-ups before each conflict will be just as thrilling as any boss battle. And most pleasingly, The Umbral Star demonstrates flexibility in tone, with periods of earnestness interwoven with the occasional lapse into levity. Another perk are the rewards for paying attention. Bond with a character and you'll gradually unlock slots that allow for characters to equip stat-boosting items.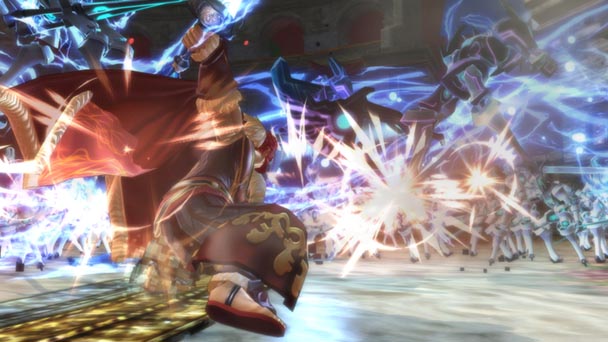 When the dialog pauses for the action, Fate/EXTELLA: The Umbral Star fundamentally delivers. Working with an arsenal of light, heavy, and stunning transformational attacks, as well as a defensive stance players control one of sixteen servants, each with their own distinctive offensive style. Whereas Koei-Tecmo's franchises try to push dozens of adversaries on-screen, Fate/EXTELLA fills the screen with a myriad of foes. As such, combo counts in the thousands are exceedingly normal.
But like the Warriors games, kill counts alone won't guarantee success. Instead, players must seize control of sectors by eliminating Aggressors- the elevated guards of each region. Destroy enough of them, and you'll be rewarded with Regime Keys, which work like the U.S. Electoral College. Once you control the territory, you earn a corresponding number of keys. Collect fifteen of them and you'll bring about a Regime Matrix, which punctuates the stage with a boss battle.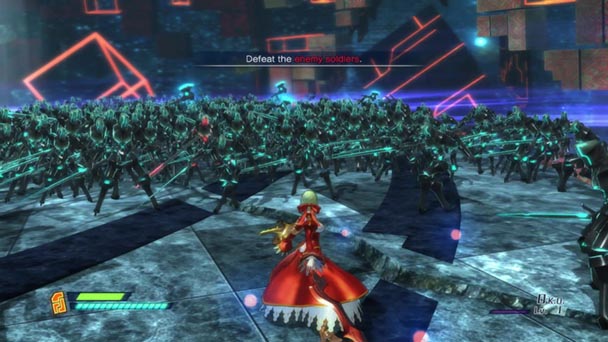 In execution, there's a bit more strategy than repeatedly tapping out button combos. Players need to whittle away at subordinates to build up their Extella Manoeuvre, the powerful assault that can take out multiple antagonists as well as Aggressor-spawning Plants. They'll also need to keep a dutiful eye on the tide of battle, periodically disengaging to help a territory that about to fall into enemy rule. One of the game's most gratifying feeling stems from subverting an evident enemy victory with a last-ditch special.  Pleasingly, Fate/EXTELLA shirks the protracted cross-map marches of the Warriors games, with connecting halls that beam Servants across sections.
But a stain on The Umbral Star stems from the game's constricted quality of assets. While the campaign and separate playable story arcs extend a wealth of exposition, the number of battlefields and boss encounters tried to repeat, putting a damper on the trek. Essentially, Fate/EXTELLA feels like an early Warriors game, before Koei-Tecmo starting adding content to each successive iteration. But that doesn't mean players should sit on the sidelines until the third or fourth sequel. If you're a fan of the property or just musou games in general, The Umbral Star offers a subdued shine.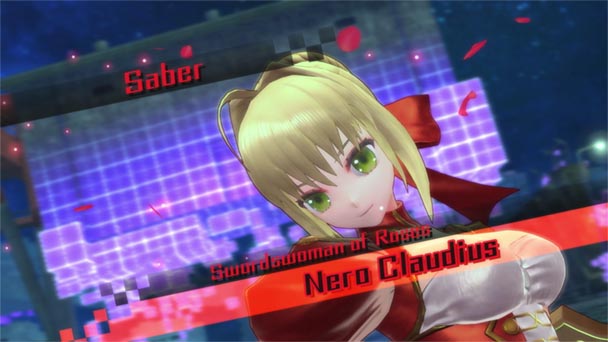 Fate/EXTELLA: The Umbral Star was played on the PlayStation 4
and PS Vita with review code provided by the publisher.
Review Overview
Summary : Building on the rich mythos crafted by Type-Moon, Fate/EXTELLA: The Umbral Star offers a one-two combo of action and exposition. The sole downside is that you'll see most of what the game's has it store within the first two hours of playtime.