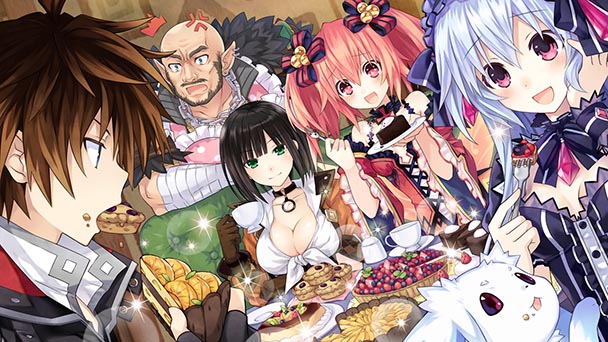 Synergy doesn't automatically materialize when prodigious talent comes together. From Ocean's Twelve disastrous attempt to recreate the energy of Steven Soderbergh's first film to Enter the Matrix's tragic union of Shiny Entertainment,  Wachowski-penned mythos, and Matrix Reloaded's secondary cast, history is full of instances where a skillful group's output is notably weaker than the previous efforts of each individual. So when word emerged that Compile Heart's Fairy Fencer F was assembling an assortment of luminaries who had worked on everything from Vampire Hunter D, Death Note, as well as the Final Fantasy and Hyperdimension Neptunia series, disappointment was a distinct possibility.
Unlike the aforementioned sonic and cinematic letdowns, Fairy Fencer F was fated to please Japanese role-playing fans, extending both characterization that challenges convention as well as an engaging collection of interconnected game mechanics. While Compile Hearts' previous games have often favored pandering fan-service over polished components, Fencer revealed the studio finding a blameless balance. For fans who feared the reduction of impish interludes and modestly clothed characters, there was little reason for worry, the Shibuya-ku-based developers hadn't lost touch with their core audience. Delightfully, the PC version offers an improvement on the previously released PlayStation 3 title, while adding a wealth of downloadable content.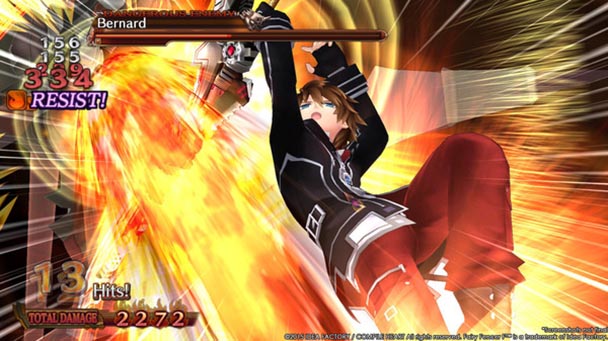 Pleasingly, Fairy Fencer F's plotline doesn't provide the prototypical plucky protagonist, goading gamers into the role of Fang- a lazy and stubborn young man who's motivated by hunger than helping humanity. An introductory cinematic sequence depicts a confrontation a 'Vile God' and a goddess, with the conflict ending in a stalemate as each deity becomes immobilized by the other's barrage of swords. While many of the blades bound each spirit, a number of them missed their mark and landed in the human realm.
When Fang discovers one of these swords, called Furies, lodged Excalibur-style, he's encouraged to free the blade with the purported promise of free food. But once the weapon is removed, he's greeted by a fairy named Eryn, who not only enlists the indolent character into reclaiming the remaining Furies, but challenges Fang's apathetic attitude. Fairy Fencer F's lore unites fencers with a single fairy, providing the basis for plenty of spirited banter and metaphorically speaking of the challenges associated with commitment and monogamy. But before things become a bit more serious (and a bit more cooperative) in the second half of the title, there are plenty of opportunities for good-natured bickering.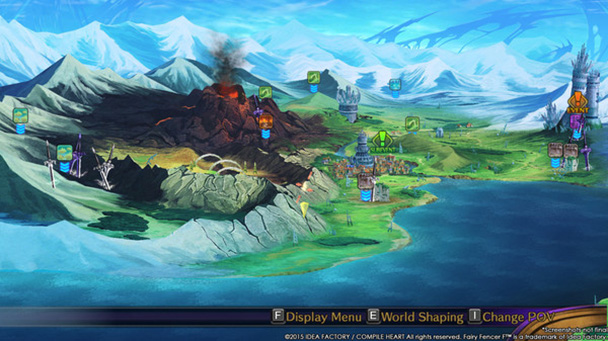 Being a Compile Heart game there's a number of instances of light lasciviousness, but overall Fairy Fencer F feels bit less placating than say, Mugen Souls. Instead, enjoyment stems from the developer's comical interpretation of the reluctant hero and their willingness to introduce a largely disagreeable cast. Expectantly, motivations shift, a tsundere lessens her iciness, and at least one remarkably poignant plot point happens before the final credits roll, conferring a number of gratifying character arcs. Plus, it's hard to have an aversion to a character that can equipped with a piece of burnt toast in his mouth. Another positive element to the game approach can be found in the succinctness of dialog. Seldom does Fairy Fencer F dawdle at the precipice of pontification; quite often sub-events are over in less than a minute.
With Fairy Fencer F's puckish dialog recalling some of Compile's other efforts, it's not surprising to find that combat draws on Hyperdimension Neptunia's fundamentals. Seizing initiate with the foes that skulk through each dungeon stage is accomplished with a well-timed button press. However, flub the opportunity and you'll transfer the advantage to your opponent. While Fencer's encounters are turn-based, they nearly feel like an action title, with party members quickly determining position in a large circle before using commands to execute combos, utilize consumables, or initiate supers that produce fluid, anime-style cutscenes.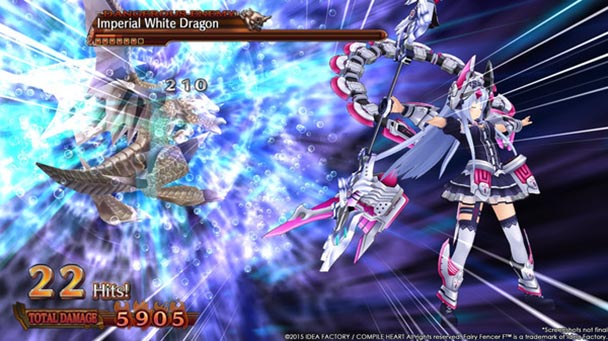 Mirroring Neptunia's HDD transformations, Fencers can bond with their weapons once a tension gauge has reached a preset threshold. Known as the "Fairize" ability, the mode kicks off with a seppuku-like sequence, where fencers impale themselves with their weapon, before transforming into a new, more formidable form. Once commenced, attacks dispense an increased amount of damage, while special commands have the possibility of obliterating opponents, if players are willing to gamble a decisive amount of their special points and health. In execution, Fairizing mollified most of the frustration common to boss encounters, although Fencer still exhibits the sporadic difficulty spike. Those opposed to grinding will appreciate the general level of difficulty while those indoctrinated to power-leveling might find Fairy Fencer F's twenty-five hour campaign a bit too easy.
When parties aren't combing dungeons or battling the game's bestiary of baddies, there's plenty of opportunities for improvement. While Fairy Fencer F eschews urban exploration in favor of menu-driven interaction with townsfolk, the design decision mirrors the efforts to quicken combat, allowing the game to feel quite brisk. From pursuing undertakings offered by the local barkeep to pouring weapon points in depositories that issue new combat abilities, specials, as well as bolster your basic stats, Fencer gives players a large amount of flexibility.
Beyond fundamental augmentation, the plot also hinges around the collection of Furies. Periodically, new areas are opened, allowing parties to challenge antagonists for rights to the relic. Once uprooted, the spirit fairy inside can be used to remove one of the swords which restrains the Vile God and Goddesses resulting in yet another skirmish. But the possible benefit here is large- with players able to earn perks or place stat-altering fairies at dungeon entrances, potentially adjusting the stage's risk/reward ratio.
Aesthetically, Fairy Fencer F reveals Compile Heart's distinctive dissonance between dimensions. Tsunako's (Trinity Universe, Hyperdimension Neptunia series) character portraits are astounding, both sumptuous drawn and eerily lifelike as they express emotions and breath naturally. But when the designs are translated into 3D, Fencer shows it seems. Save for victory poses and special cinematics, the models lack a bit of detail. The upshot of a restrained poly count is that the game performs flawlessly on PC, pumping out 1080p, framerate fluid output on even modest rigs.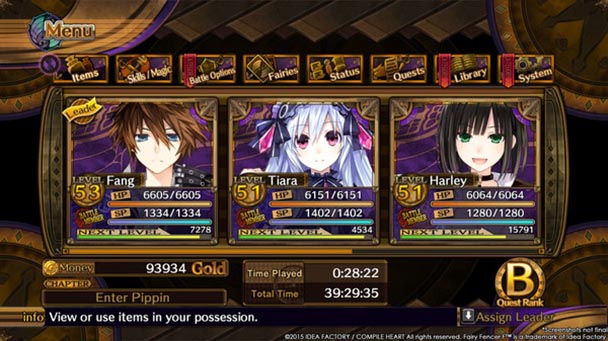 Sonically, Nobuo Uematsu's compositions are nothing short of splendid, offering a multiplicity of motifs that draw from global influences. Just as proficient is the game's henshin anthem, which blares energetically when players adopt the Fairize form. Like most Idea Factory releases, voice overs are presented in dual audio, with the English cast doing a surprisingly adept job at nailing the nuances of delivery.
While Fairy Fencer F isn't going to be remembered as Compile Heart's most consummate title, JRPG aficionados are certain to appreciate the game's subtle improvements. Elevated by enjoyable characterization, battle mechanics that resist monotony, and a pleasing amount of flexibility in the way that players can augment their adventurers, Fencer should please the developers' fanbase. If this success was spurred by the title's roster of notable talent, let's hope that the parties stay on board for the upcoming sequel, Advent Dark Force.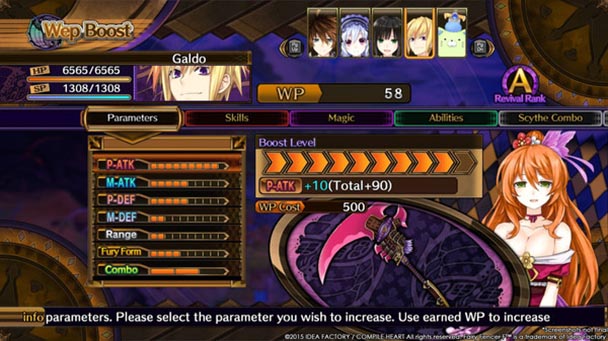 Fairy Fencer F was played on the PC with review code provided by the publisher.
Fairy Fencer F
Platform:
 PC
Developer:
 Idea Factory, Compile Heart
Publisher:
Idea Factory 
Release date:
 September 4th (US)
Price:
 Currently $14.99, regularly $29.99 via
Steam
Language(s):
 Japanese or English voice, English Text
Review Overview
Summary : Fairy Fencer F proves that a grouping of game developers doesn't have to result is an ego-driven vanity project. Instead, the title subtly improves on Compile Heart formula, offering a largely enjoyable and light-hearted role-playing endeavor.