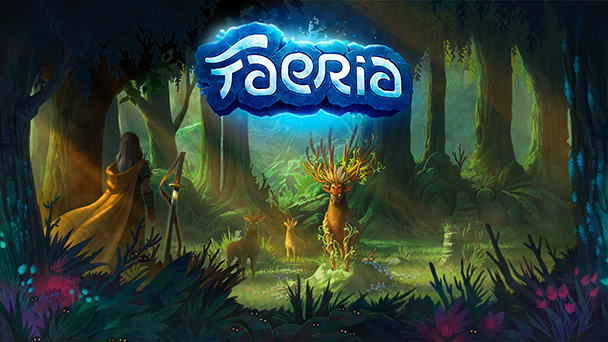 As collectable card games go, Faeria is a winner, capable of providing hours of tactical delight. But as an always-online game, don't expect to play any mode without an internet connection handy.
Faeria
Platform:
Switch, also on Xbox One, PC,
Developer:
Abrakam
Publisher:
Versus Evil
Release date:
August 13th, 2020
Price:
$19.99 via digital download
Availability:
Nintendo eShop
Given the availability of titles like Thronebreaker: The Witcher Tales, Mystic Vale, Eternal, and Lightseekers, Switch-owning fans of collectable card games have a number of options. But like any popular genre, there's always a plucky newcomer aspiring to become the front-runner. With attractive artwork and a well-healed user interface, the recent release of Faeria is the latest competitor for the CCG throne. While this premium offering boasts a multitude of modes and arrives with a base set of over 300 cards, a few wayward design decisions sully the experience- at least on the Switch.
Following the 2.3GB download and an obligatory content update, Faeria gently eases you into its world. Instead of instruction-heavy teaching, the game favors an interactive approach that progressively adds additional elements, gradually preparing you for the main game. The sole issue here is that there's no where to replay one of the instructional matches, save for deleting the game, redownloading, and stating over. As such, you'll want to absorb every detail in these skirmishes against the AI.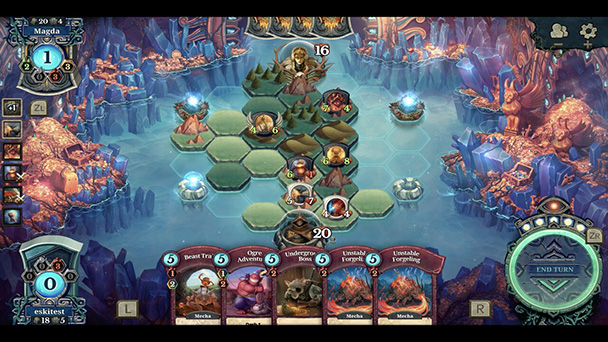 Putting a Hex on You
Each match starts with players having a base on opposite sides of the hexed playfield. The goal is to wear down the health of opponent's headquarters, which is accomplished through the summoning creatures. Each of these units is represented by a card, and has its own health, attack power, and special abilities. Creatures have a close relationship with the land and you'll have to meet certain terrain requirements (having enough desert, forest, lake, and mountain hexes) before they can be placed on the battlefield. Additionally, the environmental types affect travel. Aquatic creatures travel across water but not on land, while jumping ones can move two hexes at a time.
Unit summoning is only one part of Faeria. Not only can you boost existing creatures, but you'll also be laying down hexes and constructing the 'board' for each match.  Although you can lay down two standard tiles, the more exotic landmasses that are needed for certain creatures cost double. Alternatively, you can opt not to drop a hex on your turn, exchanging the ability for a card or extra faeria, the currency that you'll spend every turn.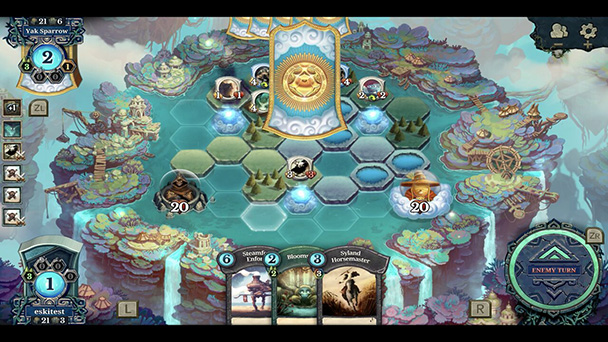 Premium CCG and Additional Things to Buy?
"Simple to learn, difficult to master' in the ambition of most CCG, and its largely applies here. Predicting the outcome when units clash is easy enough, but there's still enough nuance in abilities to provide the satisfaction when a shrewd strategy is played. Pleasingly, Faeria inhibits random number generation from determining a victor. Instead, you'll spend your cognitive energies reassessing the board after every turn, scanning for threats and opportunities.
Before long you'll be introduced to the game's deck building system. While Faeria began life as a free-to-play game, competition pressured Belgian-based developer Abrakam to pivot to a premium model. As such, you'll earn regular cards and boosters through play rather than having to pay.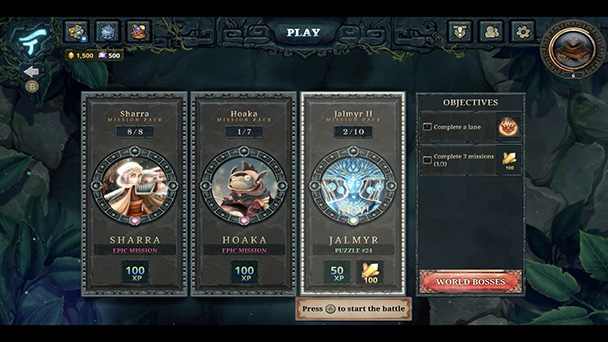 But that's not to say the game won't pester you to open your wallet. After spending twenty dollars on the full games, Faeria habitually flaunts expansions. After a ten-year development period, and a turbulent trek from "pay once and play forever" to free-to-play, and back to premium, there are undoubtedly bills to be paid. But the promotion of nine different day-one DLC card packs can make you cause you to second-guess your purchase of the base game.
Play Anywhere, as Long as there's a Solid Internet Connection
Sadly, that's not the only setback. Faeria adopts an always online approach, allowing servers to keep track of your card collection and inhibit cheaters. While that makes sense on PC and console, it's problematic on a portable system like the Switch. Hoping to play a quick single-player game on the bus or in the park? You won't unless you're tethered to your phone's connection. And if there's even a slight hiccup in the transmission of data, prepare for an abrupt end of match and to be shuffled back to the title screen. As such, Faeria is its current state cannot be recommended to those seeking some CCG action on the go.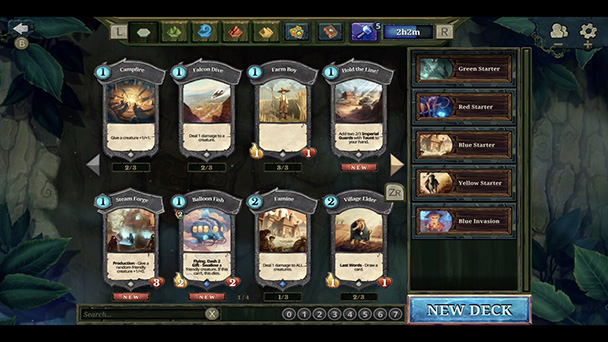 But for those who are a bit more stationary, there's redemption to be found. The game's user interface is impeccable. Offering the ability to use touch or physical controls. Opt to use the latter option and the Faeria will predict what units, cards, or terrain hexes you'll want to interact with, which is gratifying convenience.
There are also a several different play modes to be found. Beyond the single, cooperative, and multiplayer campaigns found in the Adventure component, Faeria also extends Pandora and Puzzle. The former lets you create a deck from an allotment of random cards. Play is rather gratifying as you'll get occasionally get to play with cards (either against the AI or an online opponent) before you've unlocked them. Puzzle offers a hundred preset challenges for you, providing a set of cards and stipulations, such as beating an opponent in a constrained number of moves. Effectively, tackling these puzzles will likely improve your strategizing. After successfully completing several dozen, I was noticing openings on the playfield without having to meticulously scan each unit.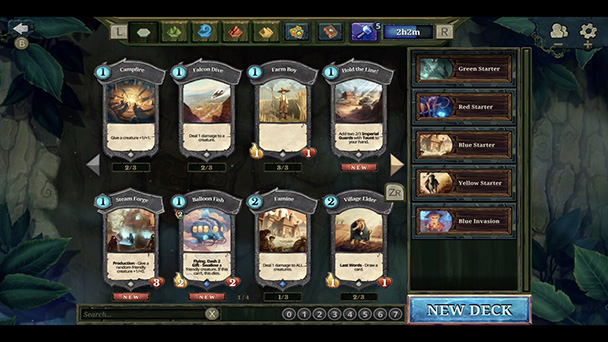 Conclusion
Certainly, Faeria is one of the better collectable card games on the Switch. But it's also one with a few caveats. Those less reluctant to sift through every mode might want to save a bit of cash with a free-to-play offering. Appearing on a portable system, the always online requirement means you won't be able to enjoy Faeria everywhere. Although the presence of cross platform play with other versions is impressive, the title's player pool is tragically shallow.  But if none of these conditions affect you, Faeria is one of the best CCGs to be found on Switch.
Faeria was played on Switch with review provided by the publisher. 
Review Overview
Summary : Like a blend of Heartstone and Catan, Faeria's mix of card collecting and mutable game board offers a wealth of tactical possibilities. Even better, there's a cornucopia of content that justifies the price of the base game. If only Abrakam could take the single-player game offline, it would be an all-around winner.