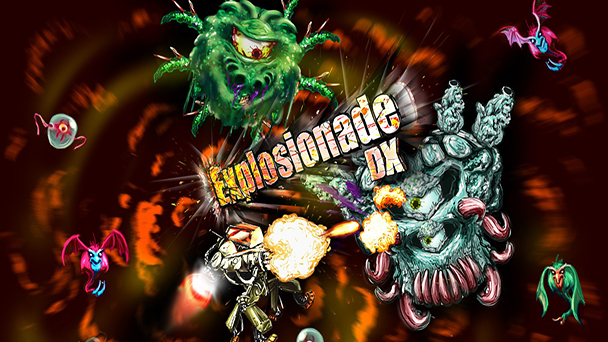 For a modest price, Explosionade DX provides players with an ample arsenal and sixty enemy-filled stages to make use of it.
Explosionade DX
Platform:
Xbox One, Switch
Developer:
Mommy's Best Games, Super Soul
Publisher:
Mommy's Best Games
Release date:
March 18th, 2021
Price:
$5.99 via digital download
Availability:
Microsoft Store
As the title implies, Explosionade DX is an ode to the joy of destruction. As the game's protagonist, First Lieutenant Terry Atticus, explains in an opening cinematic, "I'll feel better once I crank off a few rounds!". With most of his enlisted brothers raiding the Horronym Fortress, Atticus discovers GRenaDOS, a prototype mech, in a nearby shed. In the hope of getting his explosive rocks off, he heads down to the sewer in hopes of plinking a few bats. Instead, Atticus stumbles upon a mounting Horronym invasion heading upward.
The GRenaDOS offers maneuverability as well as an unlimited supply of munitions. Navigation across Explosionade DX's sixty-stage trek is straightforward, with the mech having a vertical jump as well as the ability to hover for brief stretches. Should you need to travel higher, you can always activate your bubble shield just before touching down. Doing so will launch the GRenaDOS skyward. Like much of the game, discovering new techniques is enjoyable, and it's possible to ping-pong around narrow hallways while shielding, eradicating clusters of creatures.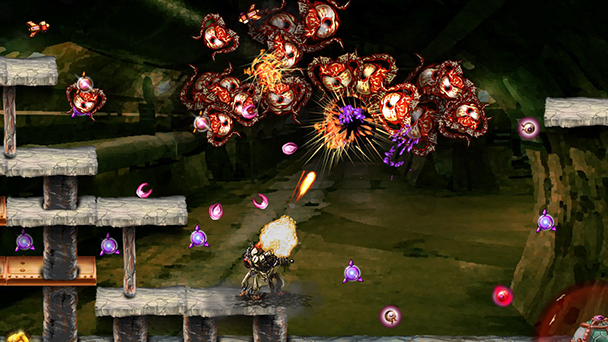 Gun, Grenades, and Gooey Enemies
Like any respectable mech, GRenaDOS has powerful offensive devices. Firing your machine guns can take care of smaller enemies or slowly siphon health from the game's bosses. But your projectiles aren't strong enough to shatter the concrete walls that line most levels. For that, you'll use MegaNades, which stick to walls and floor before exploding a second later. Toss them at adversaries, and they denote immediately. Like skipping stones on a tranquil pond, throwing explosives into a foe-filled gorge feels oddly relaxing. So, this is what Atticus was talking about.
Except, you don't want to just spill your 'Nades everywhere, especially on the game's highest of three difficulty levels. Act recklessly, and you'll break open walls that fortify Explosionade's foes. Yes, it's quite easy to stir up a hornet's nest of angry Horronym. Given that scoring hinges on quick stages completion times (as well as the elimination of opponents), you'll be tempted to take this approach. Alternatively, Explosionade DX works as catharsis, as you and an optional cooperative partner take your time clearing out each stage.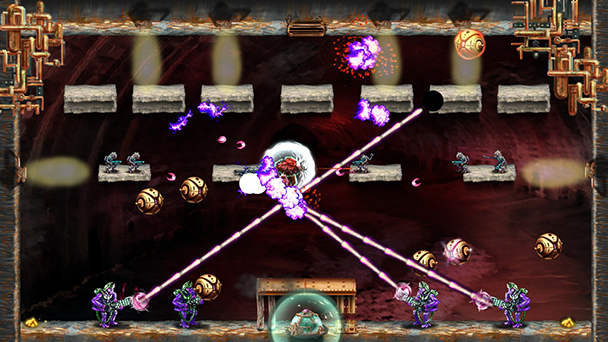 A Slender Sewer
Regretfully, the game's levels aren't too expansive, and when you zoom out, the entire stage will fit on the screen. But as a fervent fan of scrolling shooters like Bangai-O, that often cram creatures in alcoves, I would have loved to see larger, more labyrinthine environments that conceal enemy nests and other ensnarements. Sure, there's some exploration to find gold that both contributes points and regenerates health as well as sporadic Mommy's Best logo to collect. But acquiring both won't challenge your course-plotting skills.
In its place, difficulty is rooted in enemy behavior. Sure, some of the game's grubs, and fly-like enemies are little more than fodder. But other adversaries, like turrets or foot soldiers who have grenades of their own can be deadly in groups. By far, the most vexing adversary can roll up in shielding, like a pill-bug. Getting rid of them will take a bit of vigilance.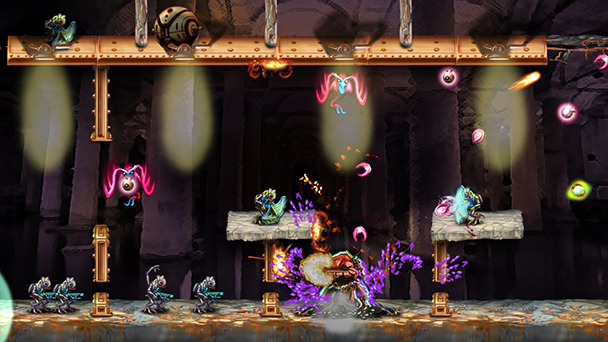 Conclusion
Aesthetically, follows developer Mommy's Best Games previous efforts. Like Weapon of Choice or Shoot 1Up, players can expect lots of blobby aliens with multitudes of nostrils, tendrils, and other unpleasantries. Explosionade DX scales the original release up to 4K/60FPS but given the art style. it's a bit hard to appreciate the increased fidelity. The game's soundtrack doesn't have too many tracks, but does offer a few pleasing riffs as your gunning and grenadine adversaries. The wail of enemies dying, which sounds like a processed baby cry will haunt you after the game is powered off.
Players that grew up on intense titles like Target Earth and Cybernator (aka the Assault Suit series) will undoubtedly appreciate being able to use weaponry to eradicate Explosionade DX's hordes. With a scalable speed setting as well as leaderboards, there's incentive to revisit the title. Maybe you'll feel better after cranking a few off too.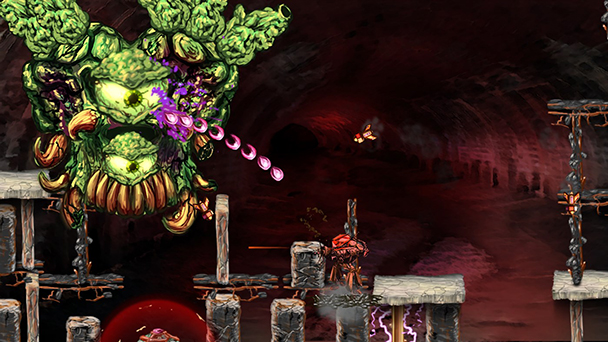 Explosionade DX was played on Switch with review code provided
by the publisher. A Xbox One copy was purchased independently. 
Review Overview
Summary : Clearing rooms filled with gooey grubs and flying monstrosities is surprisingly gratifying without or without a friend.