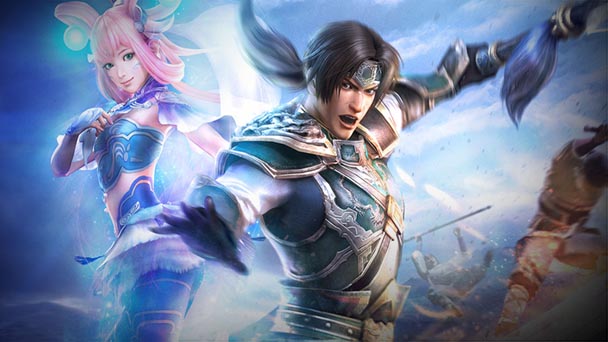 For seventeen years, Developer Omega Force has interpreted Luo Guanzhong's Romance of the Three Kingdoms as a spirited action game, placing players in the middle of the tumultuous power struggle between ancient China's Shu, Cao Wai, and Wu states. Across this near-annual procession of pugilism, the historical and fantastical have sinuously intermingled, leading to a franchise where officers routinely mow down hundreds of enemy combatants, all while allegiance and the occasional instance of treachery clash in the backdrop. Typically, Dynasty Warriors or any one of the musou (meaning "unrivalled") variants is an intense experience, filled with frantic button pressing, heated contests of morale, and the sporadic onslaught that can invert the tide of battle.
Whereas the Romance of the Three Kingdoms games have been able to adapt the power struggle into an involved simulation where gamers juggle economics, geopolitics, and warfare, and the Empires series melds musou mechanics with a bit of strategy, the release of Dynasty Warriors: Godseekers on the PlayStation 4 and PS Vita offers yet another inspired interpretation. Here, turn-based confrontation takes place on grid-based battlefields, with success often contingent on statistics and positioning strategy. Although learning to exploit each officers' abilities can be involved, in execution Godseekers is a delightfully accessible strategy role-playing game that echoes the approach adopted by Advance Wars and Fire Emblem developer Intelligent Systems.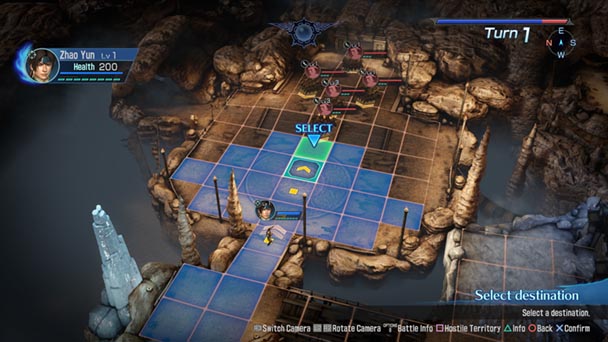 Warriors mainstay Zhao Yun is at the forefront of the game's narrative, joined by his childhood friend,  Lei Bin, who is a new character in Omega Force's universe. Interplay between the two certainly has potential with the former espousing military might and experience, while the monocle-wearing Lei Bin exhibits an insatiable thirst for scientific knowledge. Early in the game, as the duo are confronting mutinous legions of Yellow Turbans in a cave, this curiosity becomes piqued. Lei Bin discovers a pink-hair girl named Lixia who's trapped in an icy confinement. Freeing her endows Dynasty Warriors familiar context with a dose of supplemental whimsy as the newly formed trio begin chasing down magical orbs that are the key to preventing misfortune.
[pullquote]
Coordinating each conflict is largely intuitive, which free unit switching, color-coded information, and uninhibited camera movement allowing you to focus on the fighting.
[/pullquote]
Sure, the quest to find yet another game collectable might sound contrived, but it allows Godseekers to share its focus on a bit of frothy character interaction and geopolitical intrigue as habitual heavies Dong Zhuo and Lu Bu scheme in the backdrop. Effectively, the title retains Romance of the Three Kingdoms broad plotline while adding new material to engage those well-acquainted with the mythos. That said, players accustomed to the entertaining exchanges of dialog in the Disgaea or Fire Emblem series might be slightly disappointed. Sure, the setups are amusing and converge on the silly, but the dialog isn't as lively or flavorful as other SRPGs.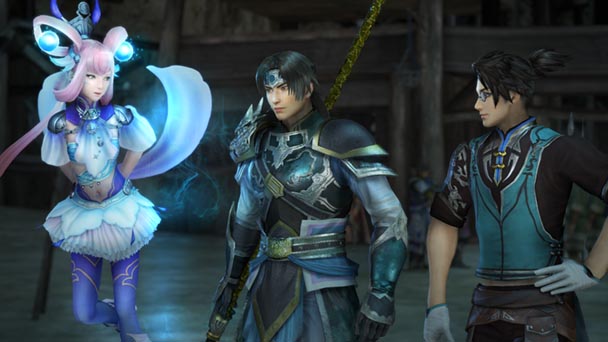 For Dynasty Warriors devotees, that transgression will be balanced out by Godseeker's proficiency at adopting each officers' arsenal into commands capable of mowing down legions of subordinates or even a stubborn stage boss. Notably, there's a diversity in the style of attacks. Beyond Zhao Yun's melee skills than can make mincemeat out of adjacent foes, Lei Bin has a number of a ranged strikes. Additionally, side quests bring an additional sixty-one generals into Godseeker's roster. Not all are playable during the main campaign, with some falling under AI control and some serving as foes, but you will take control of enough additional characters to mimic the sensation of learning each new officer's attacks.
Pleasingly, coordinating each conflict is largely intuitive, which free unit switching, color-coded information, and uninhibited camera movement allowing you to focus on the fighting. The turn-based scuffles don't attempt revolution- you won't find any of the confusion that bewilderment that accompanied the simultaneous movement and action in the portable versions of Tom Clancy's EndWar, for instance. Instead, you'll move officers around the field, seeking to gain the upper hand by striking from the side or back of an opponent or hoarding energy to lash out at multiple foes. Finesse stems from choosing the most appropriate attack. At first, you'll have to pay close attention to the Advance Wars-like prediction of outcomes. But before long, you'll have learned how to play to your strengths and safeguard any weakness.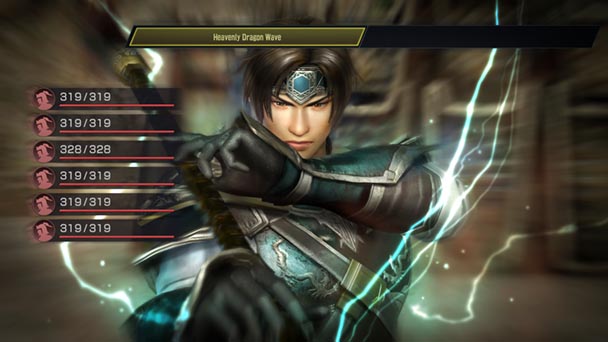 Beyond your repertoire of assaults that produce cinematics of officers thrashing on throngs of foes, you also have a Synch guage, which functions like the musou of old. Defeat enough enemies, and you'll earn the ability to 'synchronize' party members, endowing teammates with the ability to attack a second time. What's more you'll punctuate the punishment with a Synchronize attack, where everyone will rain down hurt over an area of effect. Often, it's powerful enough to squash an entire regiment of foes or defeat a substantial higher level boss.
Progress through Godseekers is rewarded via new, upgradable weapons. But in execution, you might find that the statistical advantage gained through menu fiddling isn't worth the effort. You won't find any upgrades that radically improve your damage output. To a lesser extent, that's also the case with your officer's Skill Board, a tech-tree where places that improve their character- similar to the skill points system found in Dynasty Warrior 6. While there's some passive-based perks and stat boosts present, you can effectively ignore the whole system by adopting a prudent approach to battle.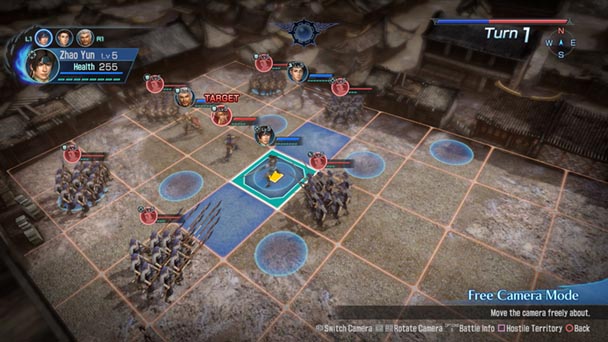 Visually, the Vita version does a commendable job at capturing the essence of its console counterpart. While the tiny text might lead to eyestrain over prolonged sessions, the game's quick, 15-minute fights are well suited for a portable system. Although the environments look a bit lusher when output to televisions, gameplay makes no sacrifices on the portable version. Framerate is comparable across both systems with each targeting thirty frame-per-second output.
Given the shortage of quality strategy role-playing games on the PlayStation 4 and PS Vita, Dynasty Warriors: Godseekers makes a welcome addition. Not quite as complex as delving into Disgaea 5, the title succeeds by adept adopting musou mechanics into turn-based form. Considering the quality of the Attack on Titan adaptation and this reworking of the Romance of the Three Kingdom mythology, Omega Force is starting to demonstrate Zhao Yun-like versatility and might.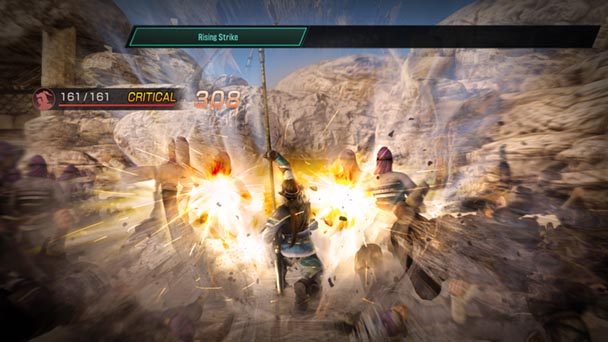 Dynasty Warriors: Godseekers was played on the PlayStation 4 and PS Vita
with review code provided by the publisher.
Dynasty Warriors: Godseekers
Platform: PlayStation 4, PS Vita
Developer: Omega Force
Publisher: Koei Tecmo Games
Release date: February 1st, 2017
Price: $39.99 via PSN
Review Overview
Summary : Shirking button-mashing tradition and overwrought complexity Godseekers is a pleasing SPRG that will likely please genre fans and undoubtedly delight Dynasty Warriors enthusiasts.