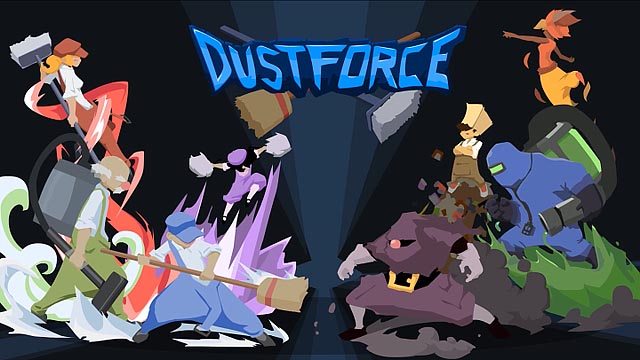 When I'm feeling blue, I usually clean up around the house to try and take my mind off things.  Seems I'm not the only one with this impulse since the makers of Dustforce have taken cleaning to a new unexpected level of fun.  The game starts out with a tutorial to explain the control scheme, but after that you're ready to go out and conquer all the dirt and slime you can find.  Dustforce gives players the choice of four different characters, and though they all have the same abilities, each character has one area in which they slightly stronger than the others.  In multiplayer mode, players can also select from four additional filth-mongering characters, with the competitions mostly revolving around who can clean or make things dirty in the least amount of time.
The title's structure is basically the same for all stages.  Ramps, walls, ceilings, and open space provide the scene for your tidying antics.  There are different areas you can discover, from dusty mansions to slime-filled science labs, and the different areas give the levels varying environmental backdrops and "bad guys" to take on.  These bad guys aren't really evil though, they're just covered in dirt or grime.  If you clean them off with one of your attacks, they go back to being the pleasant butlers or scientists that they once were.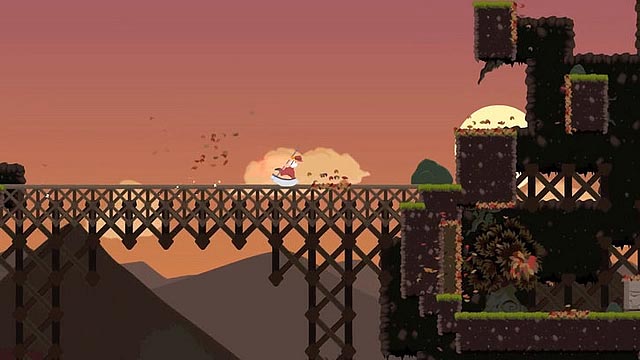 As far as ambience goes, this game far exceeds most platformers I've played.  There is a light-hearted feeling to all levels, even though you're battling scum non-stop.  The character movement helps lend itself to this feeling, not just because of the stylized cartoon animation but also in the way the characters jump or dash across the screen, and even though the movement is ecstatic and fun, the physics of movement is still realistic (well, except for the running across ceilings).  Additionally, as listeners to our podcast know, the music of a game makes a huge difference to me.  In this Dustforce did not disappoint.  The game employs some excellent chiptune music; it is melodic in a way that is both relaxing and energizing.  This kind of quality music is exemplary of Dustforce's impressive nature; though simple, the title definitely stands above the rest in terms of quality and enjoyment.
Even the challenge level is satisfying in Dustforce.  At first, I had trouble getting used to the controls, mainly because I'm not used to playing this type of game on the PC, and players may find that they need to tweak the default key settings or plug in a control pad. After some practice though, the controls are well mastered and the levels adequately increase in difficulty as players progress through the levels of an area.  Players are graded on an "A" through "D" grade scale, with the ultimate goal being an "S" in both completion and in finesse.  Completion is about getting as much mess cleaned up as possible, and finesse is about keeping your combo score high and your time low.  Really the finesse category is about getting into the flow of the game and keeping a nice smooth rhythm.  "S"s in both these categories will earn you keys, which can be used to unlock levels of greater difficulty.  And for those of you out there who find this type of game easy to beat (I envy you), the game has a built in level editor that will be released in the near future, which will allow you to craft your own challenging levels.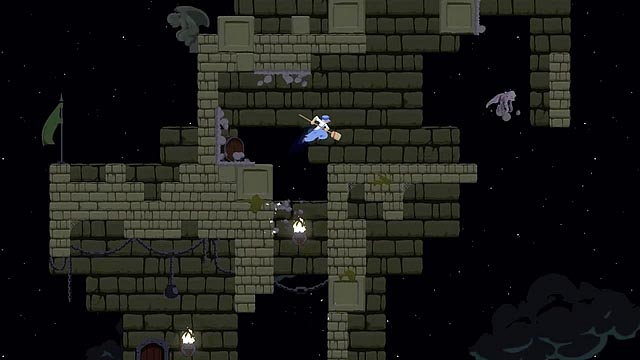 Ultimately, I tend to look for games with deep plot lines or intense strategy requirements. Dustforce is none of those things, but even so I found myself wanting to play it in place of those more complicated games.  It may not bring you great mental challenge or bestow heavy weapons, but it does deliver a massively enjoyable game.  Between the cute critters and the awesome music, Dustforce is a great source of good, clean(ing) fun.