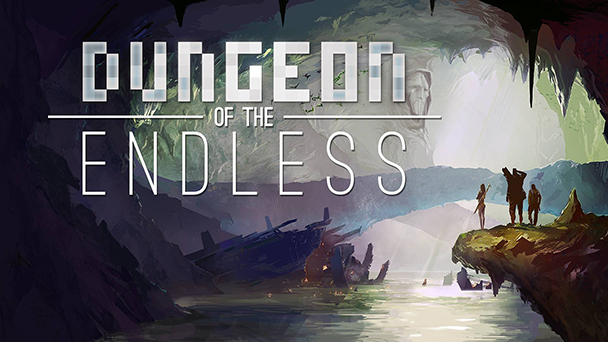 The Switch port of Dungeon of the Endless brings the ruthless adversity of previous iterations onto Nintendo's hardware. While interaction lacks the ease of mouse-based input, otherwise this is an adept adaptation.
Dungeon of the Endless
Platform:
Switch, previously of PC, PlayStation 4, iOS
Developer:
Amplitude Studios
Publisher:
PLAYDIGIOUS
Release date:
May 15th, 2020
Price:
$19.99 via digital download
Availability:
Nintendo
eShop
We've all faced that pivotal moment in gaming, where our finger hovers over a button. A press represents far more than a single action. It's the beginning of an irreversible sequence of events that can forge a path to success. But hesitation signals that it's also possible that the tap results in humiliating defeat. Dungeon of the Endless strives to present this dilemma to players as often as possible.
Originally released six years ago on PC, Endless makes an aloof first impression. There's a near-compulsory tutorial. But it's inexplicably buried in the game's menu system, rather that offering any assistance from the start. Venture through the lessons, and you're likely still ill-prepared for the quandaries that await. Seemingly, developer Amplitude Studios wants you to learn through a succession of failures. Although this might seem like a heartless stance to some, gradually developing your own strategies offers one of the game's greatest rewards.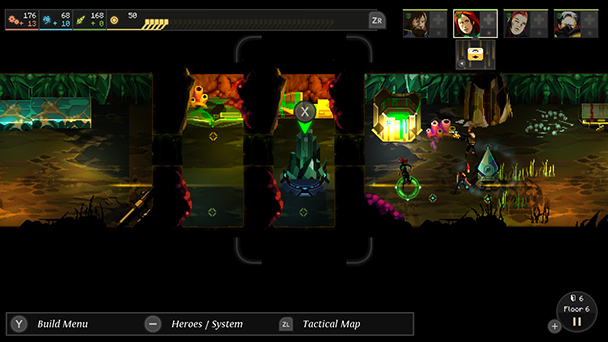 Escape from One Prison to Land in Another
Play begins with a brief cinematic depicting a prison-ship being attacked, with an unsympathetic readout of its population ticking down with fatalities. After selecting an escape pod and two starting characters growing a roster that will eventually grow with new, unlocked detainees. Interestingly, each move in real time strategy-like fashion, by clicking to select them and marking a destination. They'll largely act autonomously, and if there are any hostiles nearly, they'll attack with their equipped weapon. However, the elimination of enemies is a means rather than an end. To progress, you'll have to transport a crystal from one part of the dungeon to another, which is no easy feat.
Exploration occurs in a turn-based manner, with progress occurring when you open each dungeon door for the first time. Each time you do open a gate, you'll be rewarded with each the game's three resources: Industry, Science, and Food. Essentially, Industry allows for building, science allows for the invention of new defense systems, and food is requiring for leveling up or healing your heroes. Unsurprisingly, each is a precious commodity, and it's exceedingly rare to have a surplus of any of these assets.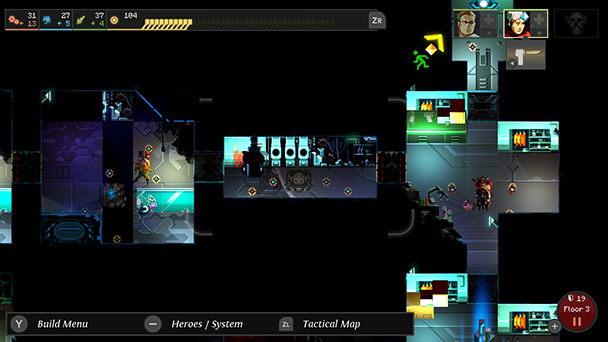 Collecting Dust
As such, you'll want to build generators to supplement your reserves. These increase the amount of resources each newly explored room provides. The drawback here is that construction requires Dust, a currency gained only though exploration and the elimination of enemies. Dust can be the game's rarest commodity but it's one of the most important. Collection allows players to activate a room, placing a resource generator or turret on pre-existing nodes. But the catch is that powering a room requires a connection to your crystal. Scarcity means you'll have to build a circuit emanating from the crystal and chances are those far-flung room will remain darkened.
Periodically, monsters migrate out of unactivated rooms and make a beeline to the crystal. If the crystal breaks or all of your characters are defeated, the game ends, which will inevitably happen. Expect this to happen repeatedly. Dungeon of the Endless knows that success tastes sweetest only after a long string of pungent defeats. Luckily, your characters won't have to do the fighting alone. Building defensive turrets is fairly affordable. And once you invest your science resources, you can craft better tool like claymore mines.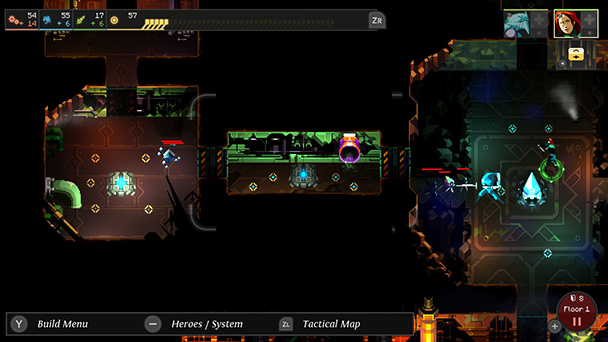 Preparing for the Endless
Before long, you'll have opened every room on a floor. When his happens, you'll want to prepare for the barrage, using resources to set up turrets and traps and level up your heroes. However, once you grab the crystal, the floodgates of hell are swung wide open. Expect a procession of creatures to make their way to the magical stone. When this happens, you can try to make a dash, crystal in hand for the exit. Or you can try to thin out the horde, potentially reroutes resources to create a safer path. Like many other elements of Endless, success is about finding a careful balance. And quite often- dealing with the repercussions when things go south.
On PC, the game's mouse-based interface was intuitive, allowing for quick movement of heroes and the easy construction of turrets. The Switch version of Dungeon of the Endless extends the control scheme of previous releases. If you like physical methods, you can use the analog stick to button to move and make selections from radial menus. Or, you can opt for the touchscreen input of the iOS version. Either system is functional but not quite as user-friendly the original input method. You'll eventually come to terms with it, unless you already played the game on PC.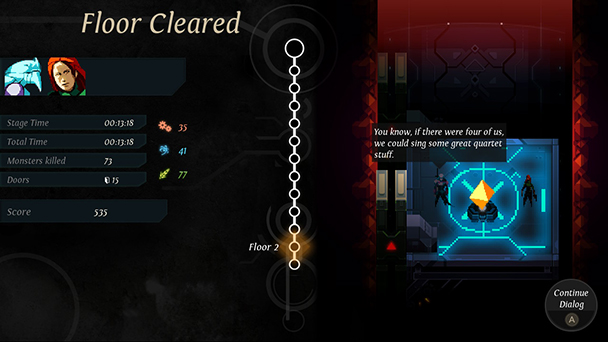 Unfortunately, 'Endless' probably won't refer to your enjoyment with the game. Although the game extends random treasure in rooms and offers a number of unlockable heroes and shuttles that add variety, subsequent playthroughs with new elements weren't divergent enough. Sure, tactics will change with different weapons and movement speeds, but there's little sense of progression after each run. Most rouge-likes incentivize play by providing a slight stat boost. But here failure, offers no compensation, which can siphon off enjoyment.
Conclusion
While the game's pixelated delivery might signal simplicity, Dungeon of the Endless is anything but a meek pushover. Venture into the game knowing that you'll face a tough test of resource management, risk reduction, and dealing with fluid situations. For many, Endless is one of the uncommon titles that charms you into thinking about its mechanics, when you're not playing it. If you enjoy experiences where you're forced to understand the relationship between lots of moving parts, this dungeon might be worth exploring.
Dungeon of the Endless was played on Switch
with review code provided by the publisher. 
Review Overview
Summary : Dungeon of the Endless' genre-bending runs will test your ability to plan, strategize, and adapt. While a comprehensive tutorial would have been beneficial, if you're looking to test your tactics on the go, the Switch version succeeds.