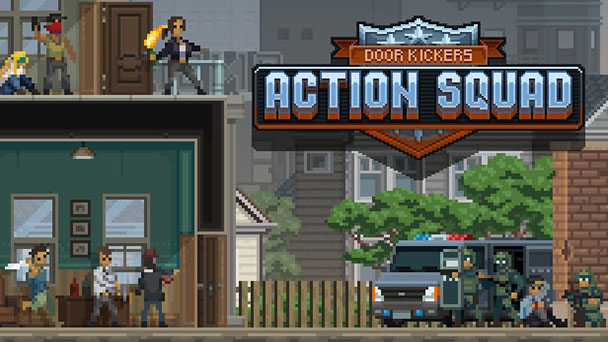 2014's Door Kickers offered an intriguing take on SWAT-style tactics. Using a top-down, two-dimensional perspective, the title pushed players through a succession of close quarters battle (or CQB) challenges, which blended real-time strategy with the ability to pause the action and issue orders. Part simulation and part puzzler, the game conveyed real-life tactical tenets like slicing the pie and the proper use of flash bangs.
Fascinatingly, Door Kickers: Action Squad thrusts the franchise is a completely different direction. The overhead outlook has been discarded for a horizontal view of the action, reminiscent of older arcade games like Shinobi or Cyber Police ESWAT. Eschewing the gritty realism of its predecessor, Action Squad's pixelated character spites signal as an accessibility that's substantiated by the same kind of control scheme used by a multitude of run-and-gun games. Even casual players will crash through glass ceiling panels and order sniper takedowns within minutes of picking up the title.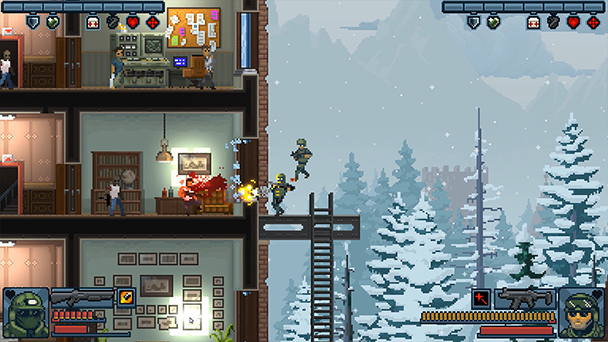 Tackle the campaign and you'll still be thrust through a procession of brisk stages, each one gradually adding to the complexity and level of challenge. The object of each stage is a to secure a perfect three-star ranking, which can be accomplished by slaying all foes and ensuring the safety of every hostage. Accidentally kill a captive, and you'll have to settle for a lower grade, but at least you'll earn experience that can be poured into the game's character categories.
Each of the game's six classes (Assaulter, Breacher, Shield, Recon, Off-Duty Guy, and Agent Fergie) has a different style. Distinct weapons like assault rifles, shotguns, pistols, as well as two pieces of gear mean that not only does every class demand a distinctive approach but provides Action Squad with an assortment of difficulty levels. Clearing rooms with the Breacher's powerful scattershot allows you to rip through stages like a tidal wave. Choose the Shield, and you'll be frequently taking cover behind your ballistic screen, while vigilantly monitoring your exposed backside for encroaching enemies.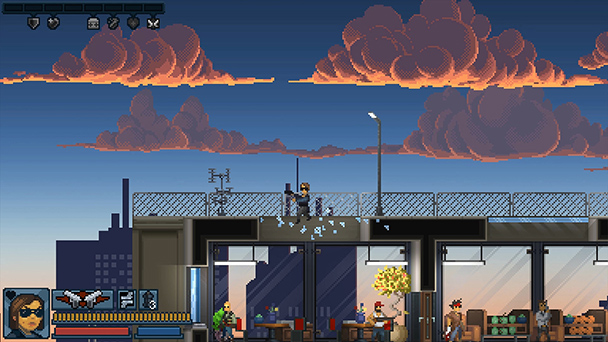 Like the original Door Kickers, Action Squad compels a trial-and-effort approach. Shunning any overarching storyline or detailed tutorial, you'll largely learn on the job. Sure, on-screen button prompts will show you how to breach a locked door, but the game wants you to figure out how to get the drop on enemies and how to handle situations such as when a perp is holding a gun to a captive's head.
Further variety is rooted in the different type of actions that each terrorist adopts. Some will charge at you wildly with a knife in hand while others prefer to use the range of their weapon, going full-auto on sight. Stages demonstrate diversity too. Early on, you'll encounter sealed rooms with no lighting and you won't know what's inside until you enter. Later, time bombs make an appearance, with a persistent beep inducing a bit of edginess. Don't defuse them in time, and you'll face a morale-draining 'game over'.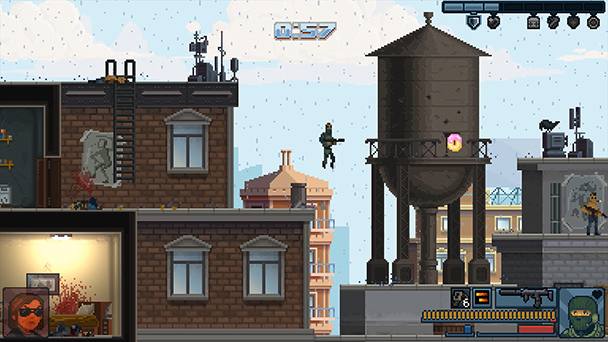 Luckily, you have a host of technical technologies on your side. Every successful action helps fill a meter and when you're in a secure spot, you can cash out. Spend a bit and you can replenish your body armor or health. With a bit more you can purchase an extra life for you or your co-operative (either offline or online) partner. Fill the gauge to capacity and you'll be rewarded with an Ultimate move that will do things like sniper three foes without risk or allow a pistol-packing player to go akimbo. Playing with a friend is quite gratifying, but some individualists will find fault in the lack of any true AI companions.
Action Squad continually tosses nuances and rewards your way, in hopes of sustaining your interest. The approach is moderately effective. Certainly, the drip feels of new weapons and gear helps maintain momentum, but play can feel homogeneous during extended play sessions. In execution, Action Squad works best as a daily diversion, where you can confront few of the five-minute based stages before moving on to another game.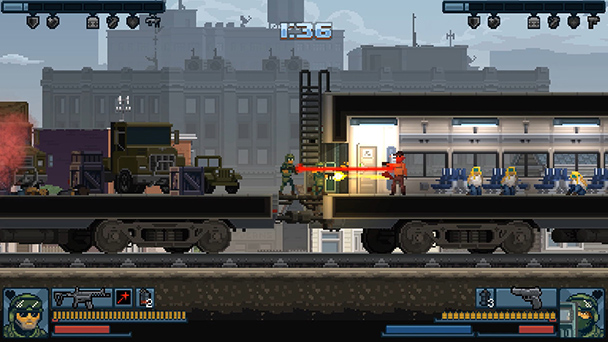 Beyond the game's core campaign, and can choose to face levels overrun by zombies, which elevate the difficulty level. Or you can face the Infinity Tower which is an endless mode comprised of procedurally- generated stages. These lack the level design of the game's main mode, introducing irksome difficulty spikes, though. Finally, you can vie for a place on the game's online leaderboards. Save for the top ten score in single and co-op games, this component is a pretty barebone.
If you're seeking something a bit more cerebral that the run-and-gun action of Broforce or the Contra Anniversary Collection, Door Kickers: Action Squad is undoubtedly worth a look. Mixing two-dimension action with situations which call for a bit of strategy feels distinctive. It's no substitute for the version of SWAT 4 or the original Rainbow Six games on Switch, but something even a simple breach-and-clear can be gratifying.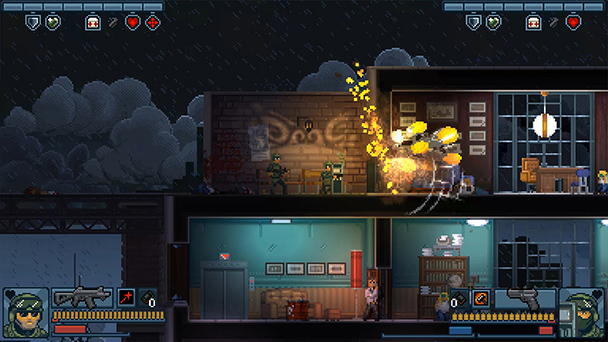 Door Kickers: Action Squad was played on
Switch with review code provided by the publisher. 
Review Overview
Summary : Storming a succession of rooms as a firepower-packing officer is enjoyable in short doses. Enlist in Door Kickers: Action Squad if want to a smidgeon of strategy in your run-and-gun game.