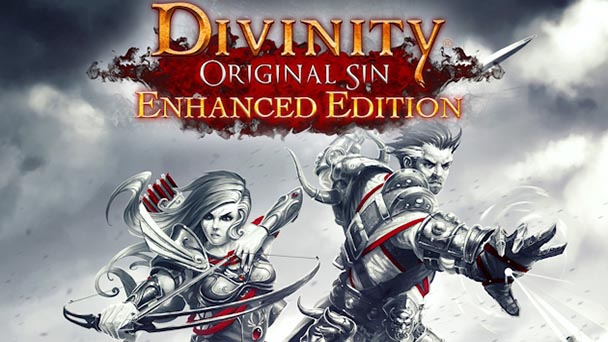 The Hyperdimension Neptunia series drew attention for offering anthropomorphized interpretations of game consoles. But what if role-playing games themselves were brought to life? Unmistakably, many contemporary efforts would make charming guests at mixers, whether Elder Scrolls: Skyrim was imparting another unbelievable tale or Neverwinter Nights was offering her best Dungeons & Dragons impression. One of the most interesting attendees at the party could be Divinity: Original Sin, who might initially seem a bit unapproachable, but steadily radiates sophistication, charm, and a deft sense of humor.
Certainly, you might not get that feeling from a brief first impression. Divinity: Original Sin commences with a modest plotline which find game's two protagonists, tasked with eliminating an enigmatic energy known as Source. Tracking down the corrupting magic sends the duo to neighboring hamlet of Cyseal, where a public official has been murdered. But soon enough, Divinity: Original Sin's level of intrigue swells, revealing a destructive menace that threatens the entire realm. While the tale symbolizes high-fantasy trope, developer Larian Studios is too clever to let Divinity become mired in tedium. Instead, the writers incorporate just enough dark humor to endow the title with distinction, without allowing the plot to regress into parody.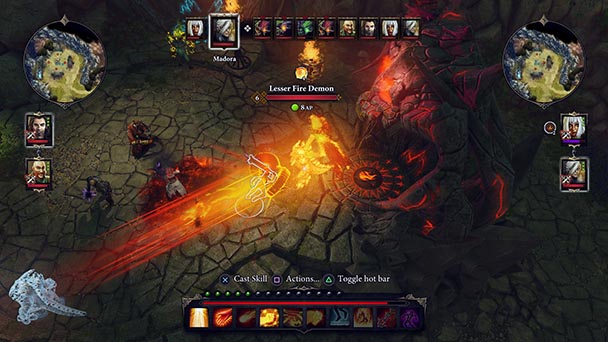 Conspicuously, Original Sin is a perceptive conversationalist. Occasionally, the game's main duo will bicker, leading to a quick round of rock-paper-scissors to settle the debate. In execution, the design decision contributes to the sensation of immersion. These protagonists don't demonstrate the artificial cohesion found with most game duos, but seem to freely speak their mind. With a steady flow of branching dialog, Divinity still allows you to craft your own personalities for each created character. But convincingly, exhibiting insolence has a tangible effect, with NPCs giving you an extremely cold shoulder.
Choice isn't limited to dialog. Wisely, freedom is evident through the game, allowing players to break down doors, pilfer goods, and largely role-play as a party of louts. But each action has reactions, whether it's raised suspicion if you're careful, or ire if you're cavalier. Skillfully, there's even a power attribute within conversation, with characters less likely to chat with lower-level additions to your adventuring party. It's here that Original Sin really flaunts its merits, often behaving in ways that tweak longstanding role-playing precedent.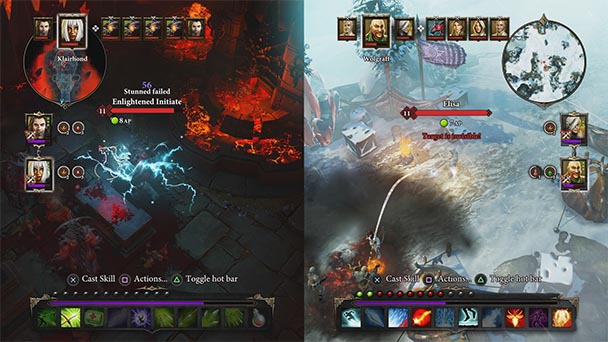 Pleasingly, Divinity: Original Sin is challenging in all the right ways. All too often, contemporary RPGs resort to hand-holding, leading players down a taut, predetermined path. But Divinity offers only the loosest guidance, trusting players will carefully follow the script and infer from NPCs. Mercifully, most quests are open-ended, offering a variety of ways that objectives can be met, ranging from straight-forward to downright shrewd. The downside is that if you don't pay complete attention, you can find yourself scouring a large area for the faintest clue. More than once, progression paused, until I found the proper method to complete an enigmatic errand.
Difficulty is also present is conflict, which offers distinction to the typical turn-based affairs where movement and action are all regulated by resource points. The main variant here is an elemental system where players can exploit natural reactions, whether it's igniting enemies standing on a pool of oil, or freezing mobile foes inside massive blocks of ice. Gratifyingly, Divinity isn't a one-trick pony, with plenty of other intriguing combat mechanics, including the ability to try to deescalate tension through conversation. What's most remarkable about battle is the vigilant level of difficulty. Although enemies can exploit the same elemental systems you can and pose a persistent threat, if you approach each encounter methodically and sacrifice a few moments to preparation, you can largely prevent frustration.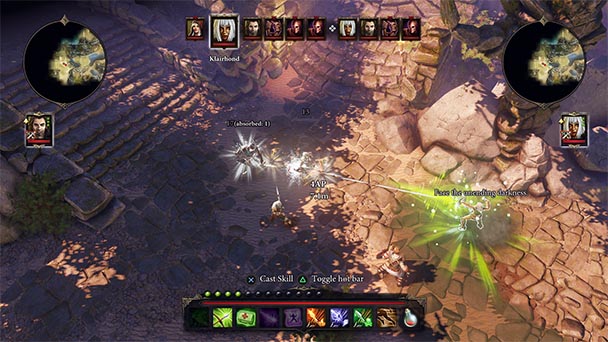 When Divinity: Original Sin was released for the PC last year, the game's multitude of menus and abundance of text made the title seem like an unlikely candidate for a console port. But the Enhanced Edition for the PlayStation 4 and Xbox One (as well as a free download for Divinity: Original Sin's PC purchasers) does an admirable job of adapting the mouse and keyboard-based user interface to a controller. Using radial menus and intuitive button mapping, there's a bit of a learning curve (especially when managing the inventories of party members), but fundamentally, assigning face buttons for action and analysis functionality works well. Beyond that, there's a wealth of other augmentations to increase accessibility, from a larger on-screen font to the inclusion of over 80,000 lines of spoken dialog.
One of the most curious additions is the inclusion of a local co-op mode. Here, a team of players can interdependently wade through Original Sin's protracted play-time- using a dynamic split-screen interface that splits when members wander apart and reunited the duo as they draw near again. Given the sense of accomplishment eighty-hour role-playing games can provide, it would be delightful to share this experience with another participant. Best of all, split-screen has only a small effect on the game's thirty frame-per-second delivery, with sweeps of the isometric camera imparting a hint of slowdown.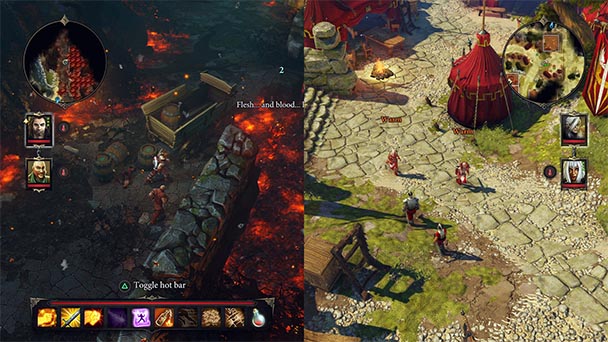 On the surface, Divinity: Original Sin might seem like another conventional CRPG. But peer past that veneer, and the title offers so many indulging, enjoyable advantages, from an authentically arcane crafting system to a perk which allows players to communicate with animals. While the journey can be a bit perplexing at times, there's a reason for Divinity's design decision; this is a game that wants you to think, scrutinize, and experiment. After a succession of journeys where advancement feels like a war of slow attrition, Original Sin feels essential.
Divinity: Original Sin: Enhanced Edition was played on the PS4 with review code provided by the publisher.
Divinity: Original Sin: Enhanced Edition
Platform:
 PlayStation 4, Xbox One, PC
Developer:
Larian Studios
Publisher:
Focus Home Interactive
Release date:
 October 27th, 2015 (US)
Price:
 $59.99 via retail or PSN, XGS,
Steam
($39.99)
ESRB:
 Mature
Review Overview
Summary : Divinity: Original Sin: Enhanced Edition is role-playing indulgence felt without the pangs of squandering your recreational time. While ports of complex PC games can be dodgy, this is the infrequent example of a console conversion done right.