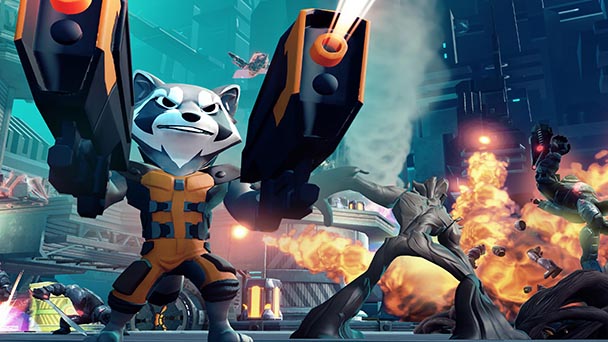 In retrospect, 2013's Disney Infinity proved to be a surprisingly incongruous product. While the Play Set mode was elevated by the inclusion of cherished characters from the Disney and Pixar catalogs, the actual action was disappointingly derivative, mirroring the mechanics of other family-friendly franchises like the Skylanders or LEGO games. Sure, being able to roam around the Monsters University campus was gratifying, but when activities shifting between linear fetch quests or repetitive (and occasionally vexing) open-world challenges, enjoyment was largely superficial.
But as soon as players stepped into Infinity's Toy Box mode, frustrations gave way to euphoric freedom. No longer were participants forced to be Jack Sparrow during a timed item collection trials. Instead, gamers could put any figurine on the Infinity Base and the character was instantly brought to life on-screen, becoming an avatar as players built, played, and shared their creations online. In essence, the Toy Box component truly lived up to its moniker, bestowing an exhilarating sense of autonomy usually only found in real world play sets such as building blocks. The sole downside was that the creation of elaborate playfields stipulated experience and study, compelling players to glean the rudiments of their vast tool sets.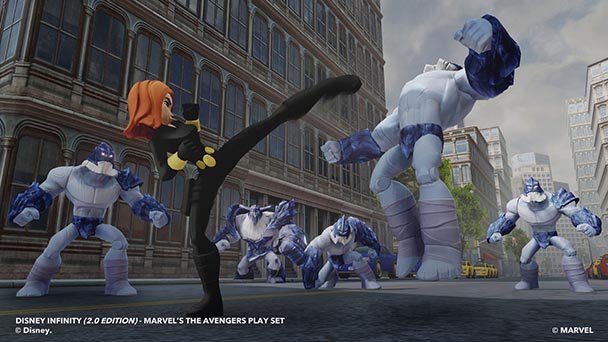 Although the release of Disney Infinity 2.0: Marvel Super Heroes extends a new roster of new personalities and mends a number of the first game's obvious oversights, the underlying dissonance remains. In essence, the Play Set still functions as a funnel, gradually bestowing building blocks, so gamers aren't overloaded with a plethora of pieces from the start.
Opening up the seventy-five dollar Marvel Super Heroes Starter Pack reveals the essentials players need to get started. Beyond the game, Infinity Base, and translucent Play Set piece, players also receive three figurines: Iron Man, Thor, and Black Widow. With the roster doesn't have the diversity of Infinity 1.0's grouping of Mr. Incredible, Jack Sparrow, and Sulley, the Avengers-themed line-up has one key advantage: co-operative play is available without having to make an additional purchase. Nicely, the non-articulated statutes remain eye-grabbers, their plastic and rubber parts offering a pleasing mix of detail and durability.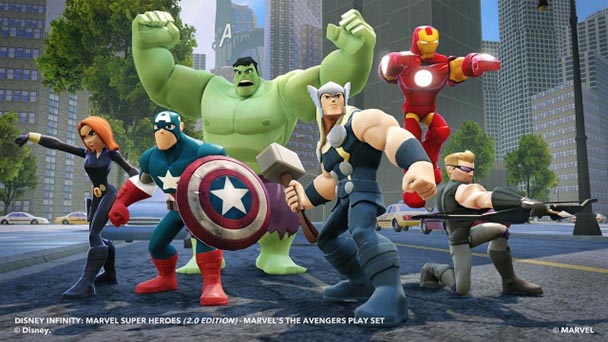 Playing Infinity 2.0 for the first time immediately ushers gamers into Play Set mode, where a brief cinematic offers a skeletal plotline, telling of Loki's invasion of Manhattan with the city under siege by a an army of Frost Giants. After the cast in unthawed, players begin the five hour campaign in Stark Tower. Here, the essentials of movement and attack are imparted, before players are let lose in a lifeless recreation of Midtown and a procession of missions that revolve around eliminating packs of Frost Giants. While some are outfitted with offensive weapons and the sporadic protection-based mission adds a bit of diversity, tedium quickly becomes an issue, exacerbated by the simplicity of combat. On the upside, character dialog shows significant improvement over the first game, no doubt from the inclusion of Brian Michael Bendis (Avengers, Daredevil, Ultimate Spider-Man).
Admirably, swapping characters strikes a keen balance, offering uniformity in the key bindings, but variety in each super heroes' arsenal of moves. Infinity 2.0 gives each character a skill tree, bestowing perks like additional health, speed, or even augmenting their attack arsenal- allowing for things like additional bounces in Cap's shield attack or Black Widow with a cloaking ability. Nicely, Infinity's first batch of luminaries are given a branching network of play bonuses as well.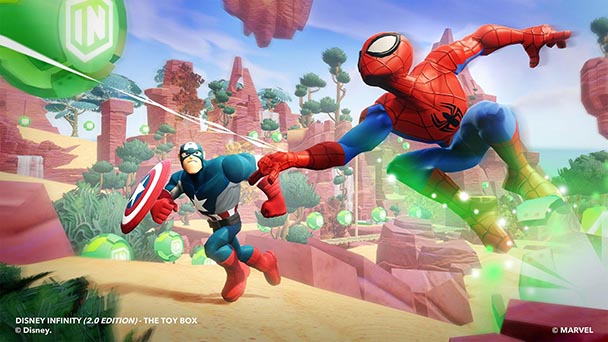 One of the core criticisms with the first game was that Play Sets were constructed for specific characters; there's way no way Wreck-It Ralph could beam into The Incredibles' realm. Infinity 2.0 makes a small concession, allowing for at least two designated crossovers in each Play Set once players collect ten cross-over coins. Although players still have to purchase the figure for the unlocked character, it's an agreeable improvement over the first game.
While the Play Set mode still feels a bit uninspired, the Toy Box is where Infinity 2.0 really shines. Naturally, with such a powerful toolset, glitches are inevitable- but Avalanche have worked quashed many of the larger bugs while also streamlining the process of creation. From invisible boundaries which keep characters from falling off the face of the world to construction templates and even builders which can help fill an environment, Infinity 2.0 has a host of amenities which can help to automate the building process.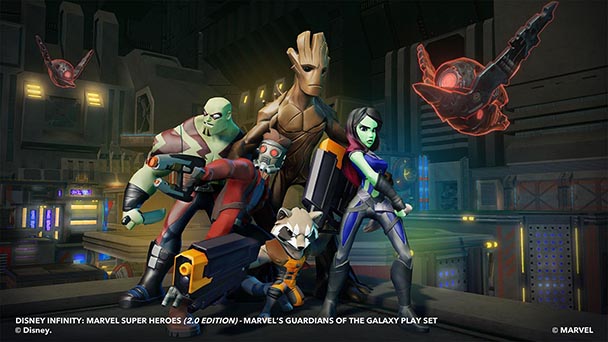 Alternatively, for those seeking more power, new tools permit players to create text bubbles, design specific types of game challenges, and even more logic gating endow the title with additional flexibility. To help show the capability of the new toy box, Infinity 2.0 ships with two Toy Box game disks which demonstrate the ability to design a hearty dungeon crawl and tower defense-like mini-games. Since sharing is an essential element for any creation suite, Infinity 2.0 provides online storage for up to 300 custom levels and the ability to sift through downloadable ones graded with a user-ranked system.
The power of next-gen system allows the Toy Box to really shine, eliminating the occasional instance of screen tear, while stretching out draw distances. Although there's still some conspicuous jaggies during cutscenes, Infinity 2.0 is a consummate performer. Fire a laser blast from one of Iron Man palms, and the shot will illuminate dark areas, before obliterating destructible objects in a pleasing display of spark and smoke. Aurally, the game is equally adept, whether providing an enthusiastic score during action sequences or evocative Disney-esque classical pieces while building in the Toy Box.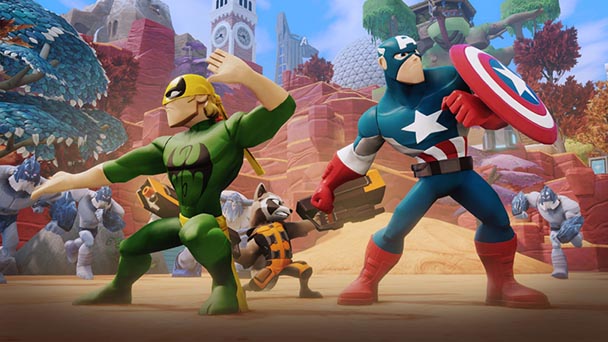 Traditionally, game sequels improve on each iteration, pushing predecessors into obsolesce. Disney Infinity 2.0: Marvel Super Heroes succeeds not because of a handful of advancements, but because the game's Toy Box remains a peerless play space that's driven by imagination rather than linear game logic. While "family-friendly" titles infer repetition just as much as a restricted amount of on-screen violence, Infinity 2.0 makes good on the designator, destined to rouse ingenuity in old and young alike.
Disney Infinity 2.0: Marvel Super Heroes was played on the PlayStation 4 with review code provided by the publisher. Additional characters and a Play Set were purchased independently.
Disney Infinity 2.0: Marvel Super Heroes
Platform: PlayStation 3, PlayStation 4, Wii U, Xbox 360, Xbox One, PS Vita
Developer: Avalanche Software, Studio Gobo, Ninja Theory
Publisher: Disney Interactive Studios
Release date: September 23rd, 2014
Price: $74.99 Starter Pack; $34.99 additional Play Sets and $14.99 figures
ESRB: Everyone 10+
Review Overview
Summary : With a $75 starter set, $35 Play Sets, and $14 figurines, Disney Infinity 2.0 can be an expensive proposition. However, for imaginative individuals who take pleasure in construction than play, the investment is unconditionally recommended.