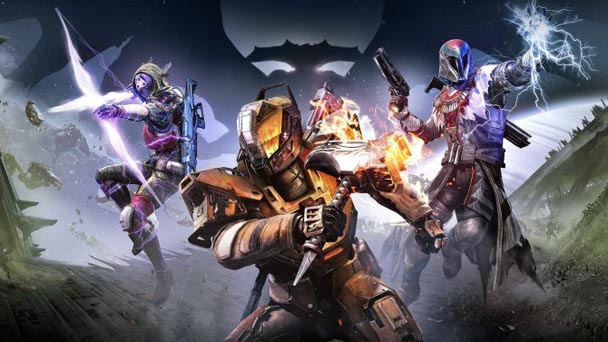 When Destiny was released last September, it was an exceedingly contentious title, forming divergence in both critics and consumers. For some, Bungie's ambitious amalgam of first person shooter, role-playing game, and massively multiplier elements gelled together almost impeccably – encouraging rapturous sessions as players stove toward the level cap. Even after that threshold was reached, many found additional enjoyment in The Crucible- the multiplayer arena which contentiously tested the build-quality of custom skill trees and gear loadouts.
But there was also a large contingency of players who were put off by the game. Beyond an approach to competition that reflected Call of Duty's methodology rather than the weapon and skill parity of Halo, there were a number of other legitimate issues. Given the substantial mythos created by Bungie's previous franchise, relegating much of the game's narrative to web and mobile-accessed journals disappointed many. Others were taken back by the repetitive nature of missions and Strikes, which stood in sharp contrast to the grandiose aspirations of the game. Most recently, Bungie's 2.0 update might have undone its friendly rapport with players by removing components such as the Daily, Weekly Heroic, and Nightfall missions as well as radically reducing the amount of gear available to players. As Destiny requires an internet connection, the forced patch will undoubtedly sour those with no plans of buying the recently released expansion, The Taken King.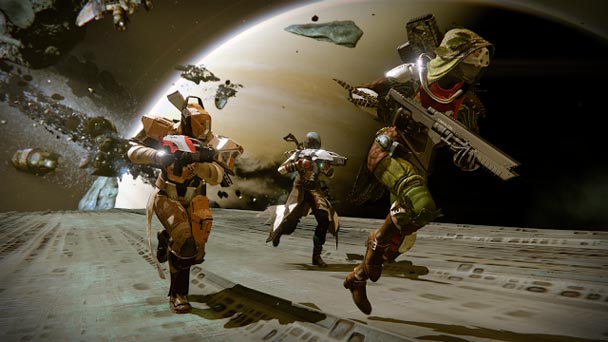 But for those who can pardon Bungie's act, The Taken King provides the kind of trek that gamers should have experienced last September. New players who purchase the recently released Legendary Bundle, a compilation that combines the Destiny base game, two expansions, and Taken King, likely won't perceive the improvements, but alterations are abundant.
Listening to fans, Bungie has dropped Peter Dinklage, replacing all of his voice work with dialog from Nolan North. Now, your Ghost companion's dialog is more in tune with the rich delivery offered by cast-mates like Nathan Fillion and Lance Reddick. Additionally, Destiny's level cap has been brought in line with gaming convention. Players are able to max out at level forty through experience point gains rather than Light leveling via rare armors. The repercussion of this modification is that players will likely pinnacle in a few hours, since they no longer have to complete high-level errands in hopes of gaining top-tier loot. Apparently, linking equipment solely to experience level also forced stat standardization. So, while your weapons still have the same impact, the damage numbers have been universally decreased. But, to incentivize Taken King, even new green-hued guns outperform last year's fully enhanced firearms. Undoubtedly, discord awaits.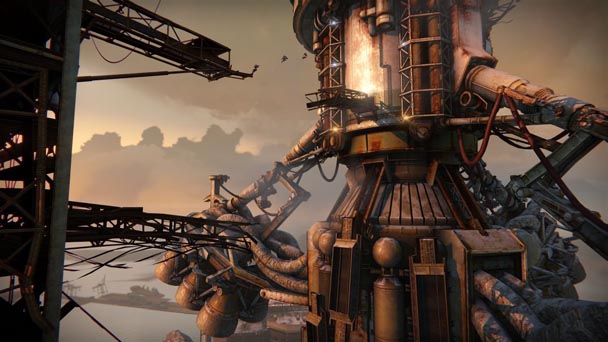 Fortunately, there's plenty of changes which won't court controversial. Last year, bounty collection required a trip to The Tower to claim your dividends. Now, players can turn in up to sixteen bounties using the in-game menu, thereby preserving the flow of the game. The addition of a quest log is another worthwhile timesaver, organizing your assignments on the menu screen, and goading befuddled Guardians along. Likely, there will be little dispute over the three new subclasses, the Nightstalker, Stormcaller, and Sunbreaker. Offering abilities such as binding and slowing a group on enemies with a Void Anchor, fling lightning bolts, or wield a formidable, flaming hammer these capabilities are powerful on their own, but allow teams to demolish opponents with synergistic strength. Getting a feel for each subclass' skill-tree in PvP might be incentive enough for players to create and cultivate a new character.
Venturing into the Crucible, players have more than eight new maps to look forward to. Rift is Destiny's take on Capture the Flag, where teams attempt to run a glowing orb, called a spark, into their opponent's base. Nuances such as partial scoring for forward progress, bonuses for running the spark in backward, and even handlers exploding if they hold onto the spark for too long help enliven the mode. Meanwhile Mayhem's moniker isn't hyperbole, with the mode offering a frantic variant on Team Deathmatch, with cool down timers turned down to minimal levels.  Pleasingly, both Rift and Mayhem reveal a playful interpretation of multiplayer combat which stands in sharp contrast to most PvP components.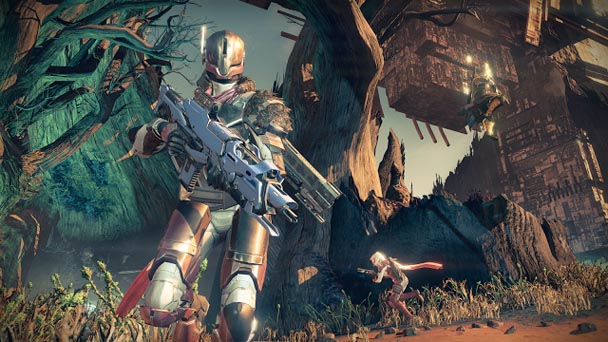 Pleasingly, that sense of liveliness always has seeped its way into The Taken King's eight-stage stage campaign. While the storyline is straightforward, the with the game's eponymous monarch seeking revenge for the actions of Destiny's decisive Raid, the way in which Bungie delivers exposition has radically changed. Instead of drops of expository dialog and the Grimoire, players are thrust into situations which gradually reveal the magnitude of The Taken King's menace. It begins during Strike missions, when you'll find encounter the game's new opponents. They're wildly divergent from the title's conventional opponents and wonderfully creepy in both appearance and movement, as their brightly-hued bodies move in tics and jolts, occasionally splitting into two when they're shot. Later, players will discover the Dreadnaught- a huge, labyrinthine space fortress that embodies threat much like Alien's Derelict. Beyond some platforming pratfalls, moving through the vessel conveys a sense of unease.
With the antagonist and stage splendidly set, Bungie delivers an unusual twist, with the dialog between Fillion's scene-stealing, Cayde-6 and the trepidation mongering Eris Morn providing judiciously dispensed comic relief. While Destiny intended for our Guardian to be the focal point, the atypical occasions when the protagonist spoke caused disorientation as players struggled to distinguish the source of the infrequently voice. All too often, the sense of immersion was broken, as players had a "oh, that's supposed to be me" moment. With The Taken King, the developers adopt a more traditional approach, allowing the expansion to reap the benefits of character rapport.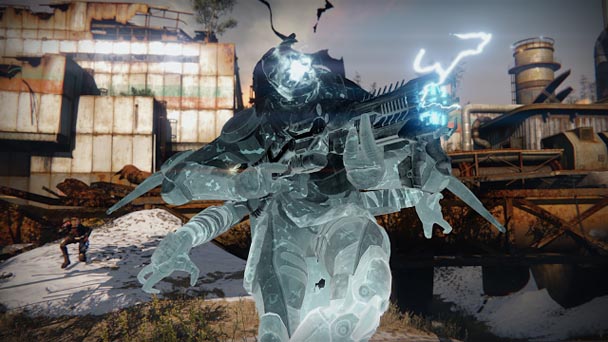 When Taken's Kings Fall Raid (which went live yesterday) is factored into the inventory of additions and adjustments, what we see is Bungie finally making good on Destiny's ambitions. While the game's year one supporters are likely to be concerned by the withdrawal of content, those who either begin or continue their Guardian's voyage with The Taken King won't be disappointed. With new strikes, drops, locations, missions, as well as a transformation in storytelling technique, Destiny is poised to be a lot less polemical.
Destiny: The Taken King was played on the Xbox One with review code provided by the publisher.
Destiny: the Taken King
Platform:
 PlayStation 4, Xbox One, PlayStation 3, Xbox 360
Developer:
 Bungie Inc.
Publisher:
Activision
Release date:
 September 15th (US)
Price:
 $59.99 retail or download, $39.99 standalone DLC (must own base game+two expansions)
Language(s):
 English voice and text
ESRB:
 Teen
Review Overview
Summary : Beyond Bungie's visceral gun-play Destiny was an obstinate title, lacking some of the fundamentals expected by a Triple-A title. With The Taken King those deficiencies are largely rectified, allowing players to clash with foes rather than unrealized mechanics.